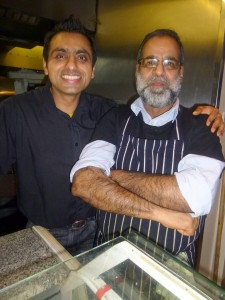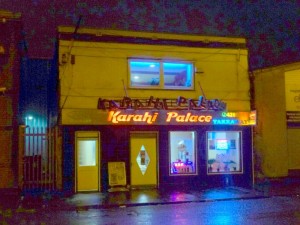 Entering The New Karahi Palace (51-53 Nelson Street, Glasgow, G5 8DZ) just after 21.00 this Saturday Evening, Shahed, Front of House, and Rasheed, The Chef were standing out in the middle of the Small Downstairs Eating Area. They were not there waiting for Hector to arrive but were engrossed in The Footae' on TV. It was quiet, but they assured me they had been busy earlier.
This felt like the Perfect Opperchancity to Fine Tune the normally Excellent Curry served on these Modest Premises. We agreed on Lamb Karahi with Extra Salt and Methi. The Lamb is usually served on-the-bone. The Bhindi on display at the Counter also looked Very Fine. A Side Portion would be ideal, and Two Chapattis also.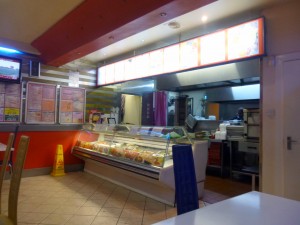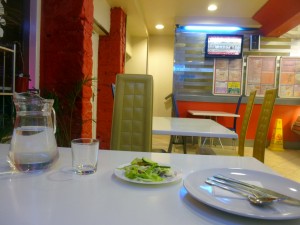 I took my seat and amused myself with the Trusty Samsung and a well known Media Chat Site. Comedy of Errors and Pallas were playing in London this evening, they were Excellent in Glasgow last Saturday. A Rather Tired Salad was brought and no Raita, so this was ignored.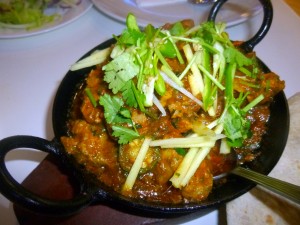 Shahed brought the Curry in what felt like no time at all. Rasheed had worked his Magic. Occasionally one is serve a Curry that is so Stunning it becomes Engraved in the Memory Banks, tonight's Karahi was one such Curry. This was truly remarkable.
The Tender Lamb was mostly Chops, Boiled not Tikka. The Masala was not the Standard Onion-based fare served in the majority of Curry Houses. This was similar to the Khyber's Wonderful Mash of Tomato and Onion. The Seasoning was Spot-on. The Salt Content of Curry is Crucial, to bring out the Other Flavours. The Spice Level was Terrific, this Dish had a Kick, but it was the Flavours which were Astonishing.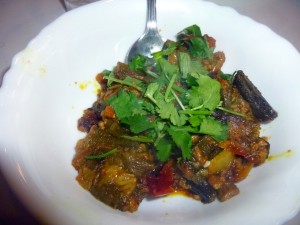 Added to this was the Okra Curry, Hector's Interesting Vegetable of the Evening. Again this Complemented the Karahi. The Okra were cooked to Perfection, not too soft which is how it tends to be served. Covered in Fresh Coriander, again a Full Blast of Flavour.
Shahed came to ask if he could get me anything else. The Hector was in a very Happy Place, I gave the Thumbs-up. This was one of The Best Curry Experiences, Ever.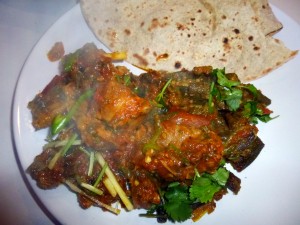 The Bill
£11.70. A Very Modest price, for a Very Memorable Curry.
The Aftermath
I congratulated Shahed for his Front of House Presence. He has certainly made a difference. I asked about The Khyber which I passed recently and saw no sign of life. It has gone. The second of Hector's Recommended Curry Houses to disappear this year. Their Location was never ideal, and with a New Afghan Venue opposite The Village, somebody pulled the plug.