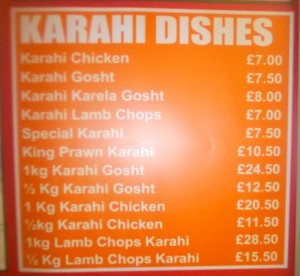 Lord Clive of Crawley is in town, and so he joined Dr. Stan and Hector for the Friday Evening Curry Ritual. The Laurieston was the rendezvous with The Company later and so a quicker than anticipated return to the Excellent – The New Karahi Palace (51-53 Nelson Street, Glasgow, G5 8DZ) was logical. It lies one Block away.
I assumed Clive had been here before, apparently not, so this was a major oversight. Shahed shook The Hand of Hector as we entered. There was no sign of Rasheed – The Chef. Friday is his day off. Oh. Hector's Plan was to put the venue to the Curry-Heute Test. Rasheed had cooked Hector one of the Best Curry Dishes Ever, last Saturday. Could this be repeated. The Boss, Ayaz, was The Cook this evening. He did look familiar but we have never been introduced. This would have to be rectified, but only after he had done his duty.
Dr. Stan and Clive followed Hector's Lead. Three Lamb Karahi (on-the-bone) with Extra Salt and Extra Methi was the order. Ah, we need The Interesting Vegetable. Hector went up to the Counter to see what was available. Aubergine and Potato Curry was on display. A Full Portion of this was added, to share. Six Chapattis would be the Accompaniment. No Paratha? – asked Clive. He admitted to ordering these regularly in Crawley since I introduced him to this Compromise between Chapatti and Nan.
No Salad and Raita was forthcoming this evening. Have I been too uncomplimentary? The Raita is normally Excellent, the Salad Variable. As in my last visit there was a steady stream of Takeaway Customers. Shahed was kept busy.
The Karahi Dishes arrived accompanied by a Bowl of Aubergine-Potato Curry. The Chapattis arrived as they were prepared, here we go.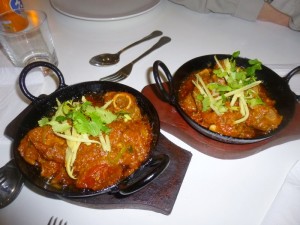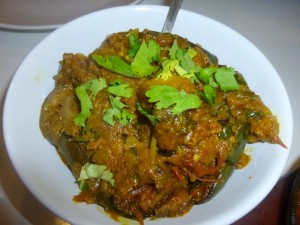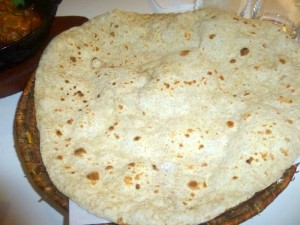 The Lamb Karahi was every bit as Wonderful as served last Saturday, Perfect. The Style of the Masala was very much – Yadgar meets The Khyber. The Lamb was not from Chops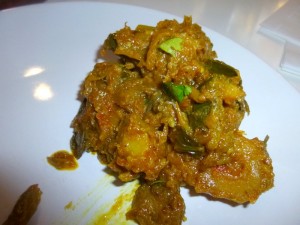 this time, the Bones were Round. The Marrow in the Bones must add Extra Flavour, one does not achieve this Standard of Curry without the Presence of Bones. This I could Eat Every Day.
The Aubergine-Potato dish was not heated to the same level as the Karahi which benefited from the Metal Karahi and Hot Oil. In fact the Vegetable Curry placed on the Chapatti then topped with some Blistering Hot Lamb made the Perfect Combination.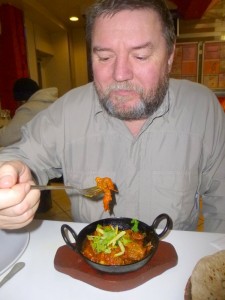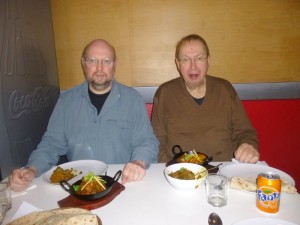 Clive ate heartily. It hits The Spot. It's hard to fault it – was Clive's verdict. Dr. Stan had little to say but his Pleasure had been apparent throughout the Eating Experience. This was a 4 mmmm Curry.
 As Shahed topped up the Basket with Fresh Chapattis he was happy to see the Thumbs Up. Ayaz can cook too.
The Bill
£32.70. Four Curry Dishes, Six Chapattis, One Soft Drink.
The Aftermath
There had to be a photo with Ayaz.