This Venue has to be in Glasgow's Top Five Curry Houses.
This evening Hector was invited To Dine with a GRAF Acronym. What this Committee stands for shall be revealed as and when.  The Decision To Dine at The New Karahi Palace (51-53 Nelson Street, Glasgow, G5 8DZ) was not Hector's, It was Written.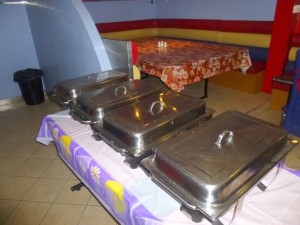 Roger and Hector arrived promptly at the arranged 19.30. Roger went upstairs to join Howard who was already in situ. Hector stayed downstairs to study the Vegetable Curry Dishes that were available this evening. Potato and Peas – Mmmmm.  Stainless Steel Buffet Dishes were on display upstairs, this I have not previously witnessed.  A Buffet here could be remarkable, all Lamb Dishes on-the-bone?

Kenny arrived next with Dr. Stan and Jonathan arriving – Heaventually…
Shahid, NB The New Spelling, was quick to tell me on arrival that I have been misspelling his name. Well, I only know one other Shahed and this is how he spells his name. Anyway, Shahid brought The Menus – Menus? Ah, the joy of sitting in the Chilly Upstairs. A Table for Eight had been set, we had Two Call-offs.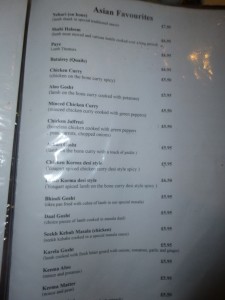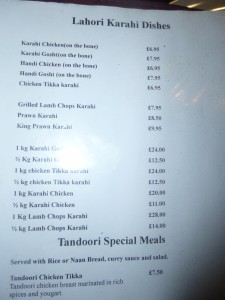 Roger announced he was having Mutter Paneer whilst Kenny fancied King Prawn Karahi. I was taken aback when this became Palak Paneer and Achari Gosht respectively. Howard had his mind made up, Aloo Gosht. Jonathan has favoured Keema for some time now. When I announced the availability of Peas and Potato, Jonathan asked if Keema Aloo Mutter could be done. Shahid would see. Dr. Stan had Eaten with Hector at this very Venue Four Nights ago, he knew what to have – Follow the Hector. And so Two Lamb Karahi with Extra Salt and Extra Methi was our order along with a Portion of Potato-Peas Curry to share. Jonathan and Kenny would do the same with a Daal.
Howard had recently raved about the Quality of the Keema Nan served here, and so Hector ordered a Keema Paratha. Jonathan, Dr. Stan and Kenny followed on, so logically Howard went for an Aloo Paratha. (?) Roger a Plain Nan.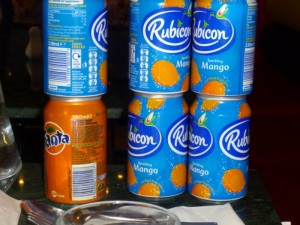 Having verified The Order, Shahid returned to inform Jonathan that there was no Keema. Lamb Chops Karahi was the Worthy Substitute. So what about the Mince for the Paratha? Twenty Minutes – said Shahid. Not a long time to wait for Properly Cooked Curry. At least Double this time had passed before the First Dishes were brought.  Six CAMRA Members, all drinking Soft Drinks.  A First? We had plenty of time to admire (?) the Upstairs Décor – Butlins meets an Italian Cafe –  was somebody's verdict.  Oh, that person was me.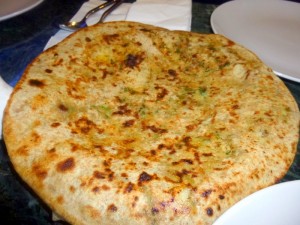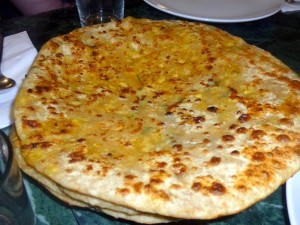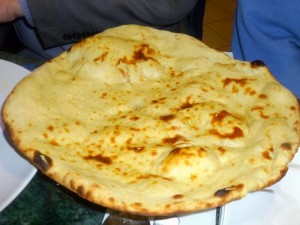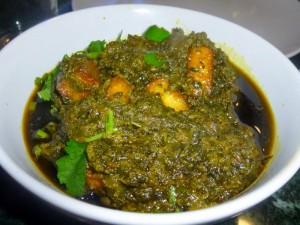 As we were all eating Bread, there was no point Decanting the Hot Curry on to the Cold Plates. Each Curry looked Dark and Rich with the Gleam of Oil forming at The Base. Howard was first To Dip with his Aloo Paratha, he was – In The Zone – very quickly. Roger spread the Palak Paneer evenly over his Nan, our First Curry together. He ate without comment. I don't say very much.  Really?  I have witnessed him at CAMRA Meetings.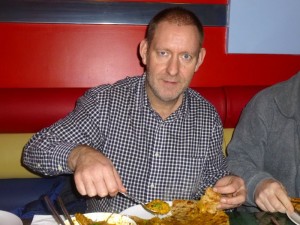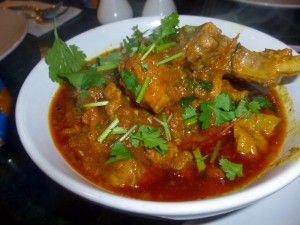 Kenny was waxing lyrical about his Achari Gosht.  I had to remind him that note-taking with Curry Covered Fingers is not possible.  A Stunning Depth of Flavour, a Dimension of Flavour I never Taste in Takeaways bought in the West End of Glasgow.  Kenny does not Dine Out often it appears. A Sweet, Chilli Kick from the Pickle.  My First Visit, and not My Last.
The Daal Side Dish was consumed with no specific comment from Jonathan or Kenny who shared it.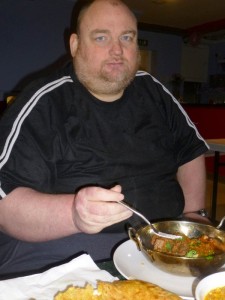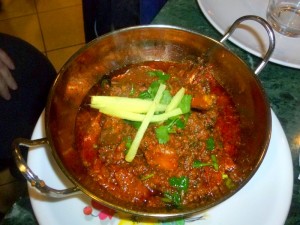 Jonathan who tends to avoid Lamb on-the-bone stated that his Lamb Chops Karahi was – For a Second Choice Curry, Not Bad.  Why Chop Bones are acceptable and Marrow Bones not, one may wonder.  All Lamb Dishes at The New Karahi Palace are served on-the-bone.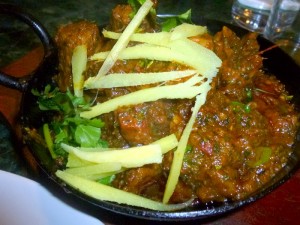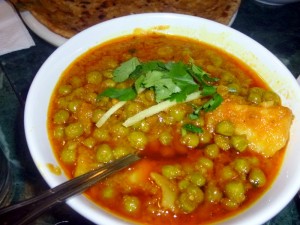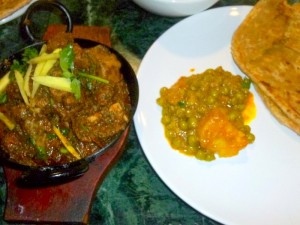 Hector was in his Curry Element.  A Dark, Thick Masala shrouding the Tenderest of Lamb.  A Great Kick, Seasoning, Methi, Everything I look for in a Curry.  Again this was Curry to note.  The Accompanying Potato-Peas Curry would have been Bland on its own. Acting as the Interesting Vegetable it did its job well. A Perfect Combination, and served warmer than last Saturday's Vegetable Side.
There was never any announcement about Mince, the lack of and the Keema Paratha.  The Keema Parathas had Minimal Filling, Daal may have been the Insertion.  Still, freshly made and Piping Hot, they did the job.  One day I shall have a proper Keema Paratha here.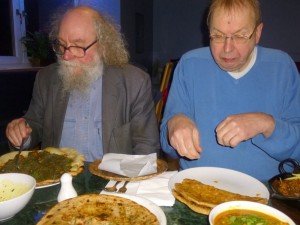 Dr. Stan like Roger, is a Man of Few Words.  On Saturday the – Mmmms – numbered Four.  This evening we lost count.  Dr. Stan enjoyed every morsel.
Howard shall have the Last Word on the Review of the Actual Curry. The First Stop was to Dip the Paratha in the Oil, Absolutely Magnificent! The Meat and the Sauce were both Full of Flavour, both Individually and Collectively.   A Big Chilli Hit, a Stunning Curry! The Best Curry I have had This Year !!!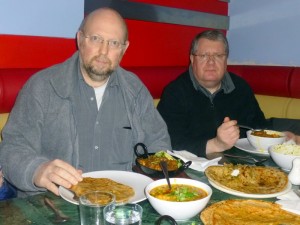 The Writer should draw The Reader's attention to the Date, December 17.   Only a few days of 2013 to go and Howard has found his COTY. The New Karahi Palace comes Highly Recommended.  It is a Small Operation with a Menu which covers what Might be Available, however, what they do is done Exceptionally Well.
The Bill
£72.80
The Aftermath
There was a meeting of The GRAF Committee, without Hector who may well be appointed as – Curry Liaison Officer.