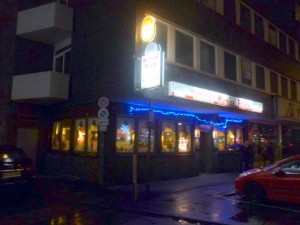 The Mediaeval Markt was originally the Highlight of the Weihnachtsmarkts, it is no more, though some of the Original Vendors remain. Hector arrived on foot from Reissdorf too late for The Flaming Mo. Two disappointments today. The earlier Curry-Heute could surely be improved upon.
The Mumbai Palace (Am Malzbüchel 1, 50667, Köln) was discovered by chance Two Years ago on a walk from Köln-Sud to Mühlen. The chances of finding something Truly Outstanding in the Köln Curry Scene are diminishing. I have nearly visited them all. Is the Curry-Heute Blog taking on Overtones of Train-spotting?
It was after 21.30 on a Sunday Evening. There was nobody there. The Waiter looked Surprised when The Lone Diner emerged from the Pouring Rain. Good timing on my part.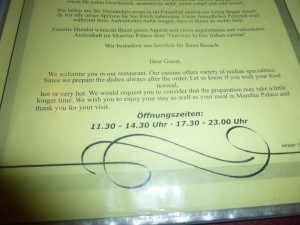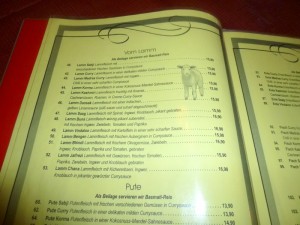 €3.00 for a 0.3l Bottle of Sparkling Water was again on the steep side. It was all they had. A Chapatti at €1.90 did not endear itself, nor was one ordered. No Paratha were available.
I negotiated a Dry Curry, in English. No Sauce? – was the reply. We agreed on Minimal and Spicy, and Definitely No Capsicum. He wrote this down. Lamb Bhindi was the choice of Curry. In English, The Menu clearly stated they would listen to anyone's Particular Requirements. The Waiter had, but appeared to be in a hurry. Maybe they thought they were closing early?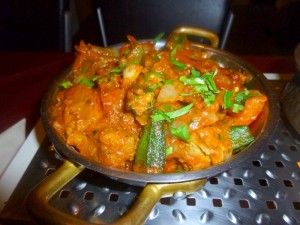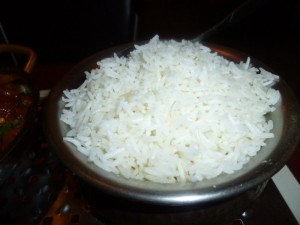 Once again the Tea-Light Heater was placed on the Table, it's the Köln way. A Huge Portion of Rice accompanied – wait for it – A Dry Curry! This looked the part, perfect, at last. Now of course it was Under-Seasoned and needed Methi to make it Outstanding. But, Hector had been deprived of Real Curry. This was bringing out The Positive Waves from the Start.
There was a Kick.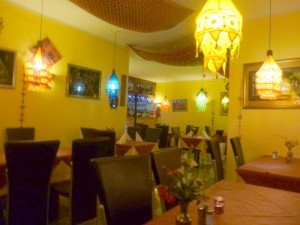 Spicy was asked for, Spicy came. The Kick kept coming. This was Great, a Spicy Curry in Deutschland! The Lamb was Interesting, not Boiled for Days. It was Tender but retained some Firmness. The thought that this could be their Tandoori/ Lamb came to mind, but it did not have any feel of having been Marinated. I did not count the Lamb pieces, there was Loads, no need. The Masala, ah, I can use this term again, was delightfully Onion and Tomato Rich and Thick. In the Dry style Hector craves. Only The Bombay has ever produced a Curry like this for Hector in Köln. The Duck I had there was definitely Stir-Fried. I do not believe this was. The Okra was cooked to perfection, still a bit of Firmness, unlike when I cook it. So many Positives. Ideally it needed an Infusion of something, Methi would be obvious. Still, probably the Best Curry served to Hector in Köln.
I shall be back.
Whilst I ate I could here a lot of scraping sounds from the Kitchen. Nobody had ordered a Takeaway to my knowledge. A Staff Curry?
The Bill
€18.90. The Prices are going in the right direction.
The Aftermath
I had to ask the origins of Mein Host. He said he was Indian. I told how much I had enjoyed the Bhindi Gosht and asked if they used Methi/Fenugreek in any of their Recipes. He looked blank. He had never heard of this Magic Herb.
I asked about Staff Curry. Again, not an eyebrow stirred. Nope.