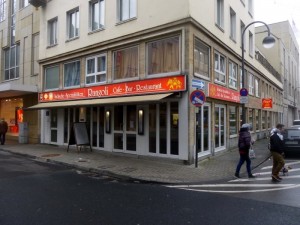 There was a Sunday Rendezvous at Gaffel am Dom at 13.00. I had announced previously that I would arrive there as soon a the Sunday Brunch Curry-Heute had been despatched. There are three Curry Houses along the Heumarkt – Neumarkt Axis which I had yet to try. The Plan was to do Two today. I knew the Mumbai Palace opened at 13.00 on a Sunday, I looked Yesterday. At what time would Rangoli (Herzogstrasse 11-13, 50667, Köln) open? I phoned at Noon and got a reply. Evidently they were present. Located right behind C&A on the Main Shopping Drag, Rangoli was not too difficult to find. A Corner Shop, this was quite a Substantial Venue. I now discovered they had been opened since 11.30.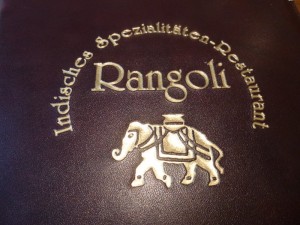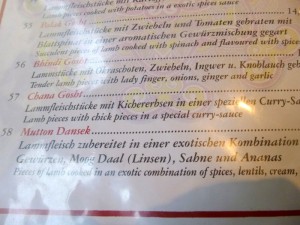 Window Dressing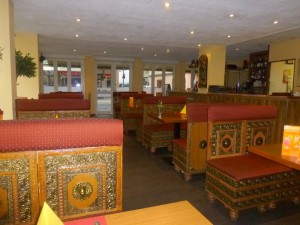 I walked in and saw a Waiter in the Rear. It was quite a walk. I was shown to a Window Seat. A Family of Six arrived ten minutes later and were sat behind me. Another Lady was shown to the Table in front of me. I know why they do this, but they could have given us each a bit more Privacy.
Hector was Snapping away. The Complimentary Poppadom and Dips were presented. I enthused and remarked that in Scotland we do not generally see Poppadoms with embedded Cumin Seeds. A Good Start. The Pickle was Deadly, the Mango and Raita as Normal. The Taste Buds were well and truly Invigorated. This was washed down with a €4.90, 0.75l Bottle of Sparkling Water. More expensive than Yesterday's Jaipur.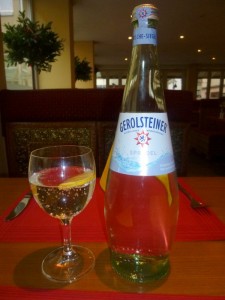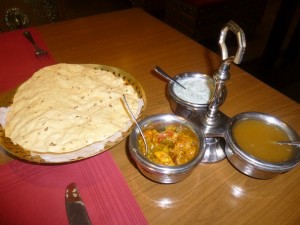 Karahi Gosht was on The Menu. I had to have it. What's more the Dreaded Paprika, by which Moniker – Capsicum – hides itself in Deutschland was not listed in the Ingredients. I made no reference to it when ordering. An Alu Paratha was also available, so even allowing for the Inclusive Basmati, I felt Hungry enough to justify this.
Whoever has financed Rangoli has invested a Tidy Sum. Whilst the Décor is quite Plain, it was Tastefully Laid Out. Were the Window Tables really meant to sit Four, or just Two comfortably. The People behind had an Extension Table added to theirs. Crammed in. More Staff appeared. Perhaps this Venue picks up during the day? I always hope that the Discovery of another Indian Mango (München) is imminent. The Sense of Anticipation was Gripping.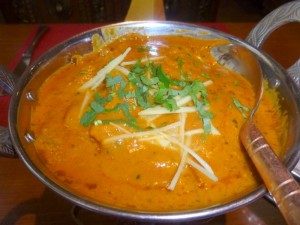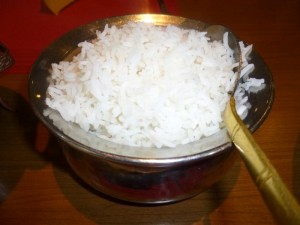 The Heart sank when the Curry was placed on top of the Heater. Karahi Gosht I suppose, only has to be Lamb served in a Karahi. Once can interpret this how one wishes. I have had it ranging from Stir-Fry to this – Lamb Swimming in Soup. Still, there might be Flavour.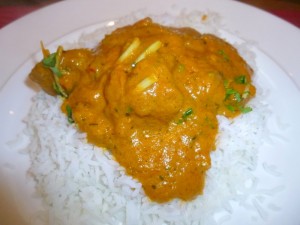 I dipped the Paratha in the Masala, no Spice and no Flavour hit the Hector Palate. Under-seasoned. Ah, Slivers of mostly Red Capsicum and Green. Why?
By now I was formulating if I should create a – Scale of Blandness – but wait… Salt was emerging, the Alu Paratha to the rescue once again. Flavours were being detected. A Little Kick, Black Pepper was my best guess. There was now a Pleasant Sensation, no longer – Bland – but still not good enough to make me ever wish to return here. This may be Their Interpretation of Karahi Gosht, it ain't Hector's.
The Bill
€21.90. A few Euros off the price would not have improved the Curry.
The Aftermath
The Calling Card was handed over. It appeared to mean nothing.
I met up Maggie, Clive and Jonathan. There would have to be another Curry-Heute.