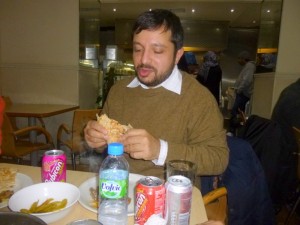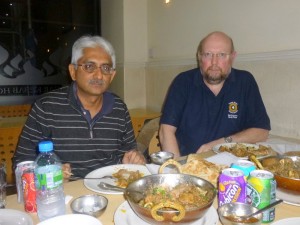 August 14, 2010, Hector's first visit to the Yadgar Kebab House (148 Calder St., Govanhill, Glasgow, G42 7QP), the rest they say – is History. Well not quite, the Ongoing Pleasures that this most Underrated of Curry House delivers are Legendary in these Humble Pages. As has been written oft, this place should be queued out the door. Within the first weeks of the earliest visits, Shkoor, the Owner's Son was in touch using Social Media. His Friend, Ahmed in Islamabad, had found the Curry-Heute Website and had advised them of my Rave Reviews. I met Ahmed last year for the first time. This evening was our second encounter. He has Seven Days Vacation per Year and spends them in the UK. Eating at Yadgar appears to be the Highlight. In tow this evening from Pakistan was Dr. Dr. Awais. Yes, Dr. Stan and Dr. Rick, – Dr. Dr Please!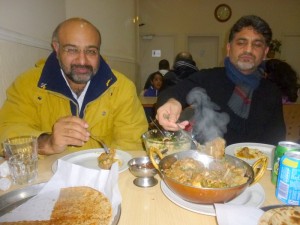 Dr. Dr. Awais, Ahmed and Shkoor were all in the Class of 19??. Accompanying them this evening was another from the same era and locally resident – Raza.  Raza and Hector's paths must have crossed, we eat in the the same places. I was amused when Raza admitted that when he goes to Akbar's even he is asked if he wishes his Food to be Cooked Asian-style. Ahmed assured me that others may join, indeed, Fraz arrived showing great timing just as the Food was becoming Serious.  We discused Blogs.  I related how it was Ahmed who informed Hector that if one Googles – UK Curry Blog – guess who comes up first?  He tried it, it worked –  Curry-Heute!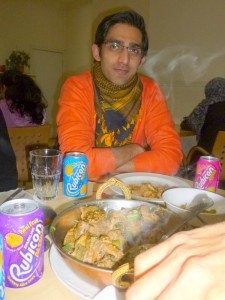 Unbelievably we spent the First Hour chatting about Curry, my Favourite Topic, over the Various Salads and Dips that kept coming. A second Salad Anyone? A Bowl of Dahi Bhali kept the Intros Interesting. I've had this before, a Refreshing Yoghurt-based Dish. The Previous Evening the Core Four had Dined on Chops, Fish and Karahi. There were Photographs to prove it. Who takes Photos of their dinner?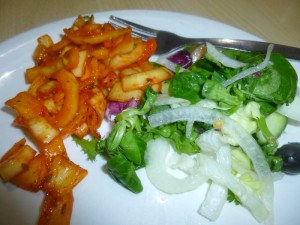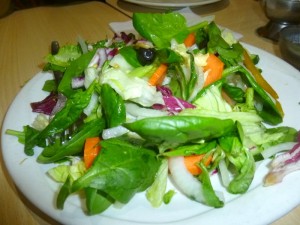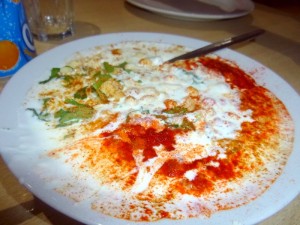 Just when Hector started to think that we were having The Vegetarian Option the Kebabs were presented. Chicken and Lamb Seekh Kebabs. More of The Same came soon after topped with Chicken Chapli Kebabs. This was just the Beginning. A Plate of Lamb Chops was placed Proudly on the Table.
Hector first had Lamb Chops at Yadgar on Ahmed's last visit. Lamb Chops Achari has become a Firm Favourite since then.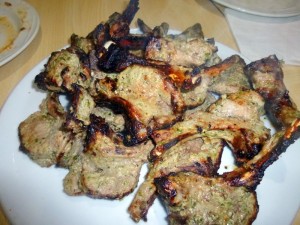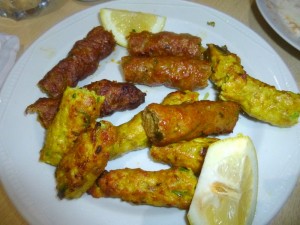 The Chops in a Karahi are of course Boiled. This was my first encounter of Yadgar Grilled Chops. They looked much Paler than those served in say Bradford's – The International or Akbar's. By this time it was evident that there were two People sitting around the table with Voracious Appetites. It was anticipated that Dr. Dr. Awais and Hector would do the Most Damage. Raza, Fraz and Ahmed nibbled, We Ate, a Man after My Own Heart. We also dissected what was before us. Yoghurt and Cumin was my Interpretation. To this Dr. Dr. Awais added – Ginger, Mint and Garlic. Hog Heaven. By now we had an Audience.
And The Food Kept Coming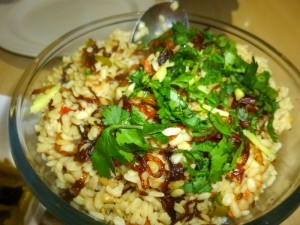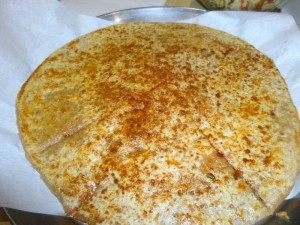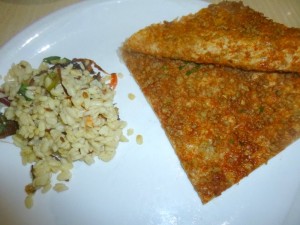 A Bowl of White Lentils was greeted warmly – Daal Maash. Ahmed explained that each Lentil Grain should be seen to be separate. There should also be no Oil collecting at the Base of The Bowl. This was Perfect.
Earlier in the evening I had related my recent Dabbling in Keema Paratha. I described how the so-called Mince appears to be Donner Meat. Shkoor knew instantly what was happening – They're using Cooked Mince. When it is put in the Bread and Flattened it is spread out and gets mashed together. This creates the outcome which I find unsatisfactory. Behold the Yadgar Keema Paratha! It was immediately Dissected. Daal and Mince and not a Pink Mass. The Seasoning was Spot on. This I could eat with a Vegetable Curry and be quite content. Enough Vegetables, here comes the Main Event.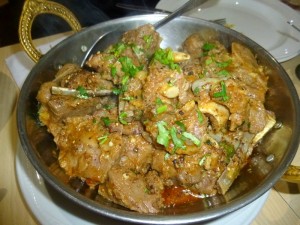 Two Large Karahi emerged from The Kitchen. There was speculation that they may be different, however, we were assured that both Karahi were identical. This meant Dr. Dr. Awais and Hector would take care of One, whilst The Nibblers addressed The Other. Shkoor had now joined us, we were Six.
Namkeen Karahi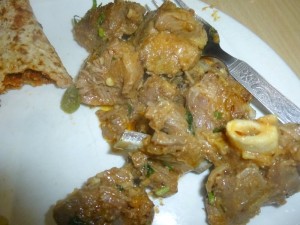 Hector has a new Word, I shall be trying it out in every North Indian/Punjabi Restaurant from now on. Namkeen is Salt. Regular Readers know the importance of Seasoning in Curry. This Dish comes from the NW Frontier, heavily influenced by the Cooking from Afghanistan. Indeed, this is what The Khyber served up so magnificently until their recent closure. With The Experts beside me, I was told that this is The Simplest form of Karahi. The Lamb is cooked in Water, Oil, Salt, Green Chillies and Black Pepper. There was no Onion or Tomato as The Khyber would have served. This Dish must have taken Hours to Cook. With the Lamb on-the-bone it was a Sheer Delight. Our Audience departed – Are You lot still eating? They had eaten well, we were having – A Yadgar Party!