The last Huddersfield Curry was memorable. The Service was Slow, the Food Poor, The Venue is no more. This time last year Hector abandoned any hope of Curry in Huddersfield. Marg promised we would have Curry-Heute. Leeds Curry was experienced in 1996 days before the first Bradford Curry, there has never been a second. We spent today in L666S, a Huddersfield Curry felt appropriate. Bradford tomorrow. Those who know will make sense of this paragraph, otherwise, don't lose sleep.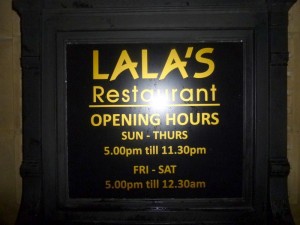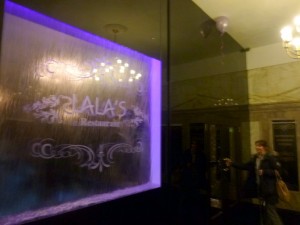 Ricky, Our Man in Bradford, had previously recommend no Huddersfield Curry Houses. Lala's, the Kashmiri Restaurant he now admitted was a possibility. The Five of us walked in, Hector called us out. This did not feel like my choice of Curry Venue. Too Grand.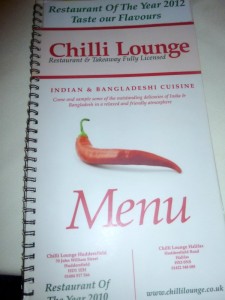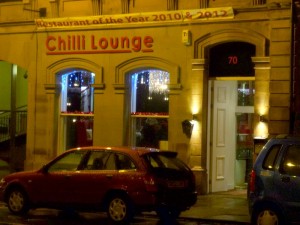 Across the street, well almost, lies the Chilli Lounge (70 John William St, Huddersfield, HD1 1EH). Award winners in 2011 and 2012 (who wins awards?) there was a Pedigree. Indian and Bangladeshi Cuisine is what they advertised, too close to home? One hoped that this close to Bradford, The Taste of the Punjab might prevail.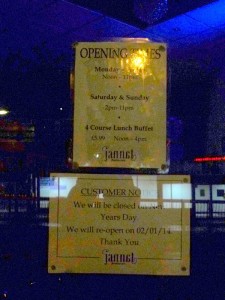 This morning, in the Pouring Rain, Hector had gone off in the search of Jannat, Huddersfield's self-proclaimed Punjab Restaurant. They were located behind the Bus Station, not so easy to locate. It was after the Chilli Lounge Curry that Hector and Marg found Jannat, they had not opened today. Kebabish Original was open at Noon, but why eat Curry Mass Cooked in a Factory which Previous Research has unveiled how this Chain operates?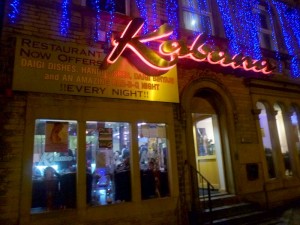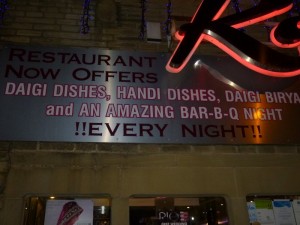 Later this evening we also inspected Kabana (43-45 Trinity St., Huddersfield, HD1 4DN) just up from The Grove, our Original Huddersfield Attraction. Reviews I have read are Poles Apart, people have either had a Wonderful Experience, or Kabana is slated Beyond Belief. Hector smells a Rat, They Protesteth Too Much, surely?
Hector has previously never seen The Large Tawa, a feature of Kabana. An entire order for a Group served on a single Large Metal Tray, hopefully heated from below, Interesting. The place was full, people were eating, a Waitress was happy to give me a Menu I could takeaway. Hector will be back to conduct further Research, however, they only operate in the Evening.
Meanwhile, back in Chilli Lounge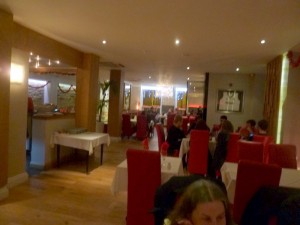 Five of us entered what turned out to be a Sizeable Venue. We were shown to the rear. In comparison, Lala's was much busier, Hector was still Confident. The Menu revealed the availability of Ostrich and Venison. The Prices for these were not Ridiculous either. Craig was seduced by the Venison – Jalfrezi. Deer – The Menu said. At £9.50 maybe not. Pilao Rice would Accompany. Yvonne went for the Chilli Lounge Special Karahi (Lamb and Chicken) plus a Roti (£0.95). Mags loves her Aloo Gosht, well so does Hector. Lamb Alu Nagha is how this appeared on The Menu. Hector was straight on to the Trusty Samsung. Whether this meant Capsicum or Chilli remained unclear. A Mushroom Rice and a Chapatti (£0.65) would be an Elegant Sufficiency. Now, let's stop to recall the ridiculous prices for Chapattis in Aberdeen.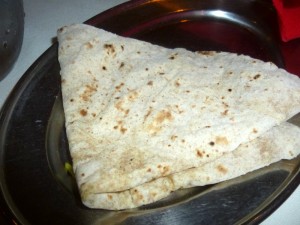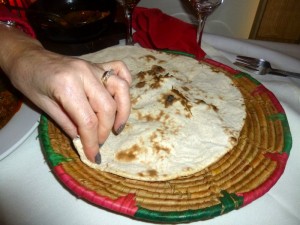 Marg Astonishes Hector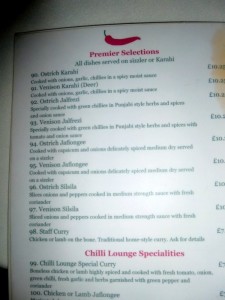 A Lamb Achari with a Chapatti please. This was a Marg First. Hector has been adding Lime Pickle and Tamarind to most Home Cooked Curry Dishes in the past year. Whilst Marg has eaten these, sometimes one feels under duress, this came as a Complete Surprise. Fifteen years ago Marg ordered Chicken Korma.
The Hector Curry Choice
The Menu was Wonderful. Venison, Osterich (sic), choices of Meat, Fish et al. Sagwala, Deresh, Silsila, Jaflongee, Sallom, Sanfoori…. New terms and styles. I could have been here all night. There was only one thing to do ignore The Menu. A Dry Lamb Curry, no Capsicum with a Vegetable. The Waiter suggested Jalfrezi. No thanks. Let's continue the Custom Curry. Extra Methi, well-seasoned, Hot. We agreed on Potato as – The Interesting Vegetable. An Alu Paratha was ordered once the Size was established by the movement of hands. Middle – is what the Waiter interpreted from my by my Display of Width.
While We Waited
There is an Aberdeen Curry House which does not, and likely never will,  feature in Curry-Heute. We arrived late-ish , they took us in, then cleared everything away whilst we waited a ridiculous time for our Curry. It was here the period of time referred to in this Blog as  – The Robin – materialised. I mention this, not because of the wait, but the fact that many tables in my field of view were stripped and the chairs arranged in rows beside me. Not clever. However, the tables were then congregated and large Serving Trays appeared. They were setting up for the MEGA Buffet, available on Thursdays and Sundays. One wonders how many of the Exotically Named Dishes appear in the Buffet?
Here Comes The Plates
Five seriously Hot Plates were placed before us. When there is no Rice in my order I prefer to eat Curry straight from the Karahi. At least Two of The Company would be eating Rice.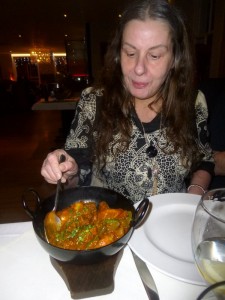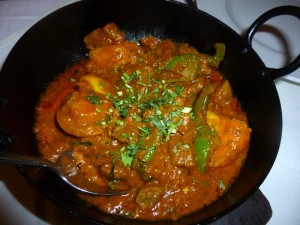 Mags was very positive about her Aloo Gosht Variant. It had plenty of Capsicum, which she – Really, Really Enjoyed. No comment. She also declared her Mushroom Rice Portion to be – Sufficient and Enjoyable.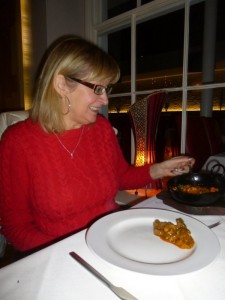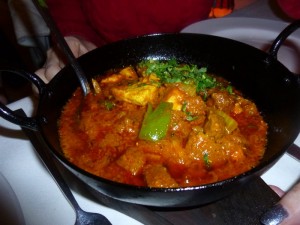 This is Excellent – was Yvonne's remark as soon as she started eating her Chilli Lounge Special Karahi. There were Capsicum and Chillies throughout. I've eaten all the Capsicum. Absolutely lovely, I really enjoyed it.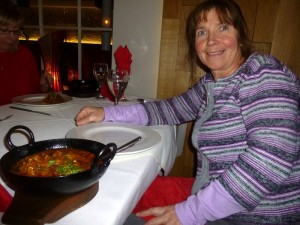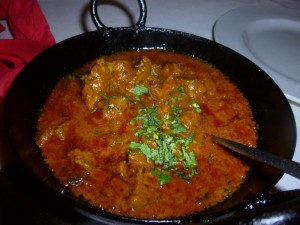 Marg appreciated the Thick Sauce in her Lamb Acahri. This was Well-seasoned with plenty of Meat, cut in Small Pieces, Very Tasty. How long before Marg is asking for – Spicy?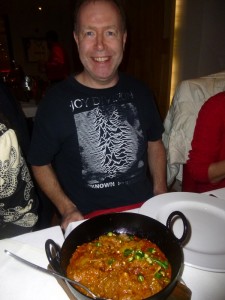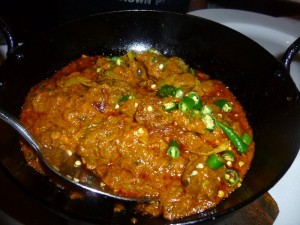 Craig was getting carried away with his Venison. It was absolutely Superb. I want to have Curry Twice tomorrow. He tasted Yvonne's Chicken and nearly died. Craig may not be ready for – Spicy – yet.  Yet somehow he ate all the Chillies in his own dish.
The Hector Curry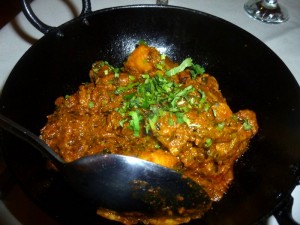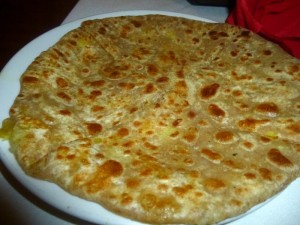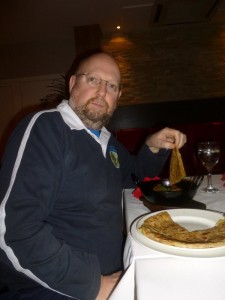 Hector was presented with a Bradford-Dry Curry and No Capsicum! The Lamb was cut Small with Big Pieces of Potato. The Spice Level was Impressive. More Seasoning and More Methi would have made the Dish Outstanding, however, for the First Visit this has to be regarded as a Commendable Curry. When The Waiter came over to ask – I gave the Thumbs-up. The Aloo Paratha was most enjoyable, Fresh with just the required amount of – Hint of Crisp.  I think I'll be sticking to these.  Just how much Potato did I end up with?
I'll be back!
The Bill
£46.70. We were Five. OK, only Tap Water was served apart form the Food and No Starters, but still.  Less than a £10.00 per head, this was no Café, this was a Restaurant.
The Aftermath
There were only a few Diners as we departed. The Staff all bade us Farewell. Three went home, Marg and Hector went off to find Jannat and Kabana.
So, Huddersfield does sell Curry!