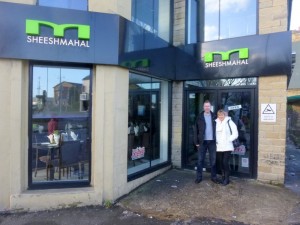 January 2nd, it must be The Sheesh Mahal (6 St. Thomas's Rd, Bradford, BD1 2RW). Hector, Marg, Craig and Yvonne checked out of the Huddersfield Travelodge but were too early to check-in to the Bradford Equivalent. Arriving just after Noon, Sadaqat's (Grand?)children were the first to greet us – It's The Internet Man! Sadaqat came out to give the Customary Seasonal Greeting. We took our seats near the Window, by choice.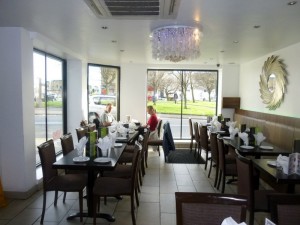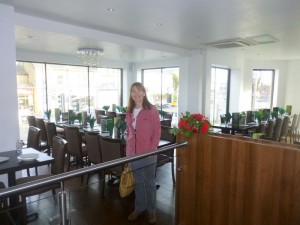 Craig was still planning a second Curry today, little did he know what would follow. I fancy a Starter, Fish. Fish Tikka would precede his Chicken Methie. Yvonne too opted for Chicken Methie but asked for More Masala than is the Bradford Norm. A Shami Kebab for Yvonne too. Knowing Hector's plans for later, Marg only ordered a Starter – Vegetable Pakora.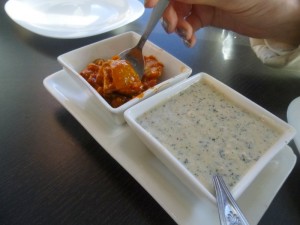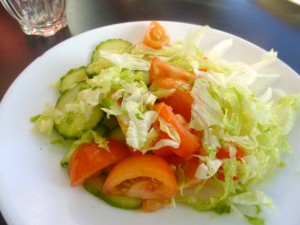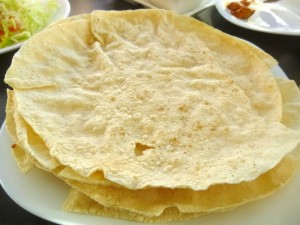 Sadaqat had Complimentary Salad, Dips and Poppadoms on the Table as soon as they could be mustered. He took the Order and then we discussed The Hector Curry. How can I resist my Lamb on-the-bone Sheesh Mahal Special with Extra Methi?– I told Sadaqat.  I was torn between this and Fish.             It's New Year, I'll do you Fish as well.
Just a Half Portion then, please.         Sorted!
Pilao Rice and Six Chapattis were included in the Order, Inclusive, The Bradford Way.
Behold The Fish Tikka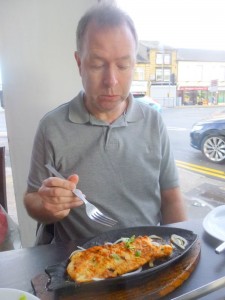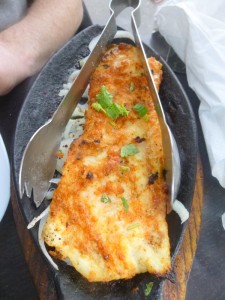 Craig was taken aback. An entire Fish on a Flat Iron Dish was set before him. This is a Curry in in its own right – he remarked. It looked delightful, Hector resisted all offers, his desire for Fish was taken care of. Craig was well impressed. Yvonne received Two Shami Kebabs, one was wrapped for later consumption. Two Happy Starters.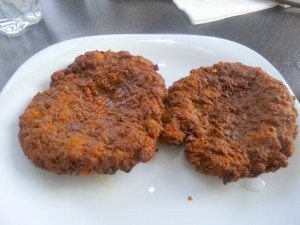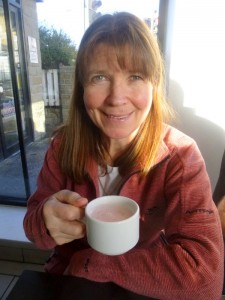 Although Marg made no remark. Her Vegetable Pakora did look a bit Scrawny and unless he got there before the Camera, only Four Main Pieces. Knowing that we would be indulging ourselves shortly, Marg ordered Kashmiri Tea. This is a Spicy, Milky Creation first experienced at Yadgar, and Pink too! Marg loves it, Hector will never go there, Milk in Tea?
Three Ate Curry
Yvonne's Chicken Methi came with more Masala than served in the Classic Bradford style, but nowhere near The Soup served in Lesser Establishments in Lesser Curry Towns. Craig and Yvonne ate their Chicken Methis and again were impressed. Craig has been the Sheesh Mahal a few times now, it is his Favourite Curry House in Bradford, possibly now anywhere. He knows whatever he orders will be Outstanding. Today was no exception.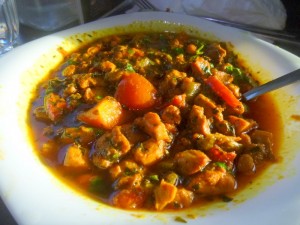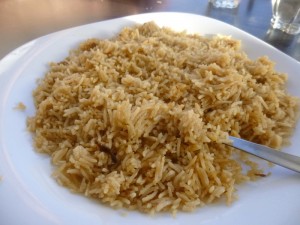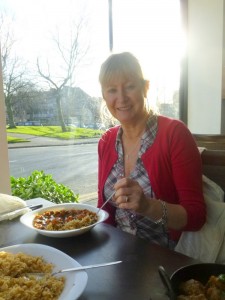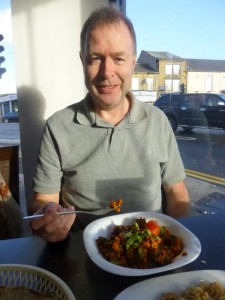 Meanwhile, Hector was – In The Bradford Curry Zone. I had to start with the Fish. It was as good as what grabbed the Palate a few days prior at another Bradford Venue. Enough to know I had Fish Karahi, enough to leave space for The Main Event.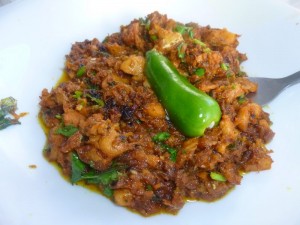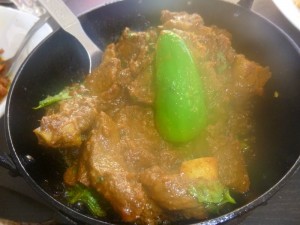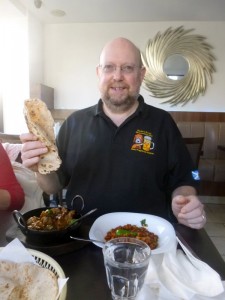 The Lamb on-the-bone was Full of Flavour, Very Tender. The Methi evident but not Over-dominant. The Quantity was more than Adequate, Two Chapattis were enough. This is why Hector comes to Bradford. Another perfect Curry, and a Rare Hector Smile!
The Bill
£30.50. Three Servings of Curry, Three Starters, Kashmiri Tea and Complimentary Fish. Value, or what?
The Aftermath
The Car was abandoned and the train tak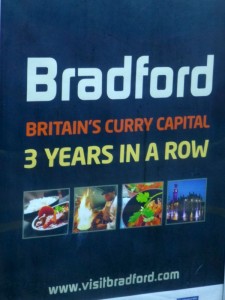 en to Ilkley. This Story is related Elsewhere.
However, all along the train line was a poster.  How True!