There has been quite a Significant Curry Intake in the last few days. The Quality has been Superb. They have all been in Yorkshire, the Majority in Bradford. A High Standard to follow. Where should Hector have his #1 Glasgow Curry 2014?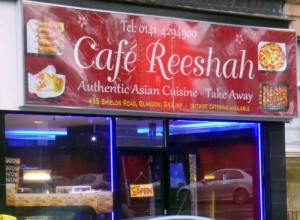 The decision was made to have something Earthy, Genuine Home-cooked-style Curry. A Venue which has only been operating under the current Management for Ten Months has impressed Twice during 2013. And so Café Reeshah (455 Shields Rd, Glasgow, G41 1NP) was chosen as the Locus of the First Glasgow Curry of the Year.
The Subway was taken to Shields Rd. At a Hector Pace, Café Reeshah is a short Five Minute Walk. Sadly, the Premises that was the Khyber was seen around the corner. Mein Host recognised me on entry. Your Third Visit? – he confirmed.
The Curry Dishes of Interest were on display under the Counter. Lamb and Potato, plus Keema Mutter have been Thoroughly Enjoyed on my previous visits. I spotted a Dry Curry with Potatoes. Was that Daal or Mince? It was Mince. So, Mince and Potatoes Curry, along with Peas Rice was the Order.
There was a Fellow Diner, Two even! , a First and Second. They finished whilst I waited, a Fourth Diner arrived whilst I was eating. It is good that people are finally taking advantage of the Two Tables on offer. Ten Could be sat, just.
Avatar was on the TV above my Head, Nusrat Fateh Ali Khan played in the Background.
The Banquet Arrives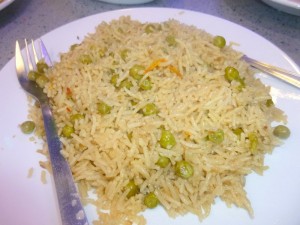 Mein Host brought out a Large Plate of Mince and Potatoes accompanied by an Equally Large plate of Peas Rice. Surprisingly a Plate of Poppadoms, Raita and a Plate of Salad with Spiced Onion was brought out seconds later. I had no chance. I did offer these moments later to my Fellow Diner at the Next Table, he declined. To even Nibble these would have meant the Curry going Cold. It's January, this could have been in moments. Sadly, the Poppadoms and Salad went to waste.
A Stunning Curry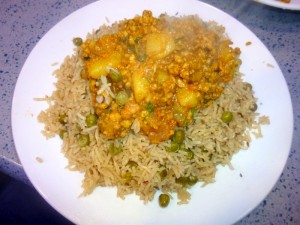 It was going to be a Struggle to eat the Curry and Rice. So Quantity was in the Diner's Favour. The Mince was served with Truly Minimal Masala and next to no Oil. The Seasoning was exactly to Hector's Taste. The Presence of Cooked Tomatoes and a Sprinkling of Fresh Coriander added to the Overall Flavours and Texture. This was so simple, just like Mother never used to make. When Mein Host came out to asked – Excellent – was the reply.
So, who Invented Mince, Potatoes and Peas?
The Bill
£7.00.  Two more Visits and this Venue may go on the Recommended List.
The Aftermath
The Calling Card was given, I didn't have one last time when asked.
Back to The Subway, now what's going on here? Smartcards? Two Scales of Charges?
We'll see…