Why have I not been here before?
Neil has been to the India Quay (181 Finnieston St, Glasgow, G3 8HE) on a couple of occasions and has spoken well of the Fare on offer. Hector is long overdue a visit.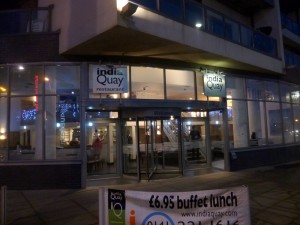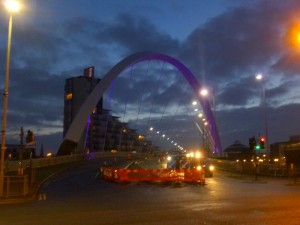 On entering I was asked if I wished Buffet or a la Carte. I was shown to the West side of the Restaurant and given the furthest table from the door. The Window Seats all sat at least Four, I was at in Inside Seat. Above was a Mezzanine/Gallery where presumably the Buffet was located. A Tour did not feel Appropriate. I was sat facing the Wonder that is Glasgow's Squinty Bridge. Across this Engineering Marvel lies Paisley Rd. Toll where I had eaten at Kabana last evening. The Cluster of South Side Restaurants could well be the main Competition for the India Quay given their Riverside Locus. With the SECC, Armadillo and Hydro immediately adjacent, this is not a bad location.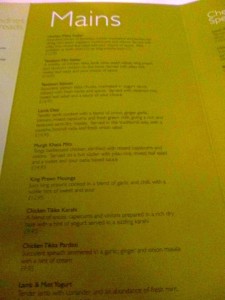 A Young Waitress brought The Menu, One of Many I would encounter it would turn out. As it was my Impression that this Venue could be Pricey, I decided to stick with Tap Water. The Venue is Licensed, most were partaking of Stronger Beverages, it is Friday. The Tap Water arrived, that was the last I saw of this Particular Waitress. I had plenty of time to study The Menu which was not Pretentiously Long. Small Print on the Top Right Corner suggested I should try Lamb on-the-bone. A good idea. To Accompany there was the choice of Chapatti (£1.50) or Paratha (£2.50). There was no mention of Paratha Variants, I would ask.
A Waiter arrived to take The Order. Lamb Desi – on-the-bone? He said they no longer do this. Aloo Paratha? He said – Yes, then changed his mind – No. The (Plain) Paratha is included – he advised me. So it was, along with an Onion Salad and A Small Portion of Dahi Bhali, or Boondi Raita as they prefer to call it.
The wait for the Curry was within Acceptable Parameters. A Couple of Menu issues do not register as Fair in the Curry-Heute Philosophy. The Menu stated a Fixed Percentage surcharge for Parties of more than Six. Hector fails to Comprehend why some Venues have this Practice. A Slap in The Face for bringing Custom en Masse? Additionally, there is a £5.00 Cover Charge for any Non-Diners in a Company. Now my Learned Friend later stated that in a Buffet Scenario this is probably not Out of Order. However, this I had read on the a la Carte Menu. Compare this to Last Saturday when Marg had a Pakora at Yadgar whilst watching Alan and Hector Dine Heartily. The cost of the Pakora was Waved.
A Commendable Curry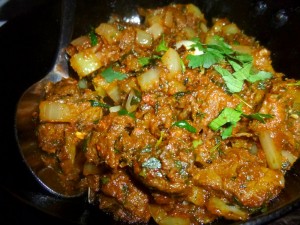 The Lamb Desi was immediately Attention Grabbing. This was Dry, Bradford-Dry. The Lamb was cut Small, Bradford-Small. The Capsicum had been withheld as requested. Small Pieces of Fresh Green Chillies were Visible within the Melange of Meat and Minimal Masala. All but One Piece of Lamb was Very Tender. One Chewy Piece is Forgivable. There was nothing but Respect in my Mind for The Chef who had prepared this Very Good Curry. The Usual Hector Tweaks of a Bit More Seasoning and Methi and this would have been up with The Very Best. When visiting an Establishment for the First Time I am sometimes torn between having it As it Comes, or My Way. On a Return to the India Quay I would certainly know what to ask for.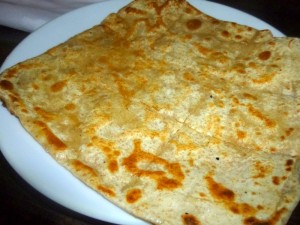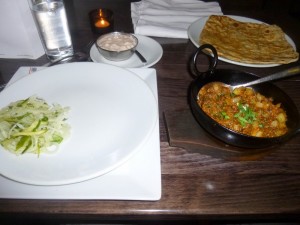 The Paratha looked a Bit Thin, it did the Job but was not in any way Outstanding. The Salad and Raita were a bit of a Distraction. They Refreshed The Palate, but Hector was here for the Curry Sensation. Maybe served First this would have Enhanced the Overall Experience.
The Customary Question
Three further Young Waitresses and a Different Waiter approached me whilst I ate to see if I required anything else. This was achieved without Intrusion. Appreciated.
The Bill
£14.95. Nothing Complimentary Forthcoming, and Tap Water consumed. This would have been a Pricey Visit had Hector not kept things down to Bare Bones. A Couple of Quid knocked of the Price of Mains would make India Quay a much more attractive proposition.
The Aftermath
As I paid, I gave the Calling Card to yet another Young Waitress. I was hoping she would pass it one to Mein Host who was on my side of The Counter sorting Bills. Mein Hostess smiled from across The Counter. I was hoping to get a chance to ask about the Progeny of the Restaurant.
Maybe next time?