Not Another Curry, Surely?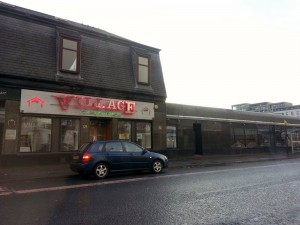 Curry-Heute was the Last Thing on Hector's mind this morning, and Marg's. Today is the Birthday Treat for The Mother of Hector. We had Spain in Mind, Tapas. We even had a Venue picked out. Alas, Mother had Curry in her mind and so to The Village (119 West St., Tradeston, Glasgow G5 8BA) it was. Mother has visited The Village over the years from the Original Upstairs Restaurant and Downstairs Café. She had yet to visit the Refurbished Village.
At 13.30 we were the First Diners of The Day. Mr. Baig, Mein Host was seated behind a Screen having his Lunch. I did not acknowledge him as I passed, a good thing as it turned out. Our Waiter was a Familiar Face and so I greeted him, another good move.
More Lamb?
There was a brief consideration of Fish, however The Village Fish Starters are Excellent, I cannot recall attaining the same level of enthusiasm with a Fish Main Course here. Lamb Achari it would be. Mother and Marg both ordered Lamb Lahore Kirahi – Medium. I asked for Mine to be – Medium, with a Kick.   Desi Hot – replied The Waiter. Four Chapattis would Accompany. No Rice. Had I been able to predict back in the 1960s that one day Mother would eat Curry without Rice….
A Pile of Poppadoms and a Dish of Dips were brought, Complimentary, of course!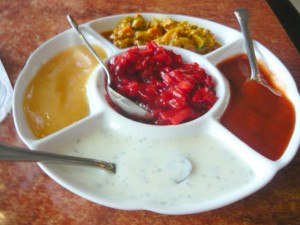 Two separate Couples arrived with Weans. More arrived. The area without Tablecloths filled up. Every Table was occupied. I counted more than Thirty Covers during our visit. Many brought Babies.
The Plates were Warm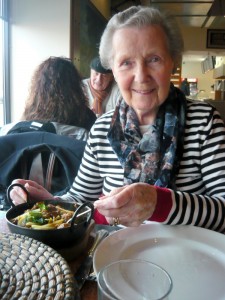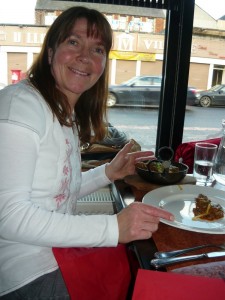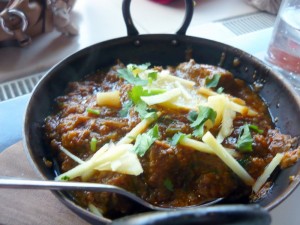 This is a welcomed declaration. Mother judges every Restaurant by whether it has a policy of Warm Plates. The Curry arrived along with Chapatti Basket. The Lahore Kirahi were suitably Dry. Delicious – was Mother's Verdict. She ate every Morsel. The Lemon even ended up her Sparkling Water and was consumed thereafter. Not a Drop Wasted. Marg accepted Defeat with Three Pieces of Lamb left. Doggy Bag. No Problem.
Achari Gosht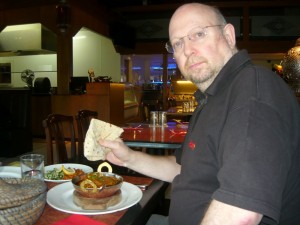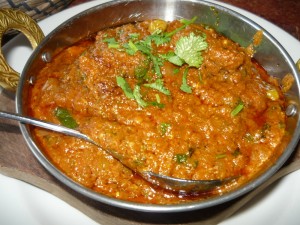 This was Acceptably Wetter than Hector normally orders. The Masala at The Village is Legendary. Onion-Rich it was Suitably Thick and without Excessive Oil. The Lamb Count in the Standard Portion was back to its Best. It would appear that this Issue has been solved. Though Marg and Our Waiter were puzzled by me not ordering the Lamb on-the-bone. Fine when One orders the Half Kilo, no chance taken.
The Flavours were Immense. The Lime Pickle was the last thing to register on The Hector Palate. First of all the Classic Village Taste was Evident, superb. There was Momentary sense of what lies behind the Village Desi Kourma – Citrus. Then The Full Citrus Blast. Desi Hot?  Indeed.  This Curry had a Kick, not for The Faint of Heart.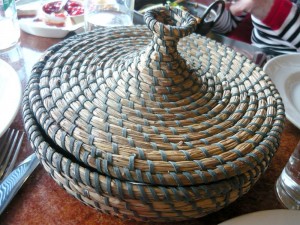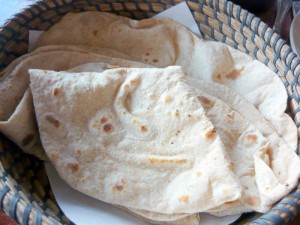 Every day is a good day to eat Curry.
Something New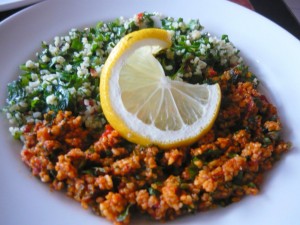 A Plate of what appeared to be Two different Couscous with Fresh Coriander was presented. We each had a sample – Refreshing.
The Long Haul
Assorted Coffee was on offer. Three Extra Hot White Coffees were ordered. Sometimes White Coffee can be misinterpreted. These were Proper Coffees made with Hot Milk. By now we had seen Everyone come and go. It was as quiet as when we had arrived. We were allowed to sit on.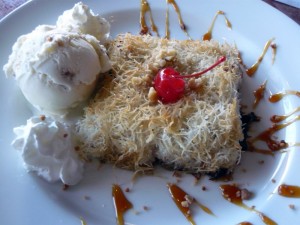 Our Waiter came over and asked if we would like to try a Dessert on The House. There is a New Chef. What I thought I heard as Kulafa, but research now suggests Kunafa was brought. We had asked for One Portion to share, just as well. A Middle Eastern Sweet served with Ice Cream and Cream. There were Nuts, Fruit and a something Spun on top.  Very Sweet.  A Portion to share was Perfect.  Had I the room to eat all this, I would have ordered more Curry.  Marg had The Cherry on top.
The Bill
£35.25. Three portions of Curry, Coffees, Great Value.
The Aftermath
I timed my payment of The Bill to coincide with Mr Baig at The Till. And so began The Chat. These are always special Moments when One visits The Village. Let's Talk Curry.
Mentioning the Birthday Mother, I related how it was She who Forced me to Eat Curry at and Early Age. That Mother can make an Excellent Curry is well known by all who visited Hector's House in the Formative Years. She doesn't Cook for One. Mr Baig related how he and his wife used to Cook at weekends for the Sheer Pleasure of doing so. It was this that led to the thought of opening a restaurant and serving Food as Close to Home Cooking as possible.  Proper Desi.
Mr. Baig hates being disturbed when he eats.  His snack on my arrival was a rare event.  He ate in peace.
The New Chef is Middle Eastern in Origin.  There are plans to expand The Menu to include Dishes from this Region.  BBQ and?
Hassan's departure from Cafe Salma has meant there is an opportunity to serve Tajine Dishes too.
I related my Saturday Night Curry Experience. Am I wrong to Criticise what Others Enjoy? What is served as Curry, what many expect?   I asked about the Pars – Persian Restaurant – across the street.  I saw it Open Briefly.  Apparently it Closed soon after Opening.
We realise there are those who never try anything different. The same Curry house once a week. The same Curry. They know what they like, any departure isn't right. I was reassured. So it goes.