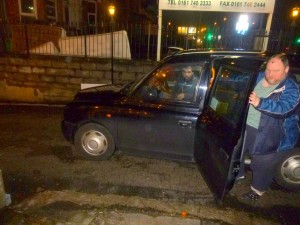 Normally on a Manchester Trip there is a Saturday Lunchtime Curry at Al Faisal. With a pre-booked Ticket to Sheffield just after noon, time escaped, a Ritual broken. In the Spirit of True Sheldon-esqe OCD, Hector was going to Cheethamhill this evening. A Taxi each way would be Crippling. The 135 Bus might be located around Piccadilly, further advice welcomed. Fortunately, Jonathan, whom I hadn't seen for Two Days, was Hungry and was Sufficiently Motivated by the Positive Reports that Dr. Stan and Hector had delivered. He would accompany Hector to the Lahori Dera (433 Cheethamhill Rd, Manchester, M8 OPF) for Visit #2. Mein Host, Last Evening, had suggested that on Saturdays they can be queued out the door. I phoned to verify they could take Two, No Problem.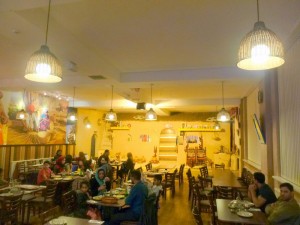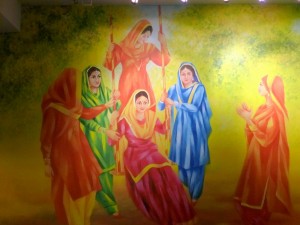 As I entered through the Double Glass Doors, the Head Waiter was hovering nearby. I opened Both Hands, he came straight across to shake the Right. I told You I would be back. The Room was much busier than Last Night, but as the Venue Seats Hundreds, there was plenty of Space. He led us to the Right Front of the Hall, the Open Kitchen was nearby.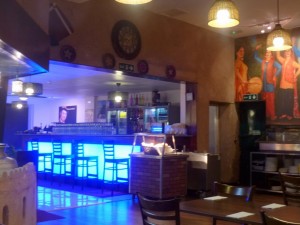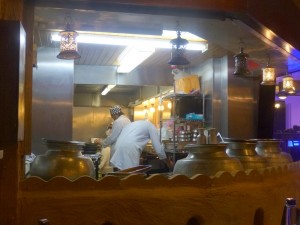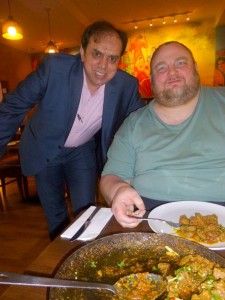 The Head Waiter would deal with us. I said we did not require Salad and asked for Tap Water. He informed us that due to Health and Safety they do not serve Tap Water. The Bottle of Still water from the adjacent Table was placed before us. You can have this at No Charge – he offered. As Jonathan would relate later, Hector went into Full Haggling Mode and managed to decline the Offer of Free Water. Do you have sparkling Water? This was provided. I am Happy to pay for this! The Salad came Regardless and as Tired and Weary Travellers, we were Happy to Munch…
The Advantage of Jonathan's presence was His preference for Boneless Lamb.
Last Night I asked for the Karahi to have Extra Methi and a bit More Salt – Plus Dry. What you brought was Perfect. The same again, but Boneless. Four Roti please.
This was again recorded on the Pad. We waited, but at least the Kitchen was in Sight, we could see The Action. The Manager was busy but still took time to acknowledge My Return. There were a Few Groups of Extended Families scattered around the Large Hall. From Weans who were up late to Grannies, People were here To Feast. The Curry-Heute Test for any Venue which Impresses Hector as much as they did last night, can you repeat it?
Dear Reader, what do You think?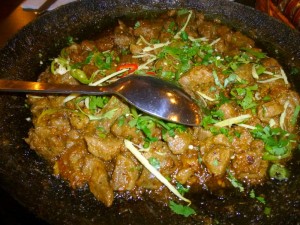 The Flat Karahi, maybe 40cm in Diameter, sat Proudly on The Table. A Pair of Rotis came at First, their Partners later. Same Quality of Bread as last Night, no Crisping. Here we go, again. As Dry as Last Night, same Minimal Oil, same Black Pepper Dominance, same Outstanding Pleasures, well almost. On-the-bone tends to have an Edge over Boneless. In terms of the Quality of The Karahi I tried to refrain from – I told You so.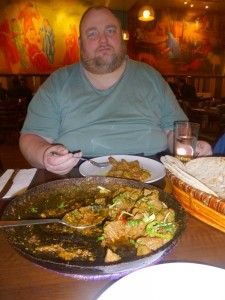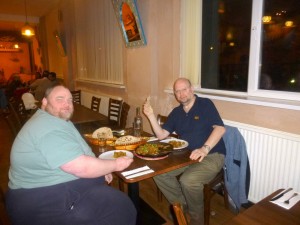 Jonathan could not be anything but Impressed. He too Favours Dry Curry, Excessive Masala is to be Shunned. There was just Sufficient. I now wonder how they would have served the Karahi without the request for – Dry. Next time, but I need a Partner, the Dish is only served – by the Kilo. Or is it?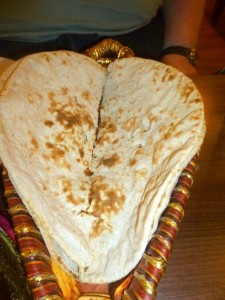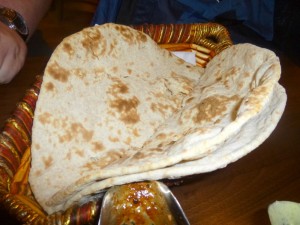 The Waiter declared that as I had come back as promised, I deserved a Present. I looked towards the Distant Stage. Dancing Girls? He had something more subtle in mind. He changed the Music. Rahat Fateh Ali Khan, Son of Nusrat, was now being Broadcast around the Hall. With more Western Electro-rhythms it is was not as Pleasing as the original. Ironically, the first time I saw Nusrat was on t'BBC when he was accompanied by Two Chaps on Synth. I have never found this again. The Gesture was Appreciated.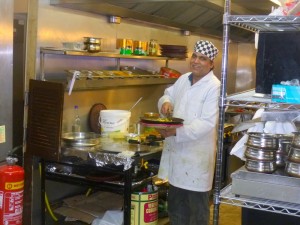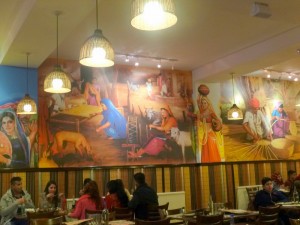 The Bill
£30.30. £1.50 for a Large Bottle of Sparkling Water is Excellent. £4.00 Extra for Boneless Lamb, there is more Meat in a Kilogram without Bones. So why do Some Venues charge more for on-the-bone?
The Aftermath
I promised to return to Manchester before next January and bring My Wife. Somebody should tell Marg, she doesn't read Curry-Heute.