This Man has come all the way from Glasgow for Lamb Nehari – Men Host informed a Takeaway Customer as we stood together at The Counter. I was asked to sit having confirmed Chapattis as the Accompaniment. One and a Half Chapattis. Maybe One Day…
This time Last Year, Andy Murray had just been beaten in the Final of the Australian Open. No Final for him this time. Stan is The Champ. Not Dr. Stan who had declined the Invitation to Accompany Hector to Kabana (52 Back Turner St., Manchester, M4 1LQ). He likes Nehari, but Noon was too soon after his Extensive Buffet Breakfast.
As Their Sunday Special, the Nehari did not take time to Heat. I trust it was the Chapattis (£0.60) that took the few moments. Throughout my visit I observed that every Customer, both Sit-in and Takeaway was Warmly Greeted, indeed, Mein Host appears to know all his Customers. He even recognised me Two Days ago and that was only my Second Time at Kabana.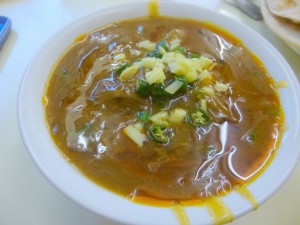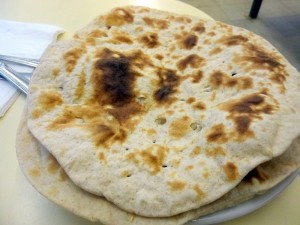 Nehari is a Wet Curry, Lamb Shank. With More Masala than I would normally tolerate, perhaps Rice would have been the Better Accompaniment. There is no Lamb equivalent to Beefy, but this Best Described the Overall Flavour. Very much a Spicy Lamb Stew, the Masala is not Onion-rich. Tender would hardly do the Lamb justice. Using my fork, I was able to shred the Large Chunks into more manageable pieces. Once again, the Fresh Chillies and Chopped Ginger had been added on Top at the time of serving. This added a Degree of Diversity. Overall, the Flavour took me back in time towards the 1960s. Old Fashioned, or Traditional?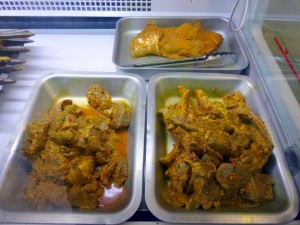 The Menu Board listed Fried Fish under Specials at £3.50 and Lamb Chops Tikka at £4.00. Both of these were on display at the Counter. Next time I may try one of these, or both.
After Last Evening's totally opposite Curry-Experience, One can marvel at the Array of Dishes from the Indian Subcontinent. One can eat Curry Everyday such is the Diversity.
The Bill
£6.20. When I met up with The Rest of The Company, they had paid around £8.00 for their Equivalent Breakfast. They did not have Curry-Heute.
The Aftermath
Mein Host is called – Rizwan. We bade each other Farewell, until the next time in Manchester.