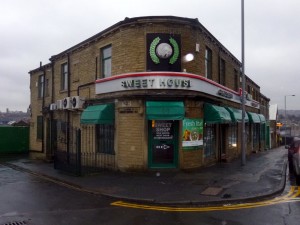 So why, Hector did you come to Bradford this weekend?
I came for the Beer Festival.
But it's next weekend.
I was misinformed.
A late night arrival from Athens followed by an early rise. Hector finds himself in Bradford mid-afternoon, impossible in a working week. Ricky, Our Man in Bradford, is abroad. Jonathan is on his way. There was time to fit in the First Curry of The Weekend. Well, who needs a Beer Festival?
The Punjabi Sweet House – Grill Centre (122-126 Listerhills Road, Bradford, BD7 1JR) has impressed on previous visits. On December 30th last, Marg and Craig shared a Fish Karahi, The Waiter having mucked up the order. Even after the Lamb Karahi, this stood out. I was determined that my first Curry of this visit would be the Fish Karahi at this Venue.
Arriving by Taxi, it is raining in England, and has been all week I hear (endlessly), I can walk back to Town, easier to be brought. The Front of House Tables were occupied, I took the Rear Corner. In the Adjacent Corner was another Couple. A Dozen Diners this early, impressive.
There was a Solitary Waiter who took a bit longer than anticipated to approach me. The Menu was not required. Fish Karahi and an Aloo Paratha.
More arrived, I was a bit miffed when the Newcomers had their Fish Starters before I had mine, surely a Straightforward Order? The Waiter appeared to bringing things out in Batches on a Tray. And so it was that My Karahi and Paratha arrived via a Drop-off at another Table.
Aloo Paratha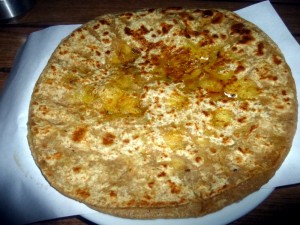 Hector has been served some very poor Bread this week, in Greece. The Mind's Eye had a Flaky, Fresh, Piping Hot Paratha. What was delivered was yet another Bread Disappointment. The Paratha was Warm, usually they are Too Hot to Handle on presentation. As a result the Bread became very Limp very quickly. Grease emerged, the Potato content was less than hoped for. Hector was not impressed.  Just how long had this Paratha been sat waiting for the Karahi?
Bradford Curry
The Karahi Portion was Substantial. Portions here tend to be so. The Dish was Steaming Hot which enhances the Verdict on the Paratha. With less Oil than I have seen in any Curry served on these premises, this was Bradford Dry. The Fish was Flaked as expected. The Distinctive Bradford Flavour was there – just. In no way was this as Attention-Grabbing as the December Version. Pot Luck of which Chef on duty perhaps. Still, Spicy, Dry, Bradford, it ticked many boxes. It did not have the – Wow – that I have already experienced Twice this week in Athens of all places.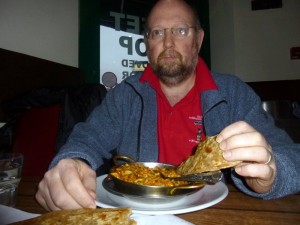 Athens outdoes Bradford impossible? Perhaps not.
Three Visits, perhaps it is time to explore New Bradford Venues…
The Bill
£9.80. Bradford Price.
The Aftermath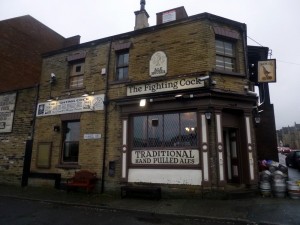 This should go down in the History of Curry-Heute as the most up-to-date Curry Report ever written. I decanted around the corner to The Fighting Cock. With a below average Sheffield Ale for Sustenance, the employment of both Trusty Samsung Devices have enabled T'Internet and this very write-up.