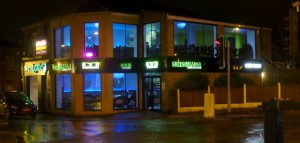 Jonathan and Hector arrived at The Sheesh Mahal (6 St. Thomas's Rd, Bradford, BD1 2RW). in the early hours. Taj, The Owner, was sitting at the rear of the Restaurant with a Friend. I decided the adjacent table was The Spot. Jonathan and I were welcomed, we have been here a Few Times.
The Poppadoms, Salad, Dips were brought in a flash. Jonathan managed to order a Shami Kebab and eat it before the Camera was ready, it must have been Pasteurised.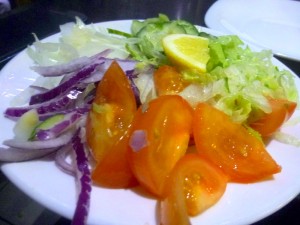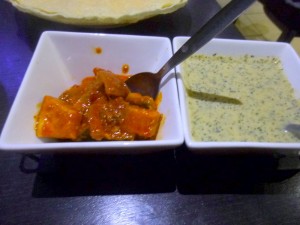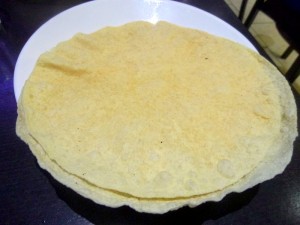 What would normally be written as The Aftermath was actually The Prequel. As I photographed The Salad, Taj said – You are still spying on me!
Spying? I'm bringing you business!
He wanted to see his own Photo on Curry-Heute to show his Friend. I complied. January 2012, just after the re-opening. Taj did not know Hector prior to this, it was his Son – Omar – who dealt with me then. Omar has just departed prior to our arrival this evening. Taj recalled that we were here the morning they discovered the Sheesh Mahal had been broken into.
The Menu had been brought – Omar knows what I like. And so Hector described his Favourite Bradford Curry to Taj. Lamb, on-the-bone, Extra Methi. There was no need to ask for – Dry – this is Bradford. I should have mentioned seasoning, my own Current Obsession. Jonathan is apparently stuck in the world of Keema Mutter.
As we sat, a couple of Ladies took the adjacent table on my right. Suddenly the nearer one was on the floor beside me. Welcome to the World of Late Night Curry.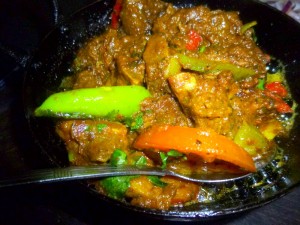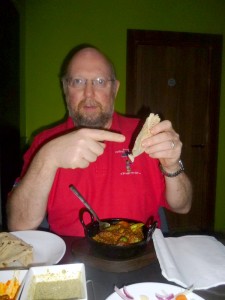 As I ate my Bradford Curry, which was of course Wonderful, More seasoning was the only Limit to Perfection. Four Chapattis had been brought, more were on offer if required. At last, Proper Bread. It has been a Poor Week for Bread.
A thought, they happen occasionally, how many Restaurant Critics have to review the Same restaurant, and in effect the Same Dish, as often as I do? As long as The Song Remains The Same one keeps going back for more.
Meanwhile, at the table next to the door, another Bradford Lady fell off her chair. Taj had left us and thought it was better to be a Presence. I was amused when the – Lady – who was totally out the game, was sat back on her chair and her Pals asked her if she wanted a Starter. A Starter? She needed a Taxi.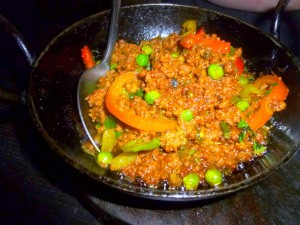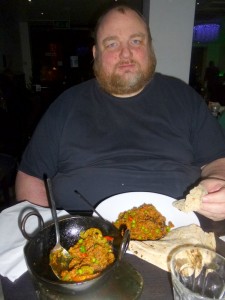 Jonathan said his – Keema was well Spiced, Incredibly Tasty. The Kebab hit The Spot.
The Bill
£18.30. For Two, including a Starter. In Bradford The Pre-Starters are Complimentary as are the Chapattis.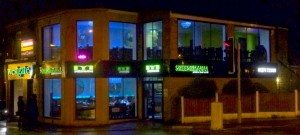 The Aftermath
Sleep, and more Bradford Curry, but where?