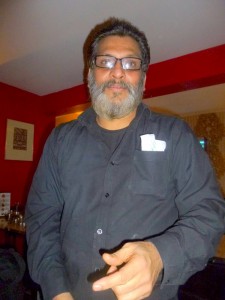 After our Tour of Special Places in Leeds, Dewsbury and Huddersfield, Jonathan and Hector met up with Ricky, Our Man in Bradford, at Haigy's. One Pint was all that was permitted, another Chap called Mick (Half of Yorkshire is called Mick?) dropped us off at the Sir Titus Salt from where we could decant to The International (40-42 Morley Street, Bradford, BD7 1BA).  We arrived far sooner than I anticipated.
Good Evening Mr. Bashir, Khalid – Hector was on form, using his recently acquired information. The Other Waiter, now resplendent in Mature Beard, was all Smiles. Ali – that's the set complete.
Poppadoms, Pickle, Dips were brought immediately. Now to choose something different. Well, it would still be Lamb, but not Karahi. Two Visits ago Clive and Hector had a Superb Lamb Chops Achari, a Variant from the Krahi Lahore Lamb Chops on The Menu. I negotiated this with Khalid who was taking our order. Or was it Ali? Here lay the origins of the Problem that would manifest itself.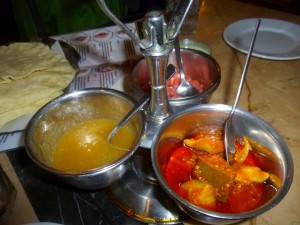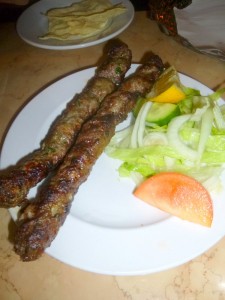 Keema Spinach Bhuna was Ricky's Masterful Selection. Jonathan was up for this too. Chapattis for Jonathan and Hector, a Plain Naan for Ricky. These are included in the Price of The Main Meal. A Point I have made many times before but shall insist on highlighting.
Ricky and Jonathan would share a Seekh Kebab (£2.00). I wonder how many times we declined the offer of Salad? There must have been an abundance this evening.
The Distractions
A Group of – Ladies – shall we say from an area South of Pakistan and Bangladesh, came in and were sat in the alcove beside us. An Eighteenth Birthday Party – the Matriarch explained. Poor Doris, who was Eighteen Today, may not remember much of the latter part of her Birthday. Was she ever Conscious?
The Breads arrived, courtesy of Ali. My Lamb Chops Achari in the Glass Trough and One Keema Spinach Bhuna arrived. The latter was set before Ricky, so that was his then. We started.
What is This?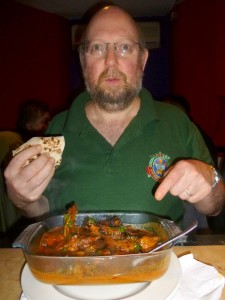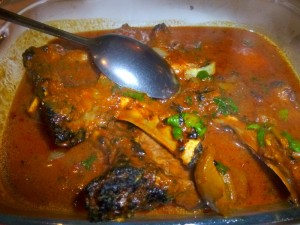 It wasn't so much that The Lamb Chops only Numbered Four, maybe Clive and Hector had ordered a Half Kilo last time. It was the Masala. Bradford Curry is Dry. Where did this Soup come from? I have never seen this in Eighteen Years of Visiting The International, or any Bradford Curry House for that matter. Apparently I took a long time to finish the First Chop. One suspects Ricky was already anticipating my defeat? Hector was distracted by The Soup-Masala. Dipping the Chapattis, First of Three, it was most apparent that the full Blast of Achari-Pickle was there. The Flavour was Intense, the Seasoning, ah The Seasoning. Yes, I would have preferred a Thicker, Bhuna, Bradford Masala, but this is what I had, make the most of it. Chops Two to Four were despatched thereafter with Great Efficiency. The Chops were Large, maybe Four was enough. Seven would have been Wonderful.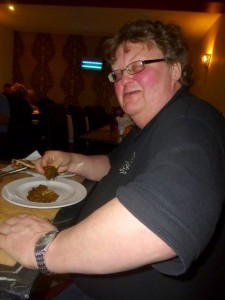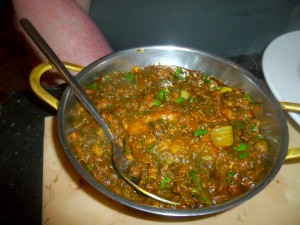 Meanwhile Ricky was well into his Keema Spinach Bhuna. Jonathan still had no Curry. When Ali brought the Two Curry Dishes he made no attempt to apologise for the oversight. Khalid had to be called in. The Order was Repeated, Confirmed. Jonathan suggested that he might – … do a Robin…
Well Spiced, Real Spinach, not from a Tin – was Ricky's Verdict. He also said he could have done with more. The Sauce was Spot-on.
Jonathan eventually received his Keema Spinach Bhuna. The Wait had spoiled his Dining Experience. As there was No Apology, it did not matter how good the food was…
Ricky suggested that the staff were too busy looking after a Celebrity rather than getting the order right.
Ricky was referring to Hector!
The Bill
£27.40. The Bill was split Three Ways despite Hector not having any part of The Starter. Your Ridiculously Posh Course – was Ricky's justification for this. Indeed, Mine was £2.00 dearer.
 The Aftermath
We went our separate ways.
Before my next Curry, some very Sad, but not Unexpected News would reach Hector.