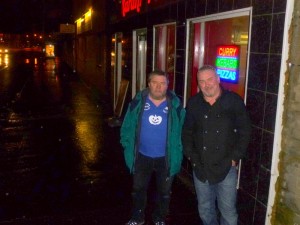 After our Monthly Visit to The Staggs (Musselburgh) it was time to eat. The New Karahi Palace (51-53 Nelson Street, Glasgow, G5 8DZ) was this evening's Venue. Lord Clive of Crawley was recognised by Shahid on entering, unbelievably this was Steve's First Visit to this Most Understated Glasgow Curry House.
I insisted he look upstairs at the Restaurant, proper. We would take our normal seats in the Downstairs Takeaway. Hector acknowledged Chef Rashid who was standing at His Spot in the Kitchen behind the Counter. Apart from the Ongoing Takeaway Business, we were the Only Diners. Dear Reader, You know not what You miss.
Clive and Steve followed Hector's lead. Lamb Karahi (on-the-bone) with Extra Methi and Seasoning. Six Chapattis to Accompany. Simple.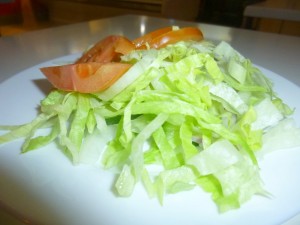 Sometimes a Complimentary Raita and Salad are Presented. Shahid brought the Most Modest Plate of Salad. We looked, we smiled, it was not touched.
What is better than One Photo of Lamb Karahi?
Such was the sense of Anticipation, I photographed all Three Karahi and everything else as is The Curry-Heute Tradition.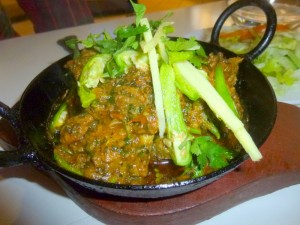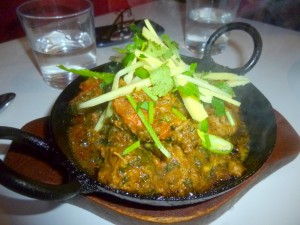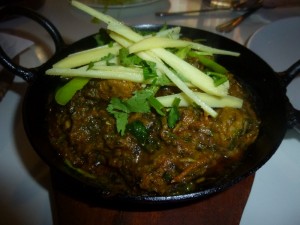 Excellent
Steve was impressed from the First Mouthful. How he managed to eat was remarkable. The Lamb was far too hot touch. Hector managed To Dip the Chapatti in the Minimal Masala. The Intense Flavours were there. This Curry is Rooted in the North-West of the Indian Sub-Continent, far removed from the Typical Curry served in Mainstream restaurants. The Lamb of course was Wonderfully Tender. On-the-bone adds a New Dimension to the Flavours. This is not a Curry to be eaten with anything other than One's Fingers and the very Substantial Chapattis. There was a repetition of – Very Good – from Clive who knows Outstanding Curry. More – Excellent(s) – from Steve.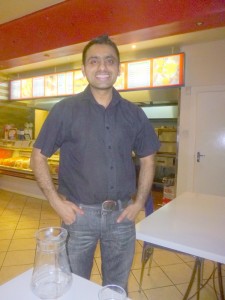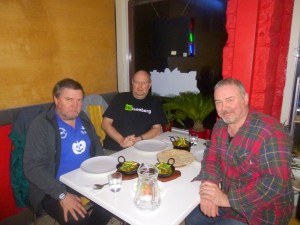 Can I get you anything else? Asked Shahid as we completed The Feast.
Same again!
Maybe the Half Kilo will become a consideration once more.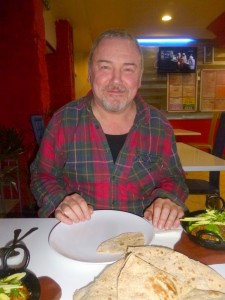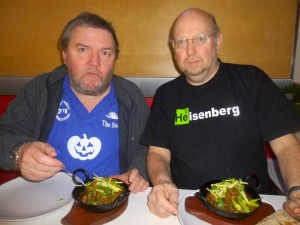 The Bill
£26.70. For Three People.
The Aftermath
Fond Farewells, and further acknowledgement to Rashid for his Wondrous Cooking.
Dr. Stan had texted wondering where we were. He had come back by Bus from Musselburgh. We found him in The Laurieston. Poor Dr. Stan, he missed out today.