A Wet Sunday Morning in Glasgow. Dreich – remarked Clive as we walked to Station. That the Train into Town was cancelled would have a bearing on the rest of the day.
We walked into Mother India's Café (1355 Argyle Street, Glasgow, G3 8AD) minutes after their Noon Opening Time. We were not the First Customers. This Venue would fill up, by the time we left, every table was occupied. A Sunday Lunch at Mother India's Café is usually – Chust Sublime.
This was Lord Clive of Crawley's First Visit to this Venue. Hector basically insisted that he try the Machi Masala. Being a Tapas Curry House, this would leave him the Opperchancity to make a Choice of His Own. Methi Keema Mutter proved Irresistible to Clive, though he did study every Dish on offer before making his choice.
Today's Specials included South Indian Ginger Lamb. Now would this have Coconut? Would have the Dry Red Chillies? The Accompaniments were Chapattis (£0.95) and an Aloo Paratha for Clive. A Large Bottle of Sparkling Water was required by Hector.
More Customers and More Staff arrived. We were not the First to receive our order. Time was passing. I could smell the Aroma of Fish filling the Restaurant, our Machi Masala was imminent. The Two Fish Portions came with the Two Chapattis. This left Clive with nothing To Dip. There was no Holding back The Hector. Spice, Citrus, Bursting with Flavour. This Dish must be The Best Fish Curry served in Glasgow, by far. Some time back it was served in Batter, thankfully this has gone. Quality Fish, a Magnificent Creation.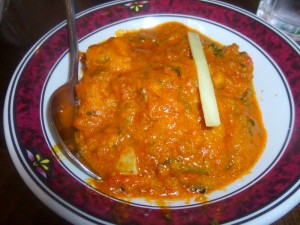 Bags of Flavour – was Clive's opening remark. Another man Hooked.
The Methi Keema Mutter arrived with the South Indian Ginger Lamb. The Aloo Paratha was last by some time.
The South Indian Ginger Lamb only half filled the Metal Container. No Coconut – Yay -, no Red Chillies – Boo!  There were Nine Pieces of Lamb, more than is served as a Main Course in some Venues. The Lamb was Tender, the Masala a Traditional Onion and Oil-based example. It couldn't compete with The Machi Masala.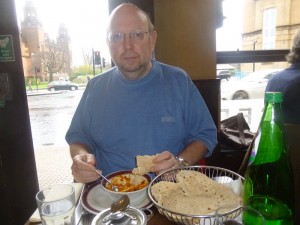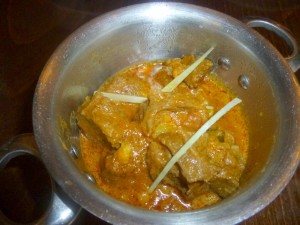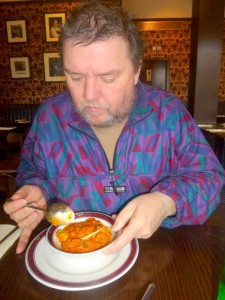 Clive's Methi Keema Mutter filled the Metal Container. It looked the part. Very Good – was Clive's verdict. I should have eaten them the other way round.
Ah, but The Fish came First!
The Bill
£27.00. There is a feeling that this is better value than on the earliest visits many years ago.
The Aftermath
The Manager brought The Bill. A good time to ask a burning question. Kofta Palak. Once upon a time, Hector had Kofta Palak as a  Special at this Venue and considered it the Best Ever. It has never been seen since. The Manager insisted in his Five Years here, Kofta Palak has never been served.
Hector had to consult a Normally Reliable Curry Website. The Dish served that day was Lamb Kofta in a So-impressive Masala. Somehow this was mistakenly remembered to Dr. Stan as Kofta Palak when we dined here Three Months later, and so a Myth was born.
Next time I shall ask – When will Lamb Kofta be available again?
We arrived at Glasgow Central Three Minutes after Lord Clive's Train departed.  Oops.