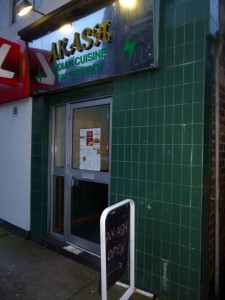 Marg and The Ladies went for a Ladies Curry Night at The Masala Twist, Hector knows His Place. And so just after 17.30 Hector entered another Home from Home – The Akash (45 Sinclair St, Helensburgh, G84 8TG). Irfan, the Head Waiter greeted me with a warm handshake, everybody now knows everybody's name. I took my favoured table on the platform to the far rear, left. From here Hector surveys all. Ashgar, Mein Host, was also not shy in coming up to greet me, the first of a few visits.
Hector was Hungry. This is Thursday, only Two Full Meals have been consumed this week. A Starter was called for, not the Famous Akash Chicken Chat which is basically no more. Once upon a time…
The Shami Kebab has never been tried here, at £5.50 no wonder. What the Heck, it's Pay-day!
Now for The Mains
The Hector Special – Lamb Karahi Methi, Dry and Thick with Herbs did not appeal this evening. Balti, Bhuna? In a long list of Chicken Dishes was Achari, no Lamb? By this time I had Irfan and Ashgar helping me choose something. Irfan suggested They just make me Something. I insisted upon Lamb, with Herbs, maybe Achari? Ashgar returned moments later to confirm the Spice Level. We agreed on Madras. And so we have the Akash – Lamb Methi Achari Madras. Irfan asked if this could become a New Hector Special? A bit early to decide. Irfan asked about Chapattis. Mushroom Rice is what I was in the mood for.
The Shami Kebab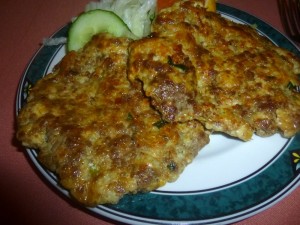 Two Kebabs served with a Modest salad and Pink Yoghurt. I was unsure as to whether the latter would add or take away from the experience. Spiced, Tasted Fresh, was more than Adequate in Size. They lasted Seconds, Hector was Hungry.
Hector The Consultant
Between Courses, and we agreed Ten, Ashgar and Hector discussed The Akash. I was asked what I would do to improve the business. I could have started with the Curry-Heute Campaign: No Charge for Poppadoms, Rice/Chapattis/Naan included in the price of a Main Meal, and No Food Colour. I suspected Ashgar was thinking along other lines. It was confirmed that despite the opening of the Masala Twist and the Refurbishment of No. 28 was testing them. The Akash is doing well on Fridays to Sundays and also on a Wednesday when they have a Fixed Price – £15.00 for – Eat What You Want. (Not a Buffet, Cooked to order.) There is a New Menu imminent,and I don't think The Hector Special will appear, though Ashgar confirmed that there is a Cohort who come in and ask for this Dish. There is a Plan to have a Set Price, £12.00 on a Sunday for Three Courses.
The Décor and Seating Layout have not been changed since the New Owners arrived. The Place is Bright, maybe make it Less so. What about doing away with Tablecloths? It was confirmed that they are changed after every customer. Most places these days do not have Tablecloths.
Eventually I had to make suggestions about The Menu. Tentatively I suggested – More Desi Dishes. People like Home Cooking. I had already listed the Cities in which I have consumed Curry since my last visit here. The Lahori Deera in Manchester serves Desi Karahi at a Level which is off the scale.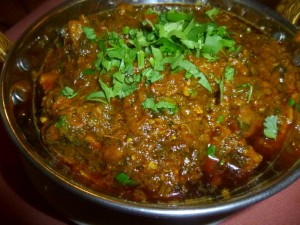 By this time Irfan had brought the Lamb Methi Achari Madras. It looked the part. The Mushroom Rice was well Presented and Plentiful, not Excessive.
There was Visible Oil in the Dish as I decanted, here lies the Potential for Flavour. The Lamb was certainly on the Chewy side but not to a level which was a problem. The Bite, The Kick form the Masala was Immense. The Spice Level was Perfect, not Ridiculous. The Pickle was to the fore, very much Achari. The Herb content was Visible but again not to Excess. A Thinner Masala than some but by no means approaching Soup. This was a Very Good Curry, a Bit More Seasoning and it would have been Right Up There!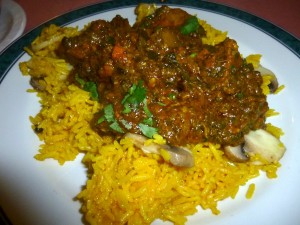 Ashgar returned – Was that Acceptable?
I hope for More Than Acceptable. I was asked to give a Score, I don't really like doing this. If a Curry is Outstanding to my Palate then it is. 7 or 8 out of 10 – was my Score. Better than Average. I would have this again – with Extra seasoning – then we would have the Hector Special #2.
The Bill
£19.00. Without The Starter this would have been the Normal Price I expect to pay anywhere.
The Aftermath
Ashgar said that he had been chatting with his Brother, Rashid-the-Chef in the Kitchen. It was suggested that next time I am coming with Friends I should phone in advance and they will prepare some Traditional Dishes for us. I have been to the New-co often enough for them to know my tastes. I had to ask where their Family originates from. Bombay was mentioned and then Punjab. As Regular Readers know, Punjab gets Hector's Juices Flowing.
So, who wants to be part of this Invitation (Standard Prices Charged) and when?