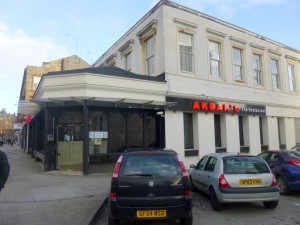 The Website for Akbar's (573-581 Sauchiehall St, Charing Cross, Glasgow, G3 7PQ) now reports that the Restaurant is open for business at 16.30 on a Friday. This was enough to attract Hector back. Once again Hector finds it unbelievable that there was only One Visit to these premises throughout 2013. With Two Trips to Bradford already in 2014 Hector has indulged himself in some Wonderful Curry there and in Manchester, Athens and of course at Home – Glasgow. Dr. Stan was up for the 16.30 rendezvous and in fact was waiting at the allocated Window Seat. We would be the Human Advertisements.
A New Waiter started off the proceedings, Sohail was across to greet us and ask after our well-being. Mein Host came over to enquire why we as to why we have not been here for so long. The answer is simple – I replied – New Karahi Palace!
Having consulted a well known and reliable Curry Website, I had confirmed in advance that the Dish I required was the Roshan Lal. Dr. Stan flirted with the idea of Fish Karahi but in the end opted for Karahi Keema & Matter. Their Spelling Variation.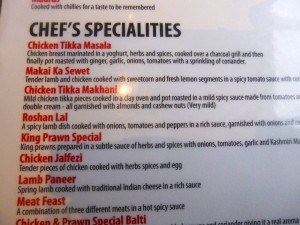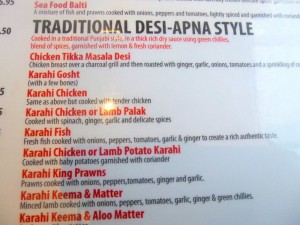 I asked for the Dishes to be served – Desi-style, in the Asian-style, Properly. Sohail passing by confirmed that he knew we wanted the True Akbar's Experience.
There had to be Starters
Dr. Stan cannot resist a Seekh Kebab, this motivated Hector to order Lamb Chops. Poppadoms and Dips were declined, they would have been charged for and add significantly to The Bill. I do not play this game. We were told the Starters would be Fifteen Minutes.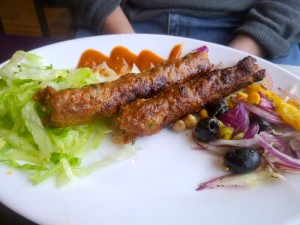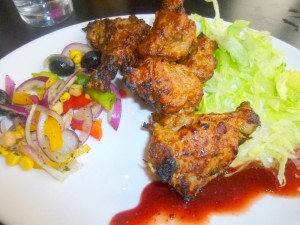 Fifteen Minutes later The Starters were presented. Dr. Stan devoured his Pair of Seekh Kebabs. I told him they are very easy to make and that the Recipe is on a well known and reliable Curry Website. (Actually, it isn't.  Note to self… must get round to this…) He asked about the Keema Mutter – this too. Dr. Stan The Chef? Interesting. He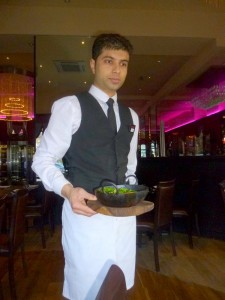 has time to cook these days.
Four Lamb Chops formed The Portion. Each was Juicy and had the Charcoal And Spice Flavours hoped for. Wonderful Lamb Chops and at £3.95 not over-priced. The Decorative Salad is also worth a mention. With Black Olives and a Jam-like Sauce a suitable Distraction from Meat Heaven.
As the plates were cleared we were told The Mains would be Fifteen Minutes. This would give sufficient time to Digest The Starters. Thoughtful and Efficient.
Fifteen Minutes later The Mains were brought. Mr. Sohail insisted on having his Photo taken and was a recipient of The New Calling Card.
Dr. Stan's audible – Mmmmms – were numerous. There was even a – Yes. Dr. Stan doesn't express more animation than this. Asked at the end if he had anything profound to add there was an emphatic – No! However, he did follow this with – Spicy, Very Tasty indeed.
Ooops!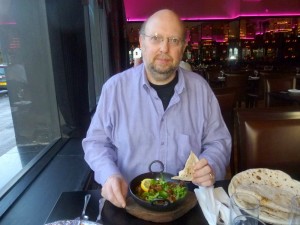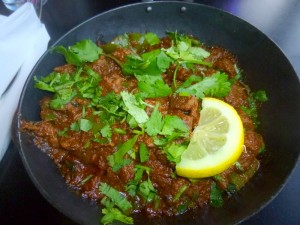 Hector forgot to have the Dreaded Green Mushy Vegetable withheld in the Roshan Lal. Seven pieces were served with the Lamb. I even ate One Piece, it did me neither harm nor good. Again, I do not see the point of this additive. The Lamb was Cut Small in the Bradford way. The Masala was Bradford Rich and Thick. It's all in the Oil – is my conclusion of late. Something in the Oil gives Bradford Curry such a distinctive Flavour. Dr. Stan enquired about the Oil. Maybe they use Mustard Oil? I related that Mustard Oil doubled in price towards the end of 2013. The Rick Stein Effect?
I'll be back – soon.
The Staff made the usual polite enquiries and were dispatched with positive remarks.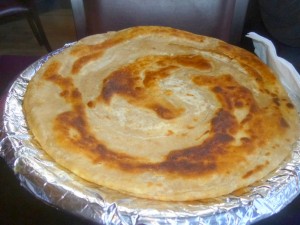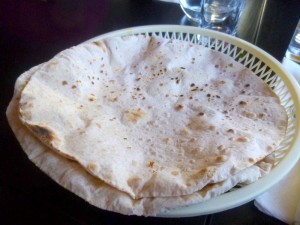 The only disappointment today was the Chapattis. Dr. Stan's Plain Paratha looked Wonderful, this is what I should have ordered. The Chapattis were too peely-wally, floury? The second was Cold and Starting to Crisp by the time I got to it. Maybe I am becoming used to Chapattis arriving Fresh throughout the Dining Ritual.
The Bill
£32.90. With Starters this has to be Excellent. It also helps when Drinks are at a minimum, i.e, One Bottle of Sparkling Water and One Fanta.
The Aftermath
It was just after 17.45 when we departed. The advantage of the Early Start. The State had Oakham Ales waiting for us. Good Night.