A Friday Night Takeaway?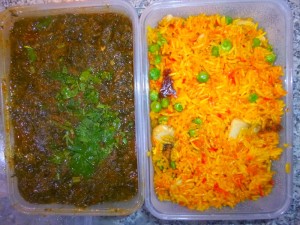 There must be a reason. Today Hector was under the knife at the Western Infirmary. I managed to be discharged before Dinner was served. I have plans for this evening – I told the Nurse. Lunch was Microfish and Chips. Not a Hector portion. Some of the afternoon was spent sussing out the view from a different Room 23. The plan was a Takeaway from the Asian Tandoori (3A Duntreath Ave. Glasgow, G13 4JG) , a Takeaway which appeared last year.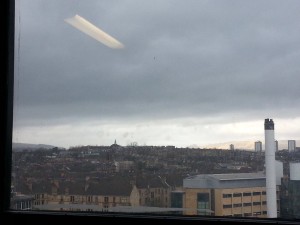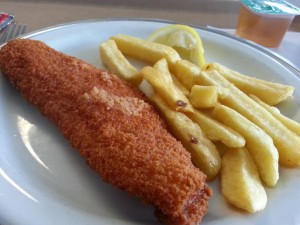 I had made Two previous visits. The first time I walked out having found nothing on the Menu of Interest. More recently Marg stopped off for a  Pakora and I spotted Lamb Methi Gosht, I would return.  The Chef's Specials in the On-line Menu is Vast and even has Shuli.
Helpless in the Car, Marg had to do the negotiations today, so if Tea Time Specials were on offer I know not. A Vegetable Rice of sorts, and a Vegetable Pakora for later was my order. Marg felt Pakora would suffice.  Mettay – is how I am told Mein Host pronounced Methi.
The Bill
£13.95, Second Hand Information – Yay!
The Vegetable Rice turned out to be Rice, Peas and Fresh Mushrooms, Perfect. The Lamb Methi was Impressively Thick with Herbs, so far so good.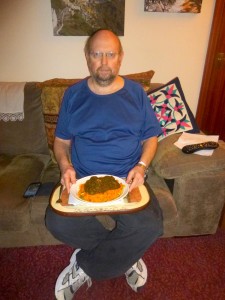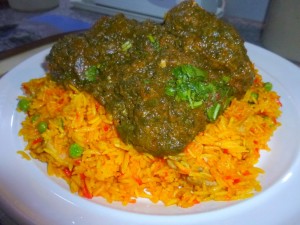 The Standard Takeaway Plastic Containers meant there was as much Rice as Curry, a True Hector Portion in all. Salt was coming from Somewhere, it may have been the Lamb. The Seasoning was therefore up to the hoped-for level.  Plenty of Lamb and Tender too. There can be no denying the Lamb and Methi had not long been introduced to each other. Still, there was nothing to Criticise, this did exactly what it said on the tin. I've had Better, I've had Far Worse. I would certainly order this again.  However, The Chef's Specials look inviting.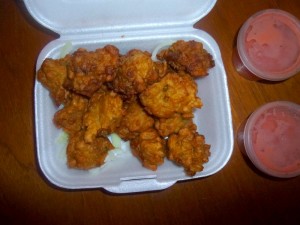 Marg had her Pakora Fresh, mine had a 2.5 minute Microwave Blast some Three Hours later, not ideal. However, this is about all Pakora can take. Stodgy – was our Common Comment for both the Fresh and Reheated. Too much Gram Flour, not enough Vegetables.  You cannot beat the Akash (Helensburgh) for Pakora – was Marg's concluding statement.
The Aftermath
Defrosting who knows what for tomorrow.
To suffer is to suffer.