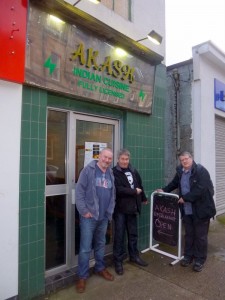 Last month Ashgar, Mein Host at The Akash (45 Sinclair St, Helensburgh, G84 8TG), suggested a Desi Evening. An Opperchancity for Hector to round up some Friends and enjoy an Evening of Home Cooked Curry et al. One wouldn't believe how difficult it was to find the Necessary People available simultaneously. In the end, The Children of Hector were abandoned to their own devices.
Marg knew she would be late and so we would keep to the 18.00 Kick-off as planned. Dr. Stan had a Senior Moment and admitted he would not be in Helensburgh until 18.30. Howard, Steve, Alan and Hector entered the premises at a compromise, 18.15. Ashgar was at the door to greet us along with New Chap. Irfan's night off. We would be the Lone Diners this evening. Eeerie.
We are here – To Dine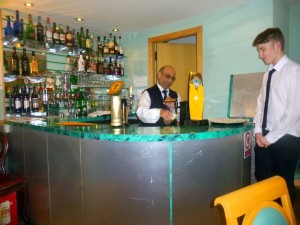 Cobra felt fitting this evening. Given that we were on a promised £15.00 per head flat rate for the food (as is available a la carte every Wednesday and Thursday) at least there would be a profit on the Bier. For a brief moment Alan convinced me he had sampled Cobra, then it was normality resumed, Cider at $??.?? per pint.
The Bill tonight would be above our Norm, however, we knew we were to be treated to some potentially Excellent Curry.
A plate piled high with Poppadoms was brought along with the Dips – Spiced Onion, Lime Pickle and Mango Chutney Sauce. No sooner had these arrived when Dr Stan appeared at the top of the stairs.
Shami Kebab
Rashid, The Chef, plonked a Plate of Halved Shami Kebabs in the midst of The Company with a Raita. These Kebabs looked Darker than any such Kebab set before Hector before. I had to ask.
It's the Spices, and they will be more juicy…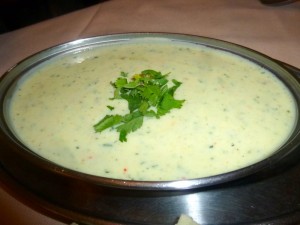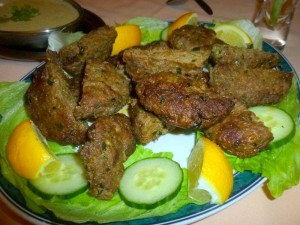 Alan asked if these were on The Menu. Ashgar remarked that they were, but these were Desi. And so the night was set, or was it?
A familiar ring tone rang out, it was Marg. There was an ongoing RTA at the weakest link in the A82, the stretch around Dumbuck. Marg had been assured that the road would be closed for some considerable time, no point driving down to Helensburgh. And so we remained Five.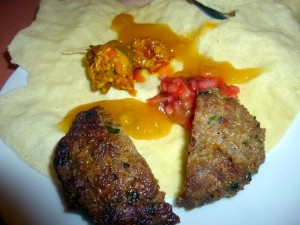 As much as Alan would enjoy what followed, he later remarked that this was the Stand-out part of the Fayre for him. I don't even like Raita. The Cucumber puts him off, yet the combination of Shami Kebab and Raita worked. Alan will be imbibing in Hop and Yeast laden Drinks one day soon…
Dr. Stan finished off the final pieces, he likes his Kebab Starters.  The Management asked us if we wished more, but as we guessed that what would follow would be massive, better not.
There was a suitable gap. Some had more Cobra etc.
The agreement was that the various dishes would be presented en mass and not as individual portions, in this way we would in effect have a Table Buffet.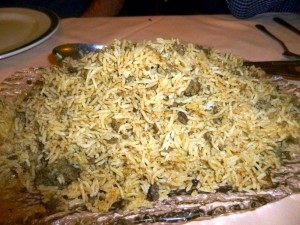 The Mince Rice was the first Platter to arrive.  A Mountain of Rice which was laden with Keema and Flavoured with Various Spices and Cloves much to the fore. This would have satisfied some, but the Real Business was imminent.
Chicken Karahi?  Well it had to be first.  Hector cannot recall the last time he had Chicken Curry in a Restaurant.  For Korma and Patia I feel Chicken works, for Mainstream Curry I don't get it.  I was not the first to take a serving and so by the time the Glass Bowl reached me, the Expectation Level had risen considerably.  There were initial – Mmmms – to my right, Alan and Howard. The Seasoning was apparently – Spot-on. If this is right, there is always hope for the rest. The Masala was stunning, Alan shared my observation that although the Oil content was highly visible, the Masala itself was suitably Thick to carry it off.  I will admit to going back for more later.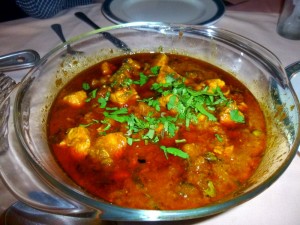 Rashid placed the next Glass Bowl directly at my right hand.  This is Yours! It was The Hector Special – Lamb served with a Dark, Herb-Rich Masala, as demanding as Curry can be.  Dry was not the Word.  That we then realised that this was served  on-the-bone put the Dish in even Higher Esteem.  This Dish was the Antithesis to everything else served this evening.  Ironically, there was a Good Portion left when we had all finished.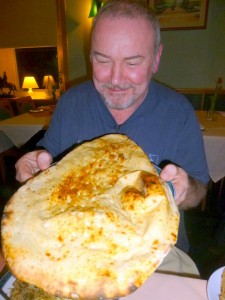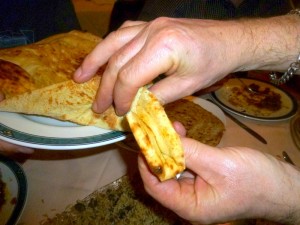 A Tandoori Paratha and a Naan then came.  This distracted us from the Rice, but the Dry Lamb is better eaten this way.  Alan was the Rabbi.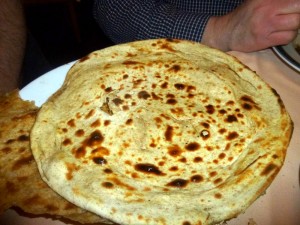 In case anyone found a Dish to be not Spicy enough, Rashid brought a Hot Chutney.  This lived up to its description, I even found Pickle in there too. We all tried it, Sparingly. Respect.  A Healthy Onion Salad came nowhere near The Hector.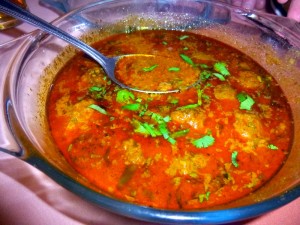 Ashgar had mentioned Kofta when the evening was conceived.  Kofta Karahi was next out.  The Lamb Mince Balls were perfect, the Masala a bit on the Thin and Oily side for me.  This was definitely well received overall, and all the Koftas vanished.  Dr. Stan on my left, had found that his slightly peripheral seat now had its advantages, everything stopped at him.
The Final Dish, the Lamb Karahi was the Highlight of Hector's night.  Always willing to listen, I had considered my next challenge to the Akash would be to present another version of the Lamb Karahi than that which was given on the first weekend of the New-co.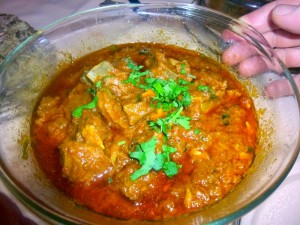 Steve spotted that this too was on-the-bone.  The Masala was similar to the Chicken Karahi, as One would expect, but now We had Lamb!  There was no way the contents of this Bowl would survive very long. This was as Flavoursome a Curry as One would hope to be served anywhere.
Five Men were now filling up.  More Paratha and Naan appeared. Ashgar kept asking if there was anything more he could bring us.  More Bier.  What?   And Clean Plates for those who desired them.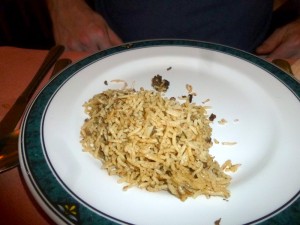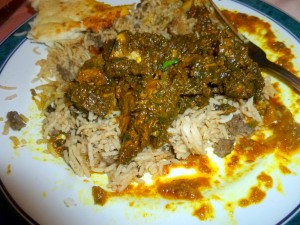 We couldn't finish all the Food, I don't think we were meant to.  Ashgar had stated that he would prepare a Takeaway for Marg (on-the-house) .  A Somewhat heavy bag of Food was subsequently placed beside me.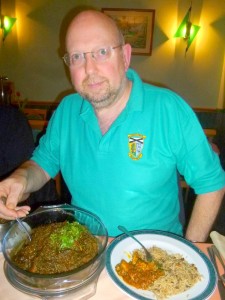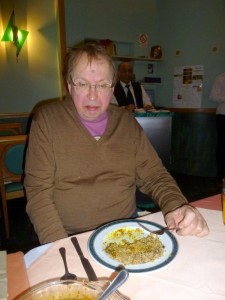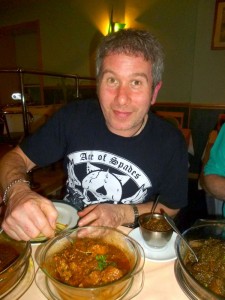 The Verdict
There is one expression that does not appear in these Humble Blog Pages, and so Everyone was determined to use it as often as possible to describe their enjoyment.  It was awe right – was Alan's balance to Steve's – Fantabulous.  I waited for Dr. Stan – to concur, however, Howard became quite Loquacious.
A delightful selection of Curry, the Kofta was Particularly Distinctive in terms of its Spice Content and Seasoning.  The Hector Special was a Wonderful Contrast, Less Spice, but lots of Subtlet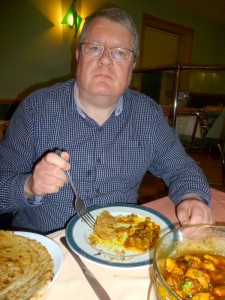 y in the Mix. Although not a fan of Chicken Curry, the Chicken Karahi was Excellent.  Combined with a Superb Starter and the Wonderfully Attentive Service, it was a Wonderful Curry Experience.
Howard always says that…
It's just as well we were here – someone uttered in recognition of the fact that we were the only Akash Diners this evening.
The Bill
£112.00. We know how much we consumed. There was also the Heavyweight Takeaway.
The Aftermath
The Ritual Photos had to be taken and Appreciation expressed.  I suggested that all the Dishes presented this evening should be on the Menu in a Desi Section.  Rashid assured me that they are all available, one just has to give notice and ask.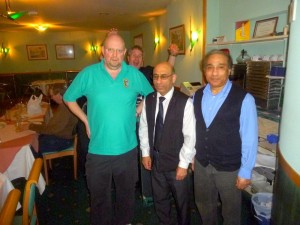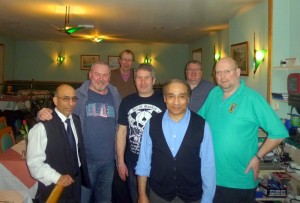 So, Dear Helensburgh Curry Enthusiast, book a table a couple of days in advance and name your Curry!
Breaking Bad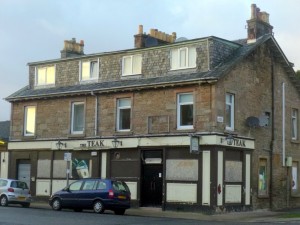 I asked Ashgar if he knew that the Teak and Ash, a derelict Helensburgh Pub, has just been granted Planning Permission, well the Applicants have, to be converted to Helensburgh's #4 Indian Restaurant. Does this town possess the Threshold Population to support another Curry Outlet? The expansion at Faslane may well make this viable. Or perhaps not.
Desi Evening #2
Hopefully we can arrange a repeat of this evening, and absent Friends may even attend.
I propose a Tuesday towards the end of June.  Now form an orderly queue…