Hector finds himself in a New Land in terms of Curry-Heute. In all this is only the seventh time that Hector has – crossed the sea to Ireland – enough of that. It is the first time that Belfast Curry has been considered, though I cannot believe I have not sampled Dublin Curry. (Alan, could we possibly have spent days in Dublin without Proper Food?) Research before this trip did not reveal any Curry Cafes. Is there a Community that can support this, or maybe the History of this land did not have sufficient Pull? And so a Mainstream Restaurant it has to be for the first recorded Irish Curry.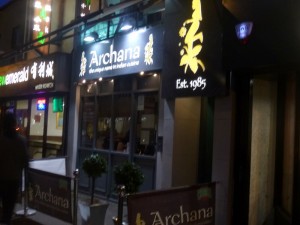 Archana (53 Dublin Rd, Belfast, County Antrim, BT2 7HE, United Kingdom) ranks highly in many other Curry Information Sources. Their own website states that Archana was voted Best in Belfast 2013. By whom? Who wins Awards? I went in last night to try and book a Table for Thirteen for this evening, no chance. The Premises only sat about Twenty Plus, but I did not know then that there's an upstairs seating the same again.
Marg and Hector arrived midway through the Saturday Lunchtime Shift, One Fellow Diner was already in situ, we would remain Three.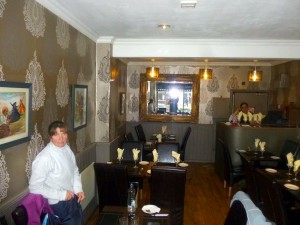 Our Table for Two was allocated mid-room. Mein Host brought the Menu and took the order for the Large Bottle of Sparkling Water. Marg spotted Latte on the Menu but was informed this was not possible, a broken machine. Hot Milk on the side with a standard Coffee was available.
Coffee to Start
As Marg knew that this would be Curry-Heute #1, she would restrain herself until #2 later this evening. A Fish Pakora would Suffice. Hector had meanwhile spotted the Lamb Karahi. Did it, or didn't it? No mention on the Menu, but Chefs do sneak them in.
Does your Lamb Karahi have Capsicum? I asked.
No. Would you like some? – was the reply.
Aaaagh…. We agreed there would be None.
I asked for the Karahi to be served as Thick and Dry as the Chef could manage. I don't want Soup.
An Aloo Paratha (£2.95) could provide the Interesting Vegetable
There were serious scraping sounds emanating from the kitchen, this turned out to be the makings of the Feast for our Fellow Diner who ended up with a Biryani-like Dish, plus another Main Course. Serious Eating, and Tempting. No sign of Soup.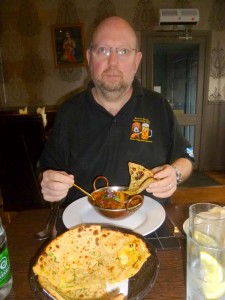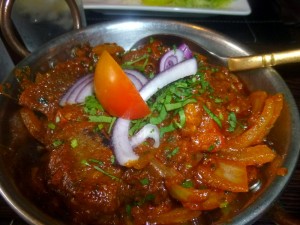 That's a Dry One – said Mein Host as he presented the Curry. It looked like a typical Mainstream Curry House Karahi, the Onion quota caught the eye. Normally when Capsicum is withheld, the Onion Proportion magically increases. One suspect that this Dish was designed to resemble a Dopiaza.
The Lamb was cut Large, and there was plenty of it. The Plethora of Onions was accompanied by pieces of Fresh Tomatoes which remained as they had been cut. There was enough to get to grips with here, but I kept waiting for Flavours to emerge. Cumin eventually did, this Dish was not complex in terms of Flavour, the Lamb gave off None at all.
The Paratha was Thin, so Thin I wondered as to the extent of the Potato Filling. This, if any, was Minimal. I was on my Final Quarter when I realised I still had substantial Curry to eat, so the Portion Size was indeed Decent. The Paratha disappointed. The Karahi was Fine.
The Fish Pakora
Spicy and the Fresh Coriander to the fore was how Marg described her Pakora. For Once, I didn't sample this, I should have.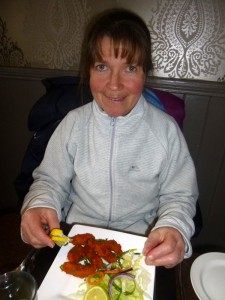 Dessert
As Marg felt her Lunch was Minimal she felt Dessert was justifiable. It's amazing how One can reason Sweet and not Savoury. In the end Mein Host only had Kulfi available, not the Array of Desserts on the Menu. So, no Dessert then.
The Bill
£23.60. £4.25 of this was for the 750ml Bottle of Sparkling Water. A bit Pricey overall, I felt, but this is Downtown Belfast so may not be atypical.
The Aftermath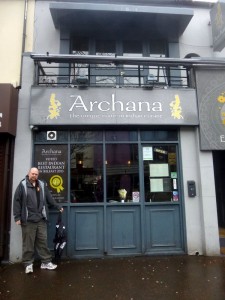 The Calling Card was offered and the Website explained. Mein Host was clearly interested in where we had come from, my motivation for all he had witnessed.  A very pleasant chat then followed.  As The Readers know, Hector enjoys talking – Curry. The Regional Styles were discussed.  Mein Host even mentioned the varying Salt Content of Curry by Geography.
We were told that the person who conceived Archana back in 1985 had originally worked in the Scottish Ashoka Chain.  So, some Pedigree then…