Hector has been presented with some very Dubious Bread throughout February and March, time to address this. There is also the likelihood of many Curry-Heute Blogs this week. The end of term approaches, Marg is busy every night, I ain't cooking for One.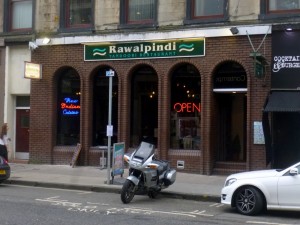 Standout Breads in the recent past have included the Masala Twist, both Glasgow City Centre and their new Helensburgh Venue, and especially the Keema Paratha served at the Rawalpindi (321 Sauchiehall St, Glasgow, G2 3HW). The plan was to order a Vegetable Curry and let the Meat content of the Paratha reign supreme.
At 17.00, Hector was the Lone Diner. A couple did arrive just as I departed. A quiet Monday evening. The Young Waiter was somewhat taken aback by the order. Mince Paratha (£3.50) and Two Vegetable Sides was the plan. The Vegetable Sides are available at £5.50 as opposed to £8.45 for the Full Portion. An Alloo Gobi, Mixed Indian Vegetable Curry and the Keema Paratha were ordered.
The Potato and Cauliflower should be served Dry. The Vegetable Curry can be as it comes, no worry.
No Rice? No Naan? (Eh?)
No Poppadoms? No Starters?
Hector has never ordered such a Bizarre Combination. Would it suffice?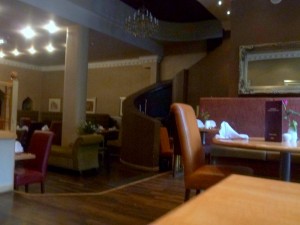 The Sparkling Water was provided, though I note I did not see it on the Menu last visit. The Trusty Samsung is becoming a Nuisance. Do these devices have inbuilt obsolescence?
The Waiter brought my Three Dishes plus an extra plate to add to the one already on the table. These were taken away. The plate for the Paratha was enough.
The Curry-Heute Test
Can a Venue which serves an impressive Dish repeat it?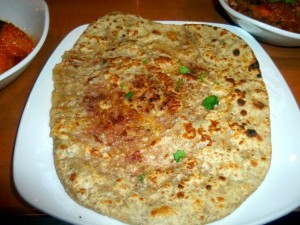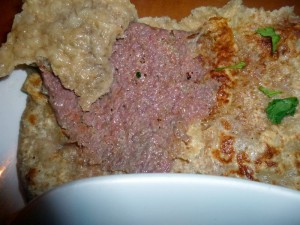 The answer was apparent instantly. What worked so well last time was the fact that the Mince was spread evenly across the interior of the Paratha, not this Donner-like Mass that prevails elsewhere. The heart sank. I had been looking forwards to this so much. A different Chef?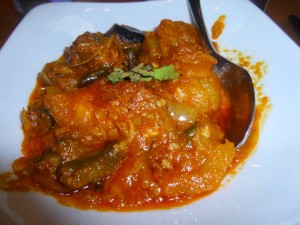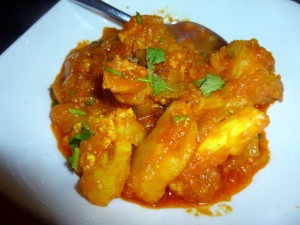 The Vegetable Curry contained Kadu, Onion, Okra and Aubergine. The Masala was not excessive, the Seasoning was Perfect and there was a Tang which dominated rather a Kick. Most enjoyable.
The Cauliflower and Potato added the necessary Bulk. More Cumin please.
As a Strange Curry Order this worked fine. A pity the Paratha did not live up to expectation.
The Bill
£16.60. I had no Discount Voucher. Poor Planning on My part.
The Aftermath
The Calling Card was dropped off again. No fuss.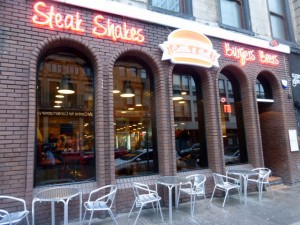 Update August 2015
Rawalpindi is no more.  The Curse of The World Buffet?
Hector has no plans to ever visit, never mind revue, these establishments.