Has Hector mentioned he is on Vacation, yet?
Thursday, end of term, and so the accompanying photos will feature a Very Happy Hector, though I am pleased to note that the Conservative Pose has been maintained throughout, well almost.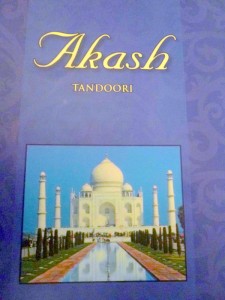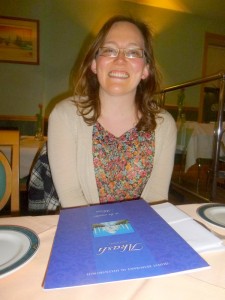 Eleanor is not on Vacation yet, and so we had to wait until 21.00 when she returned from her new place of employment. This meant keeping Marg, the Designated Driver, amused.
On entering The Akash (45 Sinclair St, Helensburgh, G84 8TG) Rashid was Front of House this evening, so who was in The Kitchen? Irfan was also back in his normal place. The Company was again Five, but only Steve was leftover form Last Tuesday's Designated Desi Night. Jamie, my future son-in-law?, made Number Five.
The Wednesday Night – Eat whatever You want from The Menu – for a Flat Fee of £15.00 has now been extended to a Thursday. Hector has never managed a Wednesday Treat and so Tonight was a First.
Starters All Round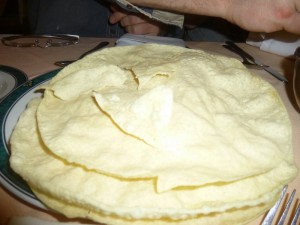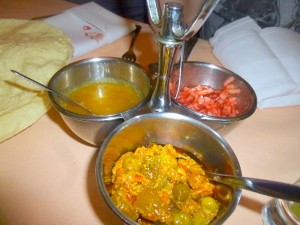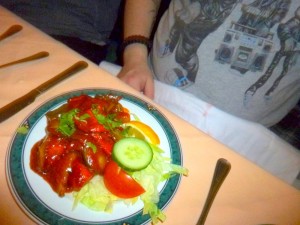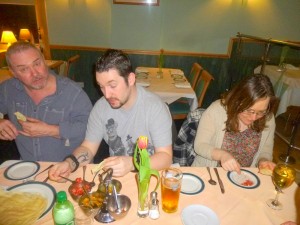 A Plate Piled High with Poppadoms was presented immediately along with the Chutneys and Dips. A Vegetable Pakora (Marg), Mix Combo (Jamie), Chicken Chat (Steve) and a Shami Kebab for Hector were ordered. Having had a Very Hearty Lunch, Defeat was Inevitable. But hey, Hector is on Holiday! The Chicken Chat did look Unnecessarily Red.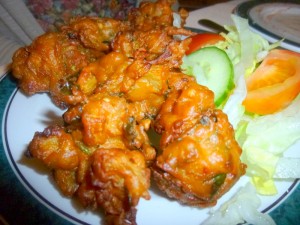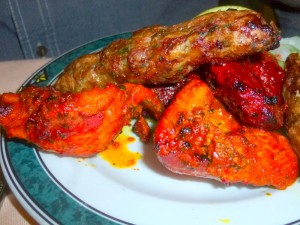 The Mixed Combo looked Very Tempting, I must have this next time. Jamie declared he could simply just keep ordering this all night. But then, One does not fully enjoy Curry-proper. Marg loves the Pakora served at the Akash, her Favourite Vegetable Pakora, anywhere. The Shami Kebab was Light, Fresh and Soft, easy to digest, a reasonable Kick, a Perfect Starter.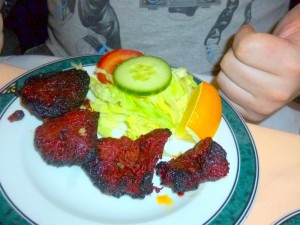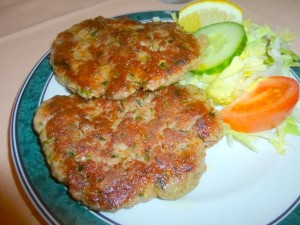 Somehow Jamie appears to have acquired Lamb Chops along the way too, and what was Eleanor eating?
The Mains
Steve ordered the Lamb Karahi with Extra Spice. I'm assuming there's Extra Methi in there – he declared. Jamie went for the Hector Special – Lamb with abundant Herbs, mostly Spinach and Methi. Very Dry, Bitter and Demanding. Eleanor chose something completely different, Lamb Mint Coriander with Pilau Rice. At least Lamb now appears to be her First Choice. Marg followed Steve and also nominated Lamb Karahi with Chapattis. Now what for the Hector?
The Hector Special #2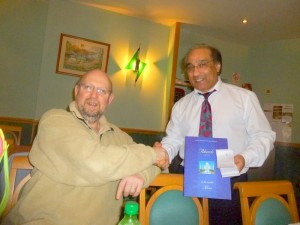 The Curry-Heute Test is can a Restaurant repeat a Wonderful Curry? Rashid cooked the first version of this Dish, he remembered and so suggested the – Methi Karahi Gosht Achari. Oh yes. An Aloo Paratha to Accompany. Little did Hector know, but Rashid had more up his sleeve.
And so Five Portions of Curry were distributed along with a Huge Platter of Pilau Rice and Chapattis. Everyone got tore in, as they say, except The Hector who was a Bread short.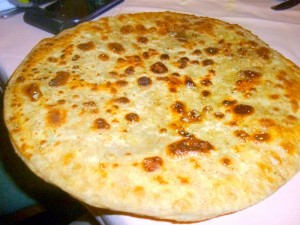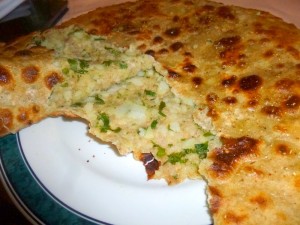 The Hector Special Aloo Paratha – announced Irfan as he sat a Larger than Life Paratha beside me. The Interior was examined. Pieces of Potato and Fresh Coriander were evident. Fresh and Flaky, just as it should be. The Paratha is of course a mere device to scoop up the Curry.  Still, this was as good as Paratha gets.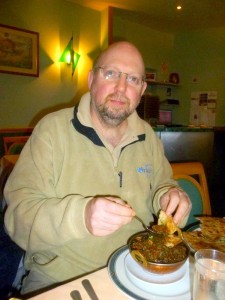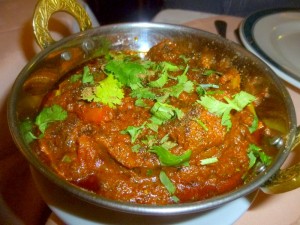 The Methi Karahi Gosht Achari was again Top Class. The Kick and the Pickle Flavour were as required. The Thick Texture of the Masala far removed from Soup. The quantity of the Tender Lamb was also impressive, there was no holding back here. This Dish now deserves the Accolade of The Hector Special #2.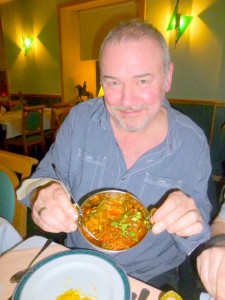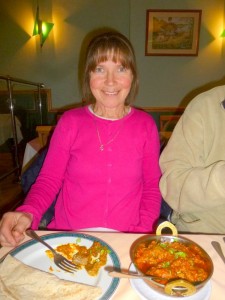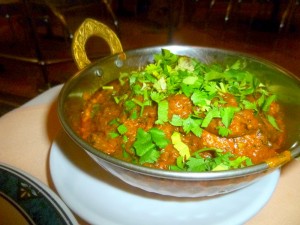 Marg and Steve with their Karahi Dishes were also impressed. Tasty, quite Spicy – was Marg's take. I concur – said Steve. Marg admitted to being too greedy with her Starter.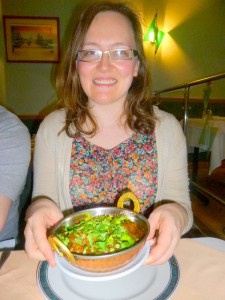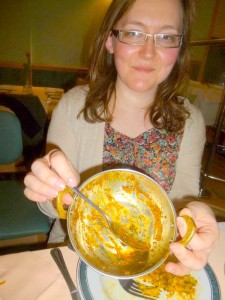 I finished everything and it was Wonderful as always – said Eleanor having demolished the Lamb Mint Coriander Masala. Mint Curry?
More Food Arrived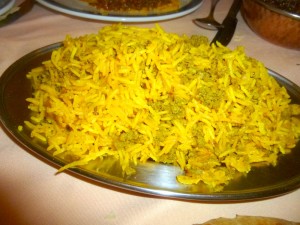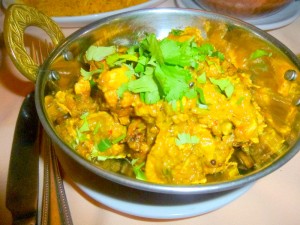 The Keema Rice which featured last week was again provided, this was an unexpected Treat. Then Rashid brought another surprise – Chicken Achari Chat is what was recorded. This took Hector back to the Unique Chicken Chat Flavours of the Original Akash. A Curry in its own right, this was Thick and Dry, just like most would not expect a Chicken Curry to appear. Yes, for the second Consecutive Week, Hector sampled Chicken Curry. This I must recommend. There was so much left it was decanted back to Hector's House.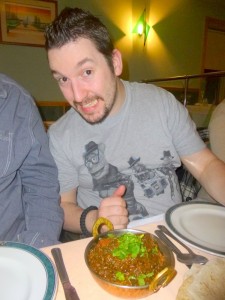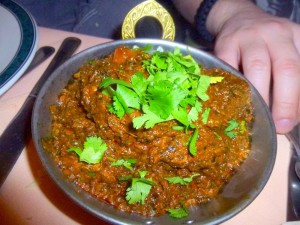 Jamie had the Keema Rice before him and supplemented his Chapattis by devouring this too. Excellent, I very much liked the Mince Rice. Exceptional Curry Experience – said The Man who never used to eat Curry outside Dumbarton.
The Bill
£85.50. £10.50 for Drinks. Amazing for Five Diners. Total Satisfaction.
The Aftermath
Rashid showed me a card form Ann and Bob in Linlithgow who were Regulars at their previous Venue. They apparently have made the Trip across Scotland to find the Curry they enjoy.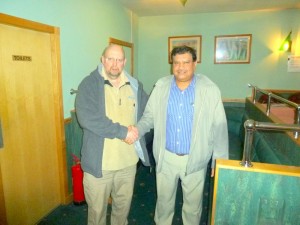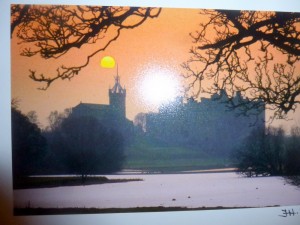 Meet The Chef
This is The Man who cooked your Aloo Paratha – said Rashid. And so Hector was introduced to Chef Javed.
Rashid asked about the Curry-Heute write-ups. I assured him that Every Curry Consumed is Reported in this Blog.
Wait for it
Rashid also suggested that his Wife may one day invite us round for some of her Home Cooking. Now that would be Truly Wonderful and would be a Great Follow-up to the Shahed Invitation of 2012.
Meanwhile, we have agreed there will be another Desi Night in June at The Akash.
Spectators are welcome.