Fishy Tales from Topographic Oceans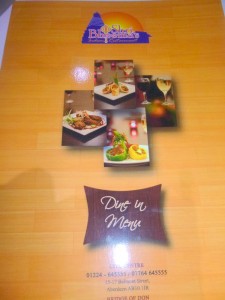 Leafing through Shri Bheema's Menu (Balgownie Road, Nevis Business Park, Bridge of Don, Aberdeen AB22 8NT), I came across a reference to the Mahabharata… The Menu quoted the availability of Lamb Chettinad, but not the Fish. Tonight Hector was here for Fish Chettinad, by arrangement.
Following my visit to Shri Bheema's (Belmont St.) in Aberdeen City Centre in December, Anitha contacted Curry-Heute.com thanking me for the review and inviting me to their new premises at Bridge of Don. Hector is always willing to accept such invitations, even as far as Aberdeen, a City he expects to visit a few times per year. We had discussed in emails,  the Challenge of providing a Fish Chettinad, One to rival the Perfect Curry that is served at the Indian Mango, München.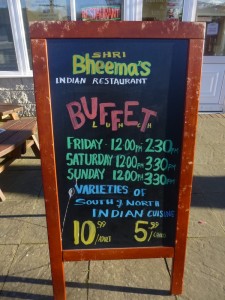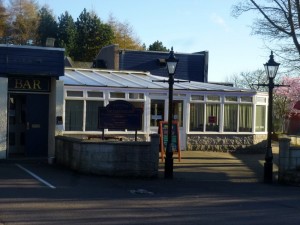 Marg intended to join Hector for another Curry Extravaganza this evening, but in the end could only spectate. Friends had insisted we join them for dinner later. I would be the spectator then. Balgownie Rd. is the first turning on the left having crossed the Eponymous Bridge. Spotting Shri Bheema's was not easy. Had I not seen the Logo on a small banner on the pavement it could easily have been missed. Even driving into the compound there was uncertainly.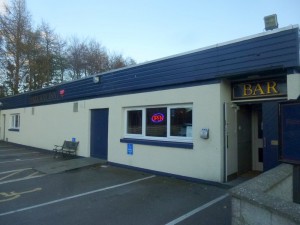 A 1960s Pub, The Parkway Inn appeared to be the building for which there was a car park. Again, I spotted the Logo on a window in a newer adjacent building. A Curry House!
They were definitely open but there was No-one around.
Hello.
A Chap appeared, who would later identify himself as Sajid (Saj). I handed over The Calling Card – You are expecting me.
We've been longing to see you – was the reply.
There are Welcomes and Welcomes, this Tops the Lot!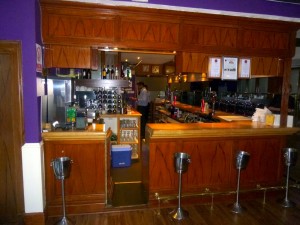 We were escorted to the far end of the Large Dining Area, passed the Buffet Serving Dishes. An advert for Lunchtime Buffets was spotted at the entrance.
Now it was time for introductions and the apology for the fact that Marg was not eating. Saj explained why No-one was around when we entered. Sri Lanka had just beaten India at Cricket moments before our arrival. Saj likes his Cricket.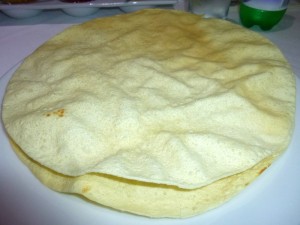 Poppadoms only was what Marg had in mind. That would change. Meanwhile, these and the Dips were provided.
Despite the Fish Chettinad being the Pre-order, we thought The Menu had better be studied. It was similar, if not identical to the Belmont St. premises, decidedly South Indian in content.
Hector as Everyone knows, prefers Curry originating from the Punjab, yet Sri Lanka is the only part of the Indian Subcontinent to have been visited, to date. There they serve Curry ranging from Kerala to Coconut. (sorry). Yet, Fish Curry has grabbed my attention in recent years, the Chettinad in particular. Rice is my Preferred Accompaniment with Fish, perhaps due to a Fascination with Kedgeree dating back to the mid 1960s. Nowhere serves Kedgeree! The Vegetable Rice was priced at £5.99, not a Bargain then, and certainly not in keeping with the Bradford Tradition of Inclusive Rice/4 Chapattis/Paratha/Naan options (£3.99 for Pilau.).
£2.49 for a Single Chapatti is sadly the Aberdeen City Norm, there was no way Hector would ever pay that for Multiple Chapattis. So Vegetable Rice it was. Saj insisted I have a Paratha. I would be glad he did.
Marg spotted Chicken Lollipops on The Menu. These she had to have, a Starter, to be served with my Main.
Whilst The Chef worked his magic, Saj related the saga of how he came to be in Aberdeen. He was keen to know how easily we had found the Bridge of Don premises. Had I not known the Logo I would have driven past. There is an ongoing struggle with The Powers That Be to have proper signs erected. This must be costing them Business. They have taken over the adjacent Parkway Pub and also the integral Function Suite which can take Groups of up to One Hundred and Twenty Folk. With Parking available all around these buildings the potential is there.
Fish Chettinad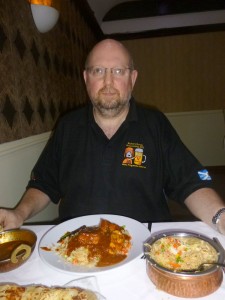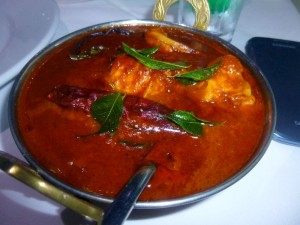 Hector was presented with a Mass of White Fish sitting in a Bowl of Soupy Masala, the South Indian way. The Aroma was a dead give-away as to the origins of the Recipe. The Vegetable Rice was served in a Portion which was enough for Two. Half was decanted, then the Fish and Masala spooned on top. I feel I don't perform this ritual very often despite the Number of Curry Dishes consumed. A Large Dark Red Chilli was set aside, this would have to be sliced. It is this Red Chilli which gives South Indian Curry Dishes their Smokey Flavours (unless the Spices have also been Dry Fried, Sri Lankan style). The Kick from the Red Chillies is also significant.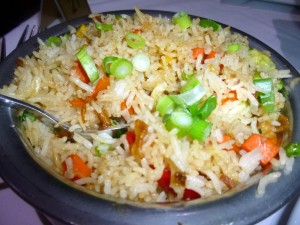 The Vegetable Rice was a Joy. Containing Diced Carrots, Peas, Onion, Spring Onion, Green Chillies and Green Beans there was a Variety of Textures, whilst the Rice itself soaked up the Soupy Masala. The Varying Textures went some way towards providing the Gritty Texture that the famous Indian Mango achieves. Then there was The Paratha.
I could see instantly why Saj insisted I try One. This was possibly the Best Plain Paratha I have ever experienced. Soft, with a Crisp and Flaky outer layer. Marg was in on this too. I have have enjoyed some Excellent Parathas in recent days. This again makes up for the Greek and Irish Encounters.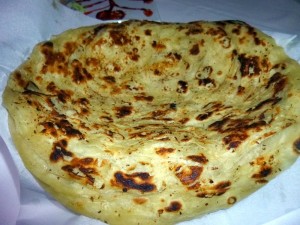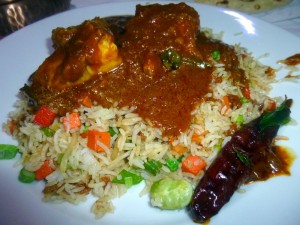 Chicken Lollipops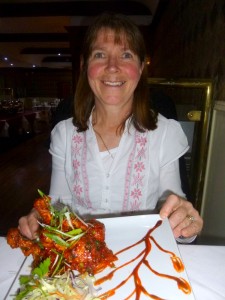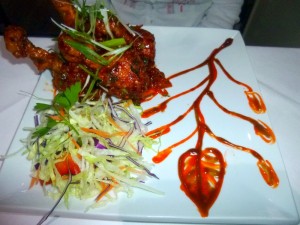 Saj had described these as a Portion of Three Chicken Drumsticks, Four arrived. Marg decided to eat Two and Takeaway Two. What she ate was thoroughly enjoyed. I liked the look of the Thick Masala. Hector does enjoy a Chicken Starter on occasion, next time.
Saj enquired as to our progress. I told him I knew I was eating South Indian Curry. Soon afterwards a Young Lady came across – Hello, Mr. Hector. It was Anitha, who had made First Contact. Proper Introductions were made and she told us the story of the Second Shri Bheema's in Aberdeen.  Marg did the Chatting, I completed the Eating.
The Bill
£22.08. Paid in Cash.
The Aftermath
There was an Assembly of Staff to be photographed with Hector. The Chef, Giasuddin was even summoned to participate.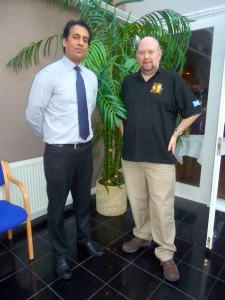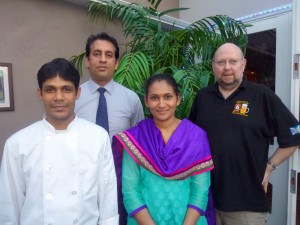 So, here we have Shri Bheema's at Bridge of Don. Worth searching out until the Neon Signs appear, then there's no excuse – Go and eat some Curry.