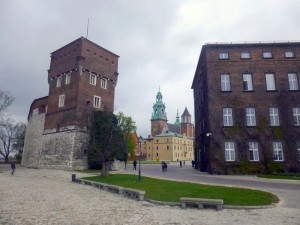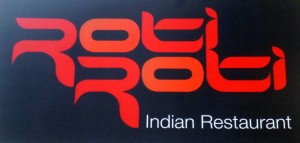 Marg and Hector passed within One street of Roti Roti (Weglova 4, 31-063, Kraków, Polska) on each of the previous Two days. It was only after a visit to the Wawel Castle that it was declared time for Curry-Heute, and Roti Roti was finally located. At the Western end of Kazimierz it is only a couple of blocks from Josefa where the Night Life of Kraków is focused.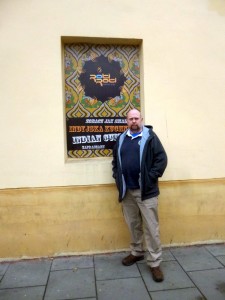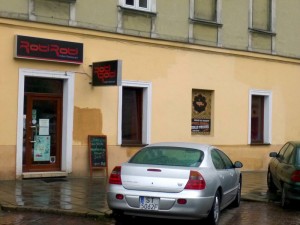 Roti Roti is a bit more than a Curry Café, the Lunchtime Offer (around £4.00) probably does attract people out for a Treat, however, the choice off Lunchtime Menu  is restricted to Chicken or Vegetable. Hector prefers Lamb. All Dishes are available in Two Sizes, 250g or 350g. I wonder if anyone ever orders 500g?
Marg already had Soup at a Non-Curry establishment and so a Snack would be sufficient. Lamb Samosa was her choice. She also asked for a Latte but was told – No. Instead Coffee with Hot Milk was suggested, her actual preference, so success. Better than any Latte – was her eventual pronouncement.

Lamb Bhuna Gosht look to be the most Hector-like Curry, however the Waitress said there was none left. Lamb Vindaloo, Pork was also on offer, was described as being served in a – Red Onion Sauce. There was little to fear in ordering a Vindaloo in Europe, everyone knows they are never a challenge. Despite the name of the Restaurant, a Garlic Paratha was selected as the Accompaniment. Yesterday's Aloo Paratha had raised the hope of being served decent Bread in Poland.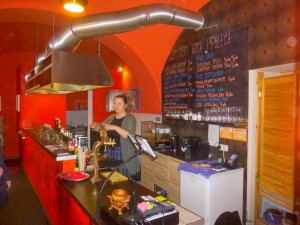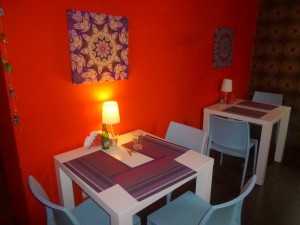 There was a Side Room with Chaps who I never saw during my visit. Food was ferried next door with relative regularity. Two Ladies had arrived at the same time as ourselves and were in the queue for Curry. Another Two Ladies sat behind us and their Curry was brought almost immediately The joy of being a Regular or even phoning in the order.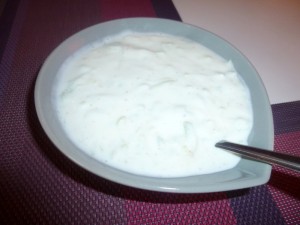 Marg's Single Samosa was accompanied by a Mint Dip. The Complimentary Bowl of Raita also kept Marg amused. Full of Tasty Mince – was Marg's verdict on the Samosa. It did look to be packed.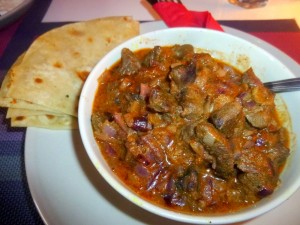 The Curry was presented with the Paratha in Quarters and sat on the Side. This was clearly Very Poor. Peely Wally may not be a known term to the good people of Krakow, but this best describes this piece of Bread masquerading as Indian Food. Too Thin, Undercooked and no sign of it ever having been near a Tandoor.
The Lamb was cut small in the Bradford Style. Tender, to the level of Acceptable Chewiness best describes the Texture of the Meat. 350g was a better choice than 250g, it's a 100g more! The Masala was Thin, in Glasgow I would call it Shorva, here I have to call it Gravy, again disappointing. No Onion had been harmed in creating this by all appearances. The quoted Red Onion was present in Tiny Slivers, the majority of the Onion mixed in the Curry was White.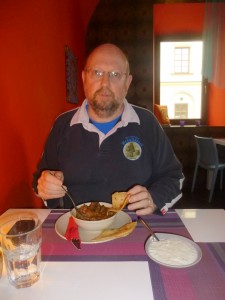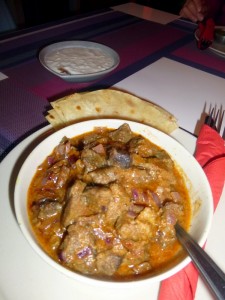 If – Vindaloo – was intended to define the Level of Spice, then it did not live up to this Label. There was Kick, but nothing the Average Curry Consumer could not cope with. Flavour wise, this Dish was dominated by Cinnamon. That's it, One Flavour, not good enough.
The Bill
51.90 Zl. (£12.00).  Affordable to most.
The Aftermath
The Waitress accepted the Calling Card. She was the only member of Staff ever seen, so I shall never know – Who was in the Kitchen?