Breakfast of Champions
It is the Saturday in the month when the Friends of Hector invade The Staggs in Musselburgh. This means Ballast is required before the Noon Session of Imbibing the Best of British Ale. Normally this means a visit to a Burger Joint, after today, I may have eaten my last Pre-Staggs Burger.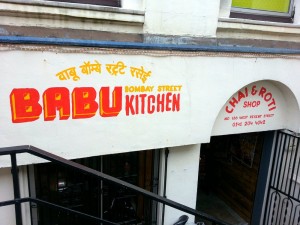 Babu Bombay Street Kitchen (186 West Regent St, Glasgow, G2 4RU) was visited earlier this month, Fast Food, Indian-style. Opening at 07.00 on Weekdays, I had hoped they might be open this morning a bit earlier than the official Saturday10.00 opening time. Arriving at 09.45 everything was still locked, I went round the block and returned to find the Waitress setting up. At 09.53 I realised that I was standing at the corner of Blythswood Square, perhaps not the best of places to be – Hanging about… I was invited in – Thank you!
The Keema Pau from my last visit was foremost in the mind . I was informed that Curry would not be served until later, Breakfast was the deal. Chapatti Rolls – comprising of Delicious Bacon or Bombay Omelette were on the A4 poster.  Hold it, The Big Boy combined both of these for £4.50.
I helped myself to a Can of Rubicon Mango from the Fridge and took a seat at One of the Three Small Tables. Ten Minutes later, Breakfast was served.
The Foil Wrapping was peeled back to reveal a Chapatti stuffed with Salad, Bacon and Egg. From the Very First Mouthful Hector was Hooked.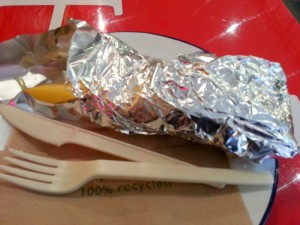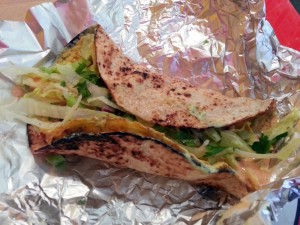 The Blast of Flavour from the Garlic Mayo took me momentarily back to the Land of Burgers, this was soon dismissed. Bacon and Eggs? This Wrap took Bacon and Eggs to a New Dimension. The Fresh Coriander, the Subtle Spice, this was Joyous. A Healthy  Snack to send Hector on his way.
The Bill
£5.50. I suppose those working in nearby offices could have the £3.50 Wrap and supply their own Drink.
The Aftermath
Another Classic Day at The Staggs. This is Saturday, Curry-Heute calls later.
May 17 could well be the next visit to Babu if we go to The Staggs, or is it Carlisle that day?