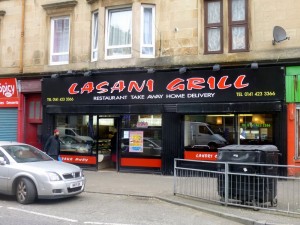 Three weeks ago Hector and Steve sampled the Lamb Karahi served at the Lasani Grill (223-225 Allison street, Glasgow, G42 8RU). We were impressed. Mein Host, Waris, spoke of a White Karahi that he could serve with advance notice. This Dish is Spiced with only Black and White Pepper and Well Seasoned. No Red Chilli based Peppers are used in its creation. Now Hector knows someone who finds the hint of any Red in a Curry to be abhorrent. So Tracey was on board for today's visit, Howard in tow. Mags has been commenting for ages that there has not been a Saturday – Friends of Hector Curry Day. She was First to sign up. No Dr. Stan, no Steve, what would they miss?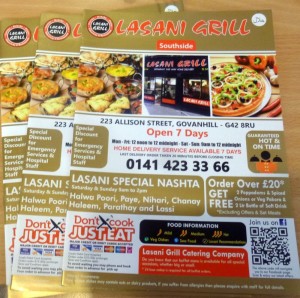 Hector arrived Thirty Minutes early thanks to being able to walk between Glasgow Queen St and Central faster than an App considered possible. A train to Queens Park was just departing. Allison St is Two Minutes from this train station in the heart of what is the Govanhill Curry Land. Yadgar wears the Crown, the Sheerin Palace always impresses and Danny Singh's new Gandhi Restaurant has just opened. Meanwhile the Desi – Curry Palace are putting the finishing touches to their Two Table Extension. Interesting Times.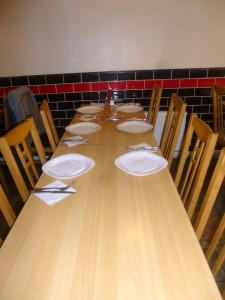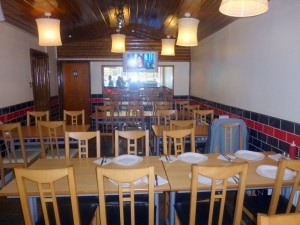 There was a table set for Six Diners. I saw Khalid and confirmed we were Four. They were simply marking the space. Waris came into the room to shake hands. When I arranged today he stated how happy he was with the Review and especially the Photo of himself and Khalid. He clarified the Capsicum requirement. I was asked if I liked Capsicum. The answer is- Yes, but not in Curry. He wished to ensure that Capsicum in Salad was acceptable. Caps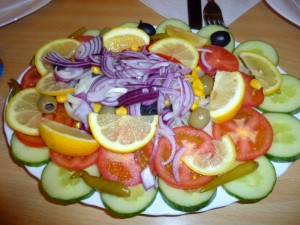 icum anywhere but Curry, and any Vegetable in Curry except Capsicum – Simples. Moments later a Bunter Salad was placed on the table – Wow! Olives and Pickled Green Chillies stood out amongst the Colourful Array
Mags was next to arrive and was intrigued to discover that the Number 7 Bus would have dropped her at the door. Howard and Tracey had also arrived earlier but had taken refuge in nearby Neeson's Bar where they were made most welcome. The Four were in situ at the arranged time, 15.00.
Waris brought another plate of Salad, this time Dressing had been liberally applied. This was Outstanding. Here are your Starters – said Waris as he set down a plate of Fish Pakora and another of Ribs. This was an Unexpected Feast. How good a welcome was this?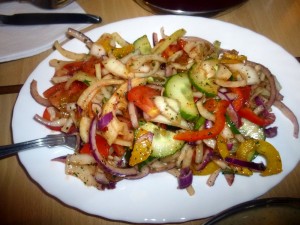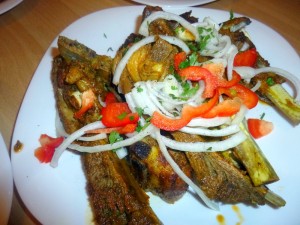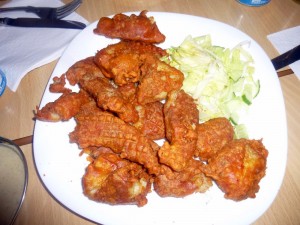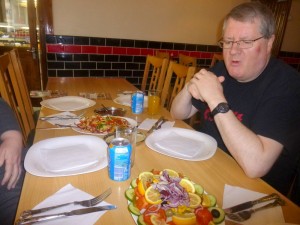 Two Ladies came in and sat near the door to the Kitchen, a young boy accompanied. They too were fed.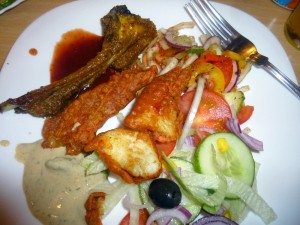 Mags was First to remark on the Fish Pakora. This was Fresh and Light. There was a lot of it even with Four sharing. The Ribs took us all by surprise, a definite departure from the norm. These were void of any Red and so we deduced they must have been prepared in the style of the much anticipated White Karahi. But from which animal? We asked – Lamb. Tracey was worried it could have been Goat, her favourite animal. There is a new term that Hector has unearthed to describe Taste. It is difficult when writing about Curry to ensure that One gets Taste and Flavour sorted. So here we go – Umami – Meaty and Savoury !!! The Ribs were decidedly – Umami.
The Salads were Wonderful, the Dressed Salad I could have eaten all day. With the Dips, the Salads, The Ribs and the Fish Pakora, there was a risk that we would not do the Curry justice. When the Debris was cleared Waris asked if we were ready for the Curry. I asked if we could have a break. It was only 15.16.
As the Two Ladies departed, the elder addressed us. She introduced herself as Waris' Wife and Mother of her Co-Diner, Waris' Daughter. The Boy was his Son. So, we have met the Family of Waris. We were thanked for coming and there was reference made to their new-found fame on Curry-Heute. I asked who the Real Chef is, she or Waris. We were told that she does not like Waris' Cooking, and he is not a fan of hers. I suggested she open her own place… You couldn't get a warmer welcome than this.
The White Karahi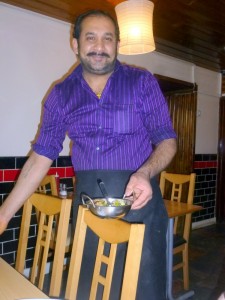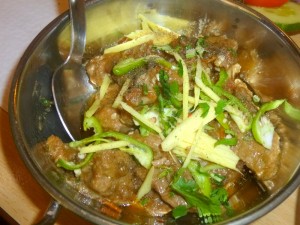 From its description Three Weeks ago, I was expecting a Dish which would be very close to the Karahi served up at the much-missed Khyber. Waris brought Four separate Karahi helpings. Sold by the Kilo, I had wondered if it would ave been served that way. Khalid brought the Chapattis, the Real Ones, not the Pretenders served in the Mainstream Curry Houses. Finally a Plate of Tarka Daal was presented. And so for the Main Event.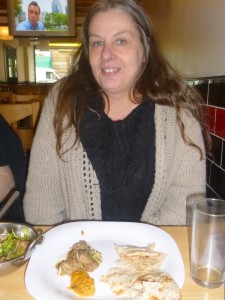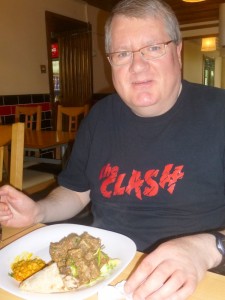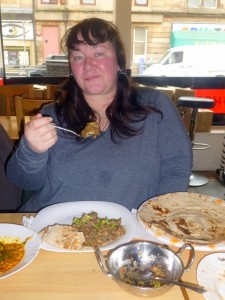 Hector was busy ensuring that the Photographic Coverage of the heaving table was complete. Tracey was First to sample the White Karahi. She was immediately transported to a Better Place. Within moments she had declared the White Karahi to be – … definitely my New Favourite. Howard suggested he was getting – Mango – from it. (only Oakham's Green Devil tastes of Mango.) The Tender Lamb was beautifully cooked. The presence of the Bones always adds to the Intensity of Flavour. The Simplicity of the Spice content belied the Overall Flavours. The Onion and Tomato were a Perfect Mush, as is the style of Punjabi Cooking, the Masala was Most Minimal. This was a Very Tasty Curry with the Spice Level set such that all would cope.  The Topping of Fresh Green Chillies added the Extra Kick.  This and the Ginger Strips gave a Crunch and a Varied Texture, Superb!
Now, when shall Dr. Stan and Hector come and share a Kilo between themselves?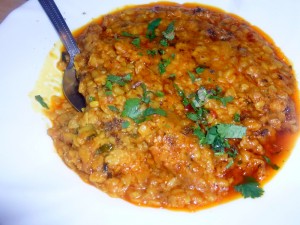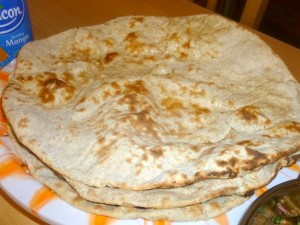 The Tarka Daal was an excellent distraction, it stopped the Curry being Wolfed. Some more of the Dressed Salad also found its way to the Hector end of the table. Great Textures, a Great Variety of Flavours. With the Substantial Chapatti this was indeed a Special Moment.
By now my Fellow Diners were thinking they were in the company of a Celebrity, – KHHIP! What a Spread. Four very Satisfied Customers. The Metaphorical Belts were loosened, the  clearing away expected. There's more.
Glasgow Dessert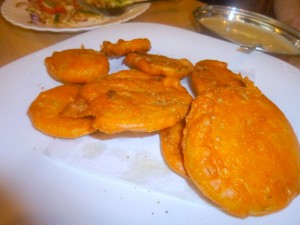 Waris brought a Plate of Potato Fritters. Not since the days of working in Wilson's Bar (Byres Rd.) back in the 1970s has Hector had Fritters with Curry. The Curry bought at the Takeaway next to what is now the Three Judges and the Fritters from the Chip Shop next to the former Post Office. This took me back. Nigel at the Staggs (Musselburgh) would have been highly amused to see us munch on these. Khalid then came into the room tentatively carrying a tray. Real Dessert! Gulab was Mags' guess, served in Melted Ice-cream was mine. The wonder of T'Internet. The Dessert was Ras Malai, flattened Paneer soaked in Clotted Cream. Somebody mentioned Cheese, good guess.  We are still learning.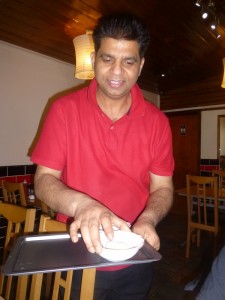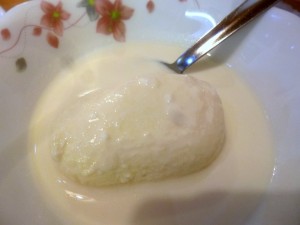 Howard was asked for a quote, here goes – A subtle Curry yet stunningly full of flavour. It illustrates how varied and interesting Curry can be when compared with, and taking into account, other excellent Curry Houses in Glasgow. An excellent welcome, a wonderful spread, and another great find for Hector Curry-Heute.
Killed by Food
Time of Death – 16.21.
The Bill
£35.00. There was a substantial tip. Waris said he would give it to the Lady who washed the dishes.
The Aftermath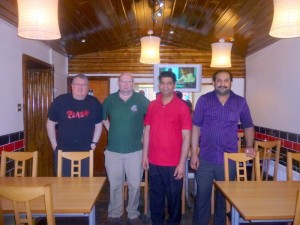 There was much thanking and acknowledgement of the Extraordinary Afternoon. A Ritual Photo of The Chaps had to me made. Waris describe another version of Karahi he would like to cook for us. I told him that I judge a Curry House not just on whether they can produce Outstanding Curry, but whether they can Replicate the Feat.
I was last to leave, the others had headed off to that other great institution associated with Allison St. I was striding out to catch up when I heard a voice calling me from behind. It was The Lady who washes the Dishes – she thanked me profusely.
I think Everyone was happy today.
It looks as June 7 may be the next time The Friends of Hector can reunite for White Karahi. We may even have Dr. Stan with us. The Man from Bradford is due a visit soon too.