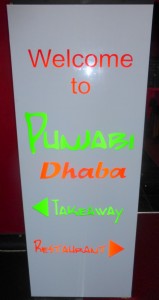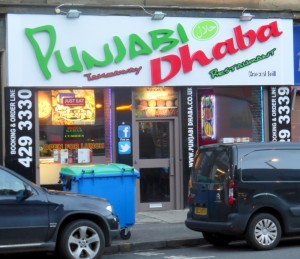 Three weeks have passed since Marg and Hector saw Gary Chandler (Jadis) support Pendragon in Katowice. Tonight they are in Glasgow, there had to be Curry-Heute to perfect the day.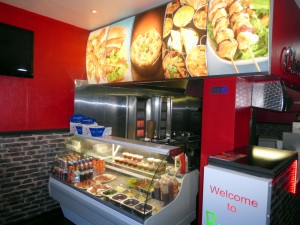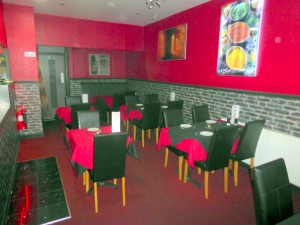 I popped in to Punjabi Dhaba (480 Paisley Road, Glasgow, G5 8RE) on Sunday and chatted to Mein Host. This is a new Glasgow Curry Venue located at Paisley Rd. Toll. Kabana is around the corner, Nelson Street with both The Village and the truly remarkable New Karahi Palace are but a five minute walk away. Punjabi Dhaba have their work cut out. The Calling Card was issued.
Primarily a Takeaway selling the usual Glasgow Fayre – Curry, Kebabs and Pizza – there is a rather well presented seating area, resplendent with Red Table Cloths. Punjabi Dhaba seats Twenty Four in potential comfort. I say potential, every time the door opened this evening there was an icy blast. The heating was not on, Mein Host assured us that when the Grills are on the place heats up very quickly. Not tonight, Marg had to put her coat over her knees she was that cold.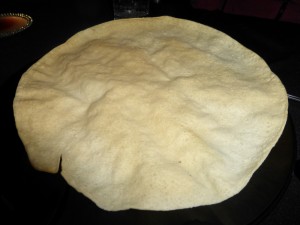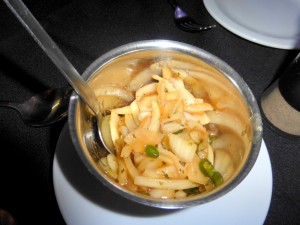 Having studied the Menu in advance I had spotted Two Karahi Dishes. How to avoid Lamb Tikka and Capsicum became the mission. In the end I described The Hector Curry – Lamb Karahi, no Capsicum, Minimal Masala, and Fresh Methi if possible. This was duly noted.
What is Capsicum? I was asked. There are multiple names for everything. Joy, the Dish came with Two Inclusive Chapattis. Good move.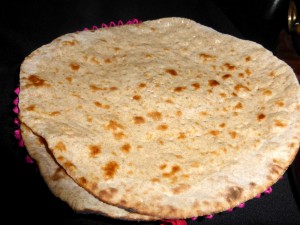 Marg cannot resist Butter Chicken. Special Butter Masala was her order. This came with Inclusive Rice. So far, The Price is Right.
We were offered Poppadoms. Are you selling or giving? Selling. No thanks. I was then recognised as having been in a few days previously.
And so began The Wait
We had entered around 18.30. We witnessed the purvey of Kebabs, Curry and Calzone. What could have been The Chef came and went. Had I seen him a few doors down in Homestyle on Sunday? There was no noise of cooking in the kitchen. After a half hour Mein Host announced I would be served Fresh Lamb, and that I would taste the difference. Was it coming from Sainsbury's? That I knew my Curry was acknowledged. There was now a sense that they were about to deliver their best.
At 19.00 Mein Host brought out Poppadoms and Spiced Onion. I can't have you just sitting there.
The Onions were Lightly Spiced, and were devoured, hunger had kicked in. As the table was cleared we were told – a couple of minutes.
A full hour after we had entered, the Curry arrived, Marg's first. A Decent looking Butter Masala and an accompanying heap of Pilao Rice.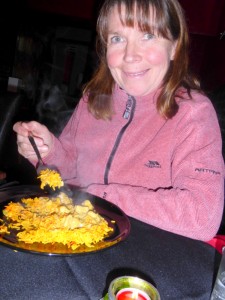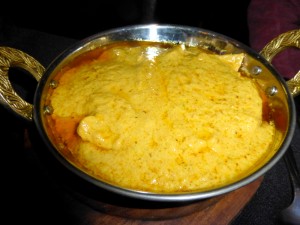 Marg ate the lot (bar some Rice left in the bowl). I liked it, Creamy with a bit of Ginger. I was hungry and could have eaten a horse. One impressed customer, Marg said she would certainly return here.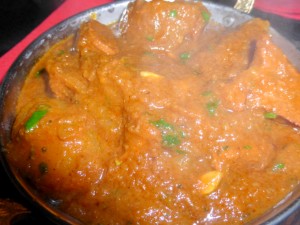 The Lamb Karahi came out Steaming Hot, impressive, a heat at last. The Two Chapattis were half Chapatti half Roti, Shiny Wet, they did the job, One and a half was my limit.
The Lamb was accompanied by Khadu, quite a bit of Khadu, Interesting. If I hadn't vetoed the Capsicum, would this be Capsicum? A good move on the part of Hector.
The Lamb was Tender but required a bit of Chewing. This felt like Lamb of a High Quality, they had indeed made the effort. There was more Masala than Hector requires, this was suitably Thick and Rich. Going well. The Kick complemented the Heat from the Dish. The Seasoning was The Issue. At times there was a Blast of Satisfaction, then this would Fade. Perhaps the Chapatti was contributing to the Seasoning? This was a Very Competent Karahi, it just lacked that Oomph to make it Very Special.
Will I see you again? asked Mein Host.
I had established on Sunday that with notice, they will prepare whatever one desires. I may return to give them the Half-Kilo Challenge of Lamb on-the-bone.
I had to enquire about the Khadu which is rarely served up in Glasgow Curry Houses. I was informed that either this, or Mushrooms or Green Peppers may have bee included, but Khadu is their norm. A Good Touch, always an Interesting Vegetable.
The Bill
£21.90. Good Value, Good Curry. Mein Host apologised for the delay and suggested we knock The Bill down to £20.00. Marg does not do this.
The Aftermath
Our egress was efficient, ten minutes until the doors open at The Ferry.
Why do the doors not open until 20.00? The Peeps at The Ferry hope you will come for dinner. Then they put a curfew on the band to evacuate the premises. Maybe it is time Prog Bands went back to King Tuts?
We had arrived at the Gig in Katowice to find Gary Chandler already on stage and singing a Genesis song. Your Own Special Way, as it happens from Wind and Wuthering. This was the second of his acoustic songs this evening, after the opening from More than Meets the Eye – which is an Absolute Classic Album. Daylight Fades, Follow me to Salzburg, and Standing Still (I think) followed on.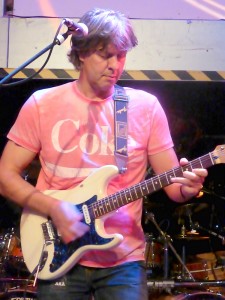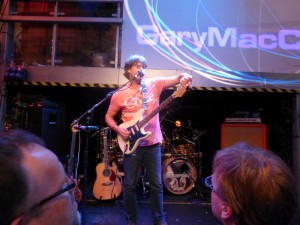 The Acoustic Guitar was abandoned after two songs, Gary wasn't convinced it was in tune.  As one who owns five Jadis albums, remembering which song was from which album proved to be a test.
Gary MacChandler – Gary's first ever trip to Glasgow. He announced a Scottish Heritage and described his visit to the Necropolis.
The Pendragon Set-list was taped to the floor, the new Trusty Camera was able to zoom in and reveal that which would unfold. Despite claiming to change the set every night, this was the same as Katowice minus the second encore. Time restraints.
Two Ladies walked on to stage right dressed in flying suits – Tiggy (who features on Men who Climb Mountains) and Emma – who would do the necessary – Oos and ahs. Harmonies have been a feature of many tracks on Pendragon albums, this was a pleasant surprise. As long as we never have to suffer an Brass Section a la Phil Collins.
Of the three tracks played from the new album – Explorers of the Infinite – was the standout.  Paintbox, and Breaking the Spell were a treat and an acoustic version of King of the Castle.  When the ladies revealed their Black outfits, a cry of Uriah Heep came from the balcony.  Acoustic guitars – Lady in Black… I explained to Marg.  Nick didn't get it either.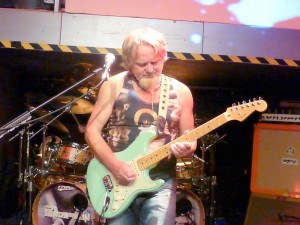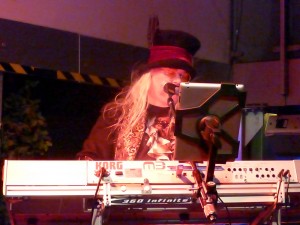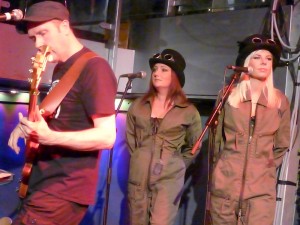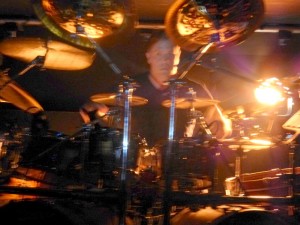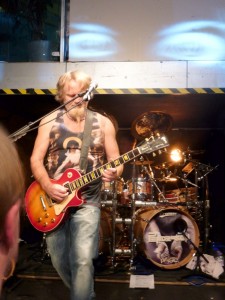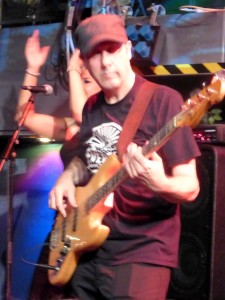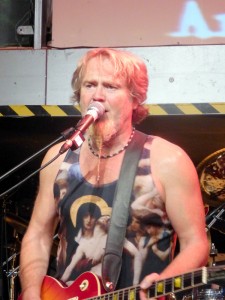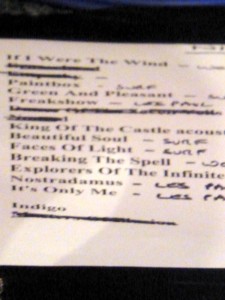 Who farted?
The Chap in front of me…. self restraint shown from the stage, it was awful.
Update: February 2017
Punjabi Dhaba has gone.