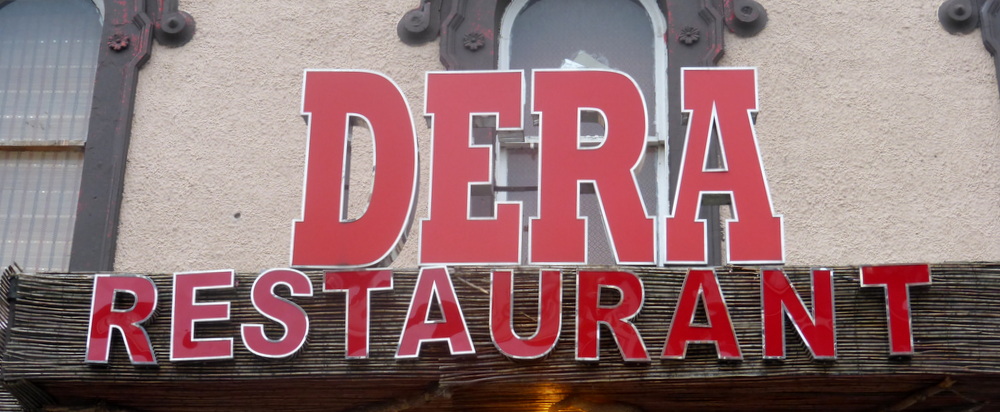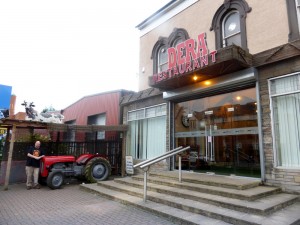 Bury is only ten minutes from Cheetham Hill, Manchester. IQ, perhaps the UK's finest Progressive Rock Band (IMHO) are performing in Bury, the furthest North they have played since the mid 1980s. As Ever, Hector manages to have all his pleasures in one day.
Mrs. Google suggested that the Dera (433 Cheetham Hill Rd., Manchester, M8 OPF) would not be open until 20.00, the venue was phoned, Hector was assured they were open already. Marg and Hector arrived at 16.15, apart from the Family who entered with us, the Venue was empty, this was early.

Two Young Waiters were running the show, apparently. The Newspaper-style Menu has gone, instead a Bound Menu was provided. The Menu was Modest, not excessive, the Expected Starters, and Mains were there, we were here for the Excellent Karahi.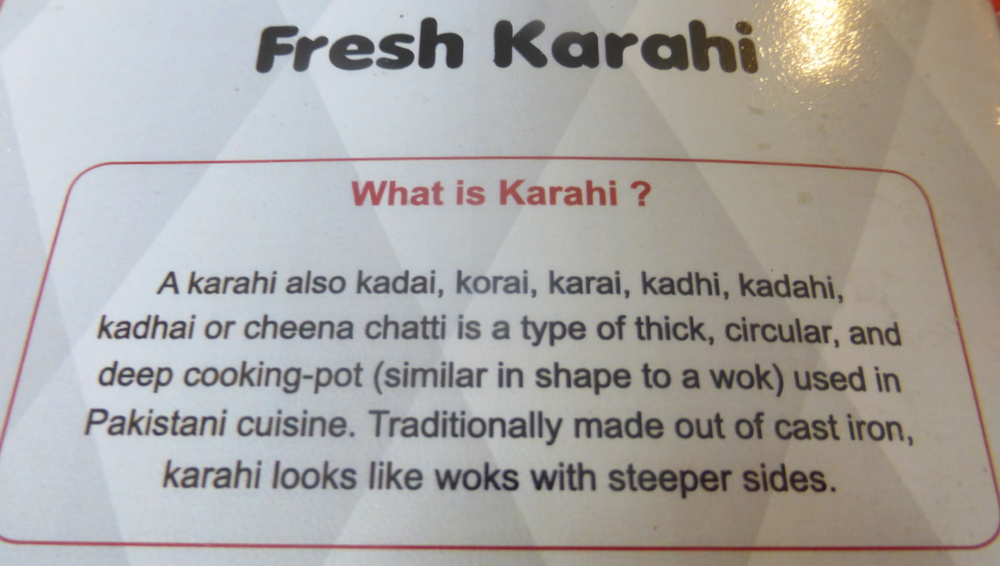 Karahi was well defined. How to order was clear. Choose your Meat, Boneless or not, choose your Oil – Vegetable, Olive or Butter. There is still no choice of Portion size, the Kilo or nothing. Knowing that Marg would appreciate Boneless Lamb, it had to be. Last time we had Butter, very demanding. Normally I ask for Tweaks, – more Seasoning, more Methi. This time it was take it as it comes, £24.95 for this Incarnation. Marg would inflate The Bill by ordering One Poppadom, Dips were already on the table. As we were in Manchester I suggested we have Kulcha as our Bread Accompaniments. Two were ordered at £1.25 a Pop, most affordable.
Previously, Bottles of Water were brought to the table for which one was charged, ordering Sparkling took the pain out of this. Still Water was brought and promptly sent back. At this point Mein Host appeared on the scene.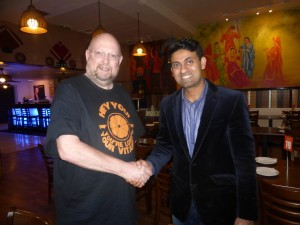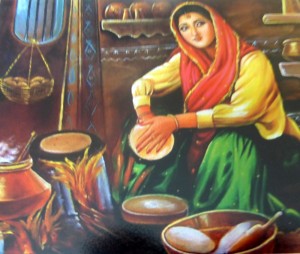 He came straight over to greet, January was the last visit. Mein Host was keen to tell us all about the Re-branding. The – Lahori – has been dropped, this Venue is now simply – Dera, less discriminatory? There was talk of a Scottish Venue being opened, that may be a kilometre too far.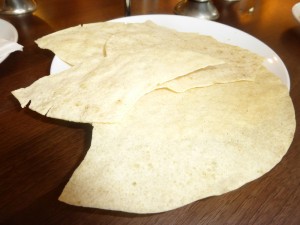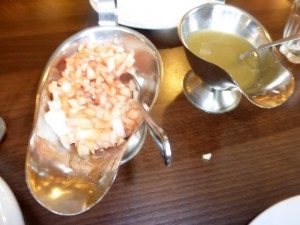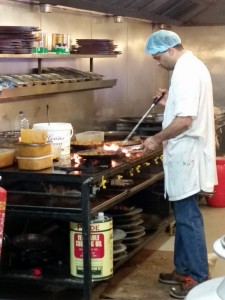 Two Poppadoms were brought, Marg particularly liked the Mint Raita, not for Hector. The Sparkling Water was now Mango Rubicon. No Sparkling Water available.
The open kitchen means that The Chef can be seen preparing one's meal, a Perfect Photo Opperchancity – Flames, always impressive, Hector will never have the Courage to cook this way.
The Boneless Kilo of Lamb Karahi was served on a Flat Karahi, this is a lot of Curry.
Marg helped herself to a Generous Portion, she was in raptures from the start. The Tenderness of the Lamb immediately impressed.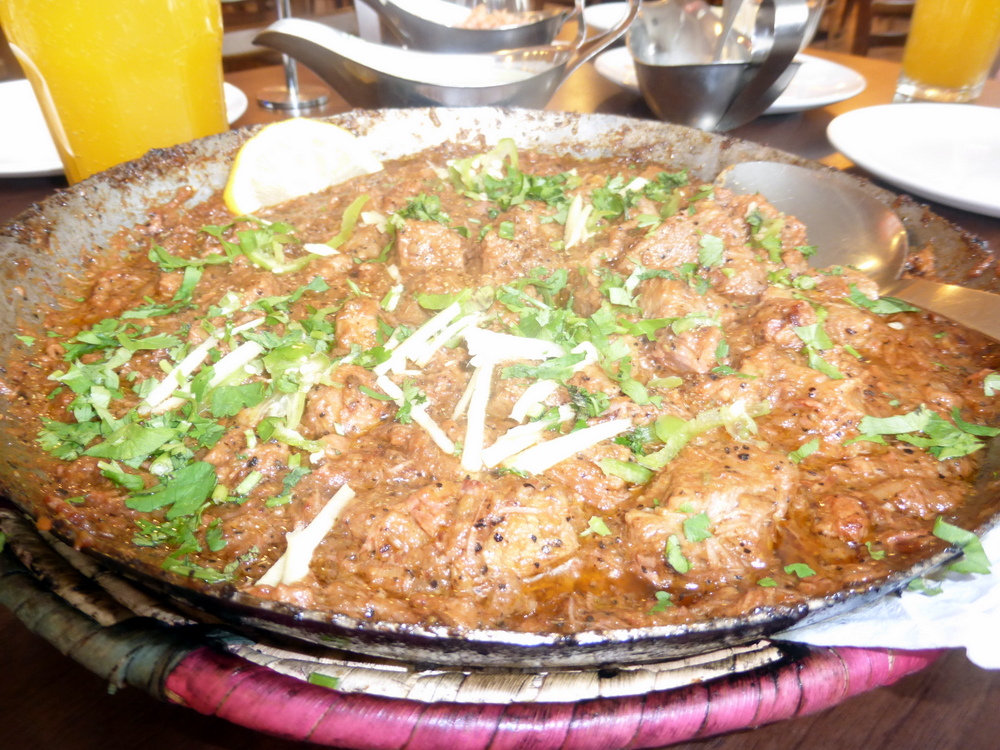 This ticks all my boxes. If every curry I had was this good...       One Happy Diner.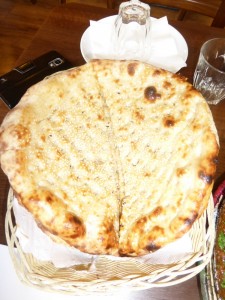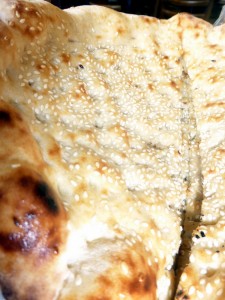 The Kulcha were served scored in half, a compromise, better than serving halves. Topped with Sesame Seeds, Slightly Sweet and heading as close to Peshwari as Hector would go, this Bread was a Good Foil for the Karahi. No way could we eat Two.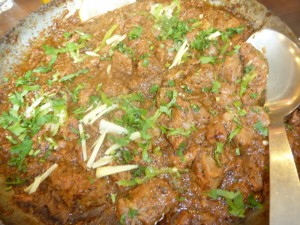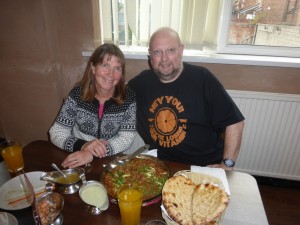 The Lamb in the Karahi was in two formats: Solid, just, and Shreds. The Majority was cooked right to the edge, any more and it would all have turned to Shreds. To describe the Masala as Minimal would be an understatement, basically it was comprised of the Shreds of Lamb – Thick in the Extreme! One hopes that the Restaurants that Hector has visited in Deutschland may take this on board. The Seasoning and Spice Levels were such that All could enjoy. The Vegetable Oil started to collect on the base of the Karahi, dare I? There wasn't much of this, Dry Cooked, almost. I shall ask for Methi next time, however, I accept I had ordered Boneless and – as it comes – to endear this Mass of Curry to Marg's Palate.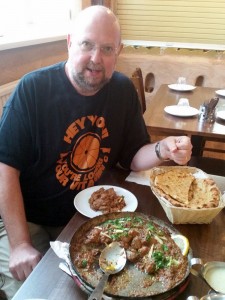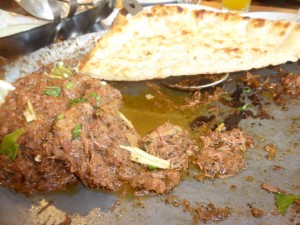 Around a Quarter was left. I told Mein Host that I would sell this for £100 in Glasgow. The Karahi is unlike the Interpretations served in Glasgow, Bradford and even the venues I have visited in Manchester. Deutsche Chefs, behold!
The Bill
£29.40. The Poppadoms were Complimentary!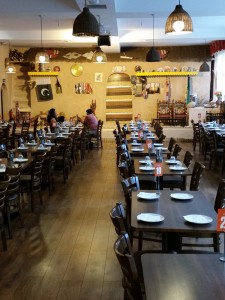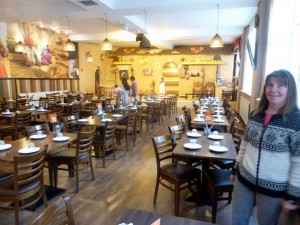 The Aftermath
Farewell to Mein Host, now for the short drive to Bury.
IQ at The Met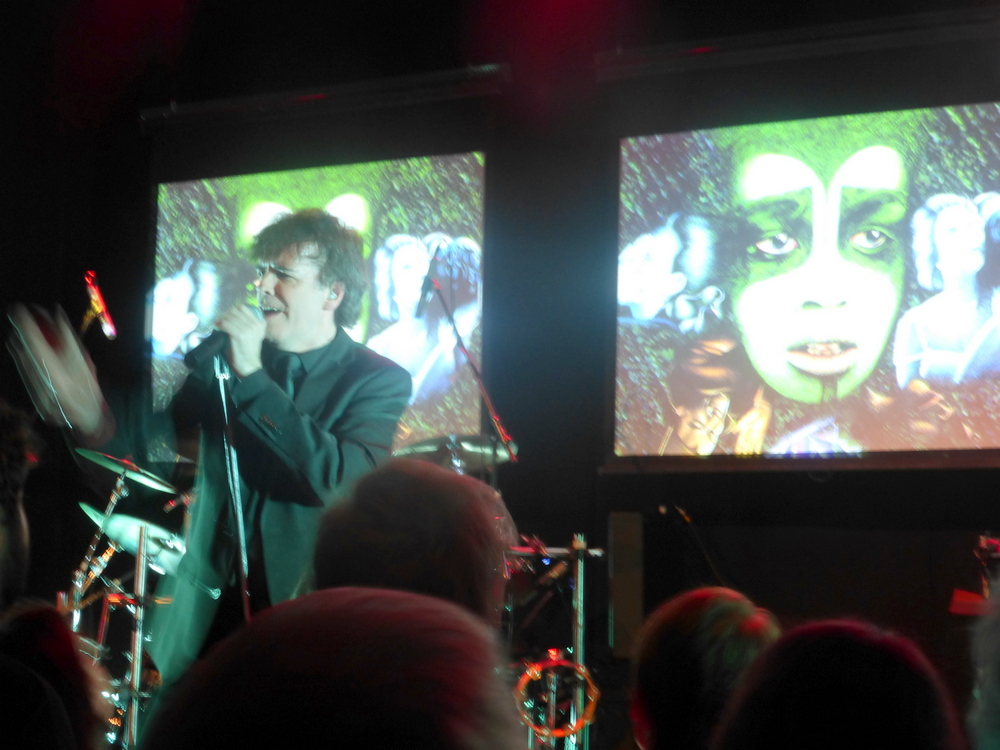 That IQ have not, until now, been mentioned in these pages is testimony to the rarity of their performances.  IQ's logo does appear on every page of Curry-Heute, check the Header. Tonight was their second appearance at Bury within a year, – Other Duties – prevented Hector being present in October 2014 for the – Road of Bones – tour.
Hector has been on board with IQ since the release of their first album, Tales from the Lush Attic (1983) the first visit to Bury was to see the unveiling of Subterranea (1997), now being turned into a Movie. Tonight was possibly Marg's third visit to The Met.
Bury = IQ = The Met.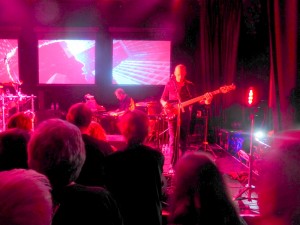 IQ kicked off with – I don't know – no, that's a lyric from Subterranea.  I had asked the Band's Website for the Set List, they didn't respond respond, another website provided the required information. Who knows what tracks/songs are called these days? One listens to IQ albums in their entirety, it's the only way, there are highlights in every album, such are the sorry, limitations on Pete Nicholl's vocal range, most songs do merge into the next with ease.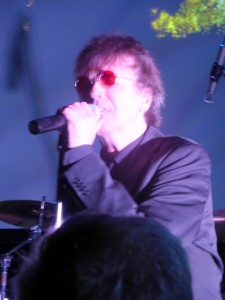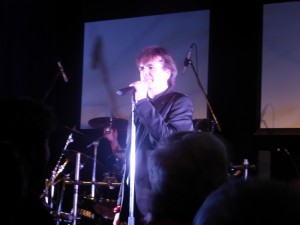 With the customary IQ Three Screen Projections, the cover of Road of Bones was mixed with the intro-voice over from Bella Lugosi who appeared on screen.  Expecting the current album to kick things off, Sacred Sound from Dark Matter (2004) somehow followed the taped intro.  The first of two tracks from The Wake to feature in the main set – Outer Limits (1985),  preceded the performance of Road of Bones, or so I thought.  From the Outside in was followed by Born Brilliant also from Dark Matter. Now it was time for over thirty five minutes of Road of Bones – the Title Track followed by Without Walls and Ocean.  Ryker Skies, Hector's favourite IQ track, from Frequency (2009) gave a greater air of familiarity, is it just me or is this the Showstopper?  Guiding Light from The Seventh House (2000) led to the final segment of Road of Bones – Until the End. Headlong from The Wake brought the main set to a close.  Tthe customary Out of Nowhere/Mama Mia encore then Headlong, a third track from The Wake, ended the show. Nothing from Hector's favourite, the comeback album, Ever (1993). Nothing from Subterranea,  Strange.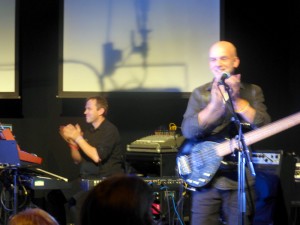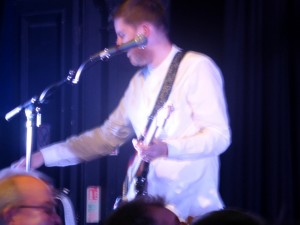 Tonight's line up featured four of the five original members. Mr. Jowitt and his flamboyant bass-playing style will always be missed in every live performance. Highlight for Hector was seeing Neil Durant perform, finally. Neil, the newest recruit on Keyboards,  was the linchpin for every track, deep in concentration throughout, some excellent sounds created and/or reproduced. From our side of the hall, Mike Holmes was frequently obscured, much of his guitar work was lost in the mix, but this is what IQ is all about their – Wall of Sound. IQ has always been Prog at its finest, this performance was masterful, precise.
Afterwards I was able to introduce myself to Neil Durant, the first person I ever communicated with on t'Internet. Doing my Masters, doesn't everyone have a Masters, at Strathclyde University back in the 1990s I was allocated an email address, nobody else I knew had one. An IQ Chatroom – It All Posts Here – IAPH – was discovered.
5 years of Curry-Heute, 20 of IT already. IQ 35 looms.