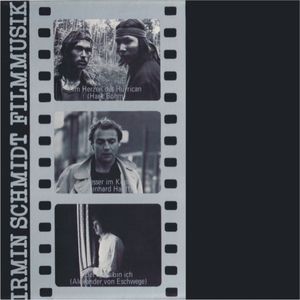 The BBC – Bad Boys Club has been a Sunday Institution for some years, commencing at the Allison Arms and from there onward to…    Hector, The Professional, has only ever been a part-time member, and not on a School Night. Freedom! This afternoon there was time to fit in a brief visit to the Ally before the day's scheduled two main events, Curry at Yadgar (148 Calder St., Govanhill, Glasgow, G42 7QP) and Steve Hackett at the Glasgow Royal Concert Hall.
Entering Yadgar, Shkoor, Mein Host, remarked that I was five minutes late. Hector was expected. Yadgar have been using Social Media to promote their Daily Specials in the last few weeks. Some Enticing Dishes, Karela Gosht in particular, have featured. Hector has been in Polska trying to find new Outstanding Curry Sources, but to no avail. The Mainstream to decidedly Below Average only was experienced in Western Poland. I had suggested that I would be here at 15.00 to have the Leftovers of Yesterday's Special Challenge. Who won?
As I surveyed Today's Offerings, Shkoor related to a customer that I would be having a Slice of Fish followed by Karela Keema and Chapattis. Had this information been posted an hour earlier I would have been seduced by this. Somewhere between home and Marg dropping me off en route to her Sunday Hockey Match, Yadgar Vegetable Rice flashed across the Curry Imaginarium.
Rice with Keema? Was Shkoor's immediate response.
Then I have to have one of the two other Dishes of The Day, one had Chicken, the other was Lamb on-the-bone, with Turnip, a Shorba. A decade ago I would have taken the Chicken.
Turnip is a Vegetable I have never bought, OK Raw, I don't like the Texture when cooked. Mr. Anwar Sr. did let me have a sample of this Dish a while back, I was impressed. Given that today the Body was once more screaming – Vegetables – Lamb with Turnip felt apposite.
The – New – Waiter has been here over a year and still I don't know his name. As he has become used to The Hector Presence so he has come out of his shell. Omar – it is, one day a Photo. Mr. Anwar Sr. made a brief appearance, we established that we are both doing very well. There were three Generations of Anwar present today, this is getting like Grace Bros, – We're all doing very well…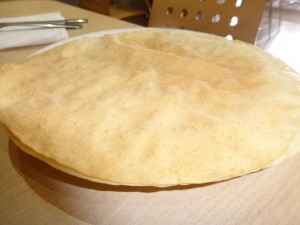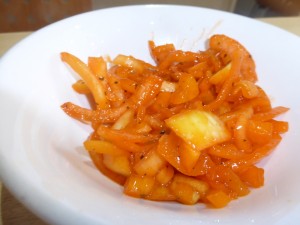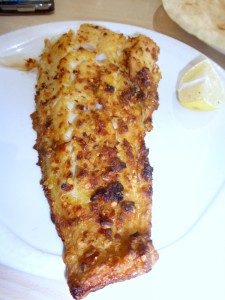 Omar brought two Hot Poppadoms and the Spiced Onions. Sometimes the Pre-Starters can be filling, pace required. Behold – The Fish. This is all for Hector, ridiculous! Normally two would share this, who was complaining? There should be Posters of the Yadgar Baked Scottish Haddock in the window. Those of us who have been fortunate enough to experience this Starter have done nothing but express our Appreciation. Served anywhere else this would be Extortionate.
A Chap sat at the adjacent table, I have seen him before, another Curry  Enthusiast.  We must speak next time.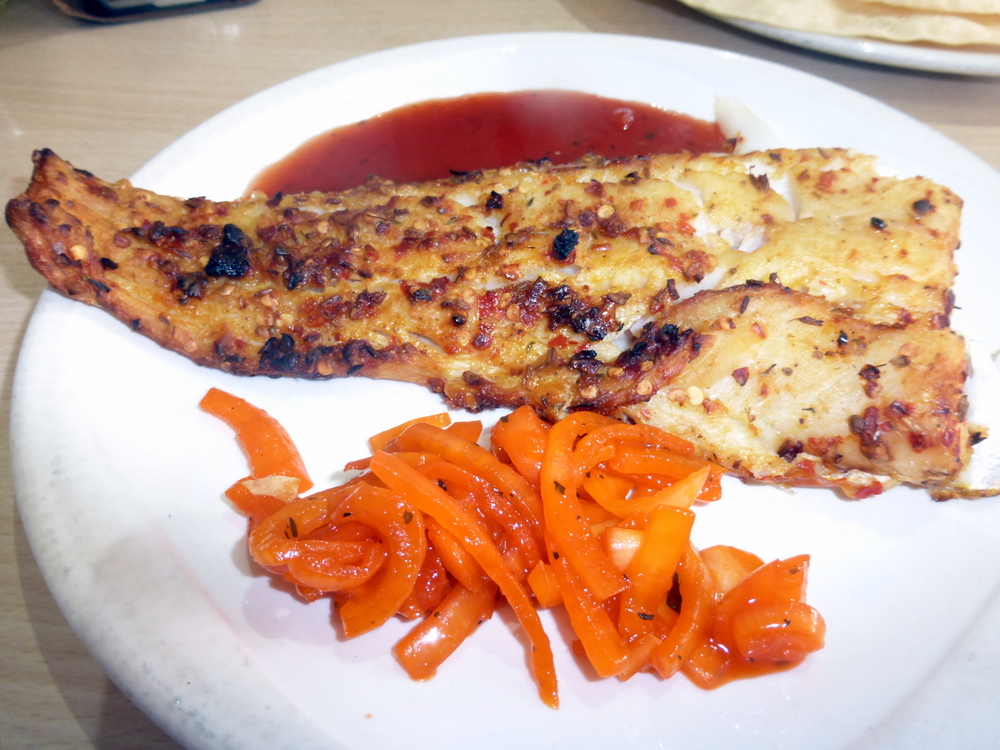 The surface had a Baked Crust of Herbs and Spice, underneath lay the Freshest of Haddock. One could eat this then leave. Indeed, this followed by the Yadgar Vegetable Curry would still be a Perfect Day, but Meat calls. It was agreed there would be a break, there had to be. I also asked Shkoor not to give me a ridiculously Large Portion – Standard will do. There is the matter of the Vegetable Rice.
One could pay £4.00, even more, in some establishments for Vegetable Pilau, what do you get? Not this!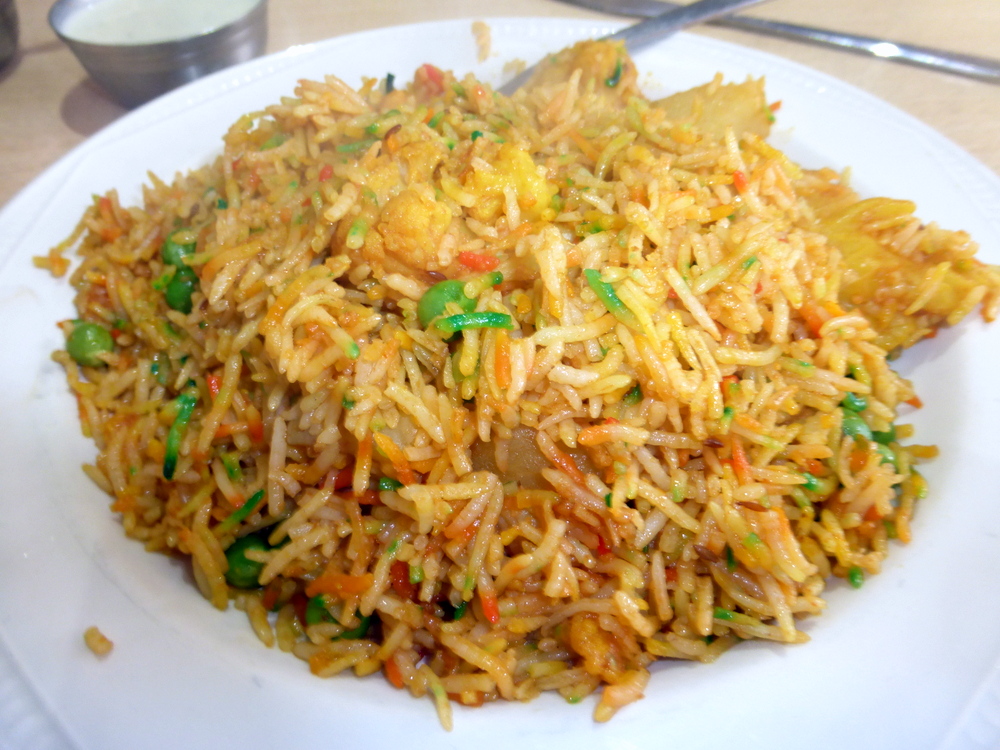 Feast the eyes. This is not simply some Vegetables stirred into Plain Basmati and served, this has Class, and needless to say – Flavour. It is ages since I have had this as Goshat Karahi et al lend themselves to Chapattis. Cauliflower, Peas and Potatoes are in abundance. When the Lamb and Turnip was spread on top so yet another Vegetable. I had a brief moment of alarm when I surveyed how relatively little Meat I had before me, this is what I wanted? Could Hector turn Vegetarian, is the Chicken Curry a matter of days away? Calm.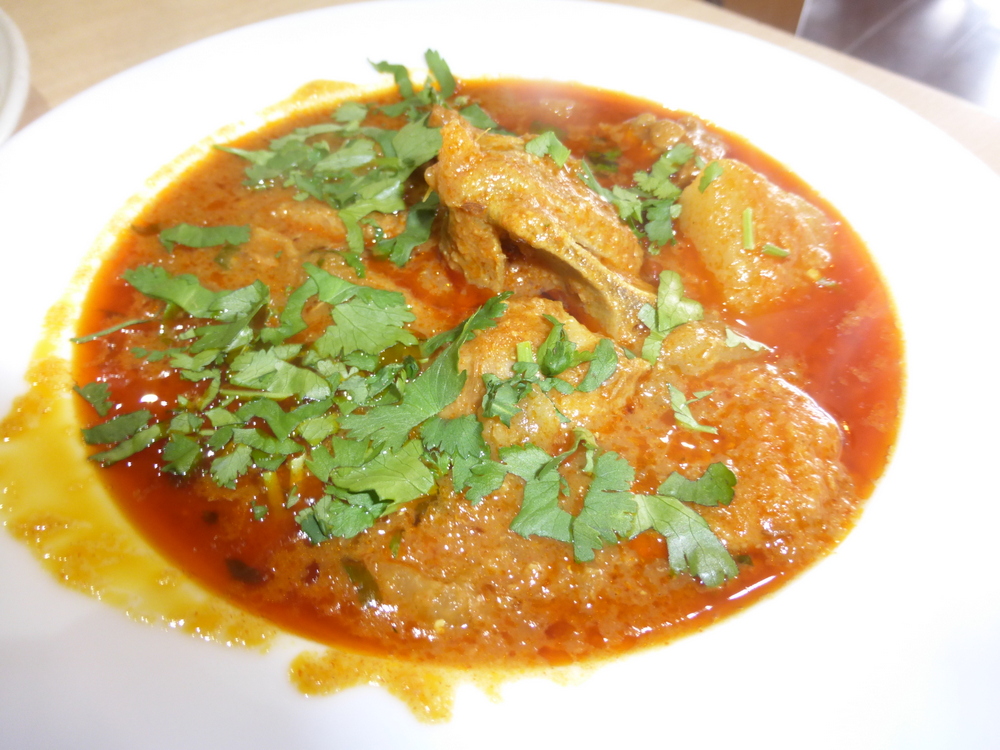 The first time Hector had Shorba as such and wrote about it, I was given a clear telling off by an early Curryspondent for criticisng the Soupl-like Masala which is essentially – The Dish. When Curry is sold as – Shorba – then so be it, the Masala will be Thin, Oily and Abundant. Chapattis could still be employed, very splashy. With Rice the Masala is soaked away adding further to the Rice Dish. Are we heading towards Biryani here? With the Tenderest of Lamb on-the-bone including one Sucky Bone, all was well on the Meat front, more than enough. This was not the Goshat Karahi, which Hector regards as Yadgar's Signature Dish,  It is the combination of Curry and Rice here which works so well.
Curry and Rice? It'll never take off.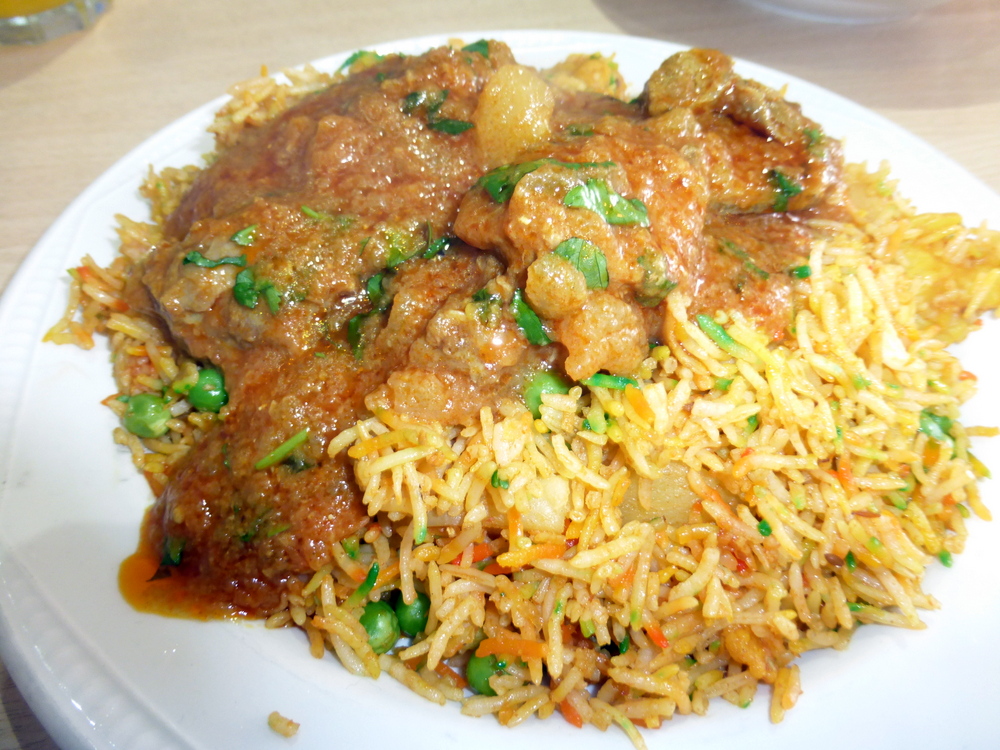 The Bill
£10.00 Should I admit this?
The Aftermath
Sir Howard was happy to see Hector, he had a present for me. Hector likes Presents. Others were preoccupied with some match on the TV whereby the Australians would beat Scotland, we all knew it, but at least – we were robbed – and made the Traditional Scottish Exit.
Before giving a Brief Resume of what was supposed to be the Musical Highlight of the day, Howard presented a Gift Wrapped CD to Hector. It couldn't be, it has never been released on CD…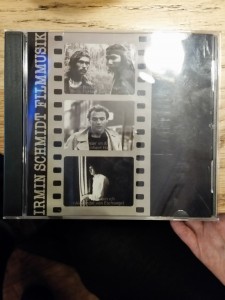 Hector's favourite Band of all time is Can, from Köln, hence the photo of Damo Suzuki on the Curry-Heute Homepage. My first purchase was Future Days followed by the Legendary – Tago Mago. They played the Glasgow City Hall in October 1974, that was it, hooked. Irmin Schmdt, Keyboard Player and Composer, has released many an album over the decades. His first Solo release was Filmmusik (1980), followed by similarly titled albums with numbers. The rest have been released on CD but never the first. News reached Hector of a soon to be released Irmin Schmidt 20 CD Boxset, what I would have given for this in the 1970s and 1980s.  This is due to include the missing album which of course I have had on Vinyl since it was released. It isn't out yet. Here it was, a stand alone CD of Filmmusk, in my hand, the only copy on The Planet! Sir Howard arranged it, it was so.
FYI – Michael Karoli's arrival 1-30 into Verfolgung remains my favourite Guitar moment of all time.
From Genesis to Revelation
The Royal Concert Hall usually hosts Classical Musik, but well established acts, can we call them that, do perform here. This is not a venue for jumping up and down. One also gets a seat and the prices are way above what one would pay at the more intimate – The Ferry. This was a Concert.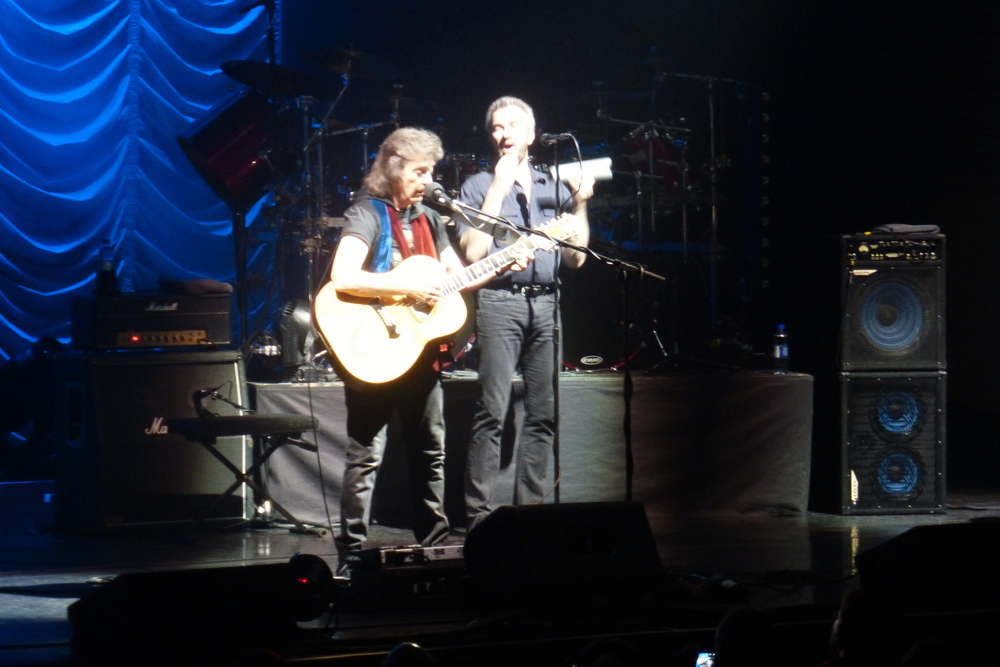 With Jonathan on my right and Marg on my left, we were treated to over an hour of Steve Hackett Solo Album Tracks. The Tour is entitled from Acolyte to Wolflight, the only two Steve Hacket Solo Albums Hector possesses. Spectral Mornings kicked off the show. The current album – Wolflight featured prominently, Out of The Body, Wolflight, Lovesong to a Vampire, The Wheel's Turning. The vocals sounded more convincing – Live – than they do in the studio recording. From forty years ago came Ace of Wands, A Tower Struck Down and the end sequence to the Magnus Opus – Shadow of the Hierophant.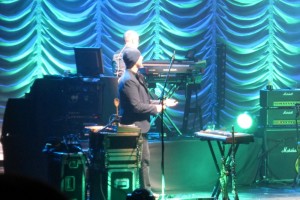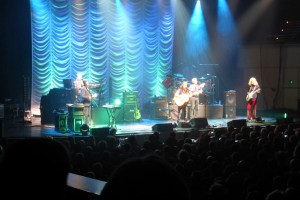 It was expected that the first half of the Concert would be Satisfying, Hierophant excepted, this is genius and why it was never recorded by Genesis remains a mystery to this commentator, but then they would have had to perform two Magnum Opus (Opi?) in each stage show. Whilst the Appetite was warmed for the Genesis Back Catalogue there would be another surprise for Hector today.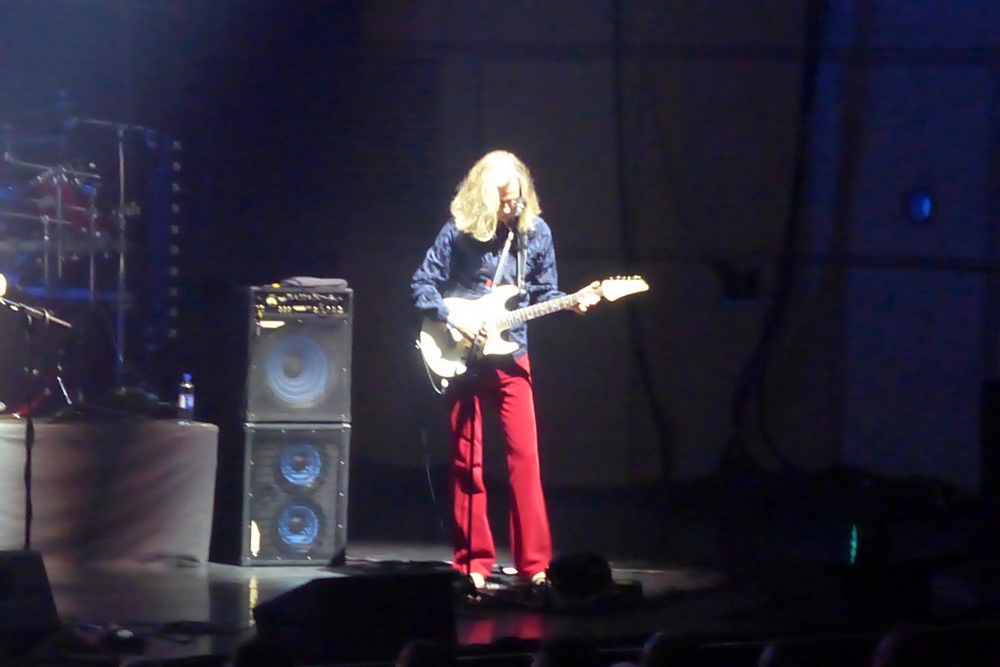 The Bass Player was blond, wore glasses and bright red trousers. That looks like Roine Stolt – I said to Jonathan when he entered the stage. The Band were introduced, – On Bass, Guitar and Twelve String – Roine Stolt from the Flower Kings. And Transatlantic, Mr. Hackett! Hector's day was complete. I no longer cared which of my Genesis Favourites would be dropped this evening.
After The Intermission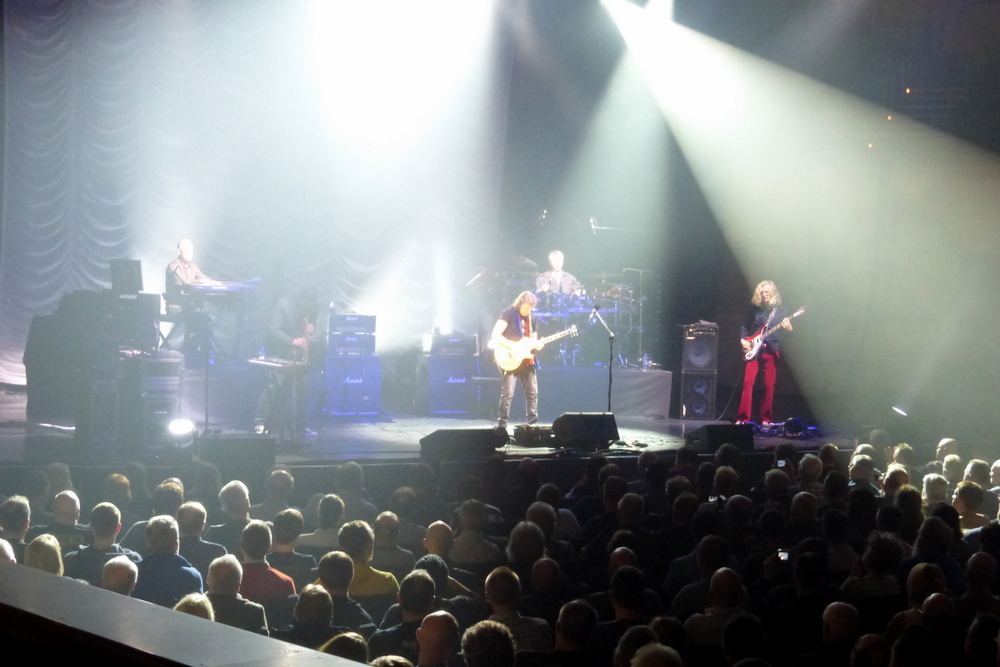 Get 'Em out by Friday, Can-Utility and the Coastliners featured from Foxtrot so, no Suppers Ready. Only the title track from The Lamb Lies Down on Broadway, so no Chamber of 32 Doors, Carpet Crawlers, Fly on a Windshield. A rare performance of Cinema Show, we were told preceded the conclusion to the main set- Musical Box. By now people were settling in for a long night of Classic Genesis, and it was time for the encores already? Clocks-The Angel of Mons arranged such that it did neither piece justice, was followed by a true rendering of Firth of Fifth. We needed more of what Mr. Hackett did last year, or some form of Genesis Reunion. Time to go home. Marg said she knew none of tonight's pieces, but recognised some. Maybe she has to see a Genesis Tribute Act?