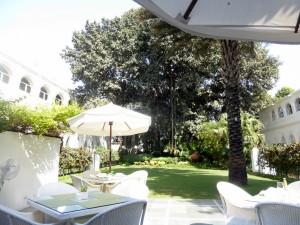 The Maidens Hotel (7 Sham Nath Marg, New Delhi – 110054, India) is a long way to travel from Glasgow to sample one's first ever Indian Food in India. Arriving early afternoon after an overnight flight, our Guide invited us to go for Lunch before we visited some of the local sites. Knowing the Buffet at the same locus was part of our Package, there was no point going for it immediately, a Snack was called for.
Dining al fresco at the Garden Terrace meant that Marg was as interested in the local wildlife as her Lunch, she would be off looking into the trees as soon as.


Dahi Bhalley aur Kadak Ki Chaat (Rs 575) is not something one reads on a Menu every day. Lentil dumplings in a sweet yoghurt with spinach fritters. We decided to share this as well as Paneer Pakoda (Rs 650) described as – Cottage cheese fritters served with fresh mint relish, and tamarind relish. Two Veggie Dishes then, yes Hector had just turned down Lamb Roganjosh. 
Marg was recalled from her Safari as the, what would be Starters anywhere else, arrived.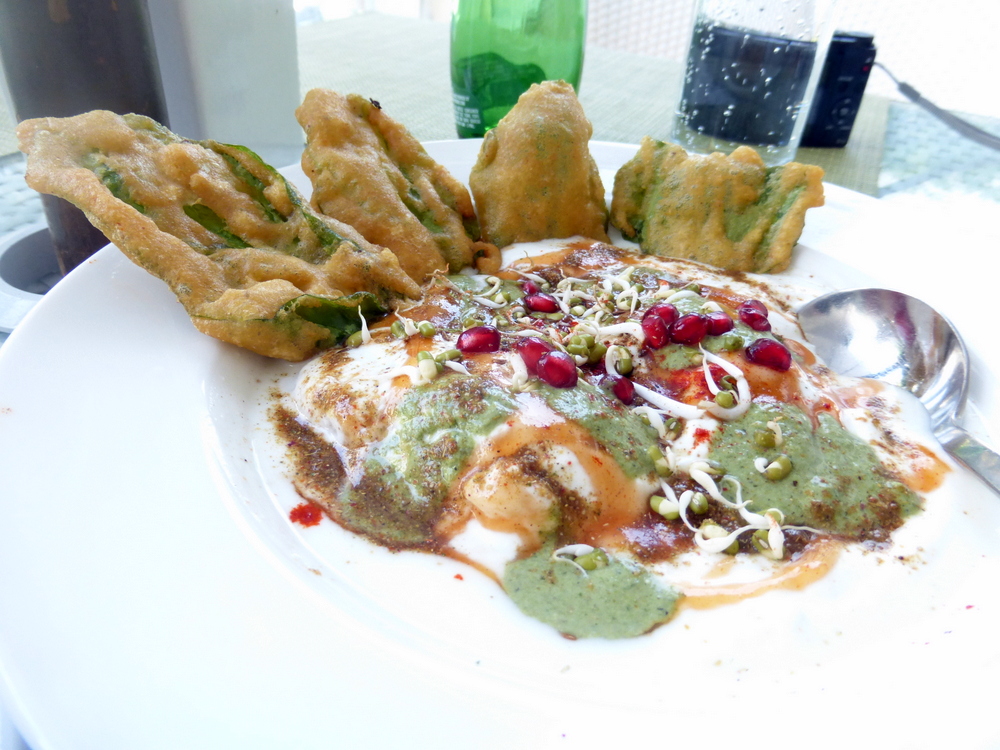 The Dahi Bhalley has been given – to try – at Glasgow's Yadgar and then served as a Dish on the day I was invited to meet Curryspondent Ahmed. A Spicy-Cake Dish is how I first described it, this holds. At Yadgar the Dumplings were served as Small Balls, today they were Substantial, two pieces. The Yoghurt was Refreshing, occasional pieces of Pomegranate were encountered. I love Pomegranate, but only when somebody else has prepared it, today was that day. The Spinach Patties, sorry – Fritters – worked well with this combination. An Experience worth repeating.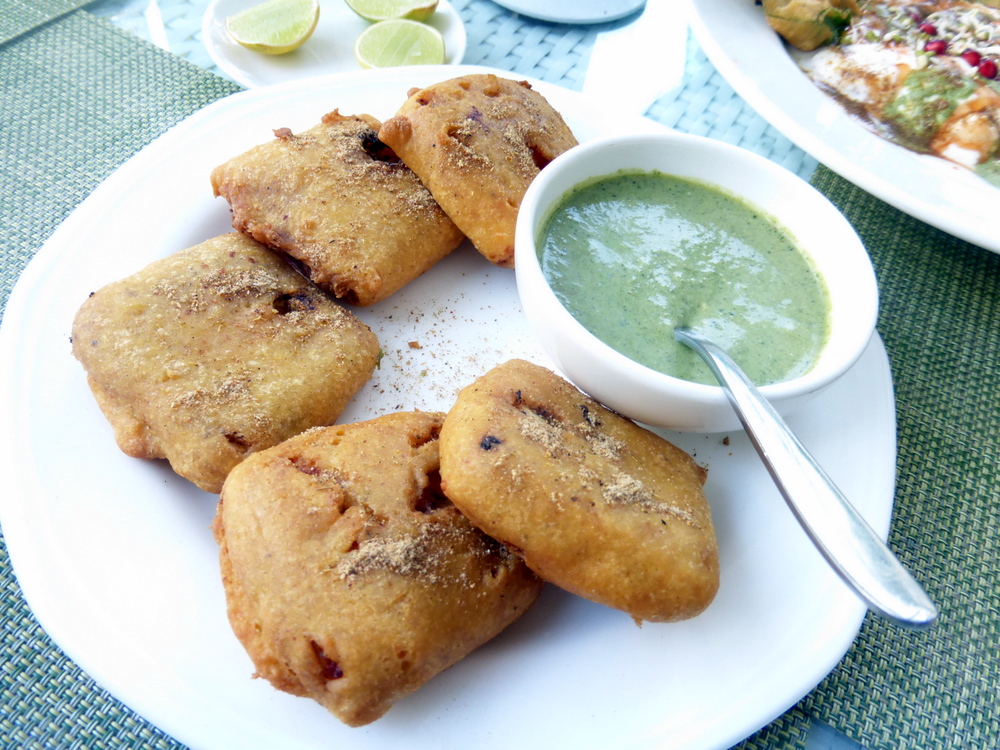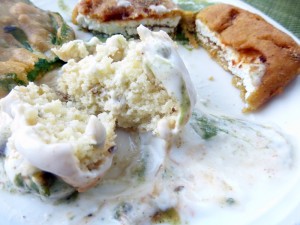 Paneer Pakoda was a First. Hector has to be careful with his intake of Cheese, excess can lead to loss of a meal, rapidly. The accompanying Mint Dip did little for me, the Yoghurt with the Dahi Bhalley was the focus, there was a lot of it. The Tamarind didn't show. The Cheese Fritters were Pleasant. Between the Batter and the Cheese a Red Band was visible, Chilli, the Source of The Kick.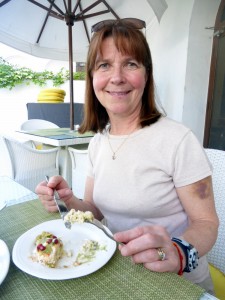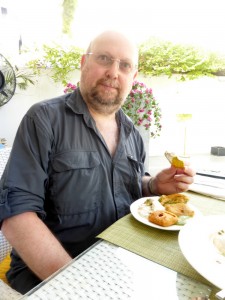 This was a Healthy and Substantial Lunch.
The Bill
Rs 2099.83. (£23.86) Rs 325 (£3.70) was the total of three taxes, cleverly added on to the prices quoted in The Menu. This is The Indian Way we have now learned.
The Aftermath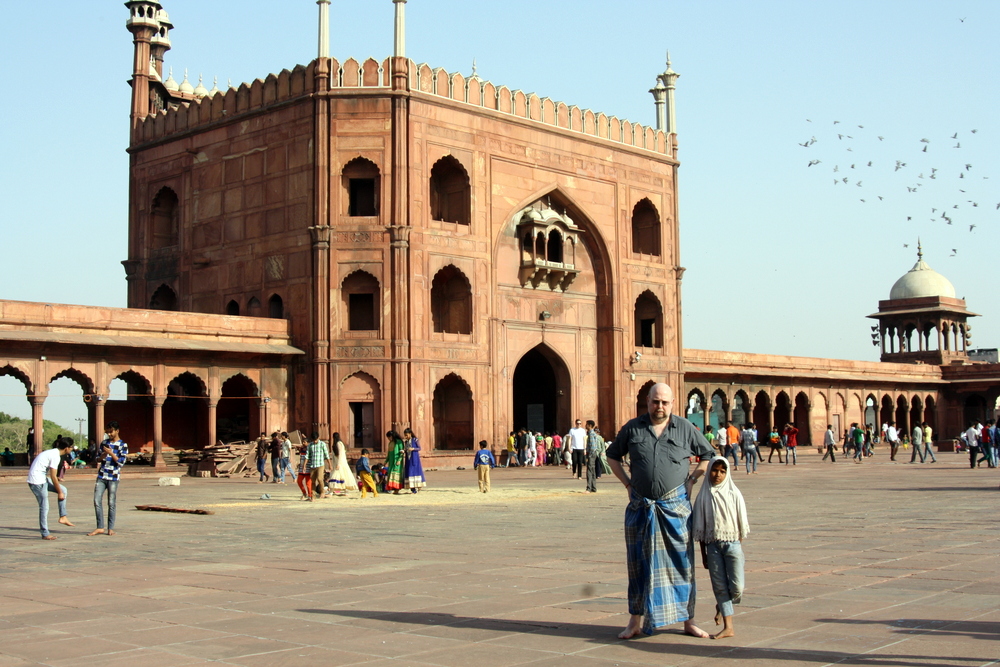 A somewhat curtailed afternoon Trip around Delhi featuring Jamia Masjid, India's largest Mosque, then the Cremation site for Gandhi. These feature in more detail, along with the entire nine day tour in Bier-Traveller.com.  Marg has not shrunk.  This was Hector not falling for what followed.
Marg, same spelling, features on many road signs.  It is not – Street  –  but  Parade!
India Trip 2016 – Day 1 –Hector's 2016 India Trip starts here