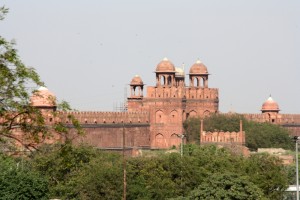 Hector only does Curry Buffets on Special Occasions, this India Trip is hopefully – Special.  Dinner at the Garden Terrace at Maidens Hotel (7 Sham Nath Marg, Delhi – 110054. India) was part of our India Holiday Package, one had to.
Marg and Hector were asked to join another couple in or group who were still at the Soup stage. A Tomato Soup that was definitely not from a a tin was dispatched with haste. The four of us were ready to peruse – The Buffet.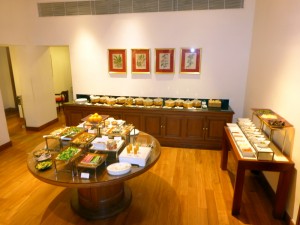 A Dais with Salads was quickly walked past, we have been advised to avoid anything that could have been washed in tap water. Boiled Rice was first up, best not to take too much. A Fish Dish was the first of the Real Dishes. Fish with Sweet Chili Sauce was ignored, there was an assortment of Capsicum therein, no thank you. A very Yellow Daal was also walked by, I had spotted Keema Anda, let's have some Lamb Mince with Hard Boiled Egg. Matar Paneer – Cheese with Peas – did not sound much, however it looked appealing, as did the Final Selection – Baingan Bharta – an Aubergine based Mash. Some Jeera Rice to mop up the extravagant Moisture Content was required.
            Fish with Sweet Chili Sauce                                   Keema Anda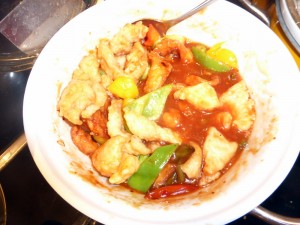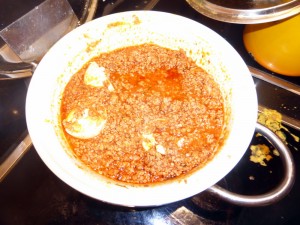 Daal                                                               Matar Paneer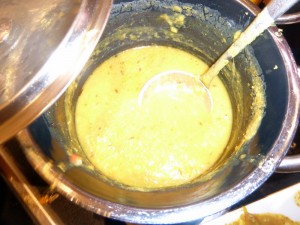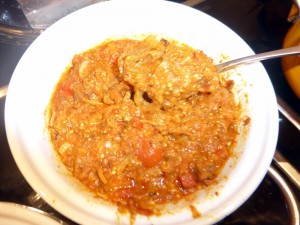 Baingan Bharta
The Keema Anda had to be the Star of The Show. This was the closest Dish to anything I would order a la carte. Kofta Anda as served at Glasgow's Sheerin Palace is a continuing Favourite, and during Ramadan, The Village Buffet perhaps serves the Best I have encountered. Being used to Punjabi Cuisine, the New Delhi version of Keema was decidedly on the Wet side. Being a Buffet, the Hard Boiled Eggs were at a Premium, two halves as much as one could morally take, but then a Sheerin Palace Portion would probably have little more.
This was Pleasant rather than Outstanding, no Methi, but a sense of Spice and Seasoning. The Baingan Barta was impressive, a Vegetable Mash. With Tomato and Onion in the Masala-mash along with the Eggplant, this was as close to the Masala that Hector was taught to cook around the turn of the century. The Matar Paneer provided the Buffet Selection on my plate with the required Overall Seasoning, a sample was enough for me, perhaps on this Trip I may have to risk exceeding my Cheese Quota, but not tonight. The Jeera Rice offered little scope for description other than this is the Land where Cumin is Jeera. They coud have done with being more heavy handed on the Cumin Seeds.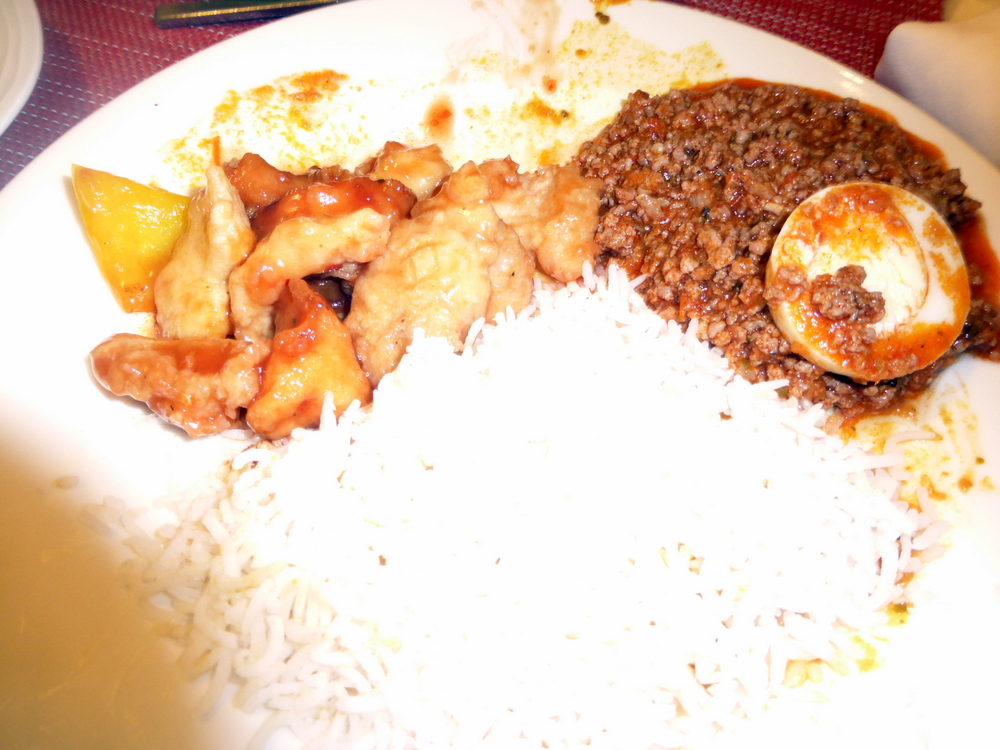 Back for more Keema Anda and Baingan Barta, the latter Vegetable Dish I shall look out for in future, this was the something new I have learned today.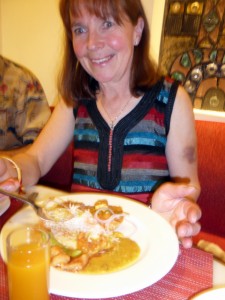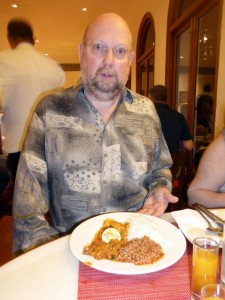 Marg had sampled the Fish with Sweet Chilli Sauce which she had described as – being like Chicken.  I could ignore the Opperchancity for – Fish Curry – no more.  With the required dexterity, pieces of Fish were secured without the unnecessary Ballast, ok, I took one piece of Yellow Capsicum, because it was not Green.  The word – Sauce – , well.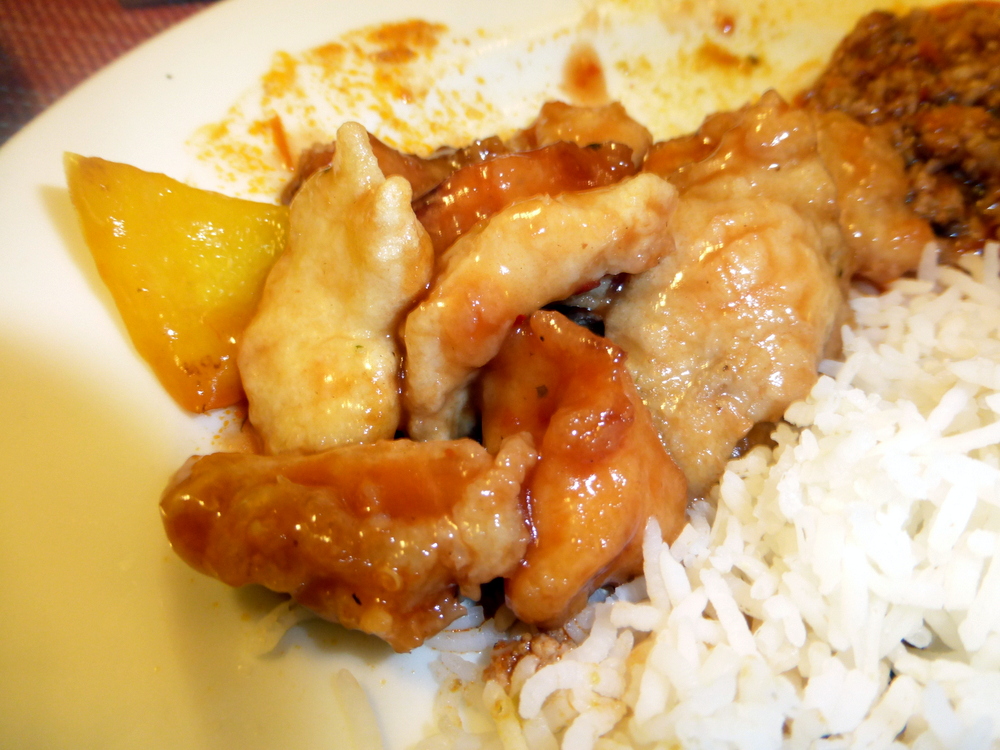 This was not Indian by any stretch of the imagination, but a Sweet and Sour which would be normally served up in the most populous nation of our planet.  The Fish was Rubbery, Marg was right, it was like Chicken.
The Bill
The Buffet was part of our Package, however our two small Bottles of Perrier were not. All Drinks at the Maidens Hotel are at least twice what they should be.
The Aftermath
We retired to The Bar to nurse a Bier or two. India were playing Australia in some form of game involving a bat, a ball, and standing around. The Number – 20 – was mentioned a few times. The Locals were ecstatic come the conclusion.
India Trip 2016 – Day 1 –Hector's 2016 India Trip starts here