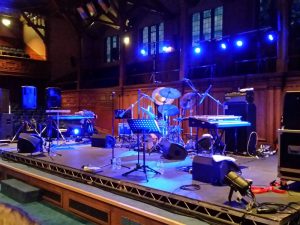 Few may have heard of the French Band – Magma – who were founded by Christian Vander in 1969, even fewer will have seen them live. Hector had the opperchancity to see them perform at the Glasgow City Hall back in 1973 when their album Köhntarkösz was released. I had purchased the album but couldn't play it. I found the Musik to be terrifying! Köhntarkösz was disposed of.
In subsequent years 1001 Centigrades and Üdü Wüdü were acquired on vinyl, the latter I actually enjoyed. My ear knew what to expect, intense percussion near constant chanting, grinding bass, and of course the lyrics sang in their self-created language – Kobaia.
Two Magma CD's found their way into Hector's CD Collection, bargain basement offers no doubt. Attahk and their Live album. The latter ironically contains Köhntarkösz which I can now enjoy, occasionally.
This evening's performance at the Assembly Hall in Edinburgh could not be missed, though the elements nearly cancelled the gig. Our drive across Scotland on the M9 was in the worst of conditions, we were told that the sound crew were involved in a nasty collision on the M8 earlier.
Seating was unreserved, the doors opened at 18.30. Marg and Hector arrived at 19.10, the earliest we could. A suitable pair of seats were taken, stage left. The Foyer confirmed a 19.30 start, the Tickets did not provide this information. You'll have had your starting time? Marg had never heard Magma, I simply told her to be prepared for an aural onslaught.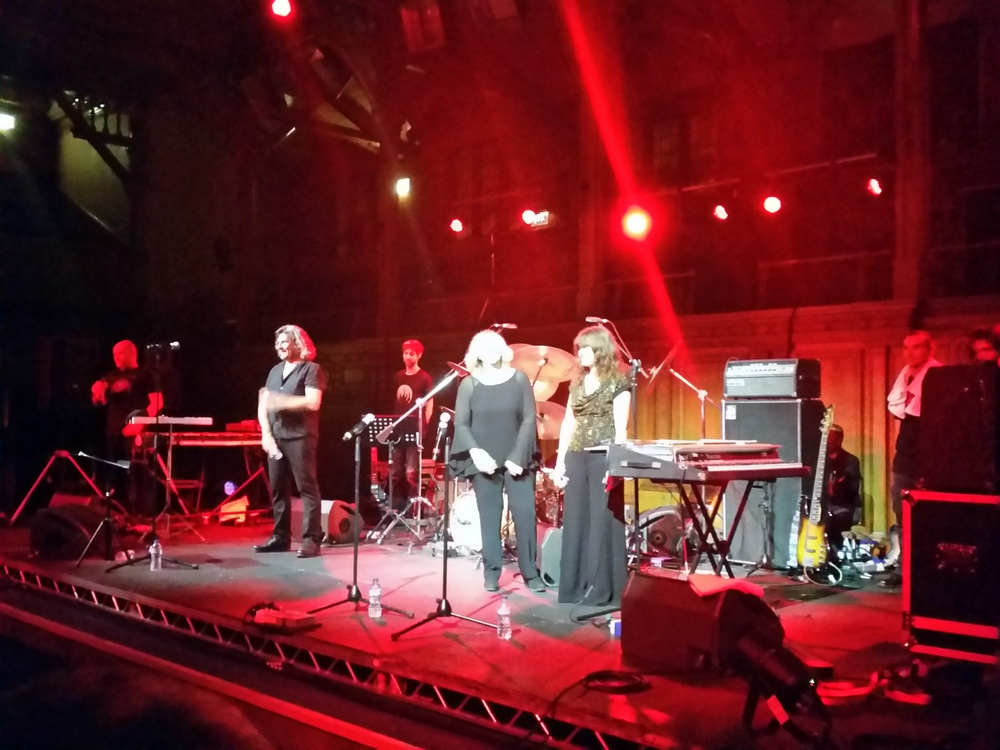 A Medium used by the Band confirmed the current line-up as: Christian Vander (drums/vocals), Stella Vander (vocals), Isabelle Feuillebois (vocals), Hervé Aknin (vocals), Staiïss Ësslëhnt (guitar), Jérome Martineau-Ricotti (keyboard), Benoît Alziary (vibraphone), Philippe Bussonet (bass).
The Promoter informed us they would play one set, I had assumed an intermission. Some would no doubt have left given the opperchancity. I wonder if they locked the doors?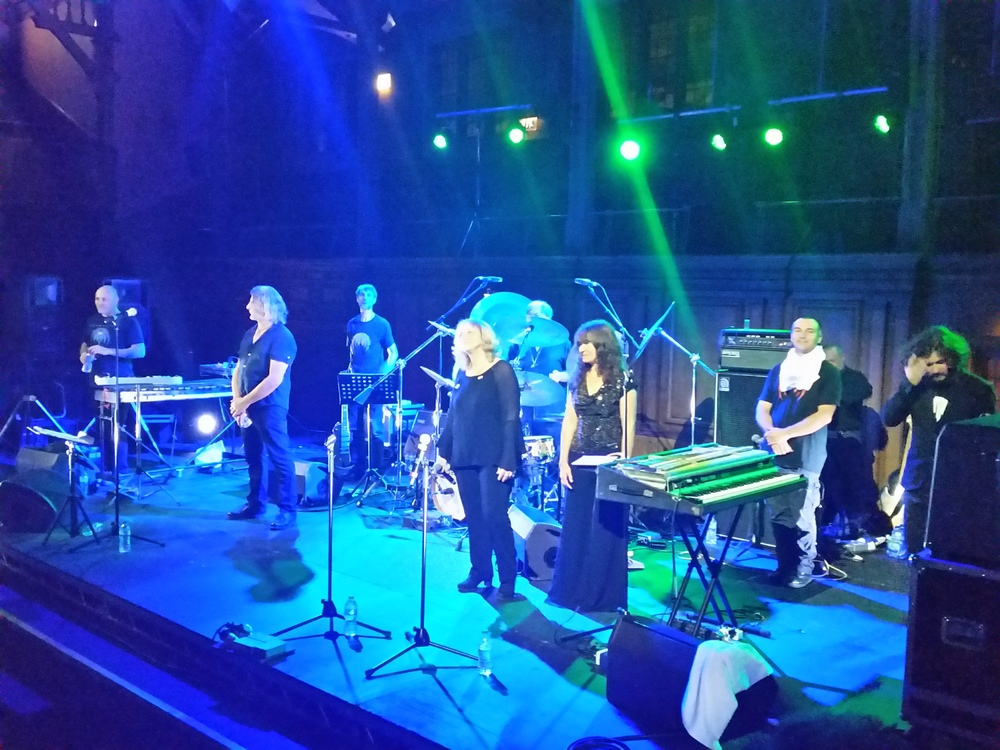 The Musik of Magma is demanding. I referred to the style above, tonight was relentless, endless. The first – Piece – lasted forty minutes, an ever changing set of musical motifs and time signatures. It is always a pleasure to hear Drums – played. The Bass player was unforgiving,  as good as any I have ever seen/heard and Hector did see Jaco Pastorius five times. The vocals, the lyrics, as percussive as the Musik. That nothing was intelligible was irrelevant to this listener, I do not listen to words, they are a distraction.  Only rarely were there guitar breaks. The Vibraphone player did have extended spots, as visually entertaining as they were pleasant to listen to. At other times his playing was lost in the mix. The keyboard player could have saved energy for one ten minute sequence by employing Digital Delay as the vocalists did on occasion. This was Minimalism.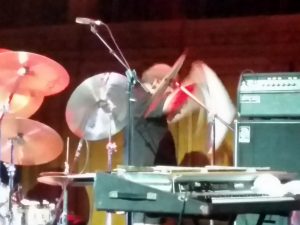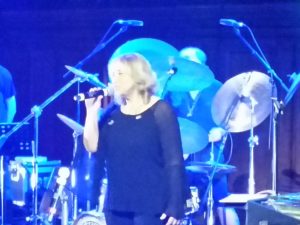 In such intimate surroundings, one can take but a few photos.
The Setlist this evening, as best I can establish was : Theusz Hamtaahk, Mekanïk Destruktïw Kommandöh, with Zombies as the encore.
Zombies is from Üdü Wüdü, I cannot presently play vinyl. I have only heard Mekanïk Destruktïw Kommandöh once before. A Cellist I once knew was heavily into Olivier Messiaen, she played me this album, once.
At the end Marg declared that she enjoyed this performance more than the (many) times she has seen Damo Suzuzki.
The audience of a few hundred expressed their pleasure at the conclusion. Stella Vander admitted that it is not possible for Magma to wait another forty years before returning to perform in Scotland.
Köhntarkösz next time please?
Curry-Heute
Eight quid to park, don't start me on Edinburgh…. Marg and Hector had missed Dinner. We negotiated, again, the mess that is Edinburgh City Centre. Trams? Aye right!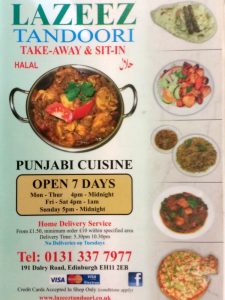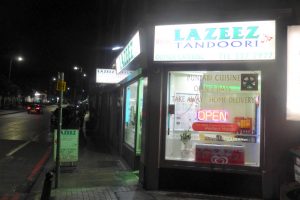 We do not dine in Edinburgh often. In recent years there has only been one venue: Lazeez Tandoori (191 Dalry Rd, Edinburgh EH11 2EB), one of the few Punjabi Curry Houses in Edinburgh. Mein Host and Hostess were behind the counter. Menus were given, we chose our preferred table thus establishing we were here to sit in.
Marg announced immediately that she was having Lamb Karahi (£9.75). The words Methi and Gosht were spotted, too much for Hector to resist, however, I was determined to have Potatoes too. Methi Gosht Aloo (£6.50) it would be. There is a sizeable difference in price. A Chappatti (90p), their spelling, and a Paratha (£1.95) would accompany.
Mein Hostess confirmed with the kitchen that Lamb Karahi was available. Adding Potato to the Methi Gosht was not a problem. Marg was invited to take the required two Cans of Mango Rubicon from the fridge. These were a – Spezial Price – 59p.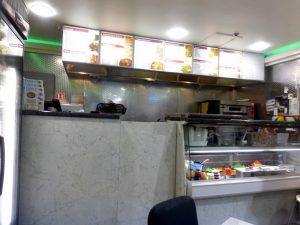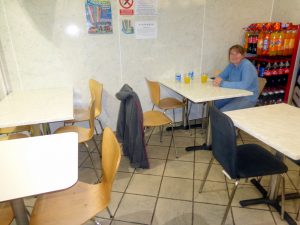 The Methi Gosht served on my previous visits to Lazeez differed from each other. The first was my preferred Masala with Methi, last time was a Green Herb Curry a la Palak Gosht, too much Herb, and not all the ones of choice. I had photos of both to hand when Mein Host placed today's version before me.
This is closer to version #2 – I observed.
They'll both taste the same – he assured.
Give me ten minutes to decide.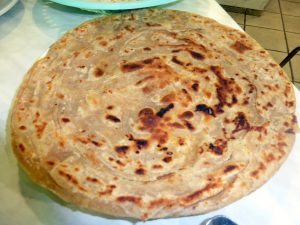 Marg was already tearing into her Chapatti… hold on, photos required. Marg was ravenous, 22.00 is late for us to eat.
Lamb Karahi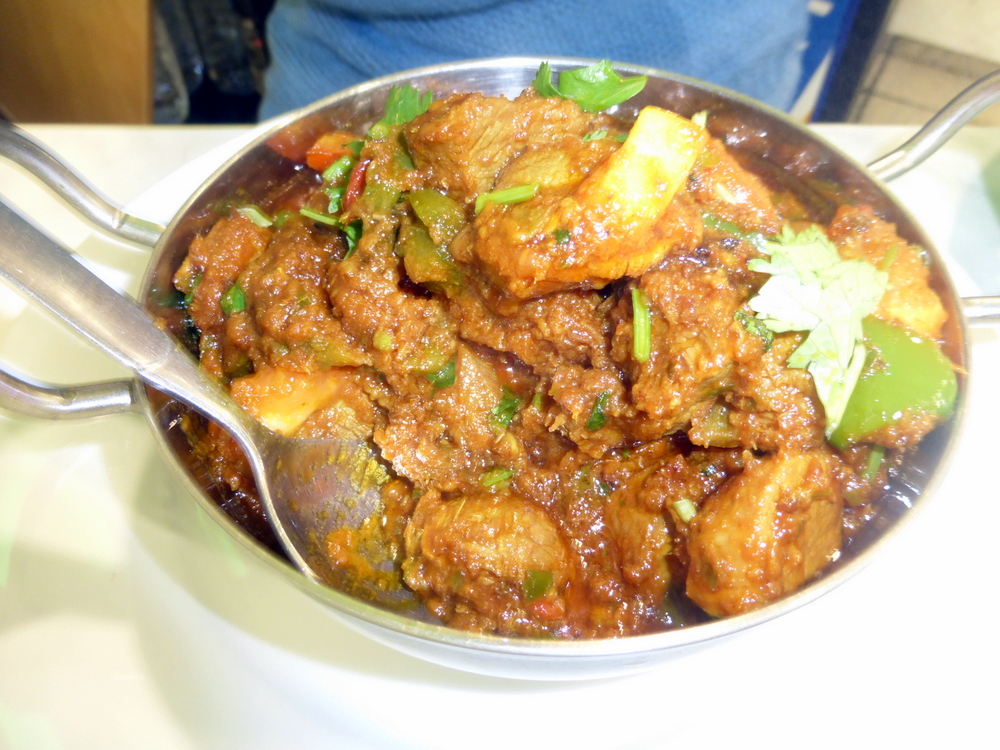 Capsicum inevitably would have spoiled the Lamb Karahi for The Hector. Tomatoes had also been cooked in, that I do like. The Lamb Karahi did look Splendid. Why did I not order this? A piece of Lamb came my way, – Oh yes!
This is lovely – was Marg's opening remark.
I know I"m hungry.
The first taste wa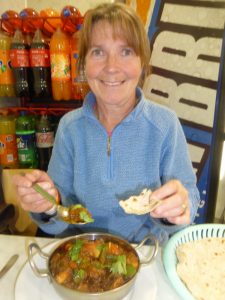 s – Wow – now it's getting hotter for me.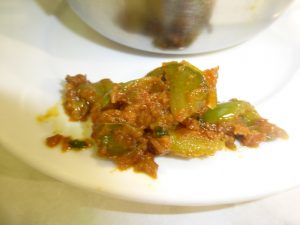 Marg ate on and then started to remove the Capsicum. She was defeated by Volume, a Takeaway would follow. Knowing that I would have this for tomorrow's Lunch, it had to be Capsicum free.
The Breads were Excellent. The Chapatti was Large enough for Marg not to need any Paratha. The Paratha was Fresh, Flaky, Layered, exactly as one should be served.
Methi Gosht Aloo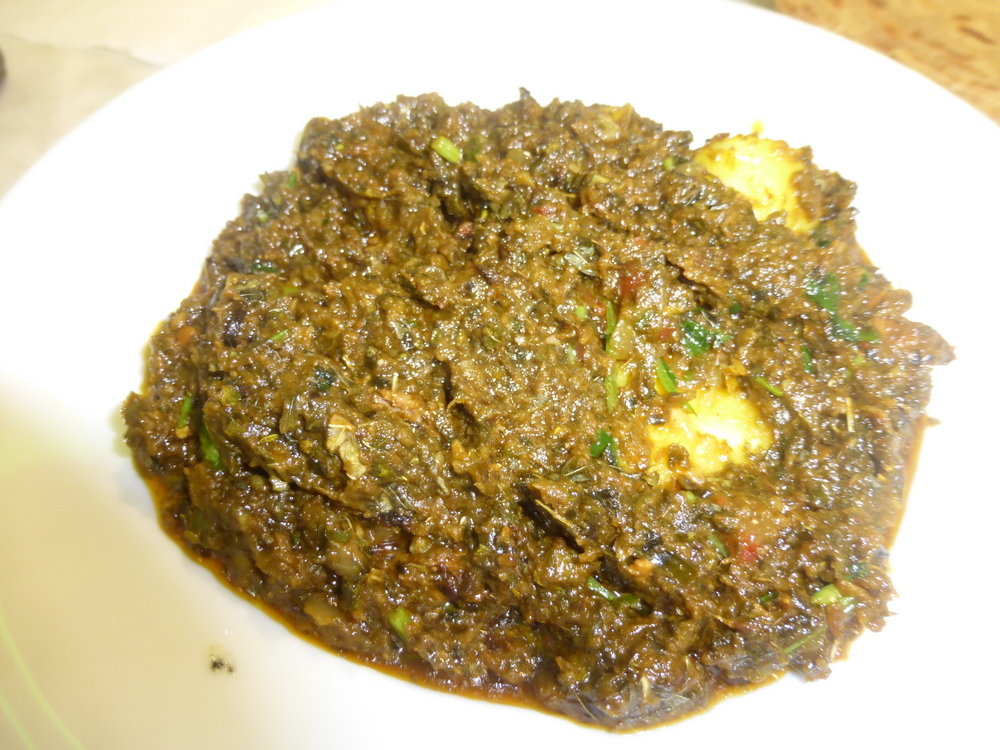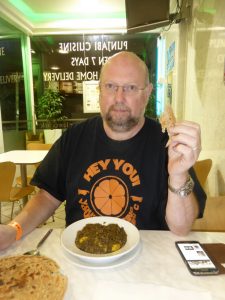 Thick with Herb, there was no collection of Oil on the side of the plate. The Methi Blast was there. The Seasoning and Spice Level were commensurate with Total Enjoyment. It was a Pleasure to taste Scottish Lamb after my recent sojourn. I did not establish the ratio of Meat to Potato, I had more than enough Solids to fill. The appetite is not fully restored.
We were now in discussion with Mein Host and Mein Hostess.
You always order the same thing– said Mein Hostess. Technically she is correct, Karahi when available, Methi otherwise. I had to mention the presence of Capsicum in Curry.
It's an American Vegetable, what is it doing in Indian Food?
She assured me that she loved Capsicum and likes it in everything.
Time to draw The Reader's attention to – The Curry-Heute Campaign.
On my last visit I declined Lamb Karahi when she informed me that the Capsicum was already in.  This time she promised it could be removed on demand.

Mein Host appreciated our sitting in his modest establishment. Marg informed him I care nothing about my surroundings, I was here for the Best possible Curry in Edinburgh.
Lazeez Tandoori have been in operation for twelve years I was told. They refuse to rush out their orders. Customers should be prepared to wait that bit longer to receive a worthy meal.
The Bill
£21.46. Another two Cans of Mango Rubicon had been taken.
The Aftermath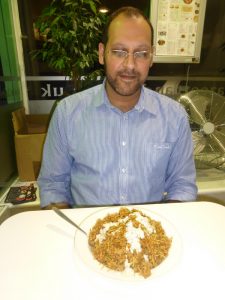 Mein Host sat down to eat, I had to inspect – The Staff Curry. Keema Rice topped with Yoghurt.
So how many Punjabi Houses are there in Edinburgh? An answer never came, however, Hector did make a proclamation on departure.
This is the only Edinburgh Curry House I ever visit.
Update
Hector had also retained some of the Herb Mash. This mixed in with the Soupcon that Marg had left made for the Perfect Lamb Karahi.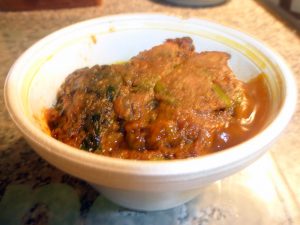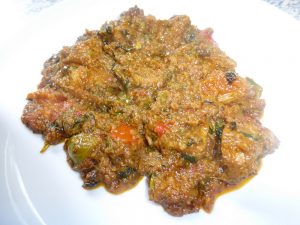 Some insist Curry tastes better the next day. This was Stunning! The Tomatoes had permeated the Mash too, should I order my Lamb Karahi a day before visiting Lazeez Tandoori?