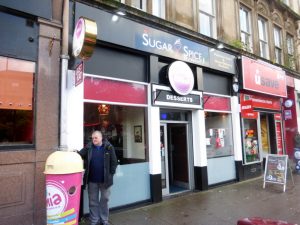 Michael Rother performing Live in Glasgow ?! Hector's Musical Legacy may only be a collection of Vinyl and CDs, a comprehensive collection of what became known as Krautrock. Foremost amongst this – Can – from Köln. After Can, their Drummer – Jaki Liebezeit – went on to guest on many albums – Joachim Witt – and – Michael Rother – stand out in my collection. Meanwhile – Michael Rother – had made his name with Harmonia and Neu!, the – Neu! 75 – album being regarded by many as his seminal work. Tonight Michael Rother performed tracks from all phases of his career at the Glasgow Art School. Before that there had to be a Celebratory Curry-Heute.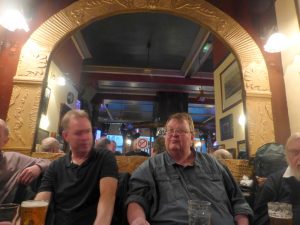 Marg was the intended Company, however, erstwhile Colleague – Barbara – was having her retirement do this evening in Helensburgh. Marg had to attend, on any other night… Let the Curryspondents note that The Man from Bradford was also in Glasgow and made no mention of Curry. Howard would stand in for both events. Howard would have me mention another Band of which Michael Rother was an early member, Writers Prerogative, not in these Pages.
Mia – Sugar & Spice (523 Sauchiehall St, Glasgow, G3 7PQ) was the chosen venue, close to the Art School and the gathering point this Friday evening for the Drinking Masses – The State Bar. Akhtar was on duty, the Restaurant was empty and so we took a larger table than my norm at the Kitchen Hatch. Akhtar brought over the New Menu, all smiles.
I have already seen it and commented. Machi Masala? There's no Fish Curry.
One of our Chefs is allergic to fish.
You couldn't make it up.
Hector was in the mood for a Top Quality Lamb Karahi after what feels like a series of Let-downs. Karahi Gosht (£9.95) with a Chapati (£1.75). Extra Methi on top – was the refinement. Akhtar said he likes having it this way too. Howard opted for the Alternative Classic – Lamb Desi Handi (£9.95) with a Garlic & Coriander Naan (£2.75). Akhtar asked Howard about – on-the-bone. As I answered for both of us I assumed this included me too.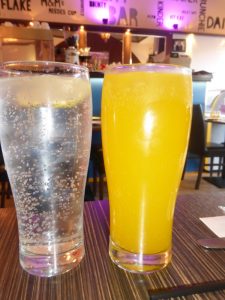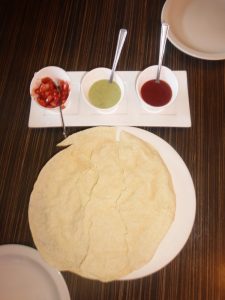 Howard asked for Mango and Lemonade, for Hector the usual Sparkling Water. We were served Pints.
Poppadoms and Dips arrived, Complimentary of course. Whilst I always celebrate the venues which bring Poppadoms and do not charge, I currently have no appetite for them. I took a half with some Spiced Onions. The Chilli Dip was poured over the Onions, much better, strange that.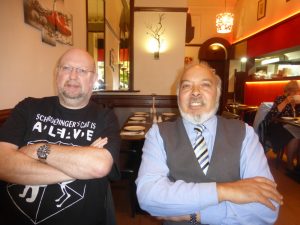 Akhtar sat with us whilst Chef #2 did – The Deed. I have not seen Chef Assif for some time. We watched the torrential rain – Nobody will be coming out for Curry. And so in came the next Diners, refuge.
Akhtar brought over the plates, he warned us that they were warm.
Hands were kept at our sides.
Why do people always touch the plate whenever the Waiter tells us they are Hot?
We believed him. Anyway, I had no intention of eating from the plate, we had ordered Karahi. My last Karahi was not Hot enough, no problems here. Here we go.
Karahi Gosht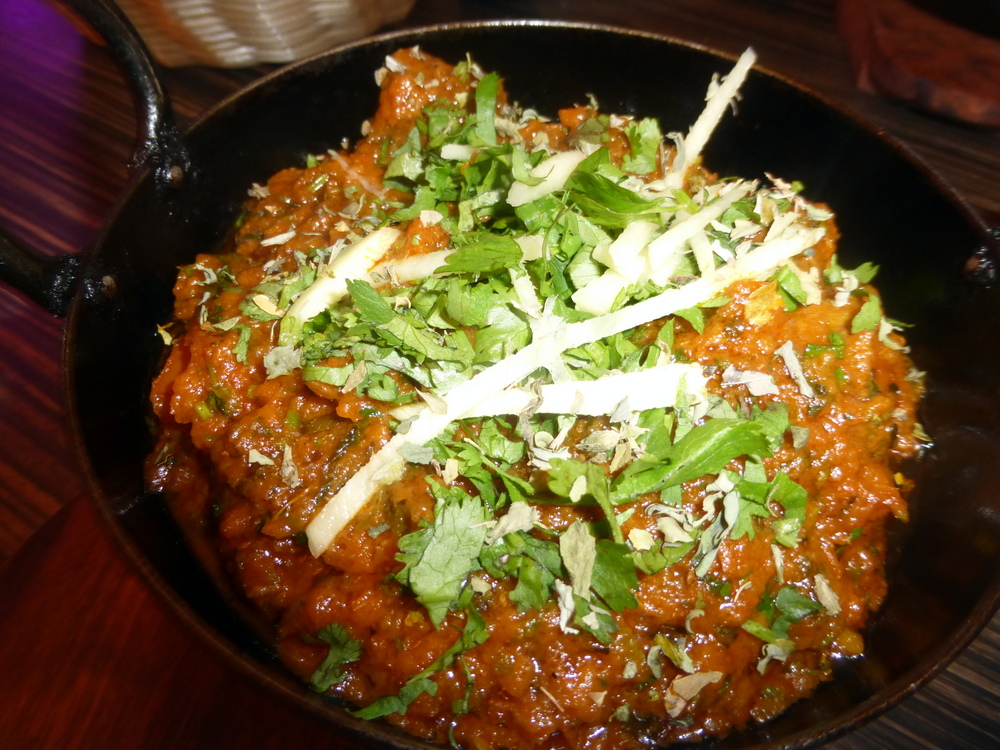 The Karahi Gosht was Boneless, what happened? There was way more Masala than Hector considers necessary, but when the Masala is as Thick and Flavoursome as this, there can be no complaint. The Seasoning was a bit under for my Exacting Palate, the Spice Level was right up there. Hector had Curry! There was a Mass of Tender Lamb to be scooped up with the Modest Chapatti.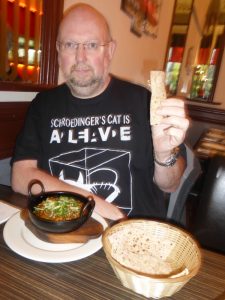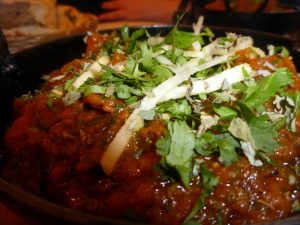 The, oh so important Infused Oil, collected at the side of the Karahi. This was Minimal, as it should be. The Methi Topping added an extra Dimension to the Overall Flavour. To Hector, Curry is all about Herb and Spice as learned in twenty odd years of visiting Bradford. [Neil, you have no excuse not to visit Bradford Ale Festival – 2017!] The Karahi Gosht was Good, but lacked the – Wow. I have not been to my two Favourite Glasgow Curry Venues for what feels like an age. This will have to be rectified.
Desi Handi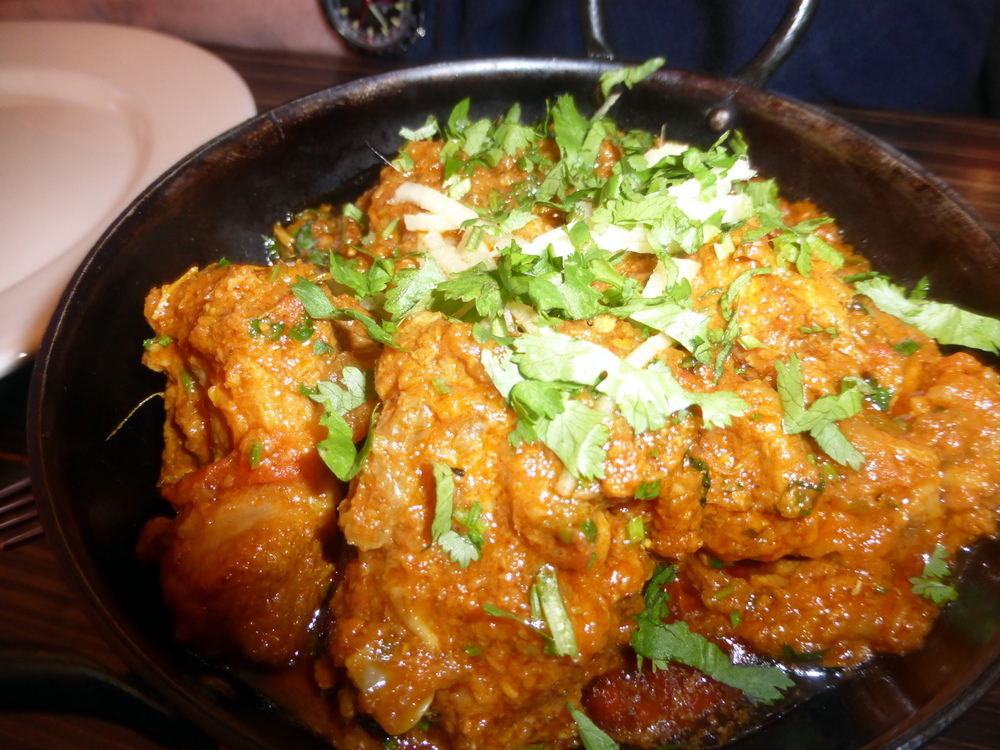 Howard was making an near endless series of – Mmmmmms – across the table. He had Sucky Bones. Well seasoned – was his first verbal utterance. Howard's Desi was already making my Karahi feel Inferior. How often does this happen when we dine together? Unless we order identically, one has to suffer. There was nothing wrong with – The Fish Curry – in Roma!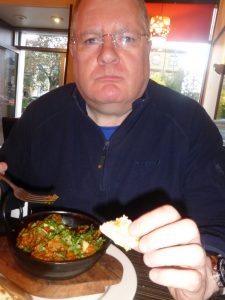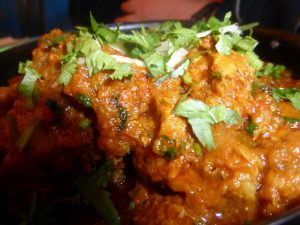 The Garlic & Coriander Naan was a Sensible Size, what is the point of serving Table Coverings?
Excellent, but too heavy for the dish I had. I should have gone for the Chapatti.
No, Howard, we should have had a half of each other's, or Parathas.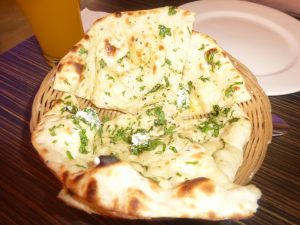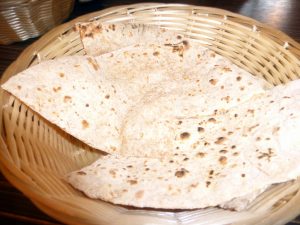 Making further observations about the impact of the Bread:
…. disappointed with the meat to bone ratio, but I probably couldn't have eaten more.
It's a good Curry hiding a better Curry – was Howard's final offering.
We both had Masala left at the base of our respective Karahis. I swopped over. An Opperchancity to make a direct comparison.
The Desi Handi was much more Intensely Flavoured, the Karahi Gosht Better Spiced. Note to self – next time:
Lamb Desi Handi, on-the-bone, well Spiced, with Methi on top, a Paratha.
The Bill
£31.30. Thank you, Howard. Expensive Drinks, surely?
The Aftermath
We checked in to the State Bar to see The Company before taking our leave. The dehydration which caused Hector problems watching Ritchie Blackmore's Rainbow at Bittigheim Bissingen would not be an issue this evening.
The Support
A support act? I had not even considered this. Fiona Soe Paing, a Burmese Aberdonian, well of course she is.
With the Art School stage set up for Michael Rother it was difficult to assess what instrumentation, if any, would be employed by Fiona. She came on stage just after 19.30, flicked a switch under Michael Rother's table of gadgets and promptly walked off.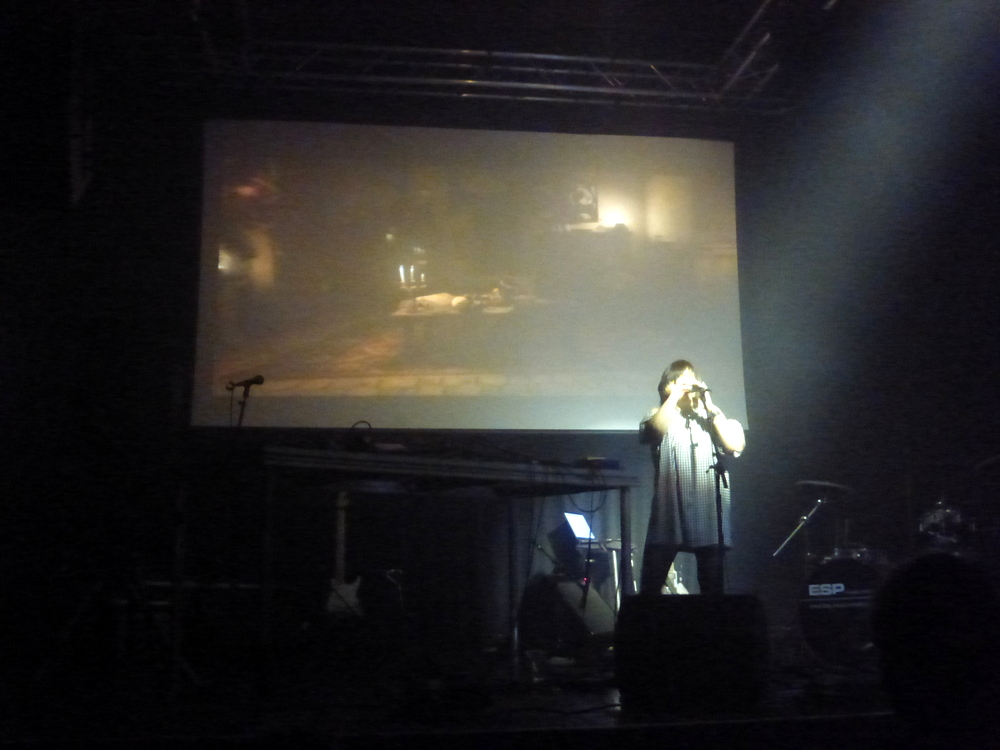 The Soundtrack began, Projections appeared on the screen at the rear of the stage. After a few minutes Ms Soe Paing re-entered the arena.
She's back for an encore – remarked Howard.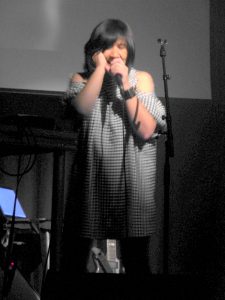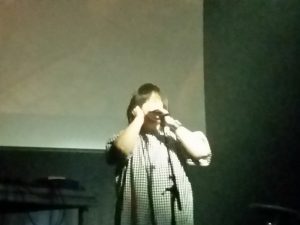 Dark and Mysterious would describe the accompanying Electronic Musik. Being brought up on the Electronic Musings of Tangerine Dream and Klaus Schulz, tonight was far from this, Discordant at times, Aggressive, then there were the Vocals.
Marg and Hector saw Damo Suzuki of – Can – at this venue some years back, Fiona looked and sounded like a Female Damo. The language of the set may well have been in Burmese, English, Anything. There were slight pauses as she waited for the next phase of the Movie Projection to reach crucial moments. Digital Delay was employed at the start of new sequences to build up the Layers of Vocals, ah, Technology, great when it works. There is a new Album – Alien Lullabies – can't say I'll be rushing out. However, if Fiona Soe Paing appears in my life again I shall certainly watch with due reverence.
Michael Rother – Live in Glasgow
No sooner had The Support left the stage when Michael Rother came on to make some final adjustments. This also gave Hector a minute or two to try and get the Camera set up for Darkness and Light, Flash Photography is tactily Verboten everywhere. At least there are one or two decent Photos from tonight's show.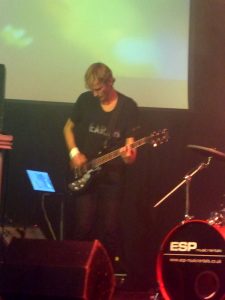 Accompanied by Hans Lampe (Neu, La Düsseldorf) on Drums and Franz Bargmann (Camera) on Guitar, the Trio wasted no time in getting started. There is a Curfew at The Art School as there is at the nearby 02, nefarious late night activities following on.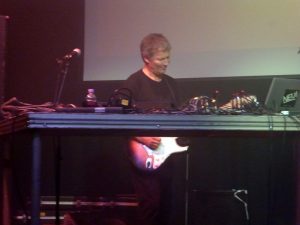 Isi – from Neu! 75 kicked off the set. The Simplistic Lead Guitar of Rother over the steady Rhythm Guitar of Bargmann. Lampe ground out the Rythms a la Jaki Liebzeit. The table top housed various switches, knobs, oh the flashing knobs, from here the Background Electronica was controlled, Midi fully employed. With most of my Michael Rother Musik on Vinyl, and no Turntable currently connected, I am in no way versed with a knowledge of the various track titles. Some were obvious, from Neu! 75 – See Land and E-Musik. Michael made a special reference to Klaus Dinger since the latter was from his side of the album.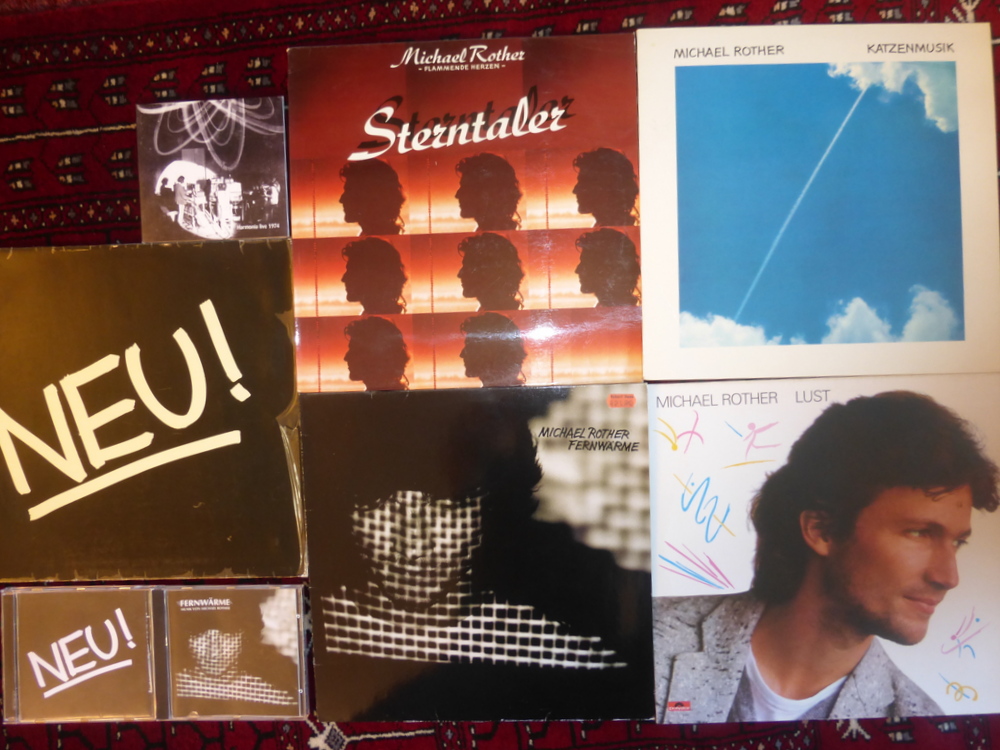 Communication on the stage was Minimal, perhaps they reacted to track calling from the audience of a few hundred. Deutschland Uber alles – was requested from the rear of the room.
Even – No More Heroes – is better than that – was Rother's reply. Very clever, how much did an Englishman make from – Heroes?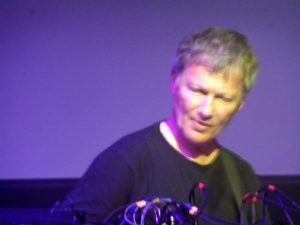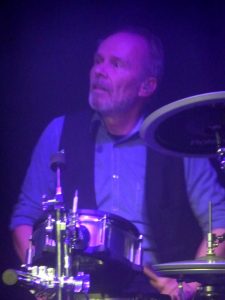 This is – Sterntaler – I said to Howard at one point. Maybe not.
That was – Sterntaler. Was it? Those who are smart enough to post Setlists have been particularly slow. I may edit this in coming weeks. The third track sounded as it it was Harmonia's – Veteranissimo, well some of it. Holta Polta – may have been in there too. Neuschnee – was projected by the Laptop on the screen towards the end of the set, a clue.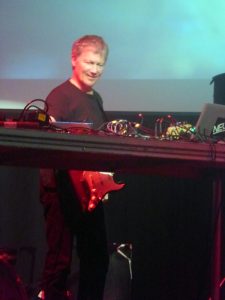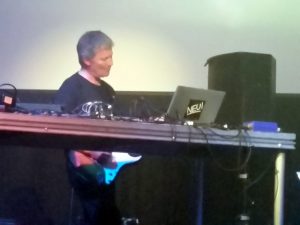 The Harmonia material, despite the Monicker, provided the least accessible Musical Moments. The few pieces from Solo Works easier to digest. The steady beat from Lampe kept the entire set moving along, still Bargmann stood in the shadows, never introduced, no Solos nor Lead Breaks, he knew his place.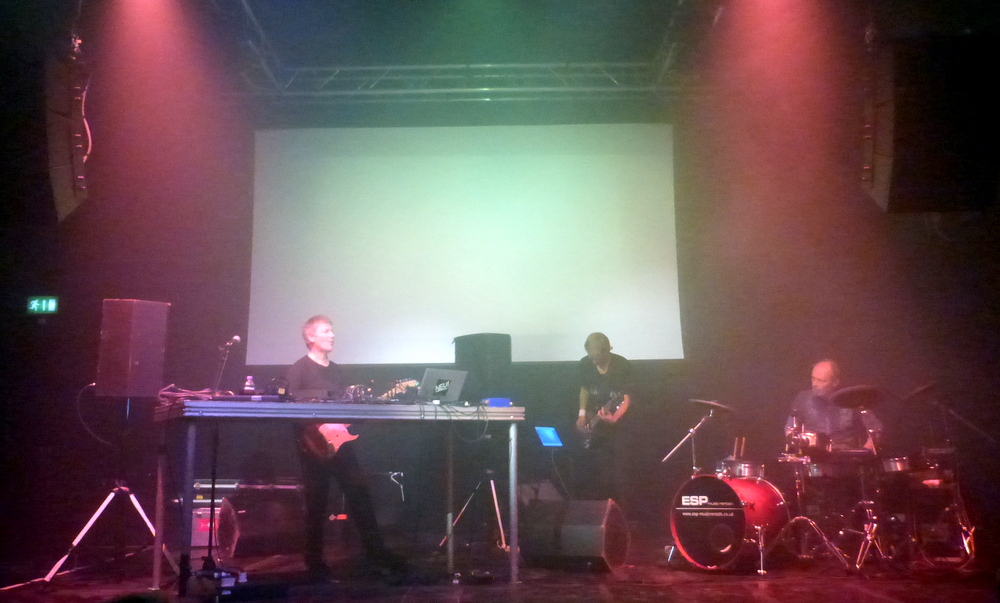 It was an Honour to see a Deutsche Legend appear in my home town. How do I persuade Howard to go to Düsseldorf in December to see all of – Flammende Herzen – performed in its entirety for the first time?