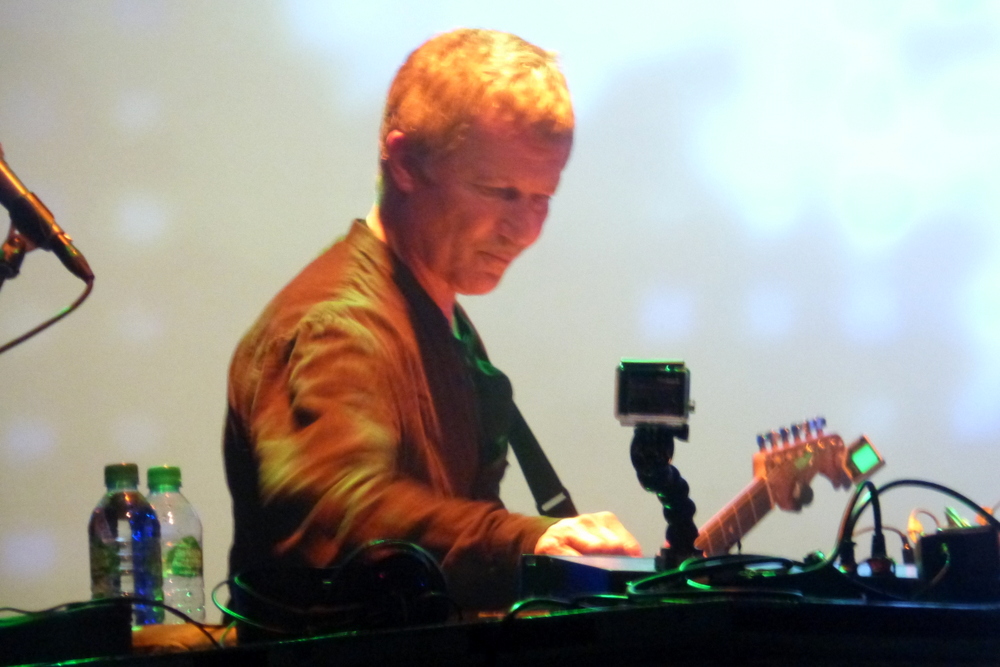 This Two Day Trip to Deutschland is jam-packed. After yesterday's Unpleasant Curry at Jaipur Palace in Düsseldorf, there was an evening rendezvous with Fred Waltmann – Bier Guru – at Uerige for Sticke Bier, a first. Today, an excursion to Köln to visit the best Weinachtsmarkt we have encountered. There had to be Curry-Heute. When there is only the Opperchancity for one Köln Curry, then it has to be the Indian Curry Basmati House (Severinstrasse 53, 50678, Köln, Deutschland). Jonathan managed to get us from Messe/Deutz to Severinstrasse where we picked up the fated Line 17.  U-Bahnhof Kartäuserhof is metres from the Curry House. One day we shall be able to get Line 17 all the way from Hauptbahnhof (Breslauer Platz) to Chlodwigplatz, the Heart of Köln Sud.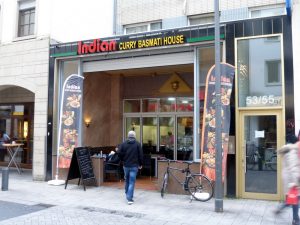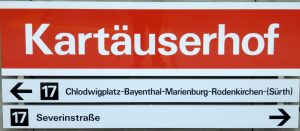 Entering the Indian Curry Basmati House around 13.30 this Wednesday Lunchtime Hector and Steve were surprised to find the place so busy. Every wall booth was occupied as were most of the central tables. I counted thirty Diners, this number could not have been accommodated in their original premises across the street. Jonathan and Neil found the call of nearby Früh em Veedel to be more appealing.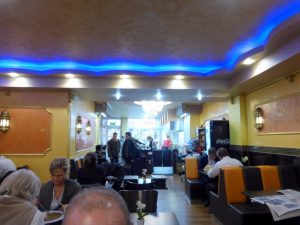 Mein Host and his Lady were not to be seen as we took our seats. The Menu was brought by a Young Waitress, however, when it came time to order, Mein Hostess was standing, pad in hand, and a beaming smile. Hector and Steve are known here.
Yesterday's Mutton Vindaloo was so Poor I was determined to have the same again – as it should be done. Lamb Vindaloo (€9.00) comes with Basmati. Steve studied the Menu, I asked if he had ever sampled Duck Curry, in Deutschland it is prolific. Ente Madras Curry (€10.90) was Steve's choice. We were asked if we wanted – Spicy – I took the Opperchancity to ask if Methi could be added on top as was done so well last visit.
The wait was Honourable, yesterday's Düsseldorf Debacle saw the Curry arrive in an instant. We sat and watched the Parade of Curry being taken to other tables until the Young Waitress brought our Plates, new Plates.
Lamb Vindaloo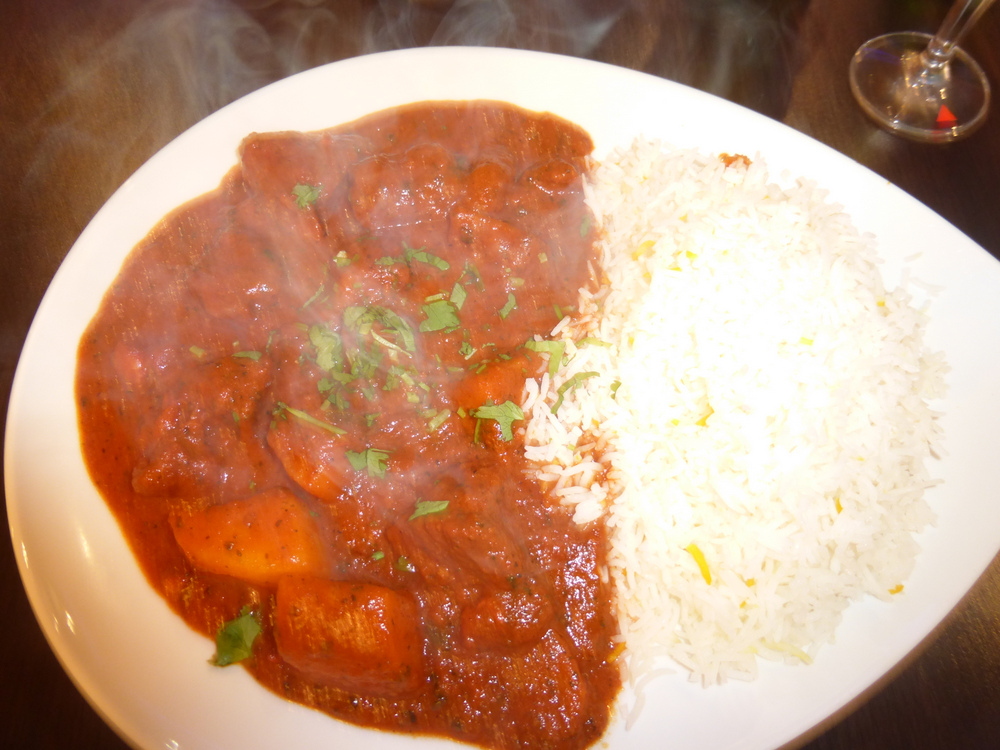 I have written much about the waste of Rice in European Curry Houses, here was Curry with Rice, an appropriate ratio. The Meat was Plentiful, twelve pieces of Lamb and five of Potato; this was Curry with Masala, again a correct ratio.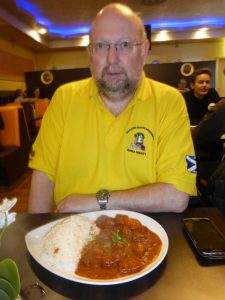 The Herb Topping was Fresh Coriander, though I did pick out a Stem which I could not identify.
The Lamb was Beautifully Tender, we had seen the Base Lamb Curry on display at the counter as we entered. I would love to have this – Straight – sometime. The Vindaloo was suitably Spiced, not OTT. I also picked out a Green Cardamom and a piece of Cinnamon Bark, this was Echte Curry, full of Flavour, Very Pleasant.
Veniger Ente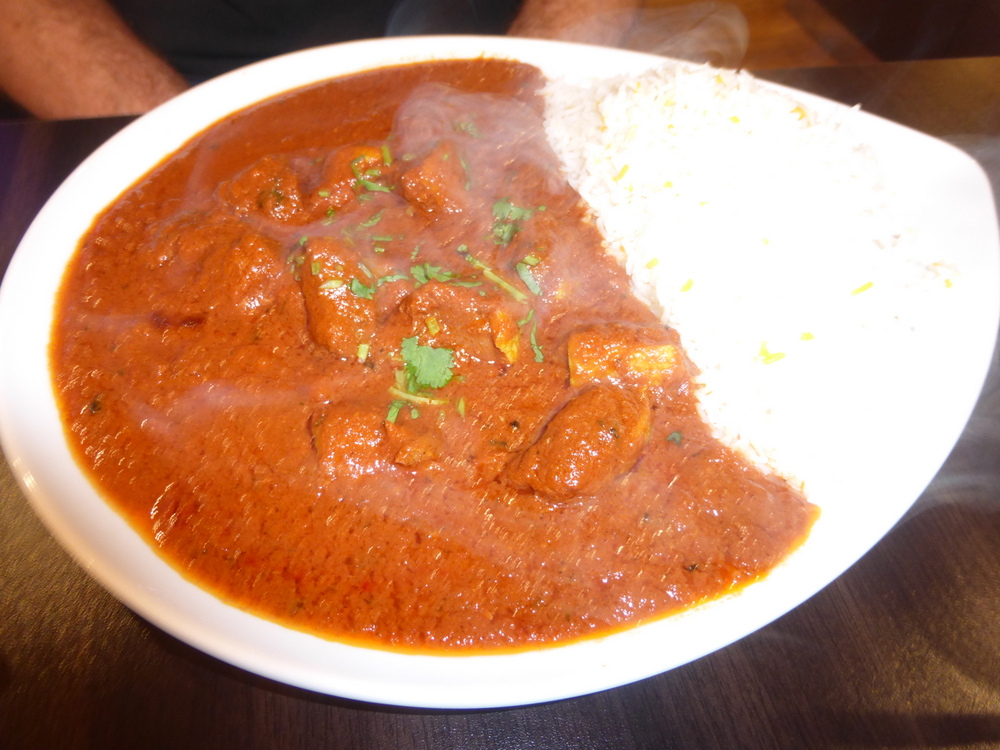 Steve appeared to be taken aback by the Duck. He appreciated the Quality of the Meat but reckons he will be sticking to Lamb henceforth. Appearance wise, it was difficult to tell our Dishes apart, the same Masala no doubt, not Excessive, a Standard Indian Masala.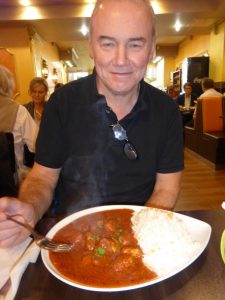 A reasonably good Curry, a good level of Spice. My first Duck Curry, I wouldn't rave about it, though I enjoyed the meat.
Steve was finished first, Hector's Curry Eating is always interrupted by note taking. Eventually we sat with two clean plates, every grain of Rice had been eaten. How often does this happen in Deutschland?
The Bill
€23.90. (£20.08). We had to go up to the counter to pay, separately. The 500ml Sparkling Water was €2.00 each.
The Aftermath
It is all of five metres to Zum Altes Brauhaus where Hector's Favourite Kölsch – Reissdorf – awaited.
Jonathan and Neil joined us, from there the Markets and back to Düsseldorf for the main reason this Trip was conceived.
Michael Rother – Flammende Herzen
Earlier this year, Hector and Howard saw Michael Rother in Glasgow, a rare treat to see a Musician whose albums were bought in the 1980s. When his Website announced a Düsseldorf Gig where his first Solo Album would be played in its entirety for the first time, Hector had to be here.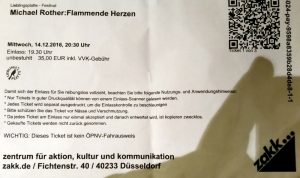 Neil signed up first, Steve arranged the tickets, online. Jonathan came for the other activities, he headed into Downtown Düsseldorf whilst we navigated our way to the venue – Zakk.
Tonight's concert was part of the Lieblingsplatte Festival, the performance of Flammende Herzen marks forty years since the release of the album.
Having checked at the door that there was no support, Hector headed to a vantage point facing Hans Lampe on Drums and metres from Michael's table of gadgets. Neuschnee (Neu) kicked off the gig, with its melodic theme and driving rhythm, this set the tempo for what was to follow.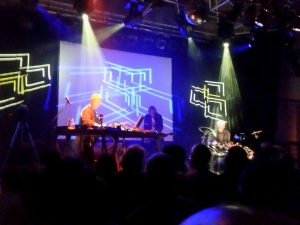 Speaking only in Deutsch this evening, Michael introduced the Band and the significance of the event. And so to Flammende Herzen, the title track followed by Zyklodrom, and Karussell the standout tracks from the Album, Feuerland, and Zeni the weaker parts.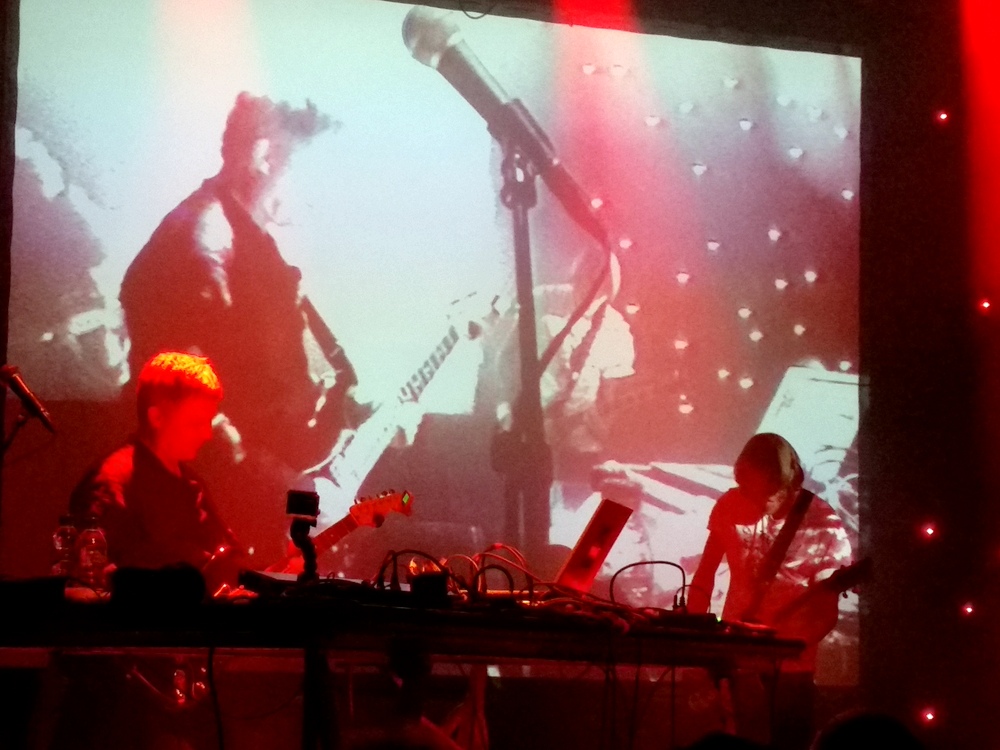 Sonnenrad from Sterntaler for me is – The Track – and also the first I ever heard. Not knowing his Harmonia material, I believe the less Melodic sequences dated back to the pre-Neu days.  I'm sure there was some Katzenmusik in there too.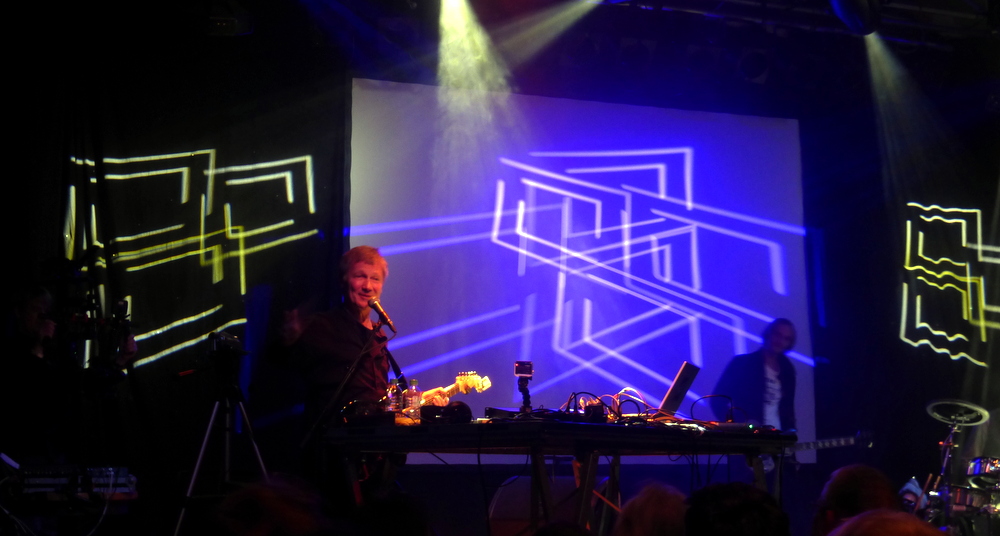 Michael expected two – names – would be in the audience tonight, firstly the son of producer Conny Plank, and the Schlagzeug Maestro himself – Jaki Liebezeit. Jaki of CAN fame, played drums on the Rother solo albums; it was the possibility of his presence which made Hector determined to be here this evening. Alas, neither showed up. A Lady standing beside us asked if we had come all the way from – England – so see this performance. No, Scotland. She was bemused that Rother had played in Glasgow recently and asked about the venue. I assured her the Glasgow School of Art has a venue comparable to Zakk.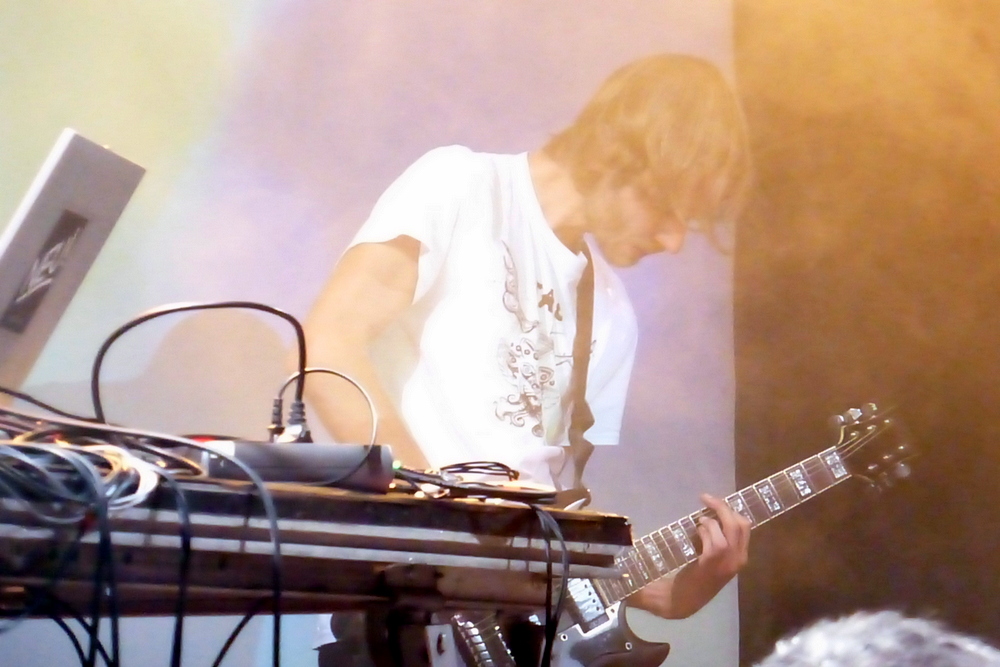 Steve, who knows a wee bit about guitar playing, observed that Franz Bargmann only played six chords all night. His duty was to maintain the – wall of sound – to which Lampe could overlay the Liebezeit-inspired Metronomic Rhythms. Steve was impressed by the sound Michael Rother was able to create with his adapted guitar, though I think he was more taken by Bargmann's machine which was the same make as used by Dave Hill in Slade once upon a time. Neil was with us, but disappeared early to find a seat.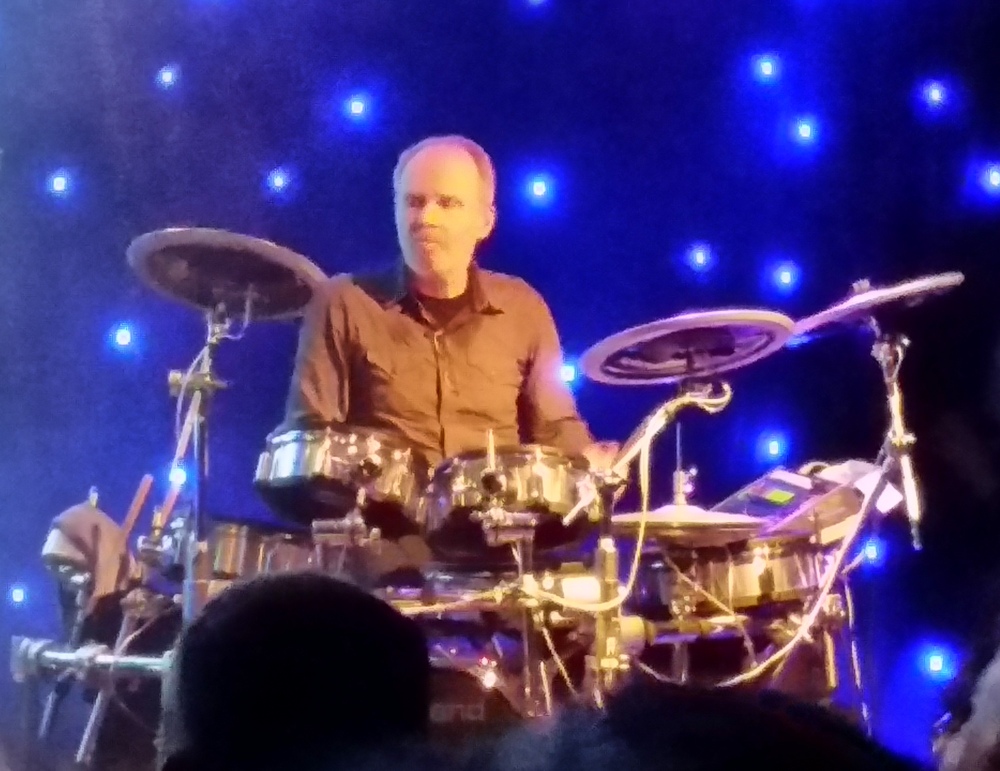 Steve had put up the cash for the tickets, I told him I would only pay if he enjoyed the concert. Steve said I should pay him double, that says it all.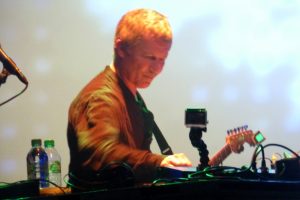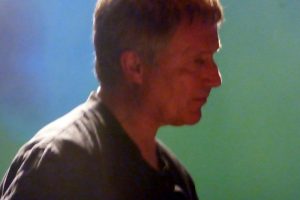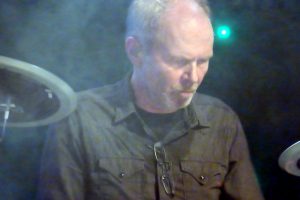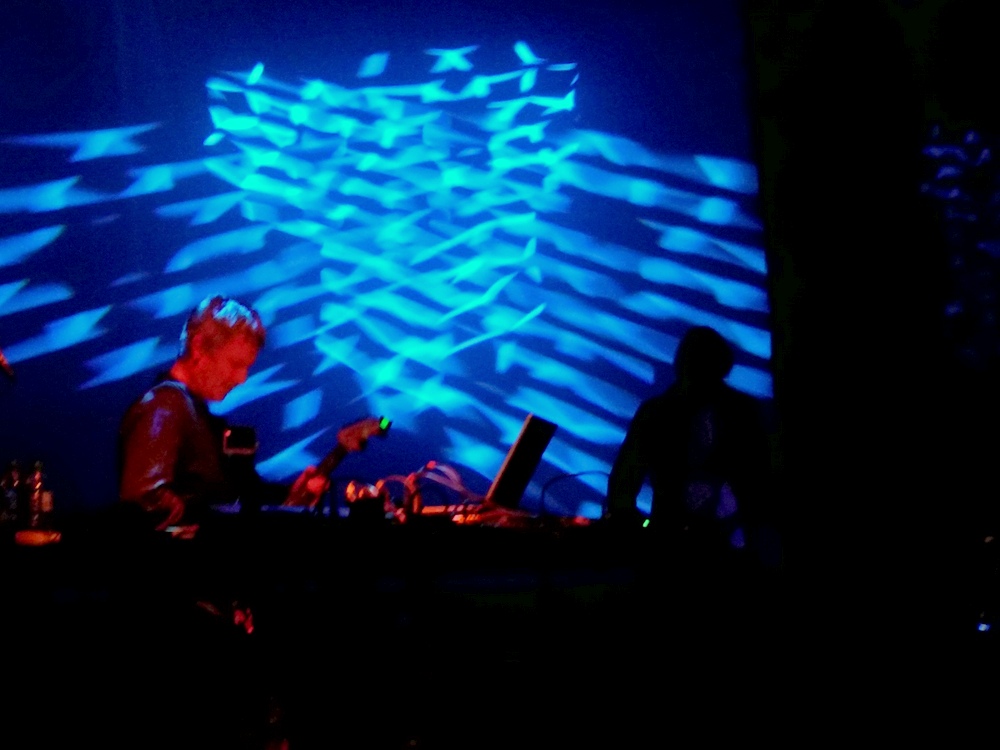 Update – One month later
Jaki Liebezeit RIP