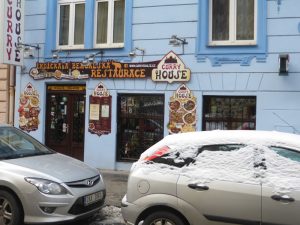 Prague, the only place to be this week. With a cold snap at home, how about Minus 14ºC here?
Where are we going for Curry tomorrow? – asked The Man from Bradford. Curry House (Novákových 893/7, 180 00 Praha 8, Czech Republic) was the reply. We arranged to meet at Palmovka Metro Station at 14.00. That was the plan.
This morning Ricky texted to say he and Stewart were going to Prague's only Sri Lankan Restaurant, a Lunchtime buffet, Cheap. Steve who wasn't bothered about Curry last night changed his mind, how often has that happened over the years? He would make his own way.
Arriving early, I took a table for two in the back room. No sooner had I started reading the Menu when in walked Ricky and Stewart. They had gone to the Sri Lankan and walked straight out. A table for four was acquired, no Steve. He eventually appeared having been sat alone in the front room.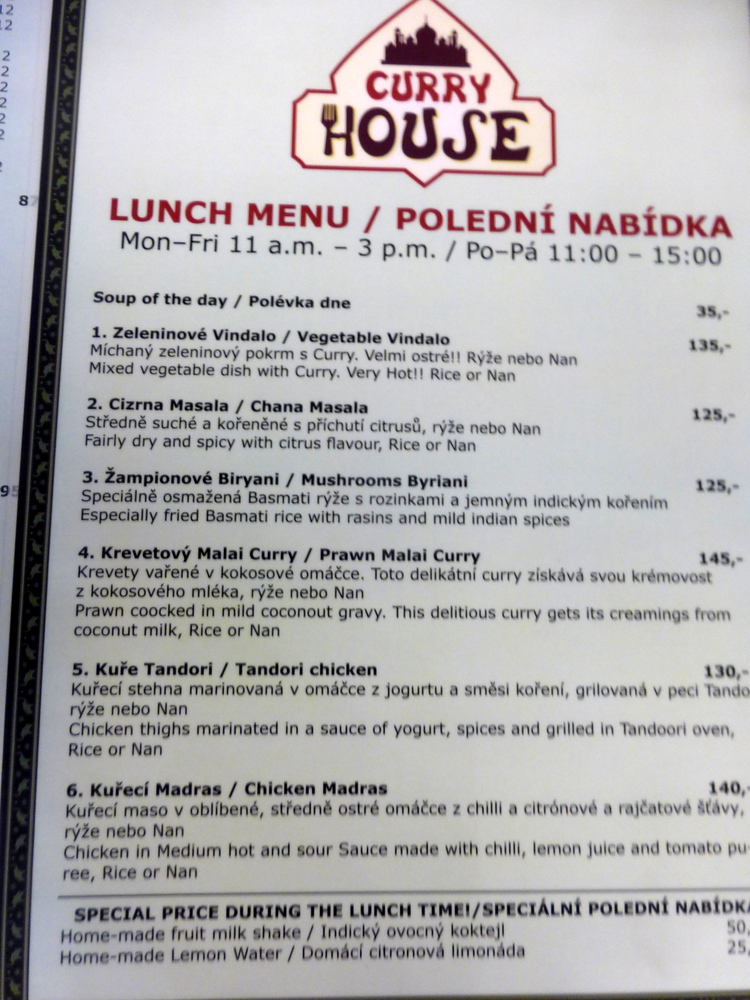 By this time, Ricky and Stewart had already ordered the Soup (35Kc) from the Lunchtime Menu. They would have Chicken Madras (140Kc) also. Steve and Hector ordered a la carte. Lamb Madras (245Kc) and a Paratha (65Kc) for Steve, Hector felt the need to try something different. I had the Bangladesh Mach last time here, could I face more Lamb? I feel as though I am Lambed out. Lamb Rezela (275Kc) – Thickened sauce with fried onions, yoghurt, garlic-ginger paste, and Bengal spices – Moderate hot! – with Mushroom Rice (75Kc) would be the – Something Different. Two large bottles of Perrier (110Kc) completed the Order.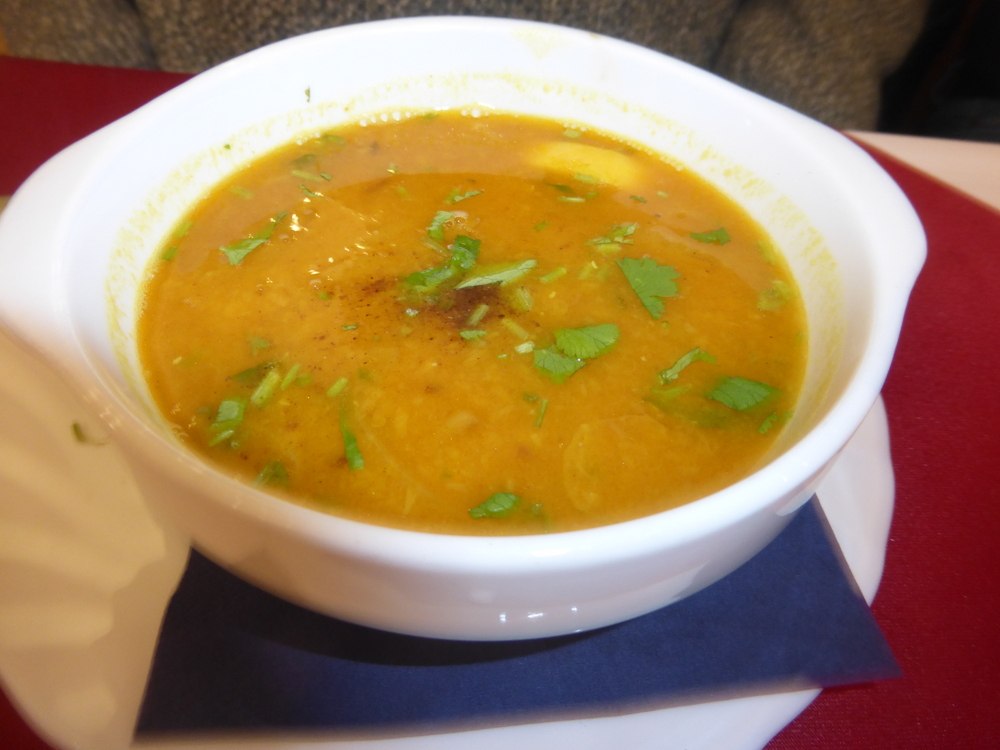 The Soup arrived quickly and was well received by both participants. Ricky remarked that one does not often see Soup available. There's all sorts of stuff in here – fennel – was Stewart's observation. So far so good.
Chicken Madras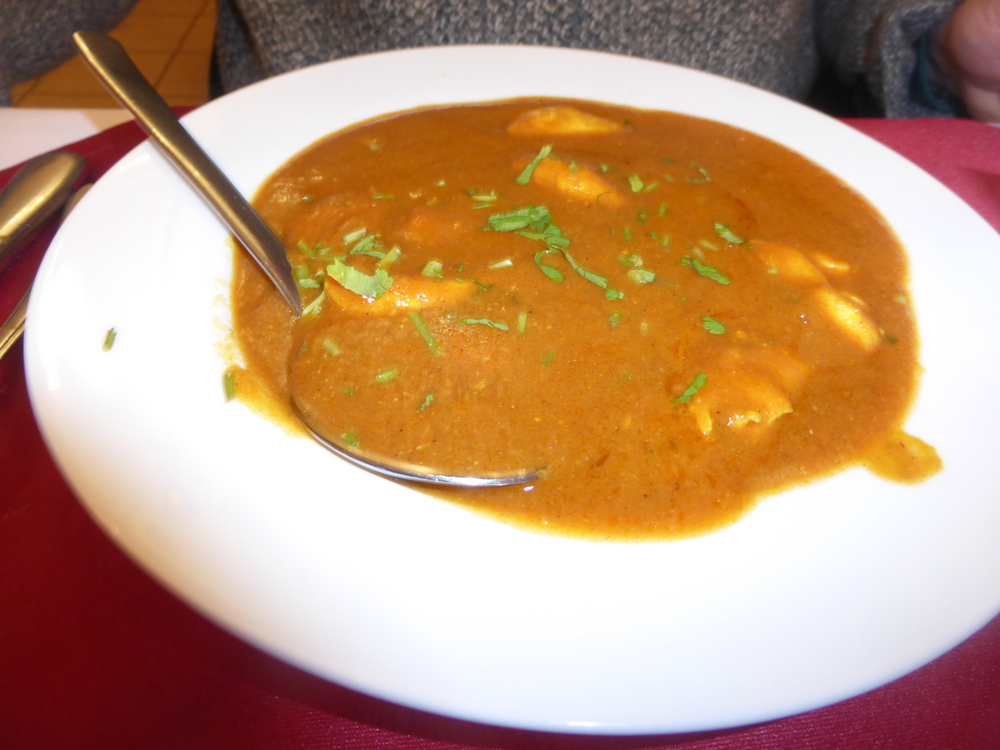 Steve and Hector were sentenced to watching The Chaps eat their Main Course a good while before our Dishes arrived. The Chicken Madras was everything The Rickmeister would avoid at home, it too was – Soup. The verdict was decidedly positive. Physically hot – was Stewart's immediate contribution.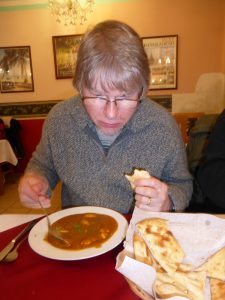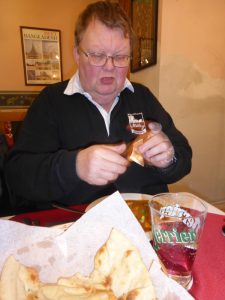 Tasty, better than most abroad and the South of England which is just like being abroad – said The Man from Bradford. Definitely spicy.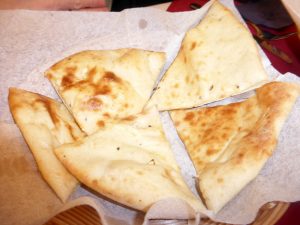 At first glimpse, the Naan looked decidedly – Plain – however, Cumin Seeds were embedded. The Chaps from Yorkshire were well impressed by the Lunchtime Menu.
When two cold plates were presented, Steve announced his annoyance at places which cannot heat the plates. Compared to outside they were warm. To differentiate between the Lunchtime Dishes and the a la carte, our Mains arrived in Karahis. The Lamb Madras looked no different from the Lunchtime Menu equivalent, except there was much more Meat.
Lamb Madras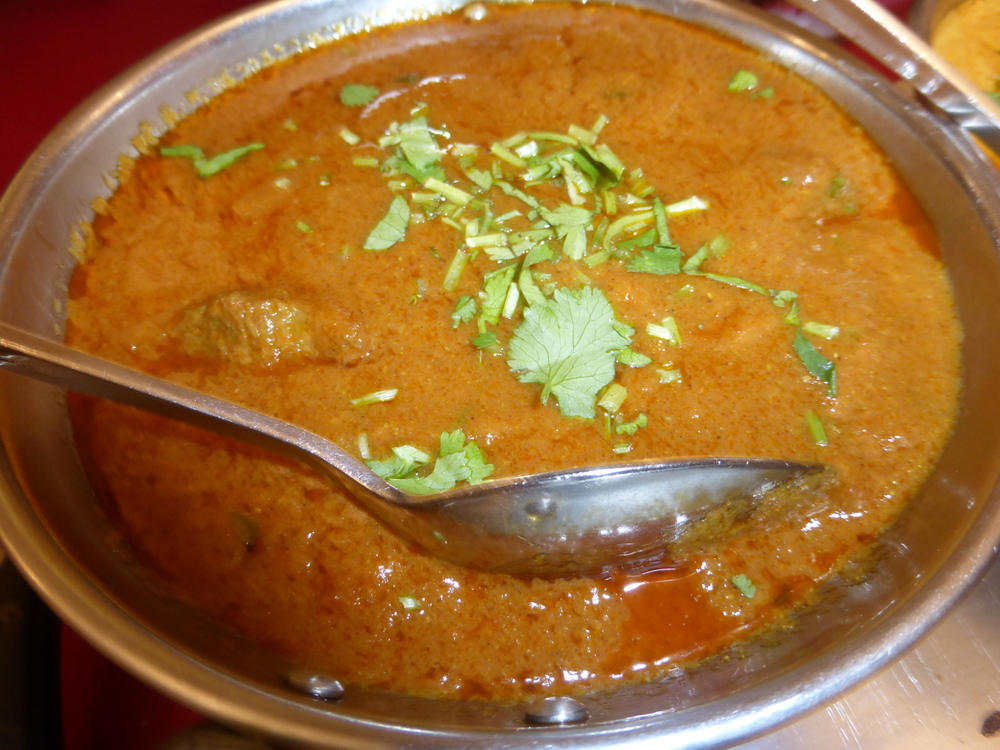 Real spices – this is good – said Steve. He was also impressed by the Paratha which was presented in an interesting manner but appeared to lack Layering and Flakiness.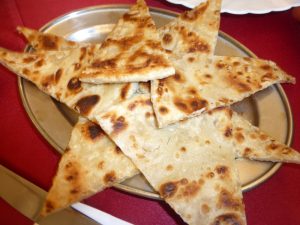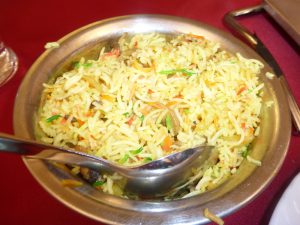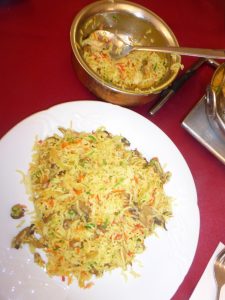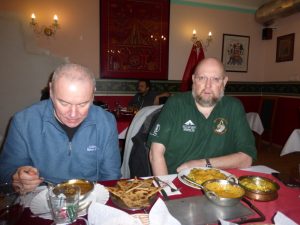 Lamb Rezela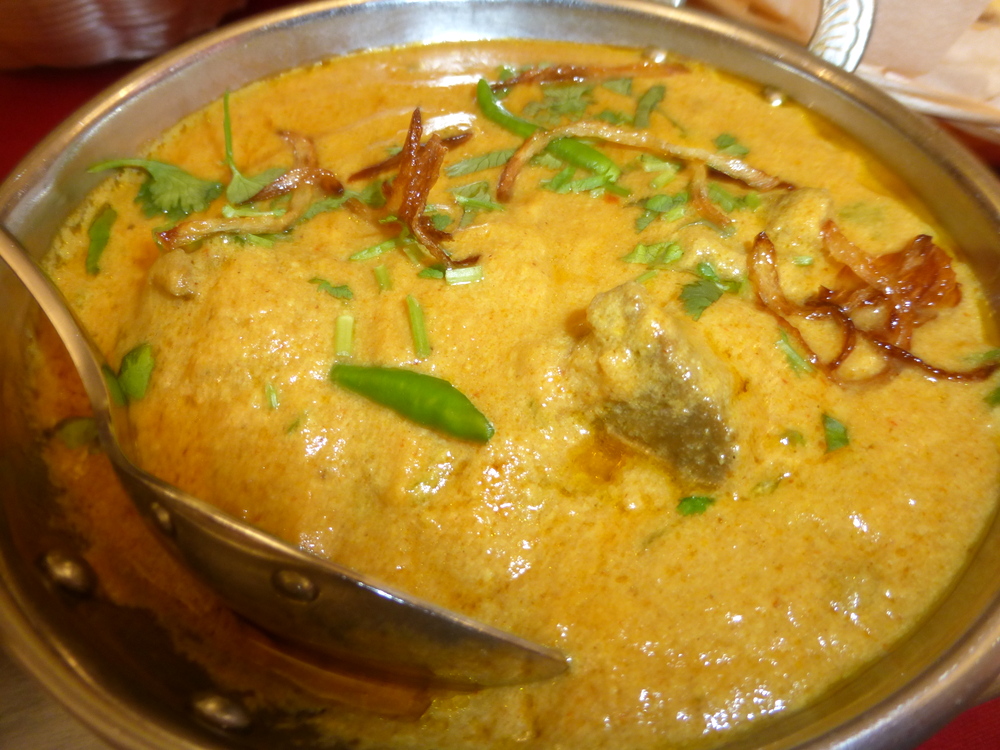 Ricky wondered if I would ever get started on my Lamb Rezela such was the extent of note taking. The Rice looked Massive, half was decanted to the plate. As I spooned on the Yogurt-laden Masala I thought I could smell Coconut. If there was any, it was Minimal, though the Masala did have an underlying Sweetness. Eight good sized pieces of Tender Lamb were somewhat lost in the Melange of Rice and Masala. One may have to admit that this style of Curry is probably better with Chicken. The Lamb gave off no Spice or any Flavour which disappointed, it may as well have been Chicken. Mild to start, the Spice did come through eventually as did the full Aromatic Flavour. Four very pale Cardamom Seeds were encountered. Onions were mixed through the Rice along with Mushrooms, the rest was moved to the plate and smothered with the remaining Masala. It took a while, but all was consumed. I indeed had found Something Different.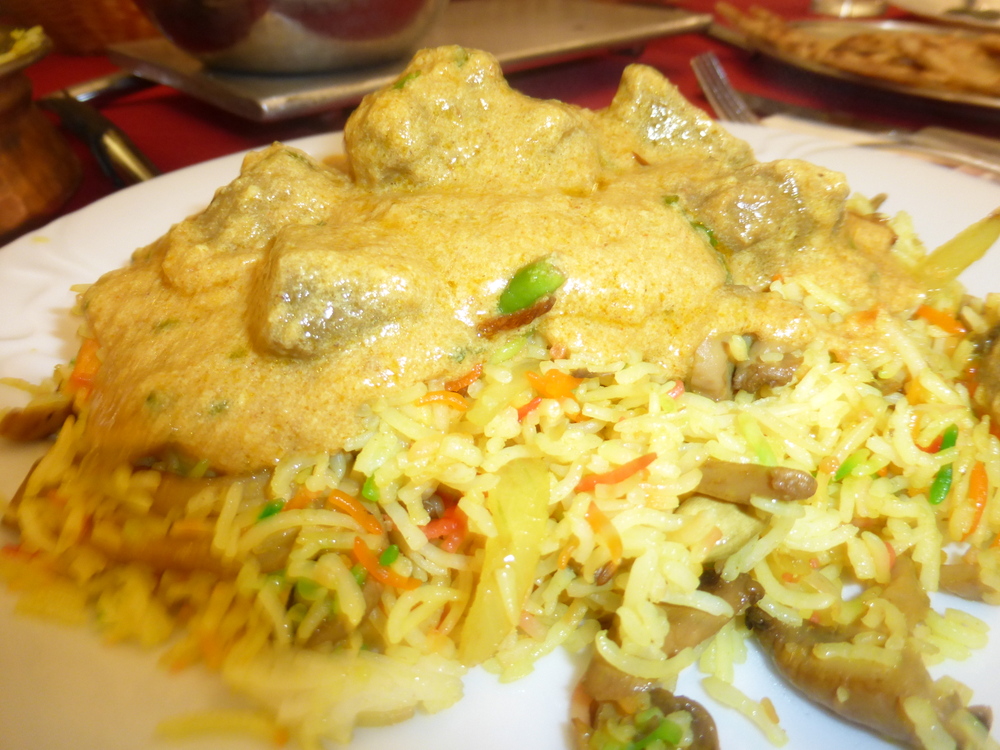 The Bill
1230Kc (£39.46). Are you paying card or cash? – asked the Waiter.
Do you take cash? – I asked.
The Aftermath
Tram 10 followed by Bus 200, the start of a Holden Tour. What could possibly go wrong?