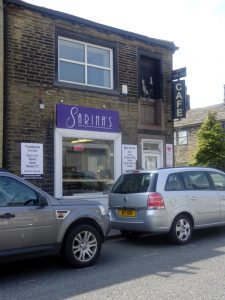 The final day of The Bradford Trip is essentially a day out in Halifax, a town which is now considered to be a must-visit. On the boundary between Bradford and Halifax is Queensbury, home of Sarina's (25 High St., Queensbury, Bradford BD13 2PE). Since Sarina herself introduced Hector to her astonishing Mutton Handi on-the-bone, back in January, this venue has also be added to the must-do list.
The Mutton Handi was ordered in advance, a requirement as this Superb Dish is not available every day. Ricky, Dr. Stan, Mick and Hector met at Bradford Interchange for 11.30. The regular Bus 576 took us to Queensbury, passing many Curry Houses on the Great Horton Rd. which Hector has yet to explore.
At 11.50, Sarina was mid room, Hector received the customary hug. Each of my Fellow Diners was similarly greeted, Mick was somewhat taken aback, his first visit. Lorraine was on duty today, Marg and Hector missed her last time, she does not work on Saturdays, it was also on that visit that we verified that Sarina's is open on Saturdays.
Where's your good Lady? – asked Lorraine.
She has this thing called work – was my reply.
It was agreed that we would all have Shami Kebab (£2.85) served with Raita and a Desi Sauce. Eleven Chapattis (£0.50) would accompany the Mutton Handi (£7.50). Hector knows that two Bradford-style Chapattis are his limit, three for everyone else.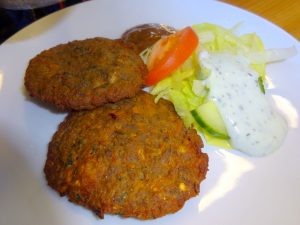 Shami Kebab can be served with the Texture of a Burger or Pâté, I have a preference for the former as is served at Sarina's. Four Hungry Chaps demolished each pair of Kebabs in no time at all.
Crispy, Spicy, Tasty, Perfect – were words uttered around the table.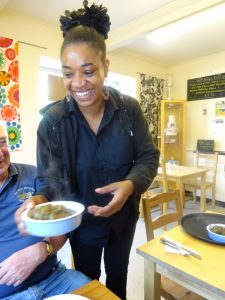 Four plates preceded the arrival of the Mutton Handi. Lorraine then brought the Main Event. My intention was to eat from the bowl, however, when Sarina came out with a fifth bowl containing a Dark Daal, it was necessary to decant. It was then I realised just how Large the Portion of Handi actually is. I had previously considered the Portions here to be a bit on the Small side, no more. With a share of the Mysterious Daal placed beside the mass of Meat, this was a Decent Portion.
Sarina was keen to establish what we thought of her Daal.
I haven't got there yet – was Hector's reply. I said this on my last visit also.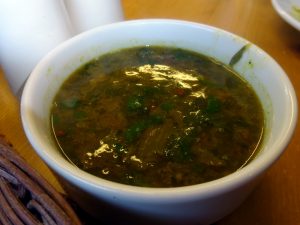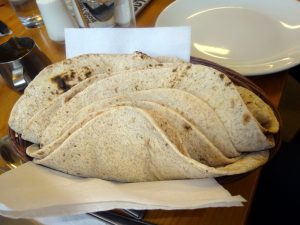 The Daal was made from Black Lentils. The Dish was reminiscent of Daal Makhani, but without the Creaminess. A very Earthy Flavour emanated from this momentary distraction.
Mutton Handi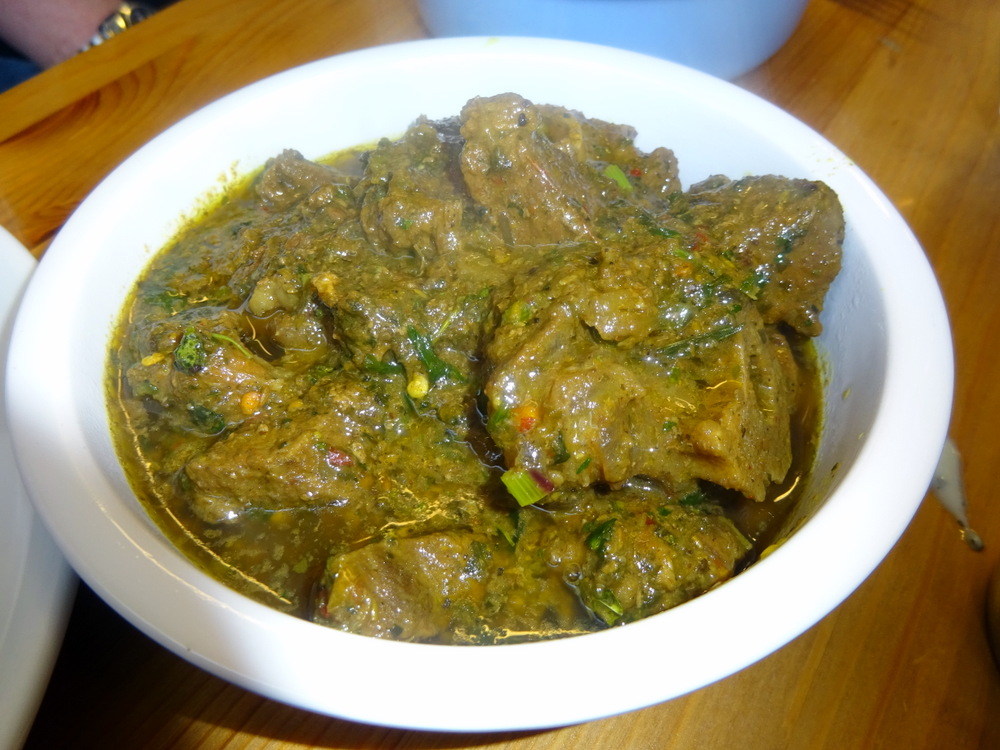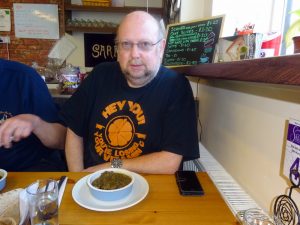 The Seasoning hit first, this was a properly Seasoned Curry, unlike the excess of the Shahi Kofta served at the International yesterday. The most Tender of Mutton came off the bone with ease, so much Flavour from this. The Masala was Unbelievable, more Plentiful than I have been served in other Bradford venues this week, there was loads to mop up with the Chapattis. How much Flavour was there? Enough to confirm on the third encounter of this Dish, it must be one of the Best Curry Dishes served anywhere.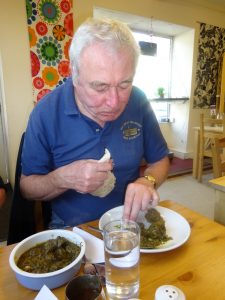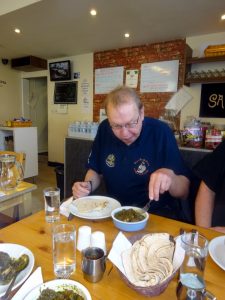 Mmmmm – said Dr. Stan. Excellent, as usual. Very tasty.
Very … – said Mick. Reminiscent of the old tradition of Curry when I first moved to Bradford.
It were alright, not as good as the other night – was Ricky's contribution. Every Curry he has will now be compared to his not-so-salty Shahi Kofta served at the International.
It was a bit Achari I thought – he added.
We know Sarina makes her own Pickle, perhaps some was added?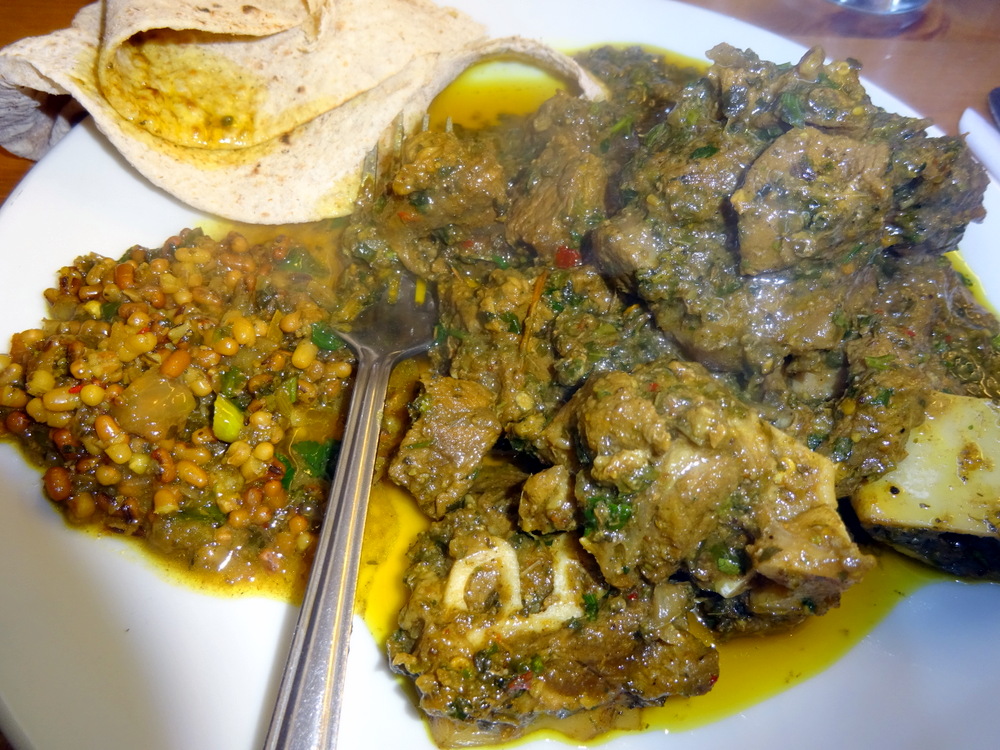 Lorraine asked – Is it OK?
If was only OK, we would not be here – was Hector's reply.
There is a range of Curry Dishes served here, given that my visits will always be limited, it will have to be the Mutton Handi, until Sarina advises me otherwise.  Marg and Hector will be driving along the M62 in July, there could be another Lunchtime visit.

The Bill
£46.90. That's what I made it too.
The Aftermath
An hour or so later at The Victoria Bar in Halifax, Ricky came to terms with his Curry-Heute:
That Curry were good.