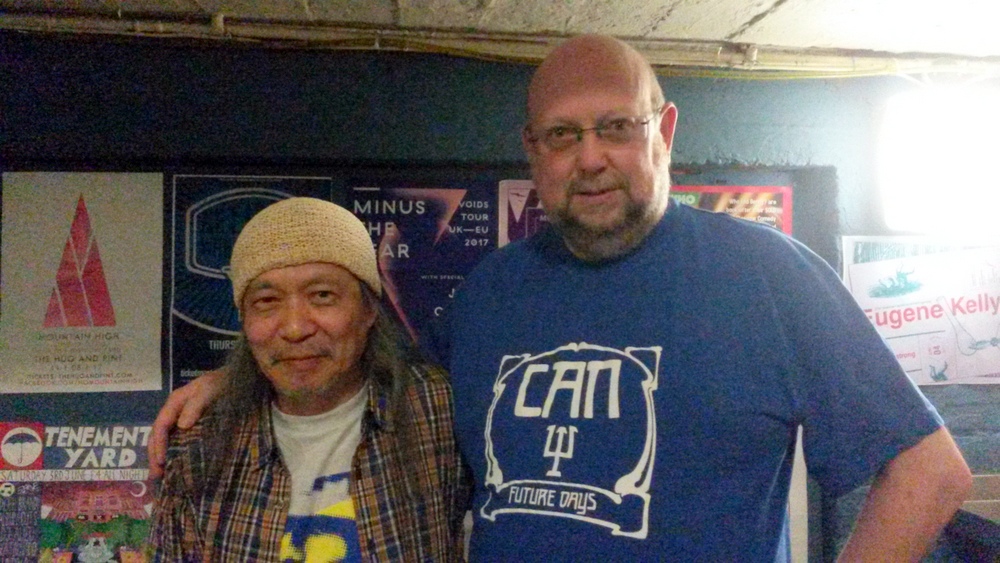 First things first, Damo's never ending World Tour was interrupted last year due to ill health, it is great to have him back, especially having lost fellow CAN member – Jaki Liebezeit earlier this year. One month after seeing Malcolm Mooney and Irmin Schmidt (CAN) at The Barbican in London, Damo Suzuki is in Glasgow. What's more, Thurston Moore who performed with Malcolm Mooney is in Glasgow next month.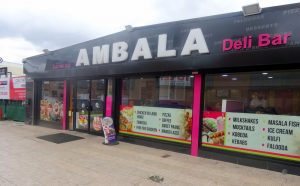 As is the custom in a Curry Blog, there was a visit to a Curry House pre-gig. Somehow two months have passed since I was last at Ambala Deli Bar (11 Forth St., Glasgow, Scotland, G41 2SP), I don't get out much. The plan today was to sample the Fish Karahi (£9.99) and hopefully negotiate a  – Layered and Flaky – Paratha – (£2.70), not the – Crispy Biscuit – served in earlier visits.
Entering at 15.45, the table next to my preferred locus was occupied, it would have looked odd had I sat hard up against those who had clocked in earlier. Instead I chose – Table 13 – the smallest table in the room.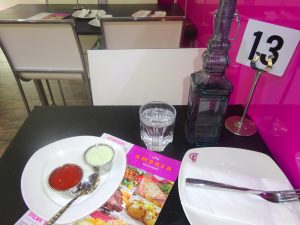 Having been recognised and acknowledged by two staff members as I entered, one brought the Menu. From the window booth behind me appeared Ahmed, Mein Host. A formal greeting ensued, he returned moments later to take my order.
We don't put Capsicum in – Ahmed assured me when I raised the possibility of the Dreaded Ballast appearing in my Fish Karahi. I then described the two versions of Paratha I have been served at Ambala, the Chef would be instructed to serve a – Soft Paratha. It was after this exchange I noted that the Menu describes the Paratha as – Nice 'n' crispy. It must have been good fortune when I was first served – Layered and Flaky – as I like it.
Ahmed brought the Curry himself, still no sign of Naveed, I have not seen my original Waiter for months. I must ask, later. Realising how small Table 13 is, Ahmed suggested I move to a window booth, two of three were free.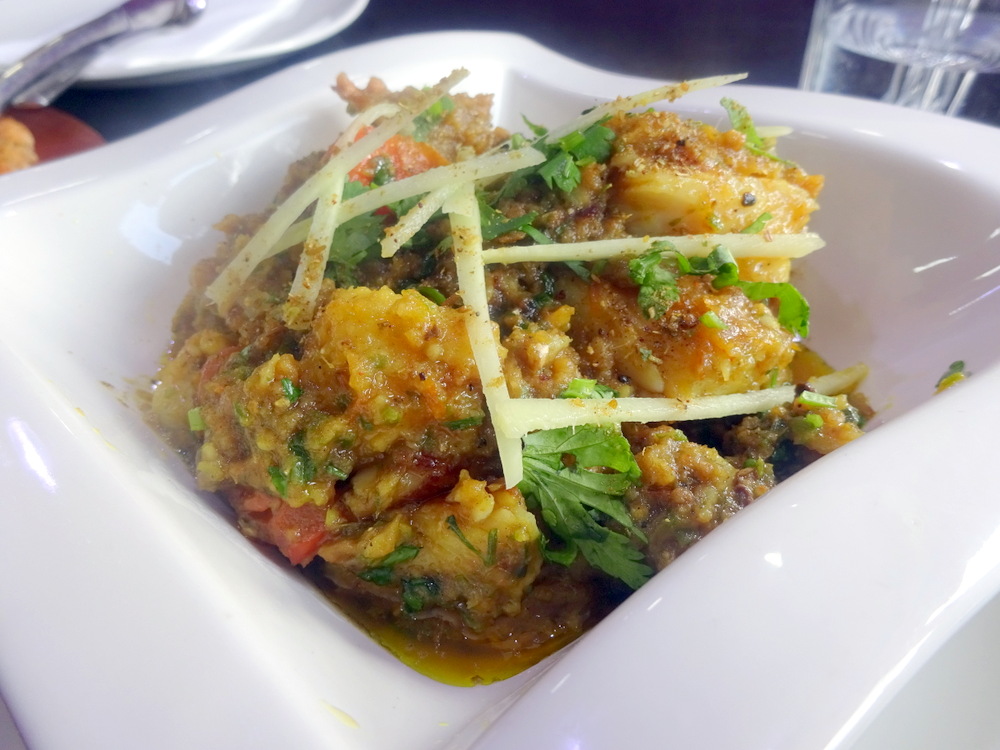 The Fish Karahi was presented in a Bowl, not a Karahi. With Minimal Masala under the Ginger Strips and Fresh Coriander Toppings, this was a Mass of Fish, Masala Fish.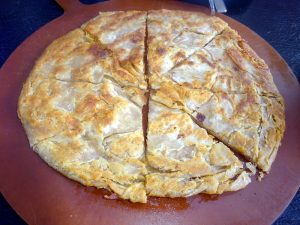 He tried to make it flaky – said Ahmed as he placed the flat board beside the Curry. Here indeed was a Layered and Flaky Paratha. Served in eight pieces, rather than the Whole which I prefer, this was indeed a Worthy Paratha. Butter-rich with a Balanced Level of Seasoning, this complemented the Fish Karahi. A Chap appeared beside me, a Chef, enquiring as to the efficacy of my Paratha. He informed me that most people prefer their Parathas to be – Crispy – but now that they know how I like mine, this can be accommodated. It pays to be known.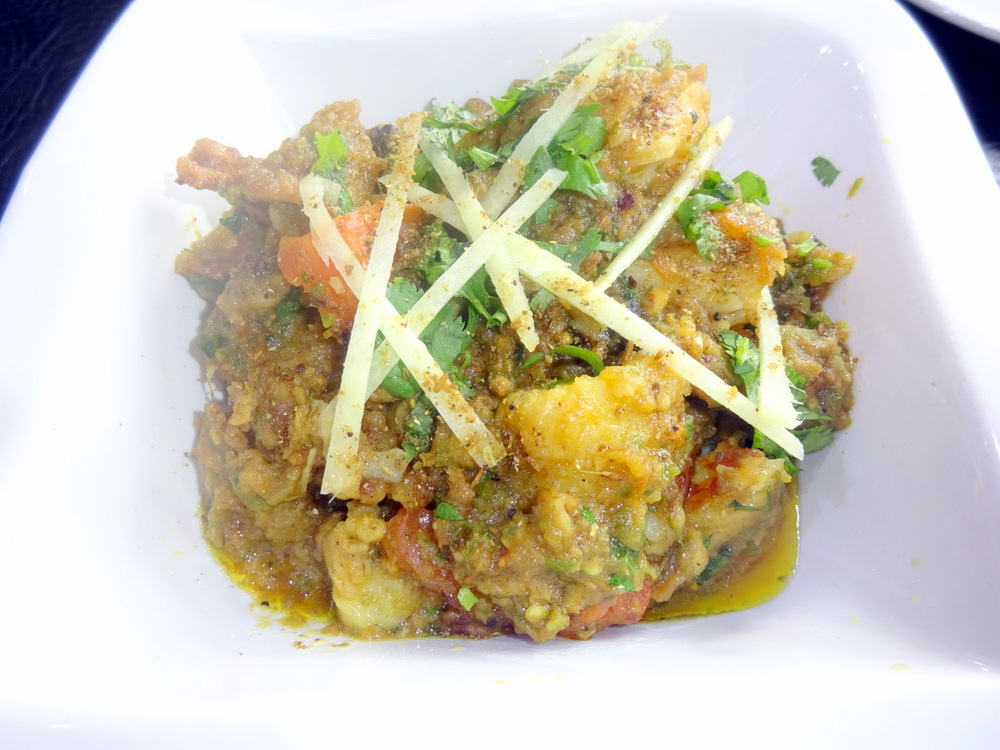 The Fish was served in Batter, something that always puzzles given that whenever I see Masala Fish on sale, it is never thus. Tomato was visible in the Masala Mash, was this another non-Onion-based Masala? It was difficult to tell. The Spice Level was – Fine -, the Seasoning not apparent. After my Salt Overdose in Bradford last week, the taste-buds have become somewhat diffident, a fear of the Salt Blast. Sadly, without – Seasoning – the other Flavours remain subdued. There was nothing – Distinctive – about this Fish Karahi.
Ahmed was back. Regular Readers will know that all Fish Curry in Curry-Heute has to be compared to the Indian Mango (München). I described the Fisch Chettinad served there, the most Minimal of Masala, the fact that it has evolved towards a Stir Fry. Ahmed was clear that without – Masala – there is no Karahi. Indeed, and Meat without Masala is a Kebap.
So, what did Hector have here today at Ambala? A Competent Fish Curry. It needed an infusion of – Flavour – from somewhere. The Ginger and Coriander provided some Diversity, this Karahi needed more. To suggest – Methi – is somewhat obvious. Smoked Chillies, however, in a Fish Curry does add a Distinctive Dimension. This is what I have been trying to encounter in Glasgow. Where Smoked Chillies are served, the Masala is Shorva. One day a Chef will indulge me.
In no way was this a – Bad Curry – it simply did not have that Something Special that would make me order it again. To do so would mean missing out on Ambala's Lamb Karahi, or more significantly, their Handi Gosht. The Handi Gosht is among the most Distinctive Curry Dishes served in Glasgow, and beyond.
The Bill
£11.69. Is a Plain Paratha cheaper?
The Aftermath
I had to ask Ahmed if Naveed was still working here. Apparently he is still on vacation. Indeed.
Damo Suzuki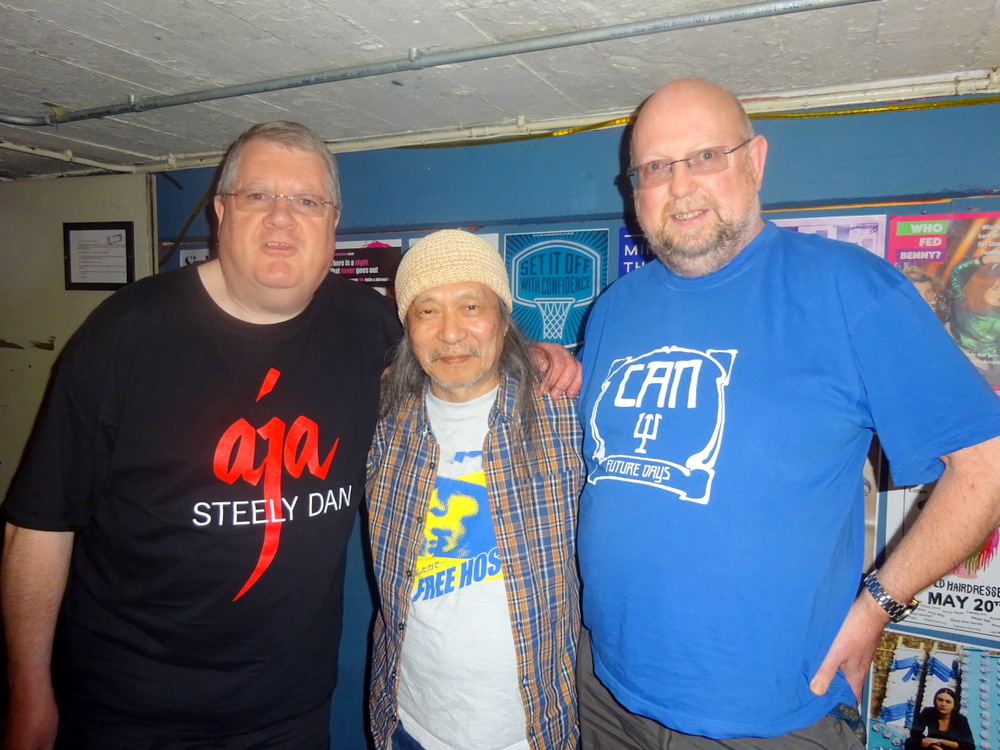 Howard had to collect his ticket, Hector was busy presenting his as Marg spotted Damo squeezing round to the other side of the desk. A one man band – was how Damo accounted for the fact that he himself was selling his merchandise before the gig, and after. We bought a random CD each, does it matter which one? They will all be similar, they will all be totally different, such is the nature of a Damo performance. Marg became the photographer, Howard secured a signed CD and his photo taken with the – CAN legend – on his first encounter. Now for some music.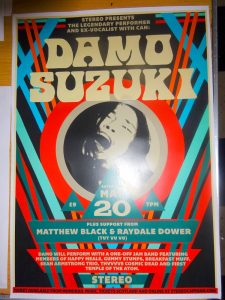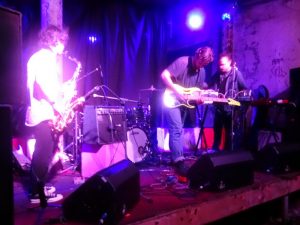 There was a Support. Matthew Black and Raydale Dower (Tut Vu Vu). Three chaps took to the stage, punctually. The Saxophonist was later introduced as Joe Howe. Dower had an ARP keyboard which was used sparingly, he concentrated instead on his sound generators. Black started on Guitar then thankfully switched to Drums. Experimental Musik: it started as a Racket, Marg looked at me, our first Damo gig in Glasgow had a similar support. Unstructured to my ear, without harmony or rhythm; the first offering only developed when Black abandoned his Guitar and added some much needed rhythm, something for the audience to get a grip on.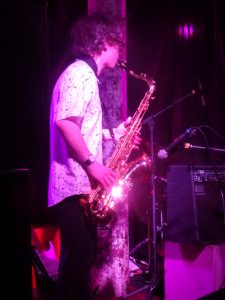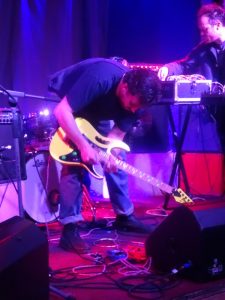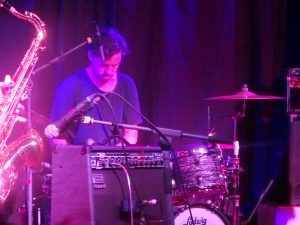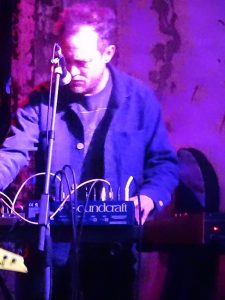 That was called – The Decline of Magic – nobody knows that – announced Raydale Dower when the aural onslaught reached some sort of conclusion. There was more, it was bearable, a fourth band member would have permitted Guitar and Percussion simultaneously, then Matthew Black may have been appreciated more. Joe Howe sounded as if he had much more to offer, I shall retain his name in the memory banks.
At some time earlier today, Damo met up with a group of local musicians, had a jam, enough rehearsal. Let's play.
The Drum kit was altered slightly, new cymbals. A second smaller kit was set up beside it. Another Electronic Box with an integrated Keyboard was behind the speaker stack in front of us. This confirmed that the Musicians playing behind Damo would not be the Support. Indeed, the poster gave clues to who would be his – Sound Carriers – this evening. This was quite a list: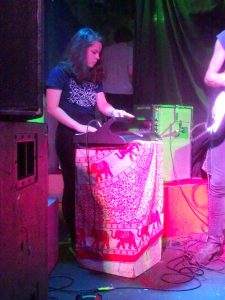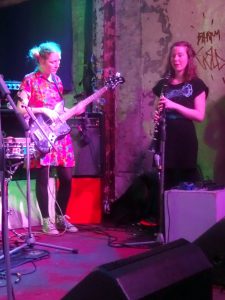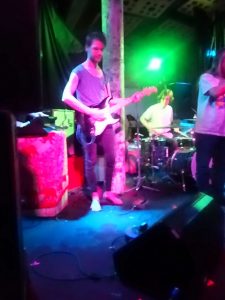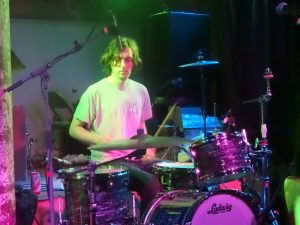 Happy Meals, Gummy Stumps, Breakfast Muff, Sean Armstrong Trio, The Cosmic Dead, First Temple of the Atom – all household names, not. Six bands, six musicians would take to the stage along with Damo. Guitar, Bass and Drums were a comforting sight after what had come before. A Clarinet too. And so it began.
It's all about the Drummer listening to Damo, taking the pace and rhythm from the Vocals and setting the Band in motion. Damo, a mere 67 years old, hugs the microphone centre stage, and basically starts a Vocal Rant, he has being doing this all his life. In 1970 he was found in München busking on the streets by Holger Czukay. The very same night he performed with – CAN – so it goes.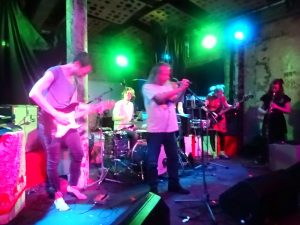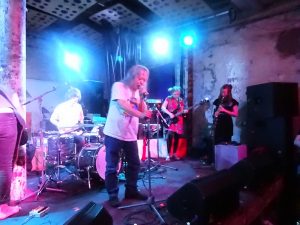 The Vocals are repetitive, at times intelligible, there are no songs, though CDs do exist of re-imaginations of – CAN – tracks. The Drummer was excellent and did his job. The Girl on Bass held the rhythm also, at times going on runs which Holger Czuakay would be proud of. Sonically, there was the Clarinet, at times indistinguishable from the Keyboards/Electronics. Between them they added some – Colour – to the driving rhythms. The second Drummer/Percussionist looked to be Japanese, was he on tour with Damo? Then there was the Guitarist.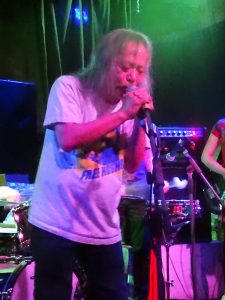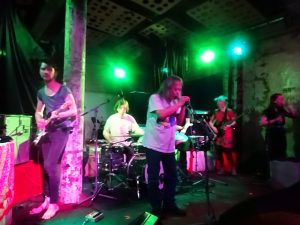 Barefoot on stage, a la Steven Wilson, I suppose he did his best. He appeared to be competent, but offered little. With his back to the audience for much of the gig, he may have been searching for controlled feedback. One anticipated that when a – groove – was well developed, he would go for it, alas not. The safe option was maintained throughout the set, the Guitar may as well have been missing.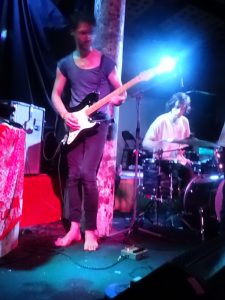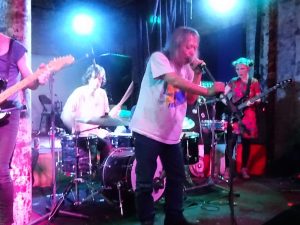 There was no point stopping just to start again, the Drummer followed Damo's lead and kicked off on new ventures. After nearly an hour, Damo looked up – Goodnight. That was it. Bier o'clock.  Howard expected a three hour Set, our bodies could not have stood that long.

(There was no light show to speak of, hence the new Sony was incapable of capturing the Band during their performance at a level which would do them justice.)