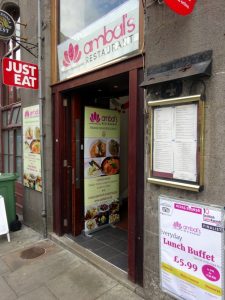 It was Marg who suggested we have a Lunchtime Curry. Hector only needed half an excuse to return to Ambal's Restaurant (4 Bridge St., Aberdeen, AB11 6JJ). On Monday evening of this very week, Mein Host told us of the Lunchtime Buffet which is operated at Ambal's seven days a week, the cost? £5.99! This I had to see.
Hector tends to avoid – Buffet – with one glorious exception – Ramadan Buffet – at The Village (Glasgow) where a wonderful array of Punjabi Dishes are served for the duration. For – Buffet – in Mainstream Curry Houses, expectations are low, the masses have to be catered for, Dishes tend towards – Bland – and – Chicken –  dominates. The Hector was willing to give Ambal's a go, purely for – Research Purposes.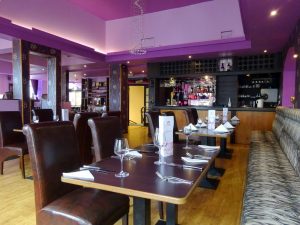 Arriving at 14.00, if there had been a Lunchtime rush, we had missed it. Two Other Diners remained, we had seen them from Union St., sitting at the window. A Chap sat us at the window, also facing Union St, window dressing. Tap Water would suffice, I have paid enough for Sparkling Water in Aberdeen this week.
The Buffet is ready – he declared.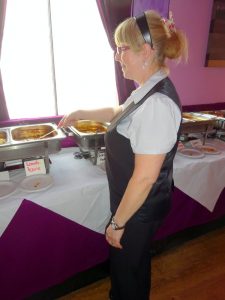 The Lunchtime Doris was manning (?) the Curry etc. When the camera appeared, she wanted in on the act, most welcoming. As expected, there was one Lamb Curry – Lamb Karie, the Saag Chana Chat Moter looked inviting. Gobi Manchurian? If this was anywhere near as good as Aloo Tare Ko, first encountered at Patan Mahal, Patan, Rajahstan, then I was on to a winner. (Recipe)
Lunchtime Doris said she would arrange Fresh Naan, however, I had already taken some Pilau Rice. Marg had other ideas.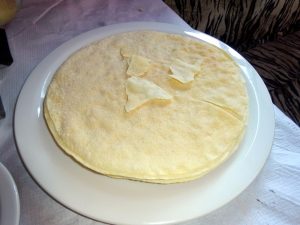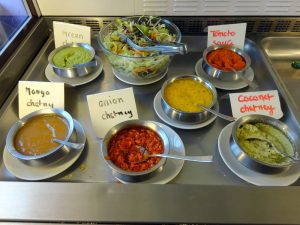 Poppadoms and Chutney/Dips were at the end of the array, she took Bits from here, Chilli Chicken and Chicken Korma found their way on to her plate also, the antithesis of Hector Curry. The Lamb Karie and Saag Chana made her plate more respectable, Gobi Manchurian too. Marg intended only to have one plateful, aye right.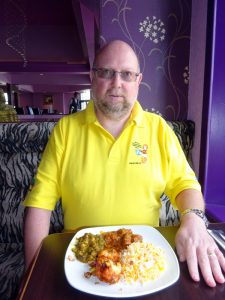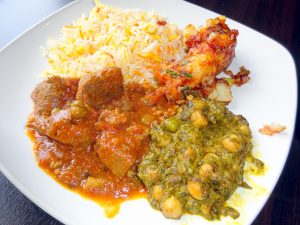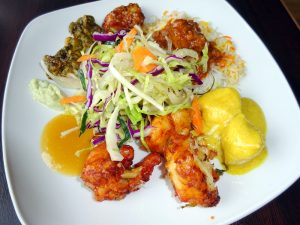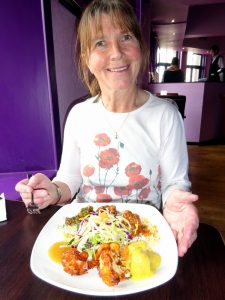 Pilau Rice                                          Lamb Karie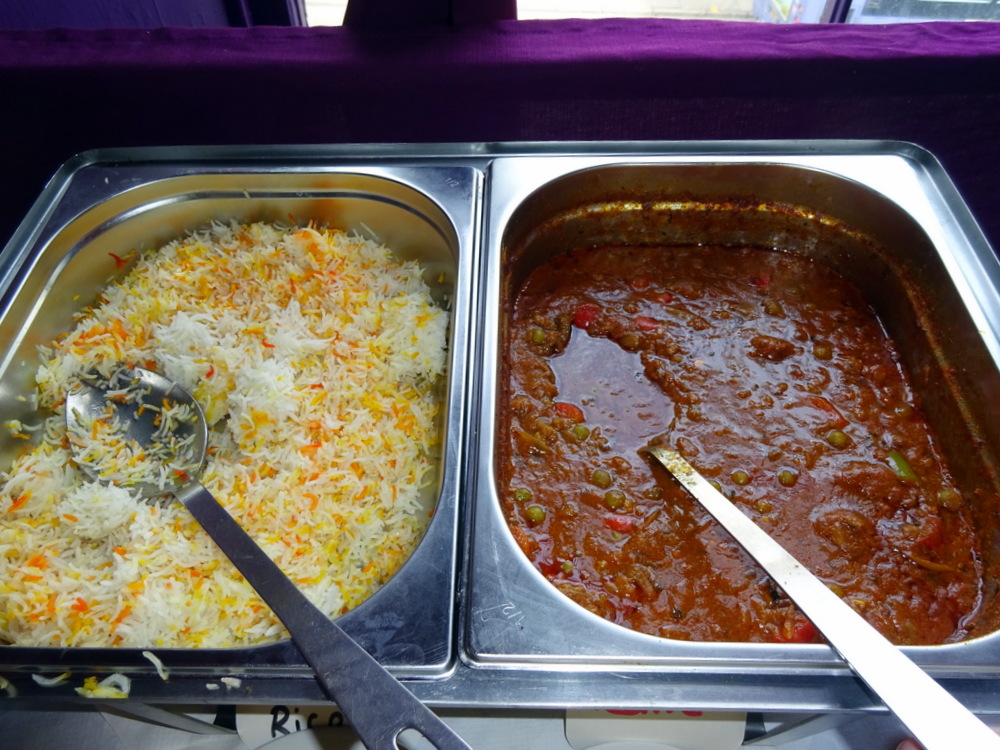 Lamb Karie
This had full on Aromatic Flavour, Cloves to the fore. The Masala was Thin, Mainstream Curry. The Kick took me surprise – a bit too Spicy for me – said Marg. Indeed, this was a Worthy Curry, well Seasoned with Tender Lamb. Peas and traces of Green Capsicum were mixed through, a pity about the latter.
                           Saag Chana                                          Sambar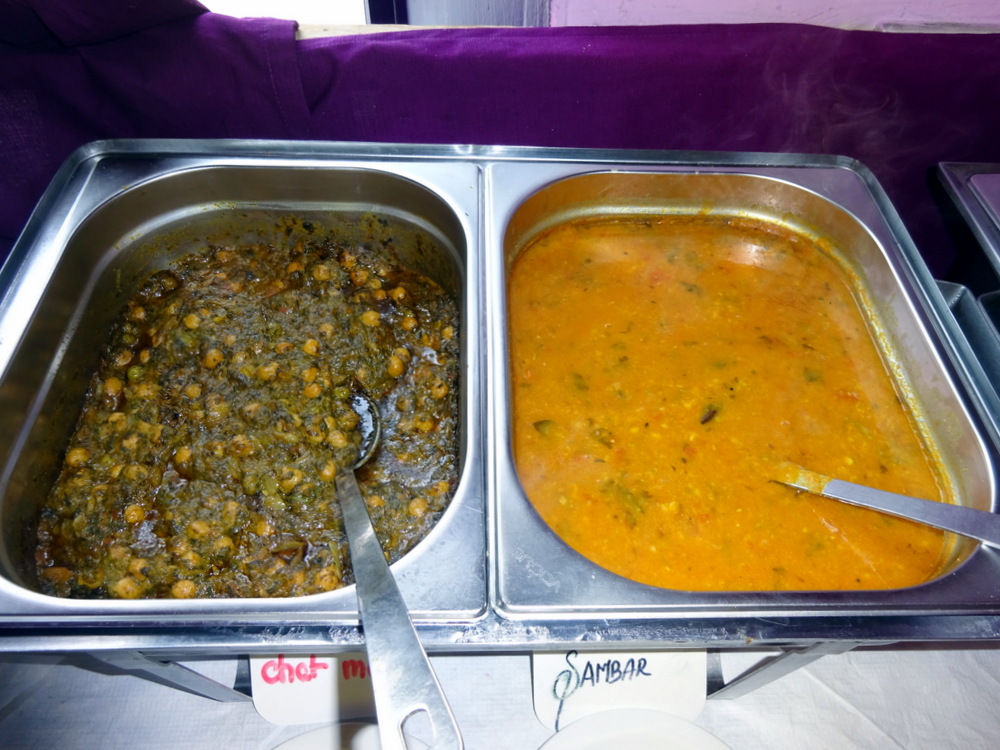 Saag Chana
This too had a decent Kick. There was a slight – Creaminess – to the Spinach and Chickpea Mix, but not to the extent that prevails across Mainland Europe.
                     Gobi Manchurian                                  Chilli Chicken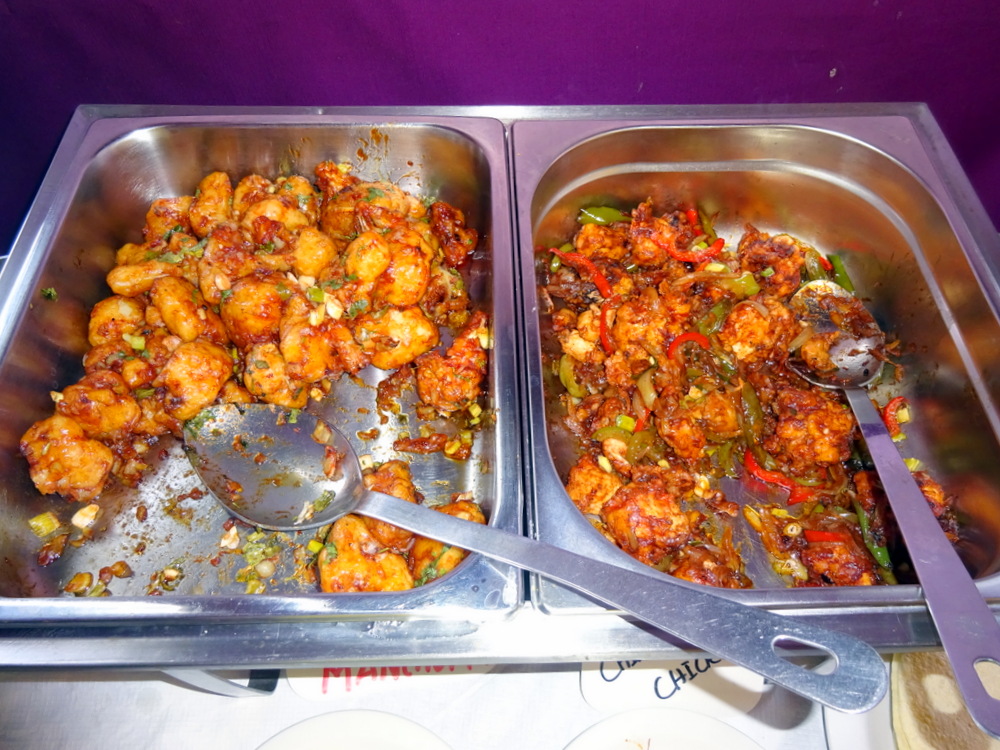 Gobi Manchurian
There was a – Sweet – Sticky – coating to the Cauliflower, not for me. There are no prizes for guessing that Marg enjoyed this.
Marg spoke well of the Chicken Korma, she was back for more. I could easily have had more of the same but decided that if I was here to review – Buffet – I should cover as many Dishes as possible.
A piece of well-fired Naan was placed over my remaining Pilau. How do I make the font microscopic? Hector then took modest portions of Chicken Madras and Chicken Korma, and one piece of Chilli Chicken. A Soupçon of Saag Chana was added to prove I had maintained my sanity.
It is worth pointing out that both Staff were still very much involved in assuring that all was well.
Chilli Chicken
With Caramelised Onion and more Capsicum on my plate, I carefully took the Meat. The Flavour was from further east in the Orient, not my cup of tea.
Tasty, with a Kick – was Marg's verdict.
                        Chicken Madras                                  Chicken Korma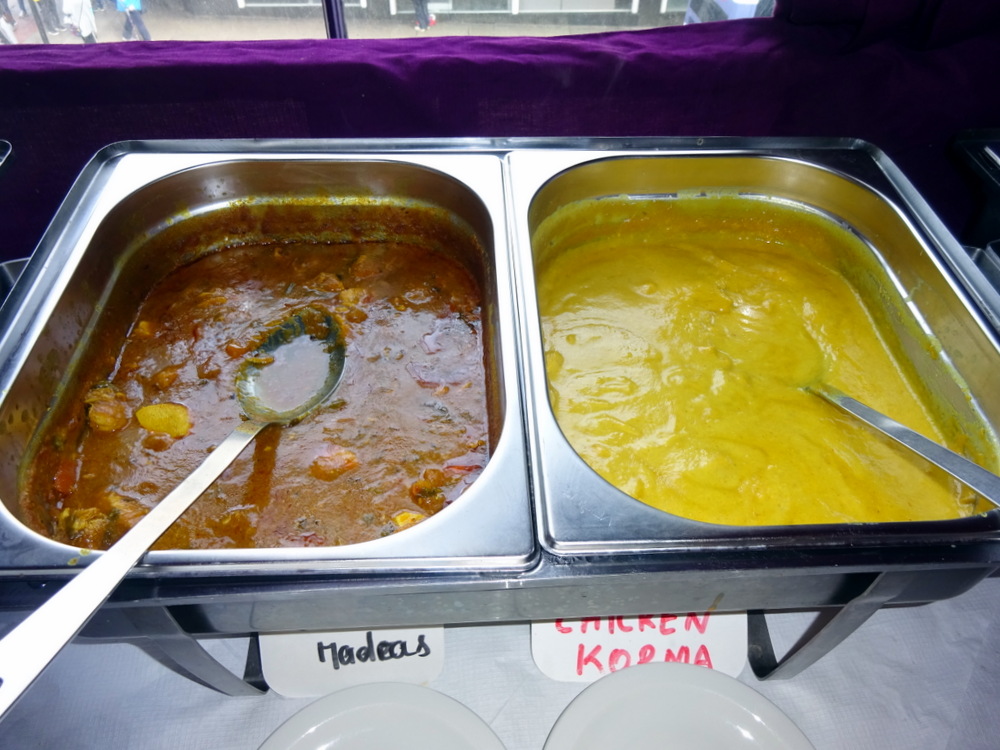 Chicken Madras
The was an Earthy Flavour from the Thin Masala. Not bad at all. Then I took some Chicken, nothing. I have written before – There ain't no such thing as – Chicken Curry.
Chicken Korma
Hector has cooked this on demand for many years. The Curry-Heute Recipe gives the option to add Green Chillies and make the Dish more demanding.
Lovely, sweet, creamy, and coconutty – said Marg after Round #1.
Here we go…
This was – Seriously Sweet – and full of Coconut Flavour, though not as – Gritty – as I would serve.
Baby Food – I said to Marg.
For those who don't like Curry – was her reply.
This was Marg once upon a time.
I thought we were finished. Some more Lamb Karie had to be savoured in order to leave with a good taste in my mouth. Lunchtime Doris offered Marg – Dessert.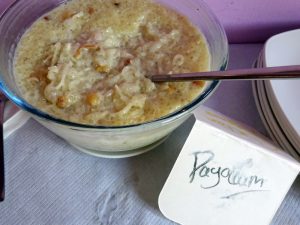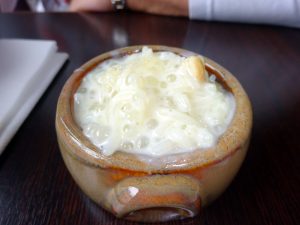 Payallum, is how I read the label. Sago is what came, with Sultanas and Nuts. Sabudana Kheer I find is an alternative moniker.
Sweet, like a rice pudding with a burnt taste – was Marg's erudite description.
Throughout our visit we were encouraged to help ourselves to as much as we desired. Careful not to waste, all plates were cleared, save…
The Bill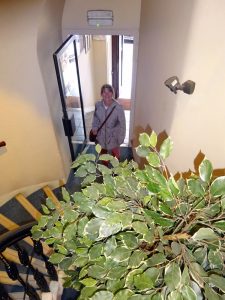 £11.98. Glasgow/Manchester/Bradford Prices. This is more like it.
The Aftermath
The photo in the stairwell.
Five Hours later, the after-taste of Capsicum was overpowering.
Why do people do this to The Hector?