Third night of five in Crawley and the first Curry-Heute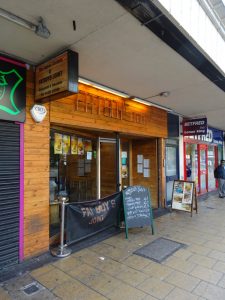 It was a close run thing, even Hector suggested Nando's just to convince Clive and Maggie that they did not have to have Curry on their ninth wedding anniversary.
Fat Boy's Joint Afghan Canteen (8 The Broadway, Crawley RH10 1DS) was first visited last year with Lord Clive of Crawley and Marg, we were well received, the venue was considered to be decidedly – Expensive – especially if one was ordering more than the – ¼ – Portion (142g). Having had time to review the weight/price ratio, this maintains. Compare with any – Kilo – order at Yadgar (Glasgow).
Fat Boy's was decidedly empty when we arrived some time after 19.00. How we wished this had continued when a group of ten Student-types entered. Mein Host would do his best to distract them, have them look at their phones, shut them up. It was not his fault, however, the thought of venues which charge a surcharge for groups came to mind. Shouldn't this mean a 10% discount off everyone else's bill?
Last time, Hector had one of the two Afghan Lamb Karahi on offer – Nanak Mandai Karahi – (£10.00) for the ¼ portion. This time I had to order the alternative – Nazara Hotel Karahi – (£12.00).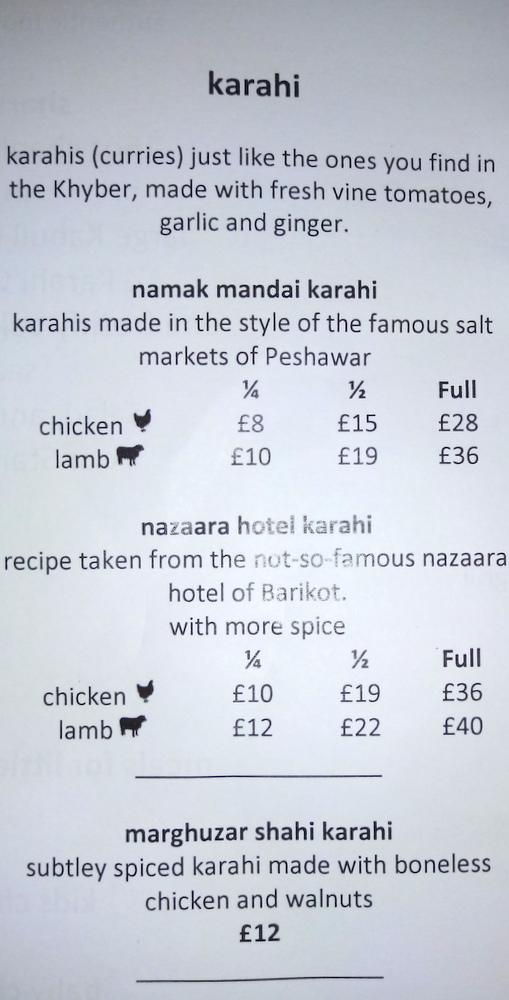 The Menu does not fully explain the difference, however, from experience, I know that they are trying to serve the Best of – Authentic Afghani Cuisine – here, we have to trust them.
Clive reminisced about the – Wrap – he had in my presence; that apparently was only available in the Lunchtime Menu. Romantic Meal, Anniversary, Hector knows better than to make any comment, just to admit that Marg and I have been caught too often making – Grand Plans.
Only Alcohol-frei Bier is served here.

Able to actually read the Menu, Maggie once more went down the Chicken route: Marghuzar Shahi Karahi (£12.00). Wrapped no more, Clive chose the alternative Lamb Karahi: Nanak Mandai Karahi.
Anticipating a – Modest Portion – for the Mains and Hector, being here – To Dine – , announced the intention to have a Starter. I recalled the relatively modest size of the Nanak Mandai Karahi last time, but Marg having announced the arrival of a – Blogger – had alerted Mein Host, Complimentary Dum Pukt came my way too. I did not leave hungry.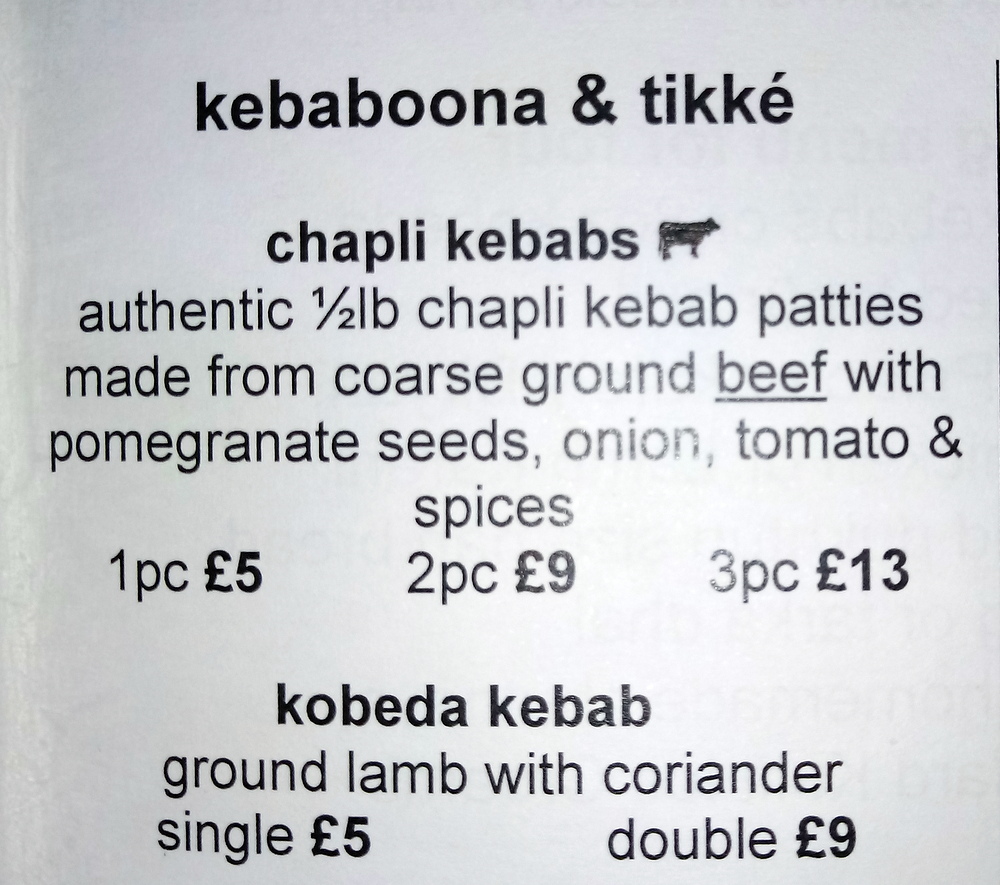 Kobeda Kebab (£5.00) promised Coriander. The Quantity, possibly – a half pound – , that's about 225g in real money, I could eat that and happily pay a fiver. Clive was not to be left out, Lady Maggie is learning that she cannot manage a Starter and a Main, she passed. The Kobeda Kebab is what Clive had as a Wrap last time.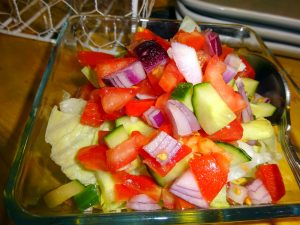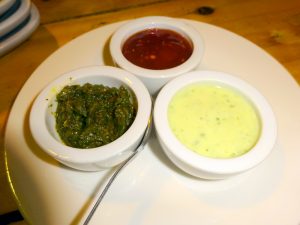 Mein Host had recognised Maggie soon after we had taken our table, not Clive and certainly not Hector. A Waitress brought Salad and Dips, a different Chap came to take the order. As always I was busy taking notes, not helped when people make up their minds at the last minute. I was last to announce my request. Two Garlic Naans (£2.50) were asked for, we were advised to have one Large (£6.00). That must be some Naan. Sparkling Water came in two sizes: £2.00 or £4.00. My Hosts had filled their home with four – two litre bottles of Sparkling Water for my stay, price – less than £2.00 for eight litres. I had better stay – Small. A jug of Tap Water was provided. The Abstemious Wedding Anniversary.
Mein Host was dealing with – The Group of Ten – who wished to eat, and not spend money. I can imagine their reaction to the prices. One Guy kept shouting – Chips. He was louder than everyone else, save those who were louder than him. Mein Host did his best to calm them. The Kebabs came.
Kobeda Kebab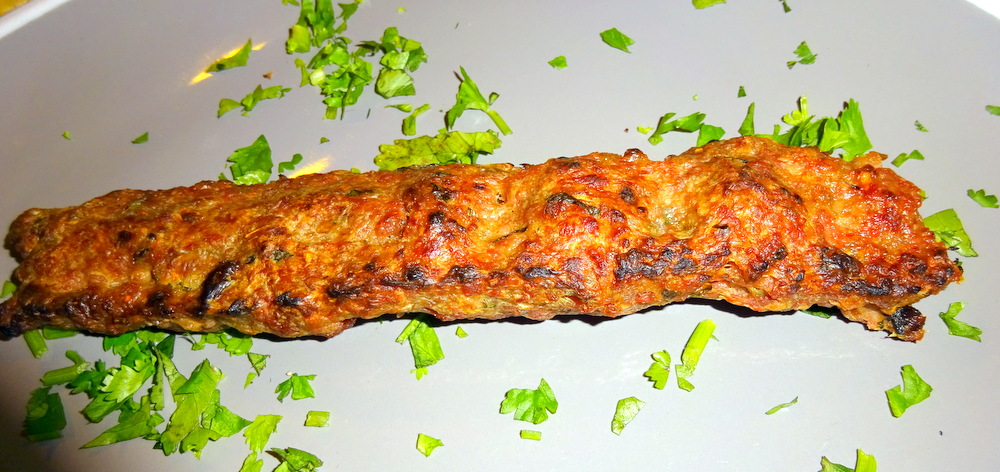 This is 1/2lb of Meat? How many units of measurement does this Restaurant use? Most confusing.
Did the weight refer only to the Chapli Kebab above it in the Menu? It was the same price, same weight expected, Lamb does not cost twice the price of Beef. The Kebap was a – Super Seekh – in many ways. I must start carrying scales, a new phone app? The Kobeda Kebab looked lonely on the plate despite a drizzle of Herb, cue the Salad, the Dips, much better.
Spice came from somewhere, the Kebap, the Dip? When the Seasoning hit, I forgave all, almost. The Coriander, was this referring to the scattered greenery across my plate? There was a big Clove hit. I couldn't help but enjoy what lay before me, though I think I have asked enough questions.
Namkara Hotel Karahi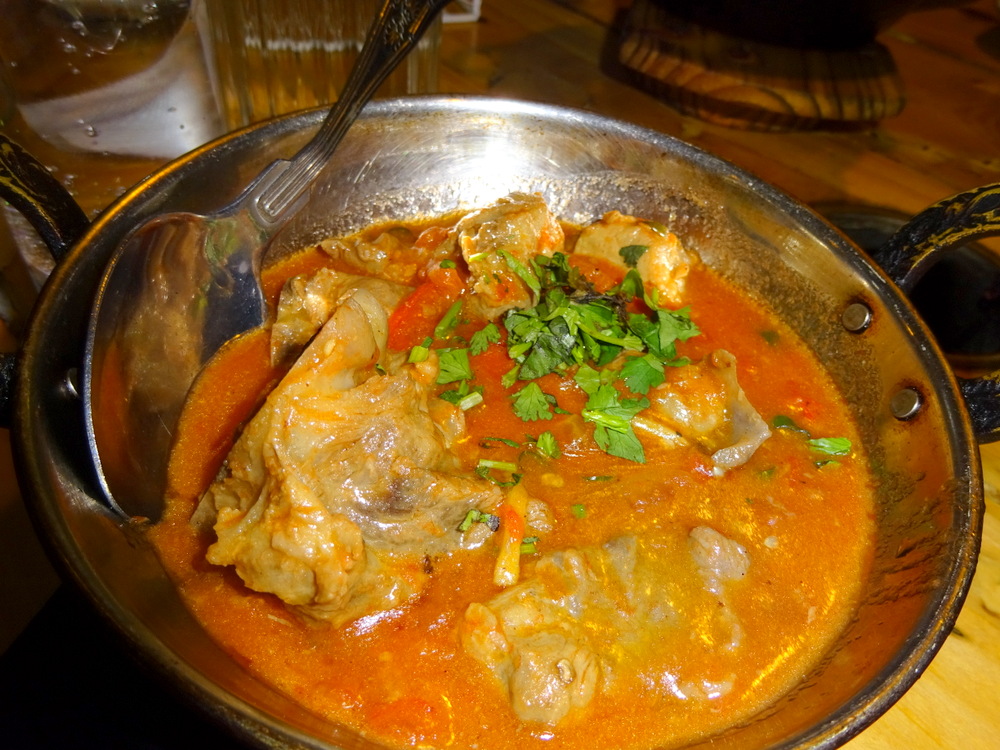 A standard metal serving dish was placed before me, not a Karahi. The heart sank, a few pieces of Meat, albeit on-the-bone, swimming in the Thinnest of Shorva. Shorva/Soup appears elsewhere on the Menu to describe the Dishes I chose to avoid. This was far from the Magnificence that was the – Afghani Lamb Karahi – served once upon a time at the Khyber (Glasgow). I counted the Meat, Seven, one piece was a joint, not much meat there. The Portion in no way justified the price, this is not – The West End. Still, what Lamb there was had full on Lamb Flavour. My last review here outlines that they served the Lamb a bit more – Chewy – than the soft pulp that many venues resort to. This was Tender Lamb, a pity there was not more of it. How many would pay £19.00 for a decent portion?
The Garlic Naan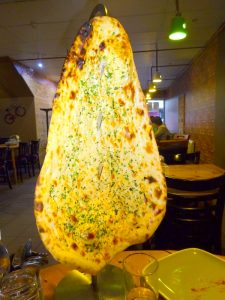 The Waitress brought the Naan on its stand after the three Karahi had been served, we had to wait to start. Clive had to do the honours, tearing strips from the bottom. The Pan handle was at the top, my favourite part, abandoned to the end, when it would be cold. Still, a fine Naan, enough for three as it turned out. £6.00?
(Take a trip to the Alishan (Glasgow) or Omar's (Bradford). Will the Akash (Helensburgh) ever re-open?
The Bread was dipped in the Thinnest of Masalas. In true Afghani, and sometimes Punjabi fashion, no Onion had been harmed in its preparation, this was the traditional – Tomato, Ginger, Green Chillies.
Not much was happening on the Hector Palate. Clive and I had both asked for – Spicy – not a feature of this meal. The Seasoning was off the bottom end of the scale. I was about record – Bland and Watery – when Maggie described her Chicken Karahi:
Watery.
My Karahi simply lacked – Flavour.
How is it? – asked Mein Host.
I would prefer more Seasoning – was the simplest response.
I'll get another one for you – was his immediate reaction.
I took the last piece of Naan to deal with what would follow. In passing, moments later, I was promised fresh Naan.
The last time this offer was made to Hector was at Delhi (Berlin). Then having almost finished my Curry, another was not an option, I couldn't have eaten it. Today I had Clive, his Portion size was identical to mine, I was interested to see what would come.
Marghuzar Shahi Karahi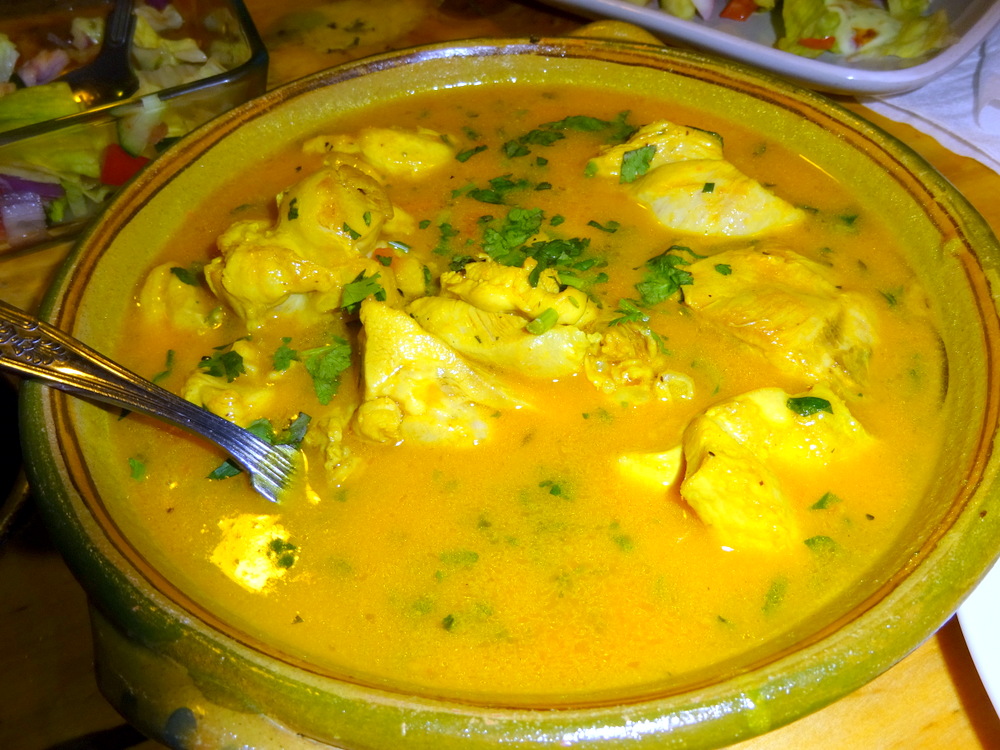 The Chicken was served on-the-bone in a Masala which was decidedly – Shorva.
Yummy – said Maggie soon after she had expressed her disappointment at the lack of viscosity. I was intrigued, how was a Chicken Karahi more flavoursome than the Lamb?
I sampled some of the Shorva, Interesting.
This had the – Seasoning – the Flavours therefore emerged. There was a greater sense of Spice, though not by much. What was this Flavour which was coming through, this was different? Caramel – came to mind. Maggie suggested – Coconut. I do not associate Afghanistan with Coconut, this is ever-present in South Indian Cuisine and dominates Sri Lankan. We had to ask.
Walnuts – was the given reply. (I had not read this part of the menu.)

Afghanistan is famed for it Dried Fruit – Mein Host informed us.
And Coconut? Apparently so. One is still learning.
Nanak Mandai Karahi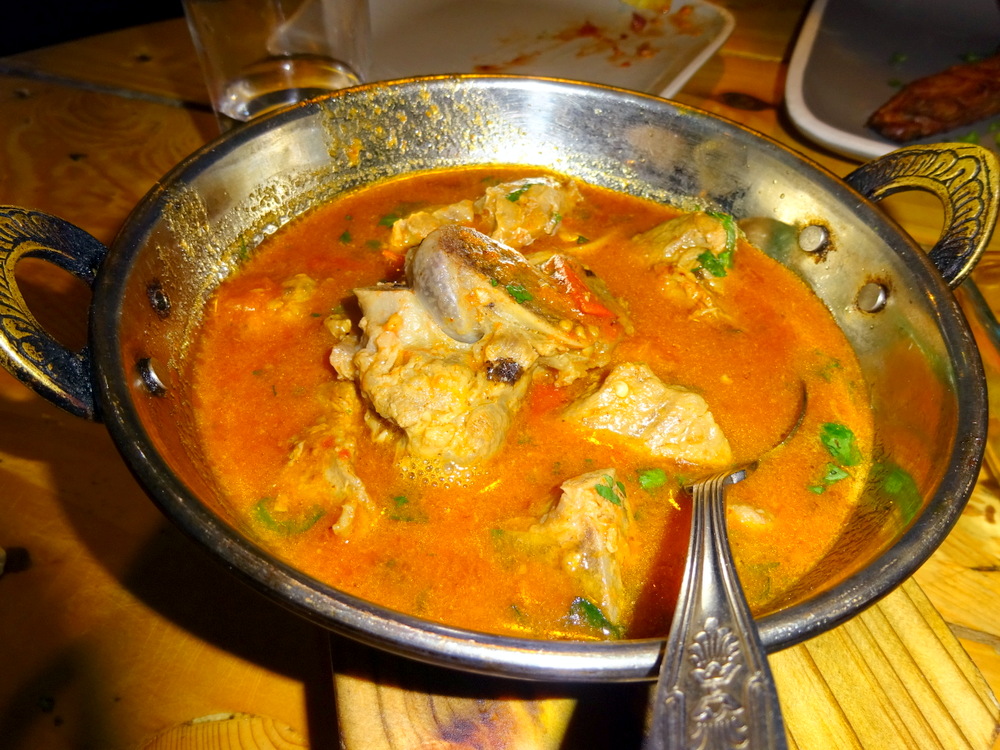 Clive had little, if anything to say about his Karahi. Why spoil his own anniversary? See my previous review of this Dish. Tonight's was nothing like I was served last year.

Round 2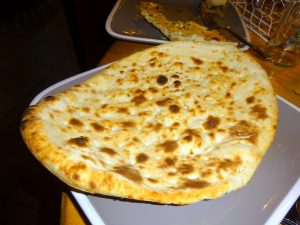 Another Portion was served, same quantity as before. I shared it with Clive. A Plain Naan accompanied, I gave half to Clive who was surprised since much happens outside his peripheral vision. Whichever of the two Lamb Karahi on offer this was, the Masala appeared much – Richer – in appearance.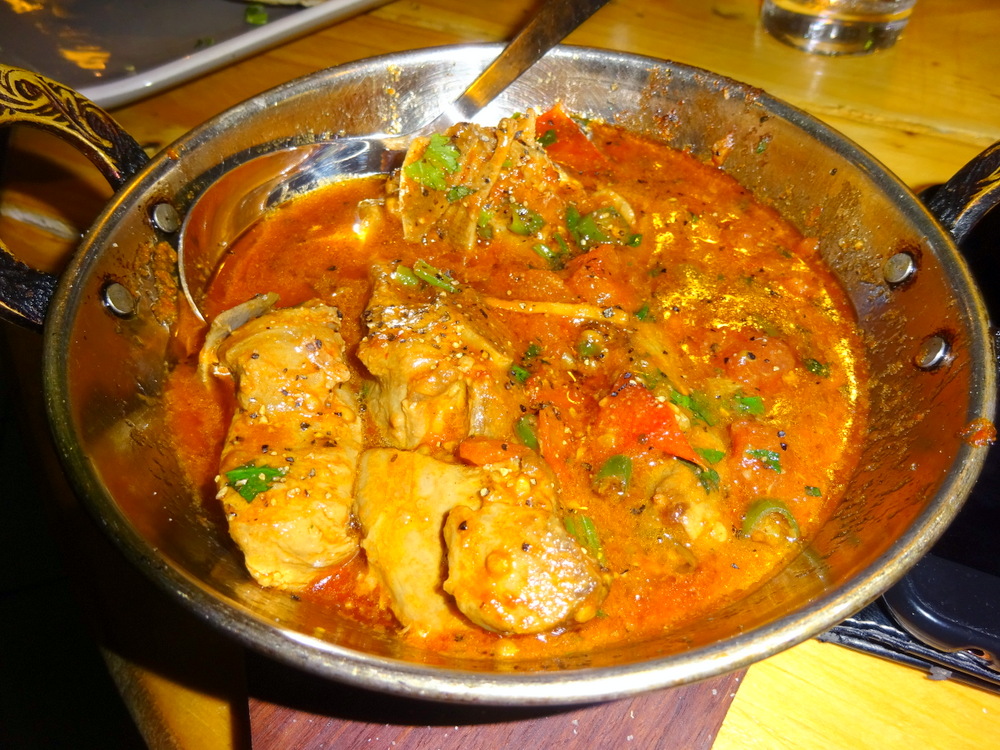 The Seasoning was where it should be, the Flavours burst through, much better! The Herb content also seemed more, this Karahi was night and day compared to what came previously, though the Masala was still – Shorva.
Mein Host had been hovering, waiting for our verdict. He described the two Chefs: one as being restrained, the other less so. He also said that he upped the Seasoning even more himself.
Not a case of too many cooks….
With this bonus serving, I now felt as if I had been fed.
Complimentary Green Tea was served whilst we waited to pay. Only in this venue has Hector drunk tea in the last decade – in England.
The Bill
£52.00 Had I departed hungry, a negative comment would appear here.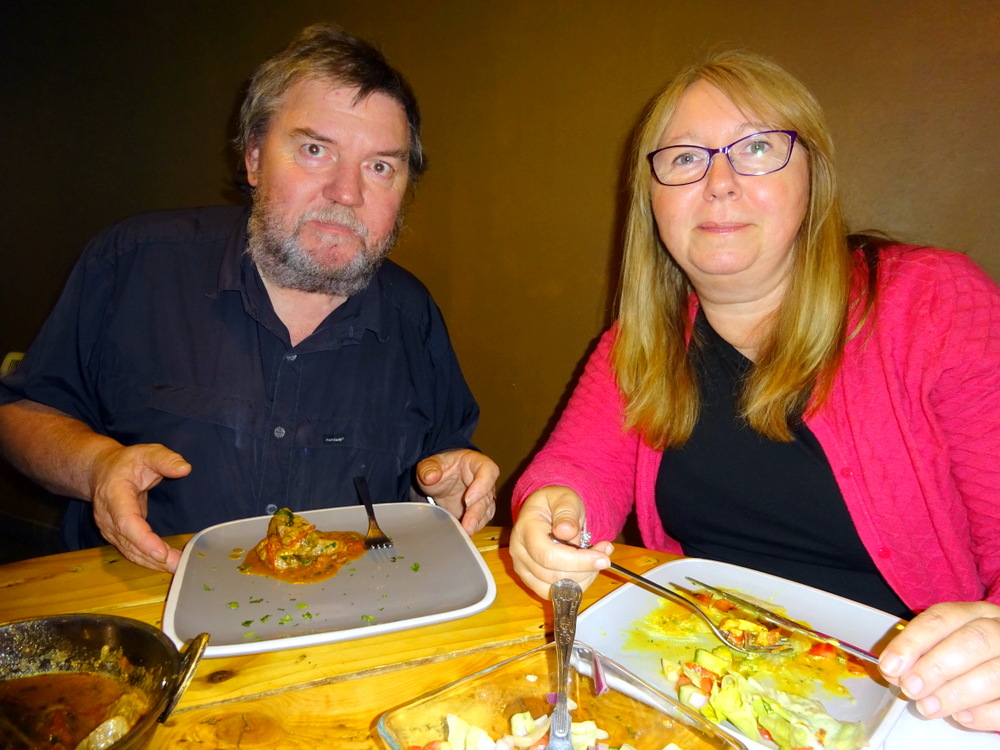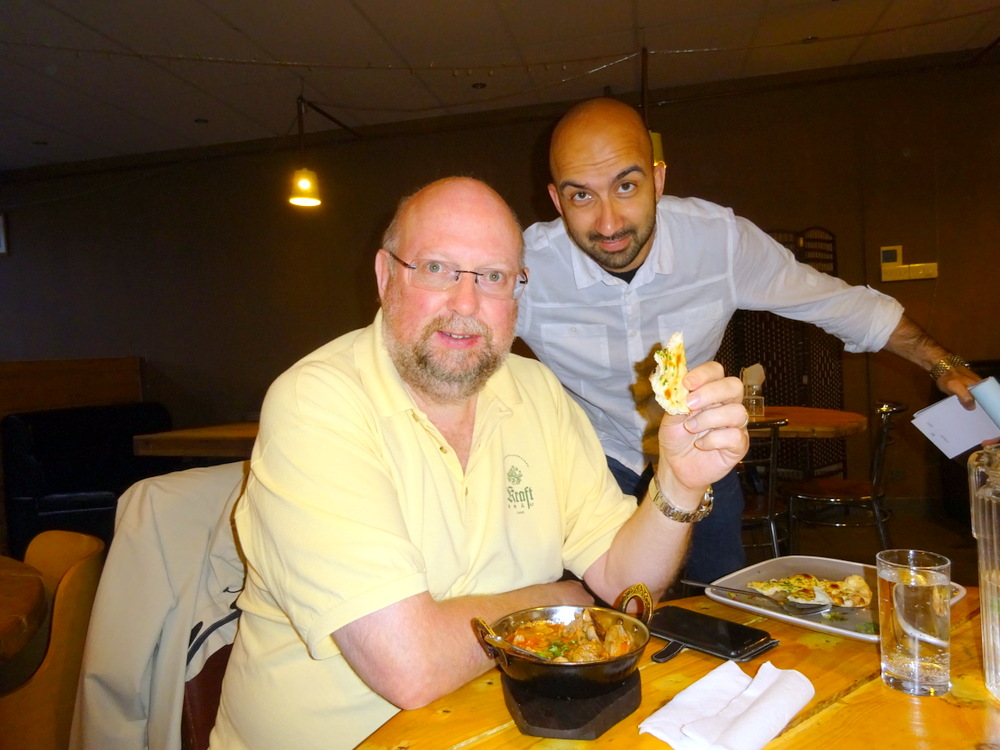 The Aftermath
There was now recognition of me having been here and reviewed the Restaurant. It makes life easier when the Restaurateur knows what will please. I had to ask about Namkeen Karahi. Mein Host listed the ingredients of a version to Clive and Maggie, then realised I was specifically referring to the – White Karahi. This they make only for themselves. We were instructed that next time we should contact Fat Boy's in advance and they will prepare it.
Can they do so with a Thick Masala?
The service at Fat Boy's is Excellent, however, one feels they are still trying to find their way. I still challenge the Portions and Pricing, and even the units of measurement. They cannot charge £12.00 for Soup and expect the business to survive.
I suggest they read my pages on Ambal's (Aberdeen) who initially aimed at the top end of the market then had to review their target audience. Fat Boy's uses – Canteen – in its self description. Alcohol is not served, Fat Boy's is a Cafe. The Prices/Portions should match.