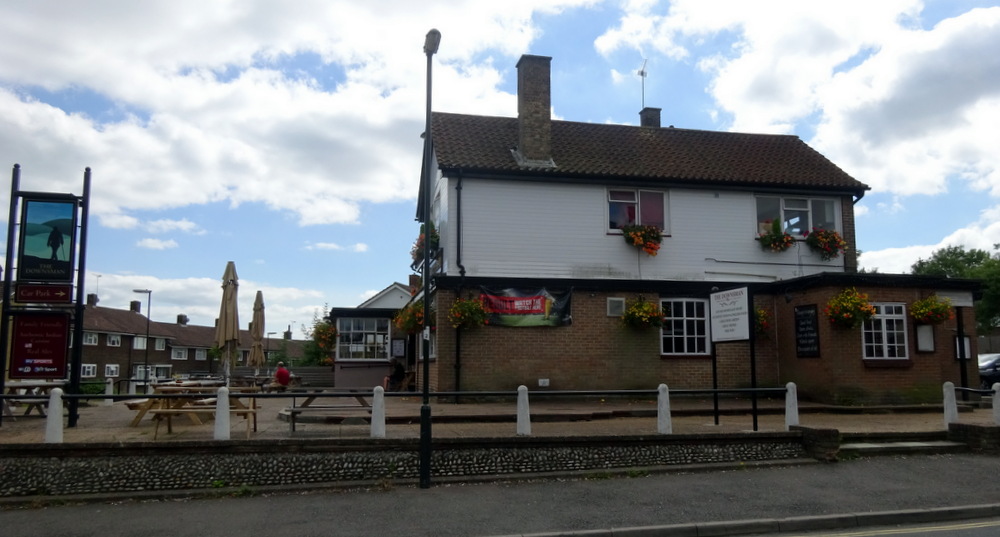 The Downsman Indian Restaurant (Wakehurst Drive, Southgate, Crawley, RH10 6DH) is how the Menu now describes these premises. Curry Club – no more. Still, it remains a Pub which serves Curry, a feature that is becoming less of a phenomenon in Sussex.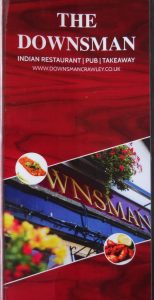 We may have been invited to a BBQ later this evening, that did not stop Lord Clive of Crawley agreeing that Lunch at The Downsman would not be a good idea. It was after 14.00 when we arrived. Quiet for a Saturday afternoon, the few Punters present appeared to be more interested in going – frae ra pub te-ra bookies, then frae ra bookies te-ra pub – than watching Liverpool FC on the TV.
Whilst Clive caught up with a couple of Chaps, I sorted some Lamb Chops (£8.95), two portions. One pays in advance at The Downsman, it is a Pub. Nine Quid feels a lot to pay for Lamb Chops, but look at what comes. Normally one shares, however, the tacit plan was to have a Long Lunch, we could let these digest, then order Curry.
Lamb Chops (two portions)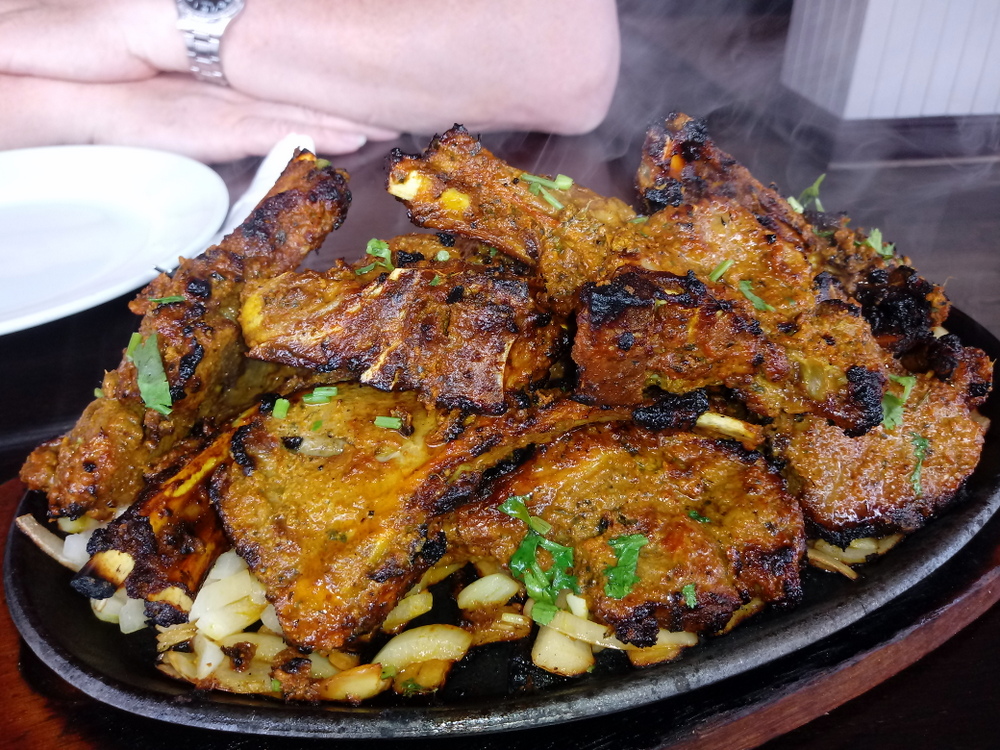 Six Chops each, ten of twelve were appreciably Larger than those served – anywhere else. It has been a while since I indulged to this degree, long overdue. The Chops were all well fired, cooked through – Durch – as they say in Deutschland. Magnificent Chops, I have a dental appointment next week. David, my Dentist reads Curry-Heute, occasionally.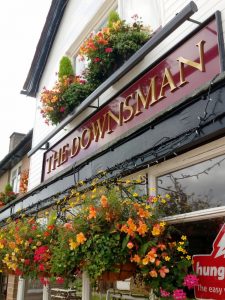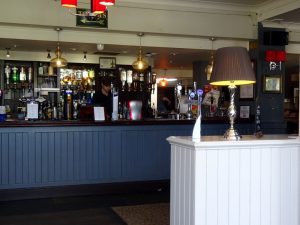 The Downsman has only three Cask Ales, two typically are an absolute – no-no – Hector always has something – cold, yellow, and fizzy – and Apple based. We were taking our time. Tonight, Septem 8th Day.
At 14.50, Clive went up to order the rest. Clive always apologises for having Chicken Dhansak (£7.95) in my company but persists, he loves his – Lentils. For Hector, it could only be Lamb Methi (£8.95). A couple of recent visits have not been up to standard, I was hoping that given the relative quiet, Chef would have time to – work the magic. Keema Paratha is not on the Menu, but we have secured it here occasionally. Today we made life simpler and ordered Keema Naan (£2.95), twice.
The Bill
£40.75. Quite a Lunch, and this excludes two rounds of rinks.
The Curry arrived at 15.15, a decent wait, encouraging, the Lamb Chops were well digested.
Keema Naan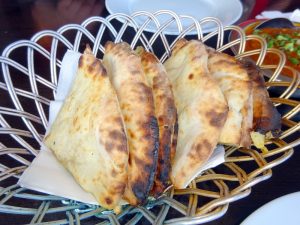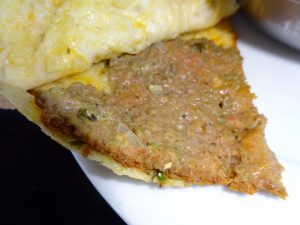 The Naan was Soft, Delightful, despite being served in Quarters. I forgot to employ my latest – Whole Bread please – request. As is my custom, the Naan was split open to exam the interior – Donner! Well not quite, the Colour was how Keema should be not the horrible Pink, but the individual grains hoped for were not present. This was a new variant, no complaints, this Naan was impressive, and so filling.
Lamb Methi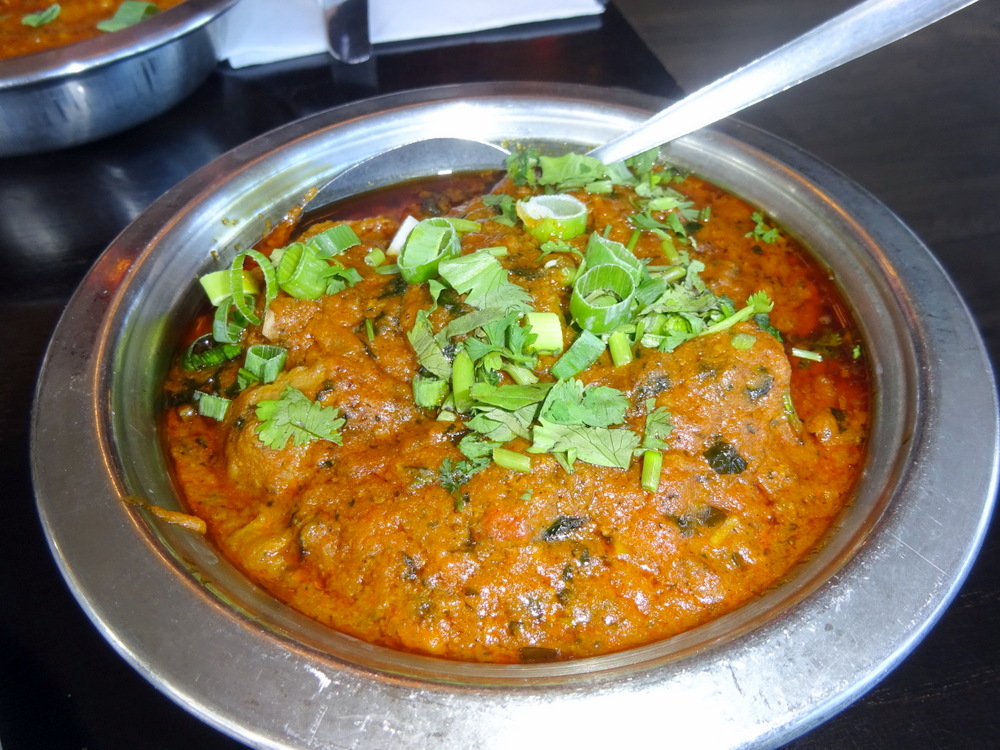 Coriander and Sybees topped the Richest of Masala. The Oil was collecting around the periphery of the Masala, so unlike yesterday at Tayyabs, I enjoy both styles.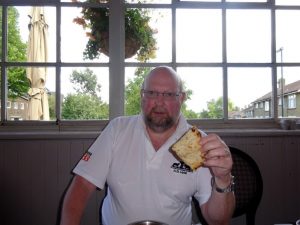 A strip of Naan was dipped, oh yes, the – Big Methi Blast! The Masala was Viscous, Herb-rich, and most certainly more than required. I then considered the possibility of ordering this without Meat, just have Keema Naan and Masala? That could work, satisfaction could be achieved.
Satisfaction? We were here to indulge ourselves. I counted the Meat, ten good-sized pieces of Lamb, the most Tender of Lamb. Meat in the Naan, Meat in the Masala, for once, an Interesting Vegetable would have been – Excessive. The Masala did have Chopped Onions visible in addition to that in the Masala pulp. Seasoning, Spice, Methi, this was as good as Curry gets, yet so different from that which I would order at home. This was not – Mainstream Curry – the – Wow factor – truly present. Hector was sated.
Chicken Dhansak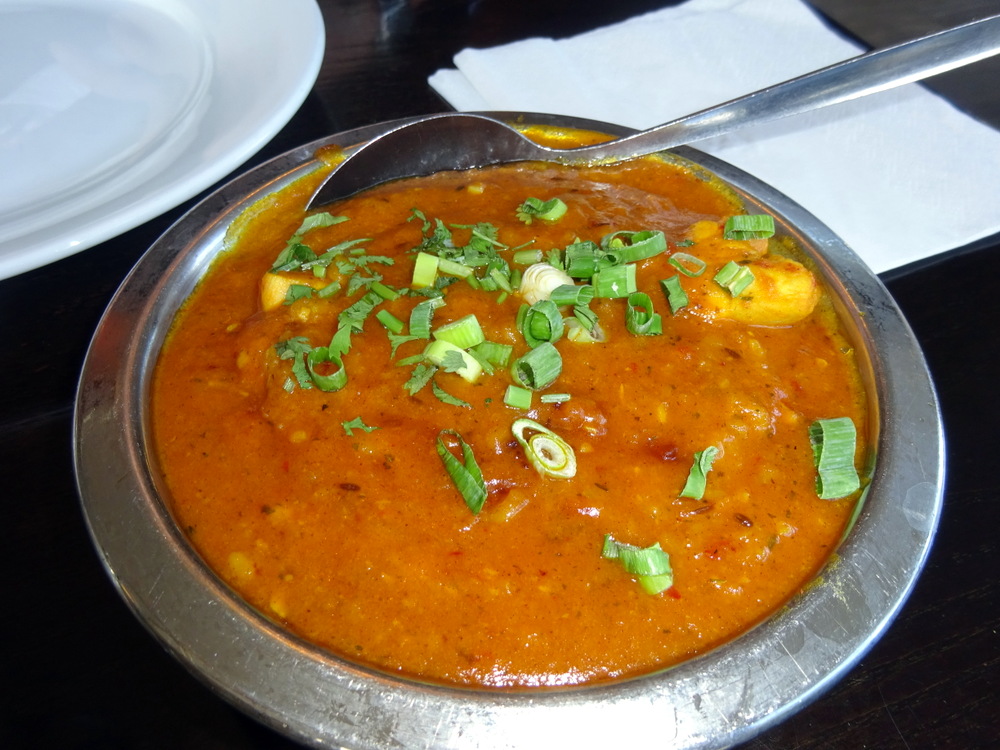 The Toppings were the same as the Lamb Methi, the Masala was not as Thick, decidedly – Soupy. Lentils the alternative to Methi? Without the Chicken, this could almost tempt The Hector, a Fish Dhansak?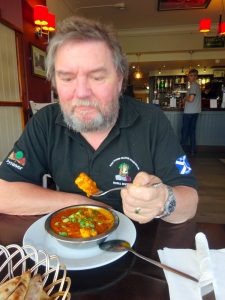 Clive cleared the lot and was able to wipe his bowl clean.
Excellent, as it always is in here. There was a sweetness.
Maybe this is not for Hector after all.
The Aftermath
Clive and Hector were last in the queue at Phil's Birthday BBQ. Dr. Stan did not let the side down. He also rated the Septem 8th Day very highly. QED.