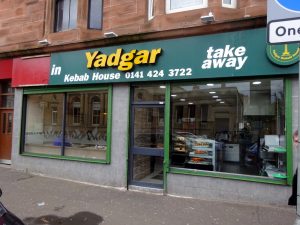 Lord Clive of Crawley has been appearing in this Blog regularly of late, it was therefore fitting that he chose today's venue.
I haven't been to Yadgar recently – he announced on Friday night.
Shkoor, Mein Host at Yadgar Kebab House (148 Calder St, Govanhill, Glasgow, G42 7QP) was contacted in the usual manner.
Please feed three on Sunday at 14.15.
Howard was included as a ritual session of the BBC would follow on at the Allison Arms around 16.00. Last night Marg was added to the list of – Diners – but would order her Main Course today, it was unlikely she would enjoy what would be waiting for – The Chaps.
Howard was super-punctual, Marg drove Clive and Hector to Glasgow's Southside where – The Very Best Curry of Glasgow – is to be found. Curryspondent Archie tells me he was here last night and enjoyed Karahi Gosht (without Bones), Hector had arranged the ultimate Karahi Gosht on-the-bone, it makes a huge difference.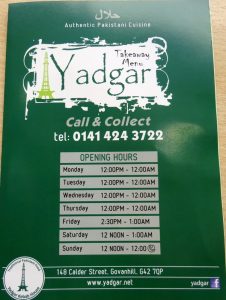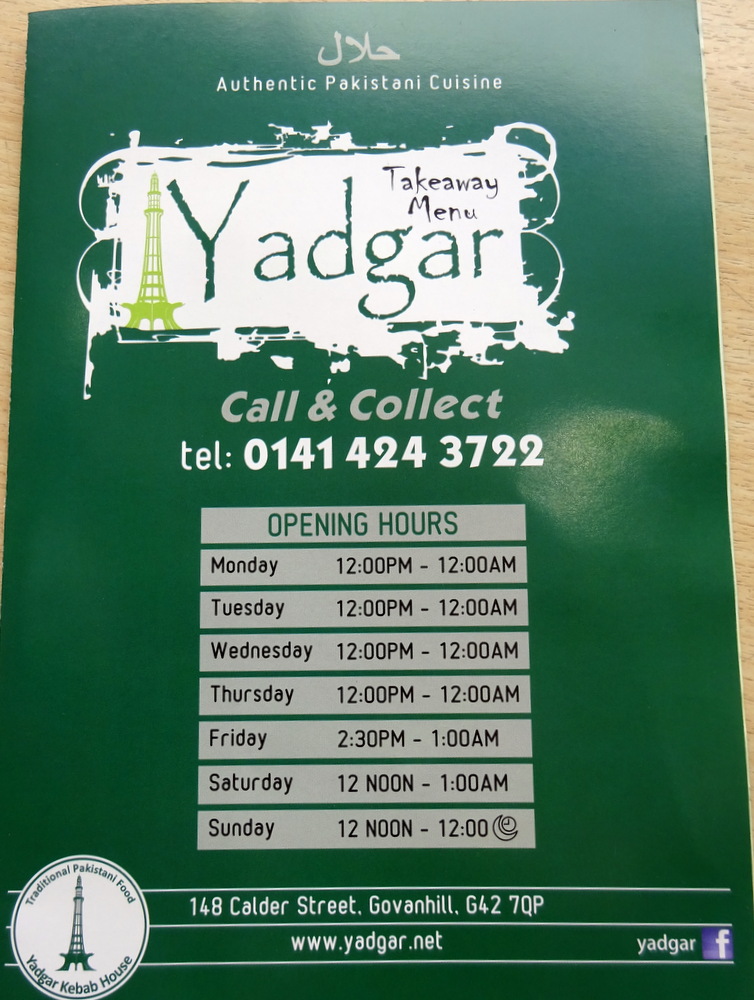 Omar assured me that Naveed is finally back from vacation, however, today was his day off. Omar has grown in confidence since his early days, out he came with notepad to record the – Extras. He asked if we required straight forward Karahi Gosht or alternatives e.g. Achari Gosht. It was my call, – The Hector – chose – The Traditional. I asked what was available for Marg in Lamb (without). Bhuna Lamb was agreed upon, Chapattis for all.
Omar mentioned – Fish – we were sure that he was offering alternative Starters, less than two days notice is hardly sufficient to secure the famed – Scottish Haddock – that has been a feature of – being fed – at Yadgar for some years. Vegetable Pakora was agreed upon, Marg likes Pakora. And so Omar the Conveyor sprung into action. Note, at Yadgar I rarely quote the price of individual items, when we are here – To Be Fed – the flat rate has been fixed at £15.00 per head. The Yadgar dedicated page has the Menu and all the prices. I may be shooting myself in the foot by highlighting price increases at other venues over the years (c.f. yesterday at Babu).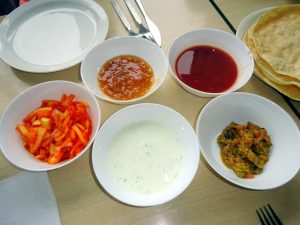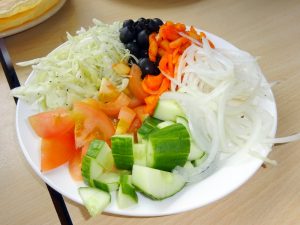 A Pile of Poppadoms and a couple of Dips accompanied the Water and Mango Rubicon, still no Sparkling Water after all these years. With the Impressive Salad, Mango Chutney and Spiced Onions we were set. Omar then arrived with a plateful of Salmon!
Sitting with my back to the room I did not see the – Man with no Name – accompany Omar with a plate of Pakora.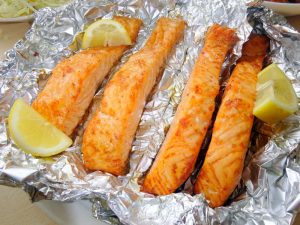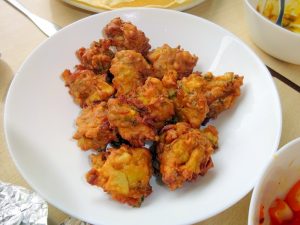 We don't need the Pakora – was my reaction to Omar, then I saw the Pakora. Oh well…
This was quite a spread, Marg was already declaring that she would not need a Main Course after this. Clive confirmed that we still had – Curry – to come. So it goes.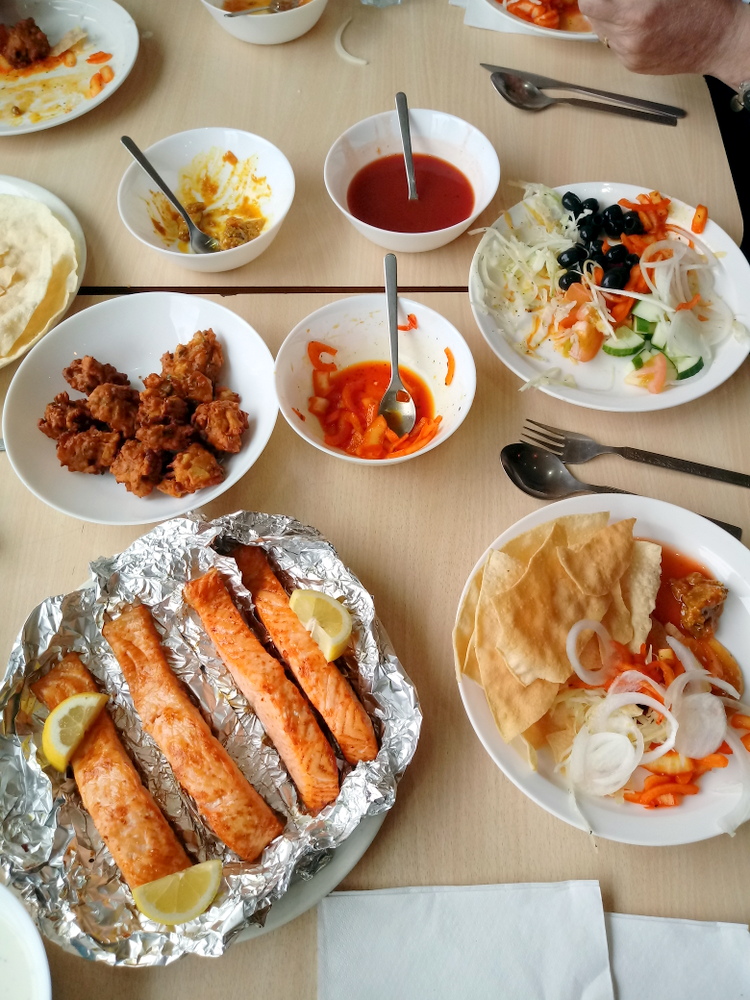 Poppadoms, to me, now feel out of place when one has this to get through. The Salmon was separated from the individual pieces of aluminium foil and distributed. Is there a Fish more filling than Salmon? Marg led me to believe she would have a half, no way, all four pieces disappeared. Delicately Spiced, Rich in Flavour, then topped with the Yadgar – Hot Red Sauce, Mmmmm. This Sauce is Spicy and served – Hot. Add to this, the Black Olives and Spiced Onions. Whatever was in the Hot Sauce even made the Lettuce edible – remarked Clive. (Hector has never worked out the point of Lettuce.)
I mentioned to Marg that – The Man with no Name – has been serving me for years. Happy to stay in the background, but occasionally forced into the limelight as in today, I had to ask. Shafiq! Now we know.
As Shafiq cleared the table, I asked for a twenty minute break before the Mains, they have been known to arrive immediately. That should take us to 15.10, time to digest. More Mango Rubicon.
Some Suits entered and were served. This distraction gave us an extra few minutes. Here we go again.
Karahi Gosht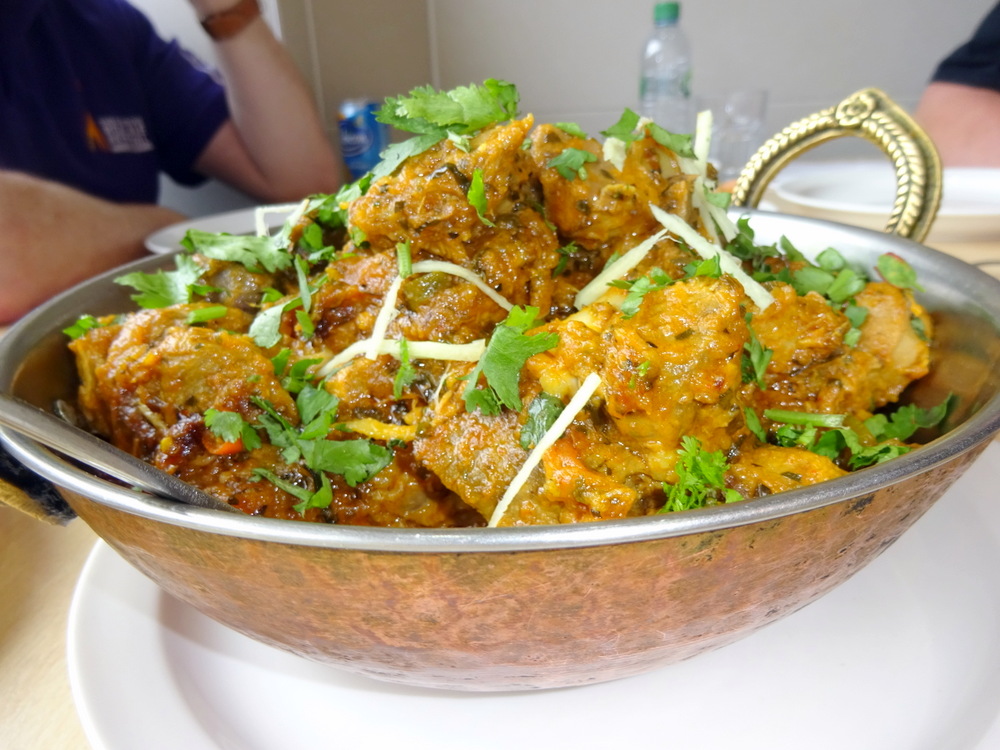 Certain Karahi Dishes at Yadgar can only be ordered by the Kilo (c.f. Menu), technically half Kilos are not served, but we were Three Chaps, we were catered for. Let your eyes gaze upon the Wonder that is Karahi Gosht a la Yadgar.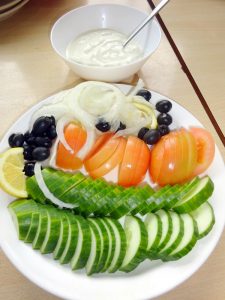 Marg's Boneless Bhuna Lamb appeared to have the same Tomato-based Masala as the Karahi Gosht, but Redder. Masala without Onions, I have tried, a skill I may never master. Three of the four Chapattis were accompanied by yet another plate of Salad, we're not finished. A bowl of Yoghurt and a Daal which at first glimpse I thought might be – Makhani – were further Bonuses. This Daal was – something different – Clive loves his Lentils, Serendipity.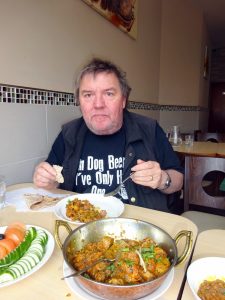 Clive helped himself which momentarily felt out of place, Ladies first. Marg had her own Curry. I took what might approach a – Standard Portion – in a Mainstream Restaurant, then Howard. The Karahi still looked untouched. I already knew I was staring at defeat.
Hector's perception is that we do not do – this – often, despite the volume of Curry consumed overall. Such is the Richness of the Karahi Gosht served here it has to be kept – Special. This is Blog #96 for Yadgar, even with four months of this year left I doubt if I'll make it to one hundred in 2017. Curry-Heute will be back in Europe next month, some Old Favourites will have to be visited.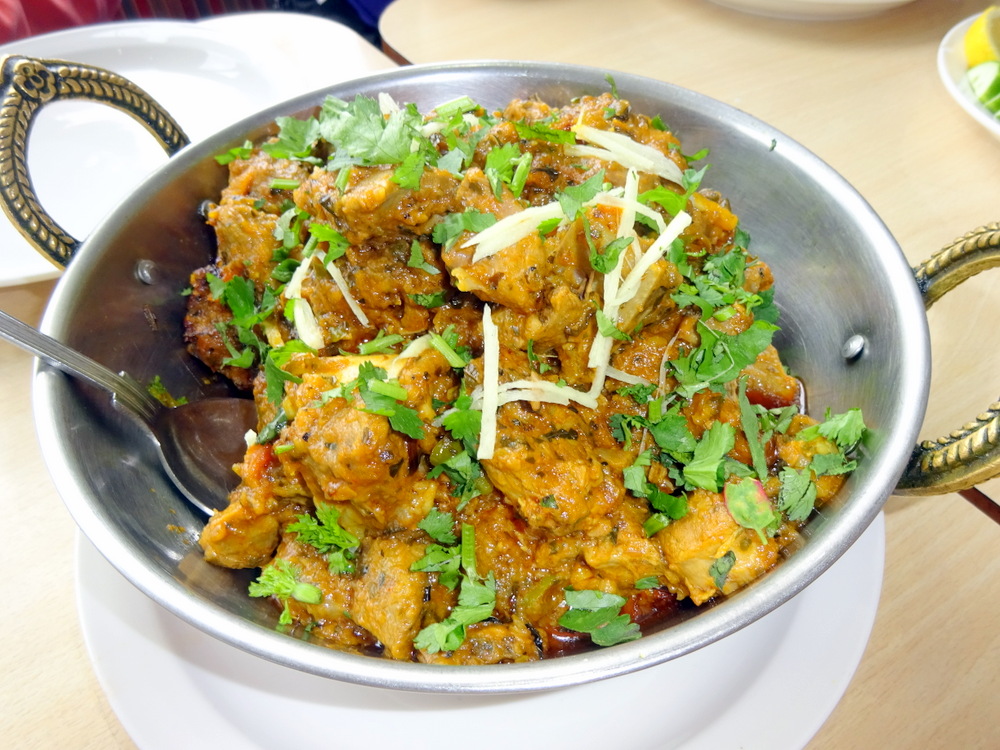 I can taste Lamb – was my opening remark. Not much was being said around the table. The Chaps had Bones to negotiate, this requires focus, care.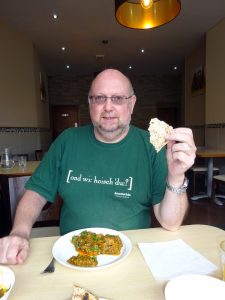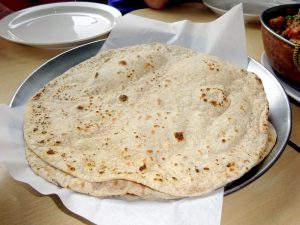 The Spice Level was – Brave. Any more and it would have been over the edge, this was a Spicy Curry, yet in no way to the detriment of the Flavour. The Distinctive – Taste – that is Yadgar came through, from where this originates remains a mystery. With the arrival of the fourth Chapatti we all knew what we had signed up for.
I still have eight pieces of Lamb – said Marg around the time when I was helping myself to Batch #2. The Daal added a Dry, Musky alternative Flavour, then back to the Gosht. Tender to Chewy was how I would describe today's Meat. In no way could this be wolfed down. Hector – The Curry Coach – kept inviting Howard and Clive to have more, still the contents of the Karahi looked intimidating.  Marg had a dip, not for her, too Spicy.

Shafiq and Omar both came over to ask if they could do more. What more could they possibly do?
Shafiq was particularly interested in the Karahi Gosht. He told us that the Main Chef (Arshad) was off today, this was his own work.
You know what you're doing – was my sincere response.
Lamb Bhuna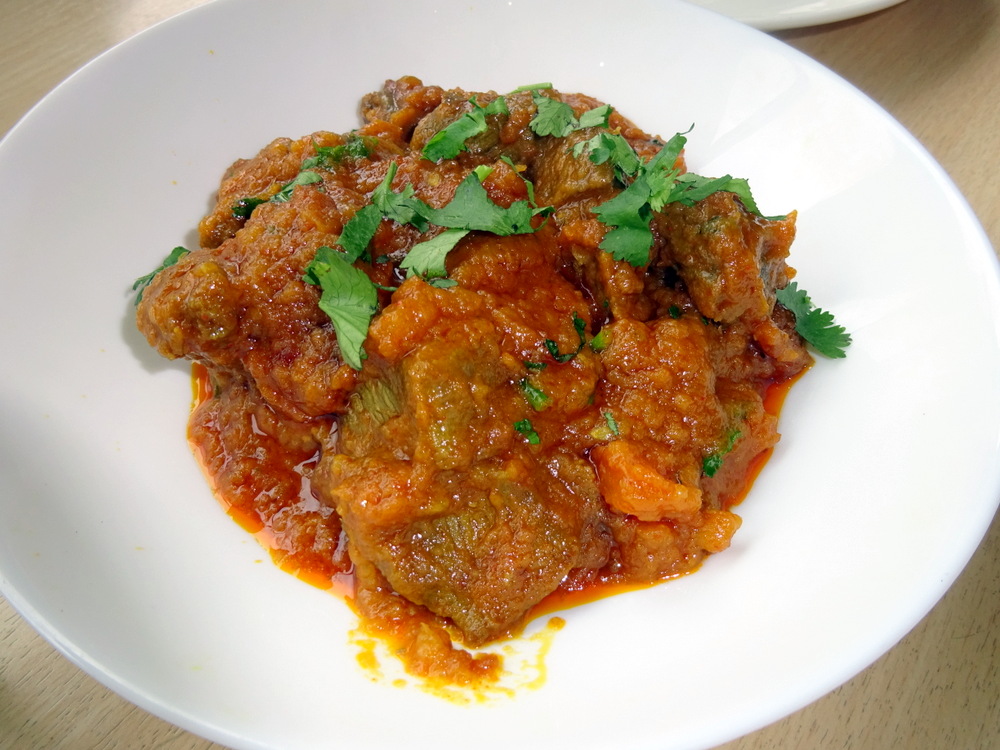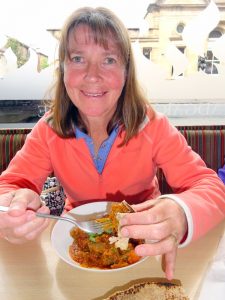 Meanwhile across the table, Marg was making headway.
I like this.
The Tomatoes are making it sweet and there's a kick to it.
A famous TV Chef always remarks that Tomatoes have the opposite effect, Interesting.
I dipped a piece of Chapatti into the Masala. The Bones make all the difference, especially the – Sucky Bones – of which Howard and Clive had amassed a pile. I had fewer.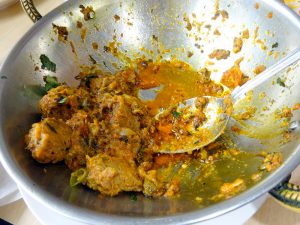 Eventually the camera was brought out to record what I believed would become the Doggy Bag. No sooner had than I done this when Howard found space for just one more…
Mr. Anwar Sr. approached just as we were finishing. He is always happy to see us enjoy his Fayre. Time for some quotes:
Clive – Marvellous, not the standard Sunday Lunch. The Lamb was very tender, I always like Lentils.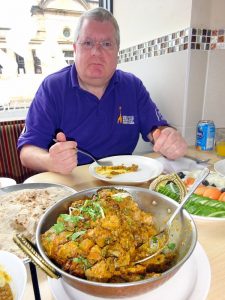 Howard – Stunning Curry, two things stood out.
The Flavour of the Lamb which was superb.
The spice level which was the top end of my range but absolutely excellent.
The other dishes were very good as well, especially the Salmon. Thanks as ever for the hospitality.
(I thought he said – two things…)
The Bill
£60.00. The Flat Rate. Where else can one be entertained with this Quality and Quantity?
The Aftermath
Our conversation continued with Mr. Anwar who was intent on providing Dessert, he is definitely the Father of Shkoor. Why spoil the Wonderful Flavours we had just enjoyed by changing the taste on the palate to – Sweet?
Amazing Food, one simply could not, and should not, eat this too often.  Dessert was gracefully declined.