Hector is spending three nights in Peterborough. This afternoon saw open doors at the Oakham Brewery where some fine hospitality was enjoyed. Thereafter, half of The Company went to t'Travelodge and stayed in, Dr. Stan and Mags went Oriental, this left Hector to his own devices. They did request a September visit to Yadgar (Glasgow), who else will join us?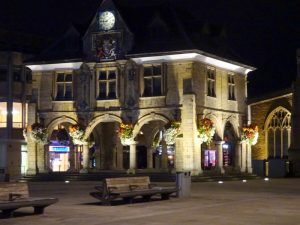 The Punjab Balti & Pizza House is a venue I have been looking forward to returning to, the highlight by far of my last visit to Peterborough two years ago. This venue may have changed hands since then, a fact that would not be ascertained this evening, another venue in the same area near the Bus Station caught my eye – Desi Restaurant (298 Lincoln Road, Millfield, Peterborough, PE1 2ND England).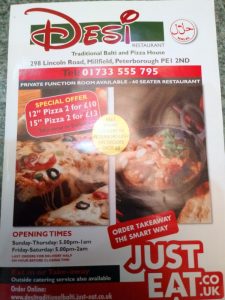 Entering @22.00, a couple of Chaps were finishing, how I wish it was acceptable to take photos of other people's meal in passing… I approached the counter and announced my requirements to Mein Host for the evening, he suggested the Lamb Balti (£6.00). He admitted a Paratha (£1.70) would come out – Crispy – and so a Keema Nan (£2.10) was agreed. I asked for – Spicy – not – Silly.
The Facilities are upstairs, so up I went, camera in hand. There is another room to complement the main seating area (twenty eight ) at street level. The settee amused, the queue for the toilet? The Desi Restaurant is exactly the type of premises that Curry-Heute seeks out, cheap'n'cheerful, nothing pretentious here, just hopefully Curry which lives up to the name of the Restaurant.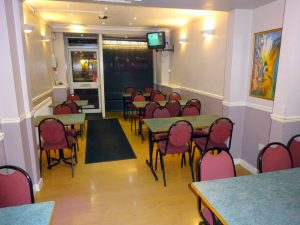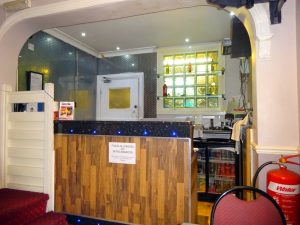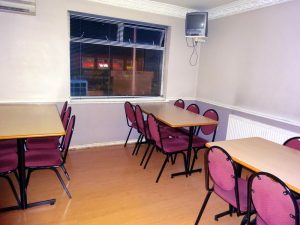 If it's not too late, can Extra Methi be added to my Balti?
I was assured that there would be plenty of Methi in my Balti, encouraging. I once again forgot to ask for my Naan to be served – whole.     Mad Cow – as Denny Crane said oft.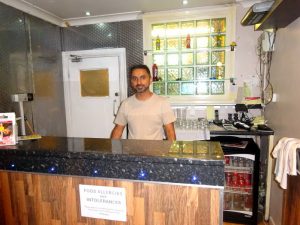 I sat facing Mein Host at the first table, hoping he would engage, success. The Calling Card was given early, I thought he may as well know that I was a serious Curry Eater, not just a passing, whatever. He worked in Cumbernauld once upon a time and so knew something about the Glasgow Curry Scene. Sadly he could not remember the names of his preferred Southside Venues, he did mention Akbar's where I am due to dine this Saturday.
The Menu stated that 15" Pizza was available at £9.00, sensible. Then I spotted Lamb Handi (£18.00) sold by the Kilo with two hours notice. This is very good value, especially compared to Fat Boy's Joint (Crawley) whom I feel do not have a realistic pricing scheme.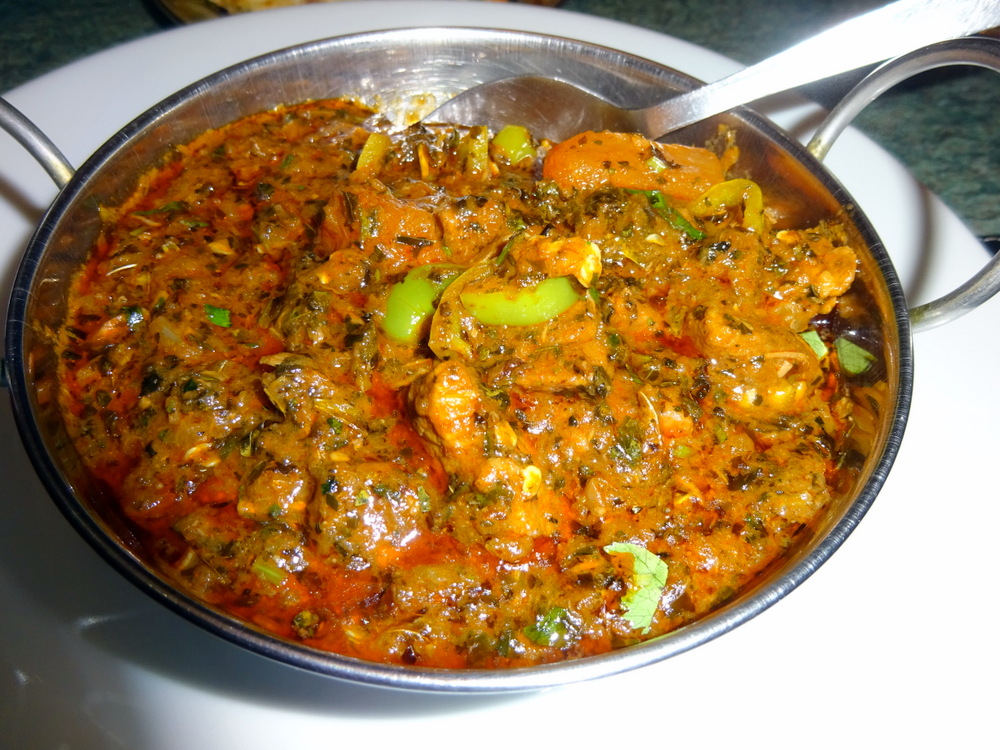 The Balti Lamb did not appear to be huge, how deceptive these receptacles can be. Staring up at me were slices of – Green, surely not? These were Large Green Chillies, Wonderful! The Masala appeared a bit – Wet – on the periphery, but Herb-rich. This Curry looked just the job.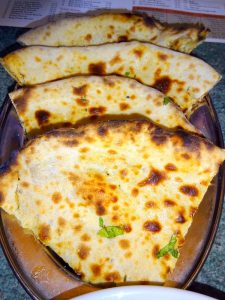 The Naan was swerved Quartered, why? I split a slice open to reveal sporadic Keema. Another slice was jammed full, better. With no sign of – Pink – this was identical in size and texture to that enjoyed at The Downsman (Crawley) last week. This would do nicely. With a Coriander Topping, this was a very good Keema Naan, it stayed Soft throughout the Meal.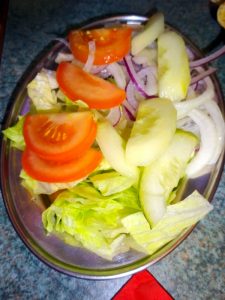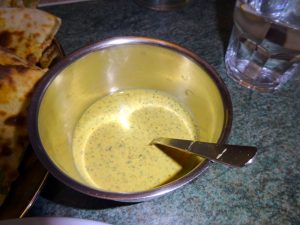 A Salad and Raita were also presented with the Lamb Balti and Naan. I was not too bothered about the Salad but poured over some mysterious looking Raita. What was this? I had to ask. This Raita was – Pomegranate – based, easily the Best I have ever encountered. I would eat the pieces of Salad to add diversity to the Meal, the cooling effect of the Salad/Raita would only accelerate the sense of Spice from the Balti, not clever.
Mein Host told me that the peripheral wetness was due to the Methi, first time I've heard this. Fortunately, there was evaporation, a very good Masala Mash emerged.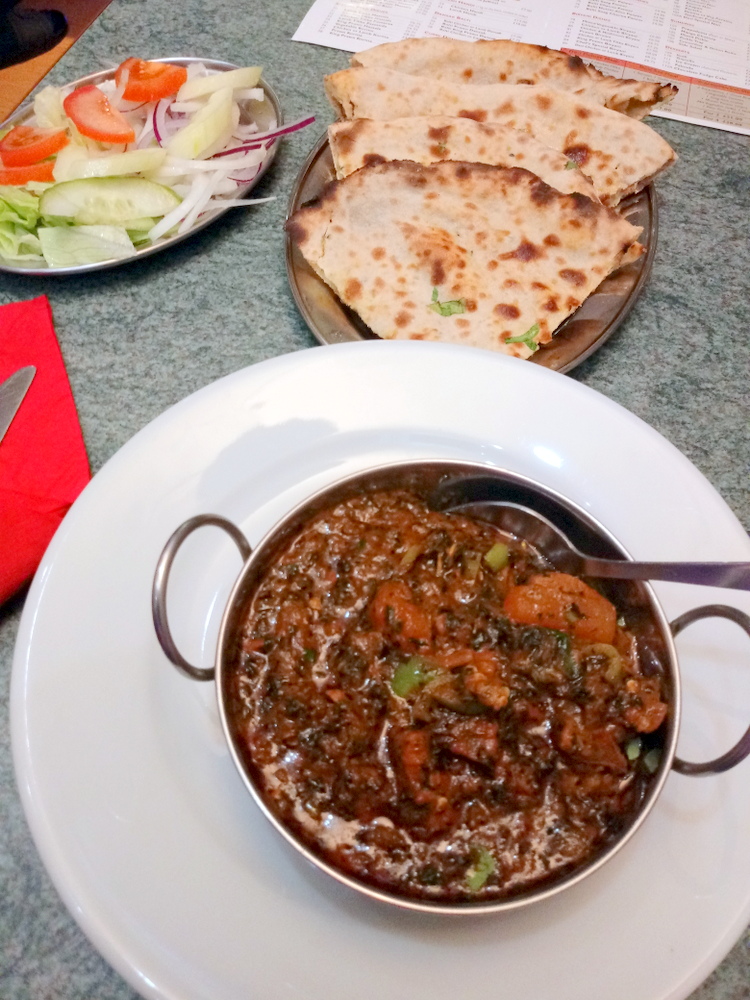 The Seasoning was sufficient, the Spice hit hard, Hector's tongue began to tingle and would continue to do so. Some may have found this to be – too Spicy – it was within acceptable parameters. I coped, because I can.
The Meat was cut relatively – Small – and there was plenty of it. The extra Mince from the Naan added to the – solid content. The Masala appeared to be Tomato-rich, perhaps Tomato-based only? The Methi kicked in, this Curry was well above the Mainstream, the Spice Level may have reduced the chance of reaching – Wow! Still, there was little reason not to enjoy this Lamb Balti.
The Bill
£8.60. 50p for the Salad and Raita then?
The Aftermath
Mein Host arranged a taxi and even came to the door twice to identify it. Why did the taxi driver stop fifty metres away at another venue?
Overall, this was a very pleasant experience, I would have no hesitation about returning here, Lamb Handi…..