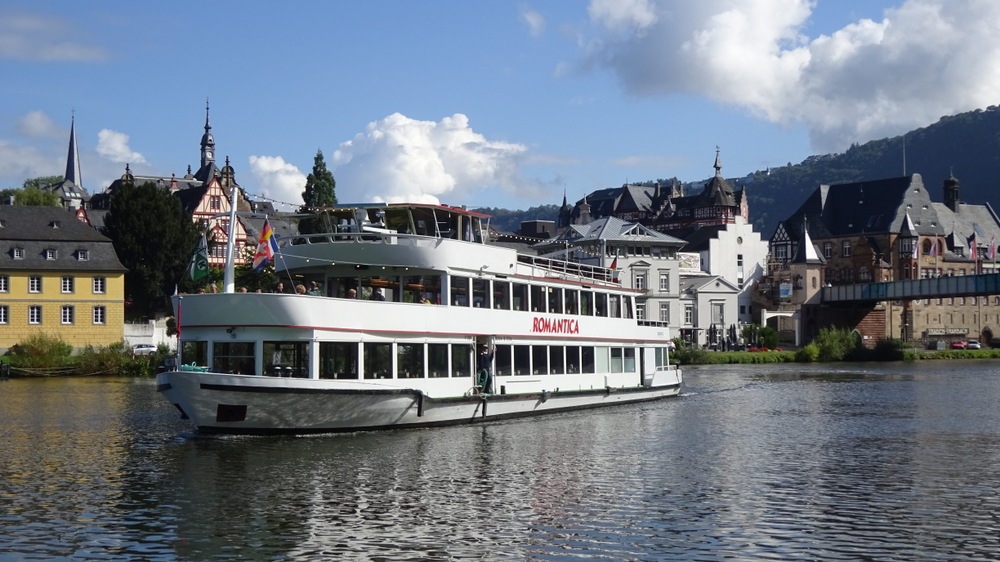 This is the first time I have ever Blogged about a meal in an Indian Restaurant I have been looking forward to for two years. It is the weekend of the Wolf Strassenfest (Weinfest) which has been running for exactly thirty years. Hector has been everpresent since 2006. On the Sunday of the weekend, a Boat Trip to Bernkastel has become the accepted ritual, embarking at Traben-Trarbach where once again we are mostly resident at the former Altstadt Cafe, now Chez Mathieu. Since Hector's retiral, a visit to the Taj Mahal (Hebegasse 1, 54470 Bernkastel-Kues, Deutschland) has also become part of – The Schedule – , for some.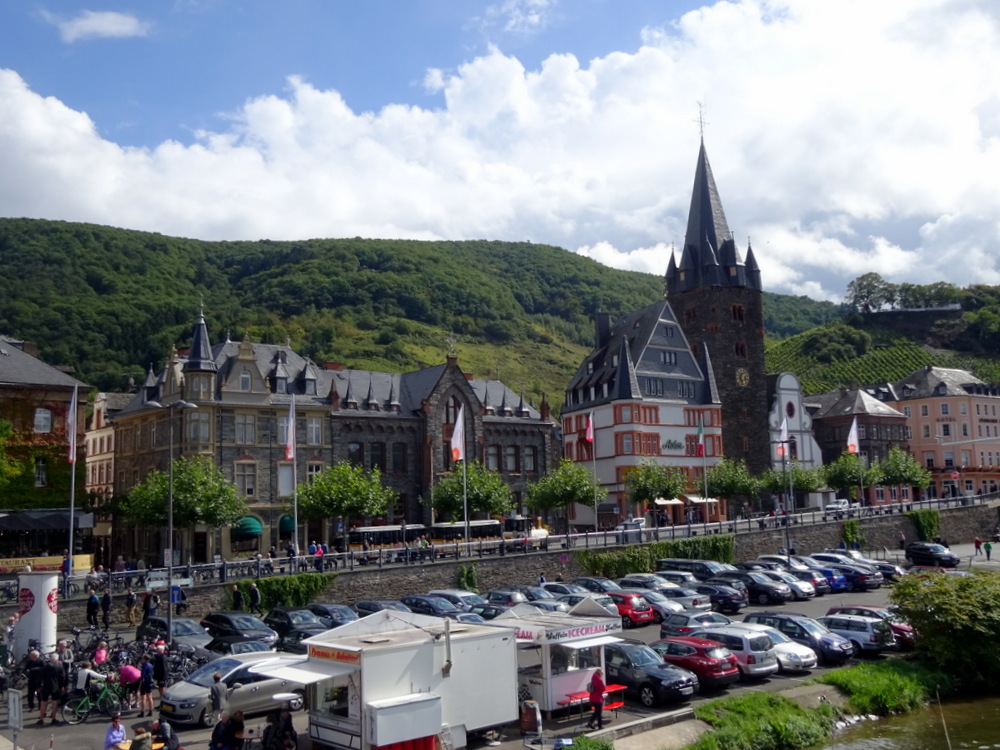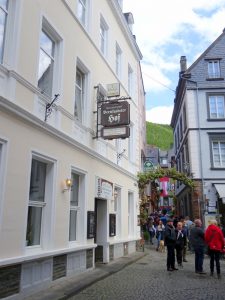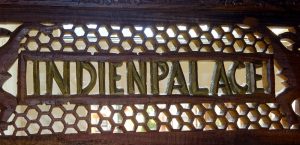 First visited in 2010 in the year Curry-Heute was established, the Taj Mahal formerly Indien Palace,  did not exactly impress, serving what Hector considers to be Curry for the Europeans. In recent years there has been less Soup-like Masala, and certainly more Spice and Flavour. Two years ago Jonathan ordered a Tandoori Mix (€16.50), what came caused a stir. Hector was determined to forgo – Curry – and have this on the next visit. In 2016, the appetite was not up for it. Having behaved reasonably sensibly at Wolf yesterday, I was up for the challenge.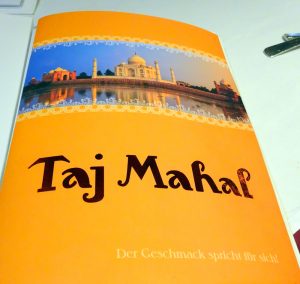 Five of seven crossed over to Kues on arrival sometime after 13.00, the Cusanus Hausbräuerei being the attraction. Jonathan and Hector walked the few metres from the riverside to the Taj Mahal. The Tandoori Mix is now €18.00, our accompanying Soft Drinks another €2.20. The Order was placed, the Spice Level was discussed, strange given that we were not ordering – Curry. Above Mittelscharf was noted.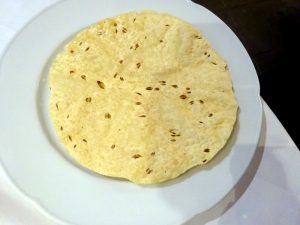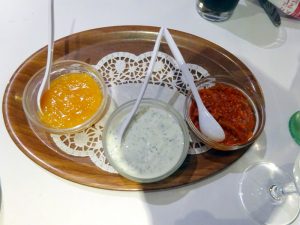 Complimentary Poppadoms were laid on with three Dips. The Poppadoms had embedded Cumin Seeds as they tend to across Europe, very tasty. The Lime Pickle was somewhat Fierce. One can kill the taste-buds by having this before – Curry – today not an issue.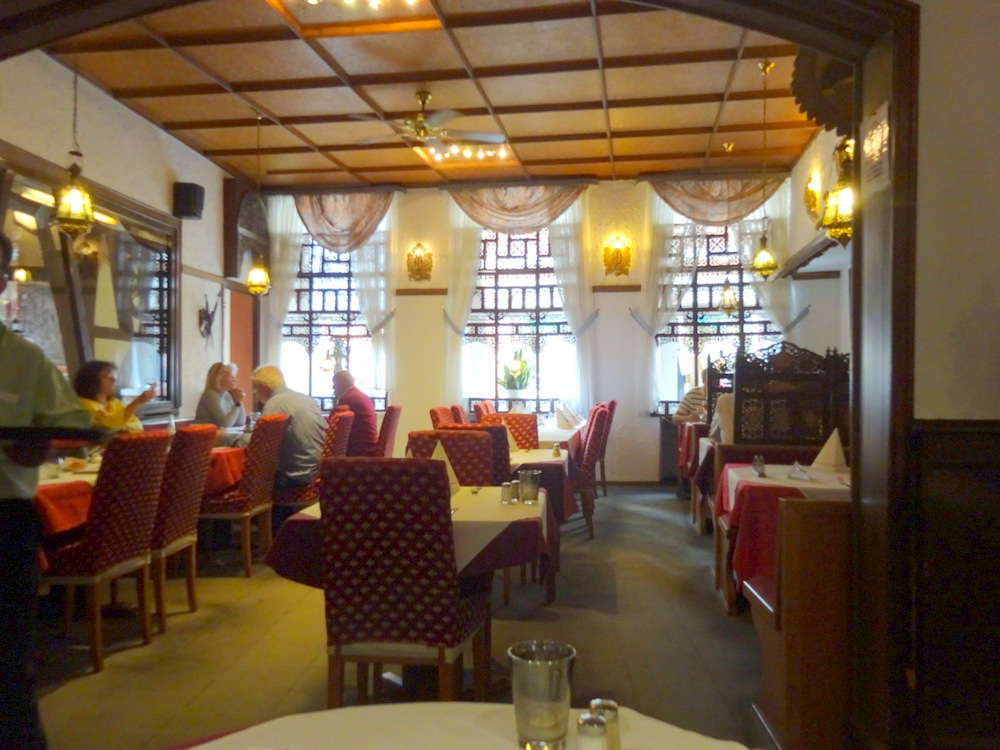 Every so often we heard the sizzling of Meat on an Iron Platter, is this ours? Given the number of times this happened and the relatively few number of customers (around eight or more), it was evident that others have discovered this Feast.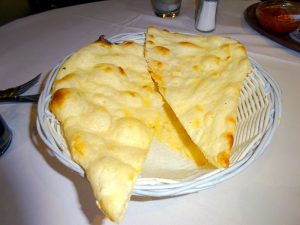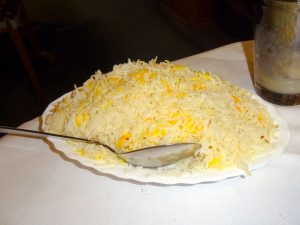 A plate of Basmati Rice to share and a basket with two halved Naans were placed on the table.
Do we get a Masala with this? – I asked Jonathan. He didn't think so. What were we going to do with these Sundries?
Two Sizzling Platters were presented, a Mountain of Meat topped with the largest Onion Strips I have ever seen. These covered the principal actors, what did we have here exactly?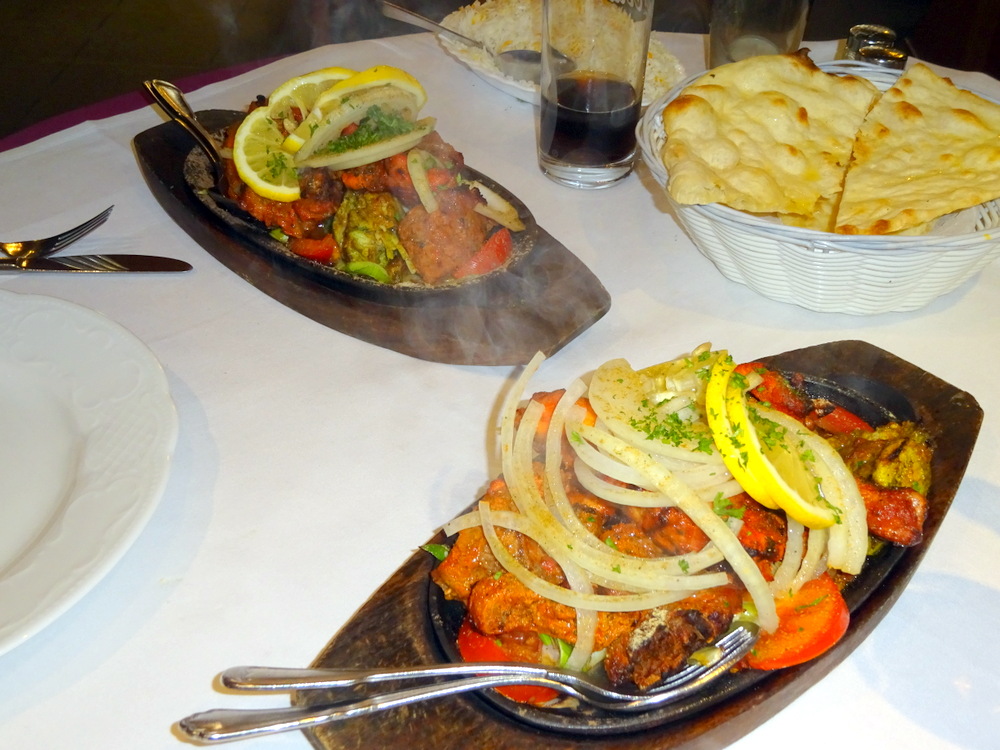 I decided to start from one end where I could see two pieces of Boneless Chicken which stood out as not having the same – Red – that the rest appeared to have.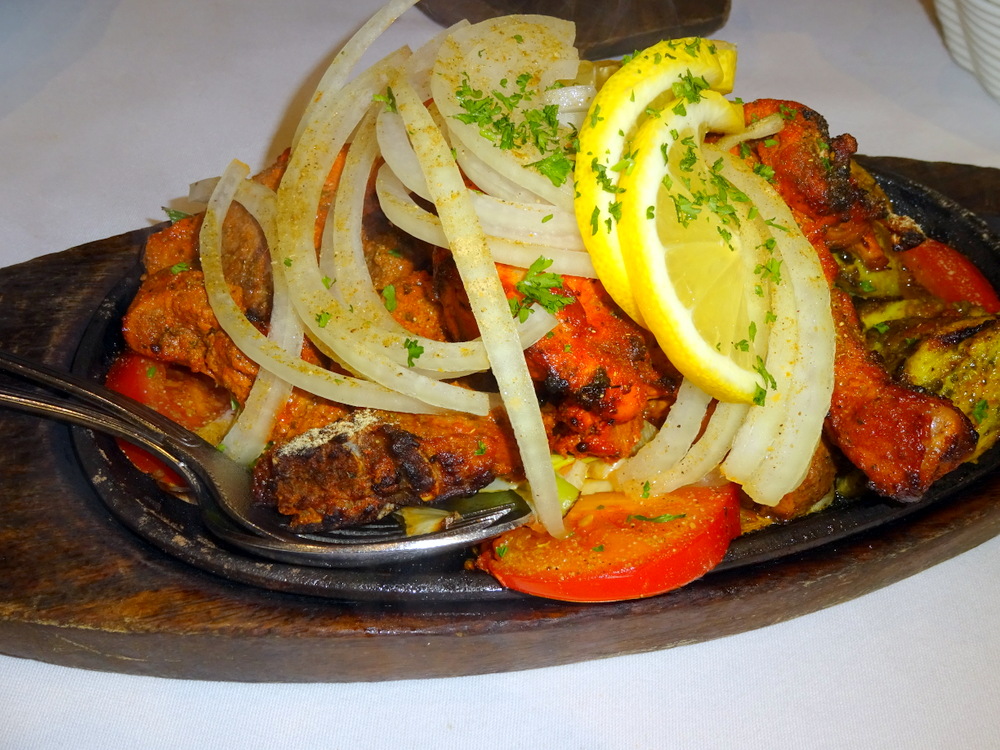 With everything hotter than everything else, I had to employ a knife and fork.  Yes, this is Hector Blogging. From the first mouthful there was a – Wow! Regular Readers may be in shock to read what follows. This was by far the Tastiest, most Succulent Chicken I have ever experienced, leaving Nando's light-years behind. The Herbs, the Spice, the Seasoning absolutely Perfect. How could Chicken be so melt in the mouth? I could have eaten a plate-load of this, but what was this Green-Yellow creation?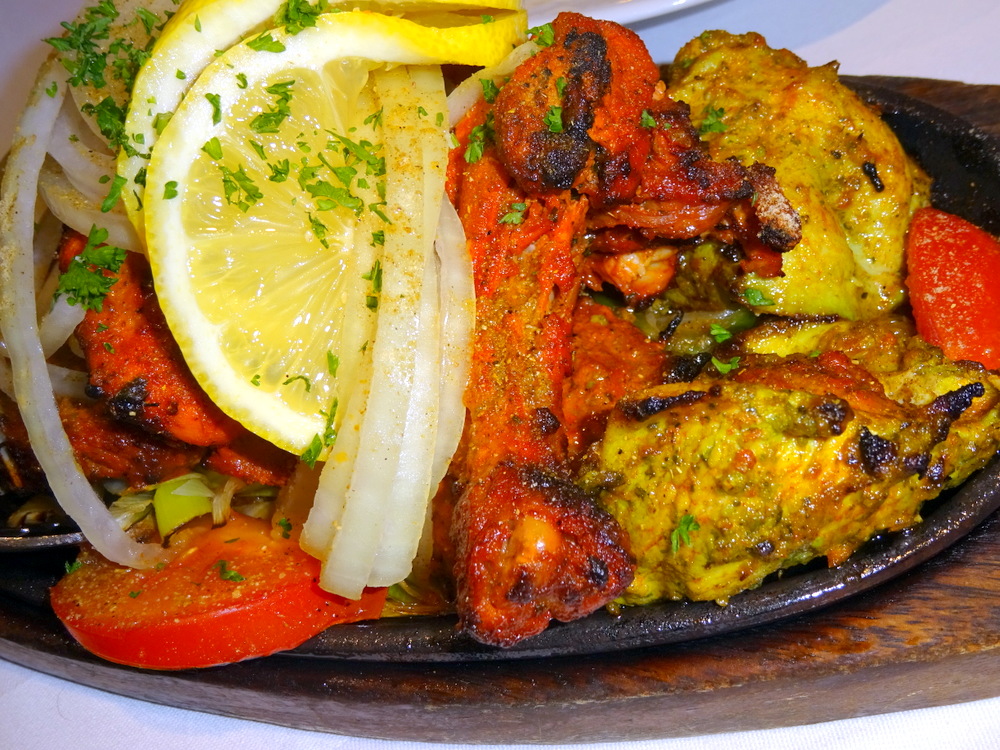 Next up were two Drumsticks, more Chicken. These were totally lacking in – everything – compared to what I had just tasted. Typical of Chicken Chat served in many places.
I was keeping the Lamb Chops to the end, I had found three so far. Jonathan, who had taken some of the Rice, announced he had found his – Prawn. I know a joke about finding a prawn, another time. I didn't know to expect one, I hadn't expected to find two more Boneless pieces of Chicken, markedly different from those which had tantalised. These were Red.
This Chicken was perhaps halfway between the relative Blandness of the Drumsticks and the now – my most Favourite Chicken – anywhere. The Seasoning was not there, so important.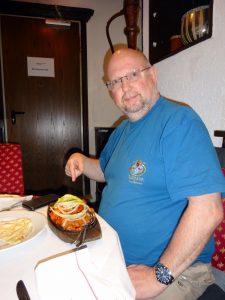 At the time of eating Jonathan and I speculated as to the differences in the three grades of Chicken. Chicken Chat, Chicken Tikka, Tandoori Chicken, exactly what is the difference? My knowledge is – Curry – this was not. With time to study the extract of the Menu that I recorded, here we go.
Murgh Tikka – Boneless Chicken pieces marinated for 24 hours and roasted in tandoor – would appear to be the second pieces of Boneless Chicken served today.
Haryali Kabab – Chickenfilet marinated with spinach, peppermint, ginger and garlic roasted in tandoor – has to be it. Haryali/Hariyali Kebabs I find are also referred to as – Green Chicken Kabab. I shall look out for these in future. Could this mean the end of Lamb Chops as a Starter (when available)?
I found my Prawn! I also realised that this was most likely to be the first Tandoori Prawn I have ever tasted. I have never – chucked another Prawn on the barbie – figuratively, or otherwise. Being singular, the Prawn was over in a flash. Not much happened.
In addition to the above, the Onions were tackled as and when they became manageable. Some on the base of the Platter were done the way I like them, sizzled. Some pieces of Tomato were also down here.
I gave one of my three Lamb Chops to Jonathan who was somehow finished. I was staring defeat in the face. The Lamb Chops were Dry and not cooked long enough to create the customary – Charcoal – on their periphery. Jonathan agreed:
Chops under-burnt compared to previous years.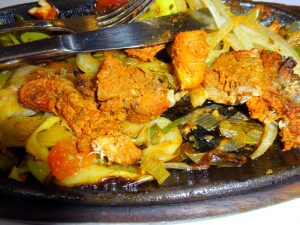 I started my second Chop, no saliva, mastication was now impossible. I was back to where I was on this day last year when Food this early in the day was simply not possible. That was enough Tandoori Mix for Hector.
Jonathan had a few more words to contribute:
Always worth coming for, a good base for the next dose of wine.
The Boat back to Wolf was leaving in a little over thirty minutes.
The Bill
€40.40. (£35.44)  One pays more  to dine in a Restaurant with tablecloths.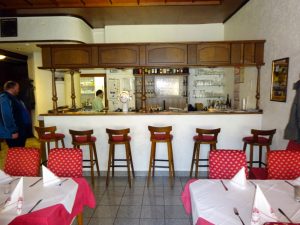 The Aftermath
For some reason it's faster sailing downstream.
There is another Curry House on the outskirts of Bernkastel-Kues halfway to the Locks – Indian Restaurant Mosel Namaste – Sir Henry's Ausschank. To describe their Menu as – Minimal – would still be inflationary. Perhaps one day, however, Taj Mahal is very much part of a Trip to Wolf.