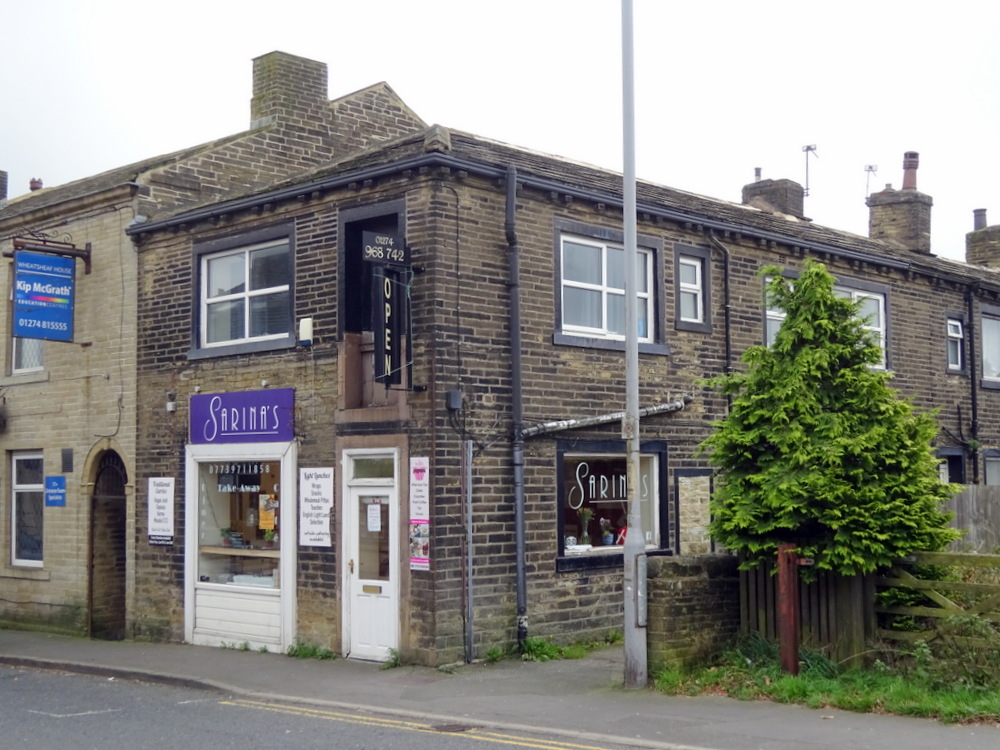 Bradford, The Curry Capital of the UK, and the climax to to our twelve days of indulgence. The next four days will include Curry – Noon and Night, it is written, or will be as soon as.
One has to keep – The Best – to the end, Mutton Handi served on-the-bone at Sarina's (25 High St., Queensbury, Bradford BD13 2PE) is Hector's Favourite Bradford Curry, available by arrangement. This Lunchtime Hector and Marg popped in to make the arrangement, we were passing by, more or less.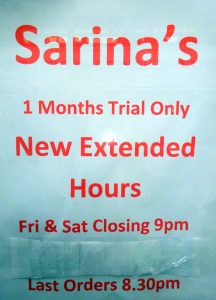 Lorraine was Front of House and gave us the customary warm welcome. Our evening Curry would be at the International and so Starters would suffice for Brunch. Sarina's heart must have skipped a beat – surely they are not here for Handi Gosht today? She quoted my planned dates – 19th – 21st., well remembered.
Shami Kebap (£2.85) has been enjoyed here before. For Hector – Meat – for Marg – Chicken.
Lorraine was brought up to date with our travels over the last eight days and the Highlight Curry in Brescia. Sarina's is well into the experimental month of Late Opening at weekends. Hopefully the Queensbury Locals will continue to support this fine venue on their doorstep, no need to jump on Bus 576 to Bradford or Halifax for Quality Curry. For Hector, Lunch remains ideal.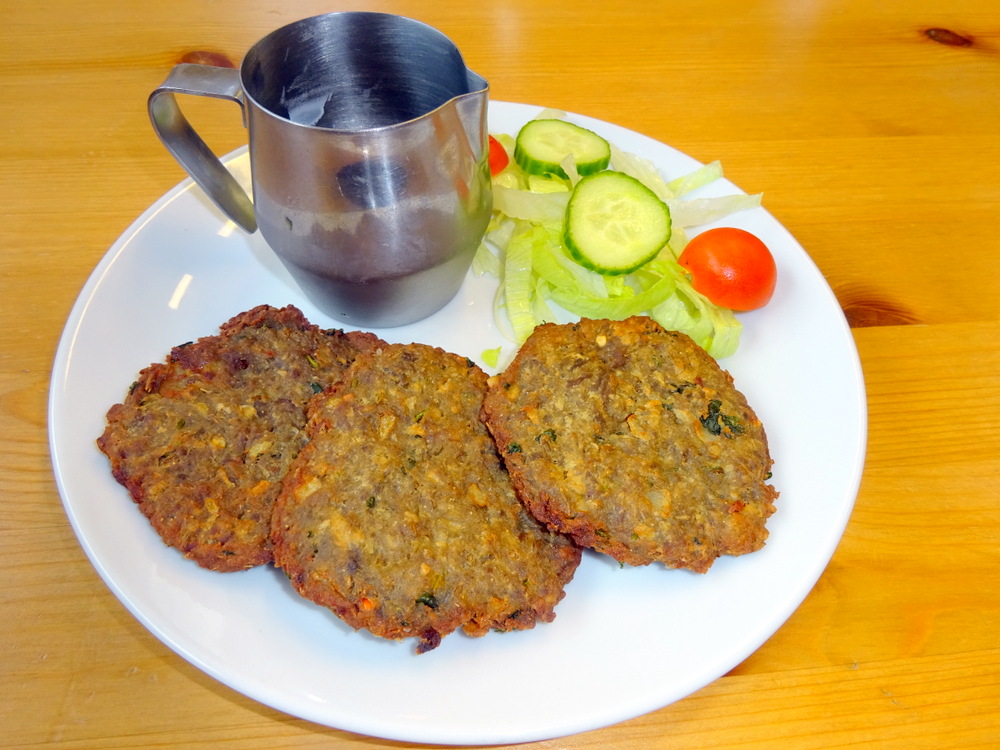 Hector received three Kebaps, a Bonus Portion. Well Seasoned with a Modest Kick and an Earthy Flavour this did the job. What I interpret to be a Tomato-based Sauce was as suitable accompaniment along with the Modest Salad Garnish.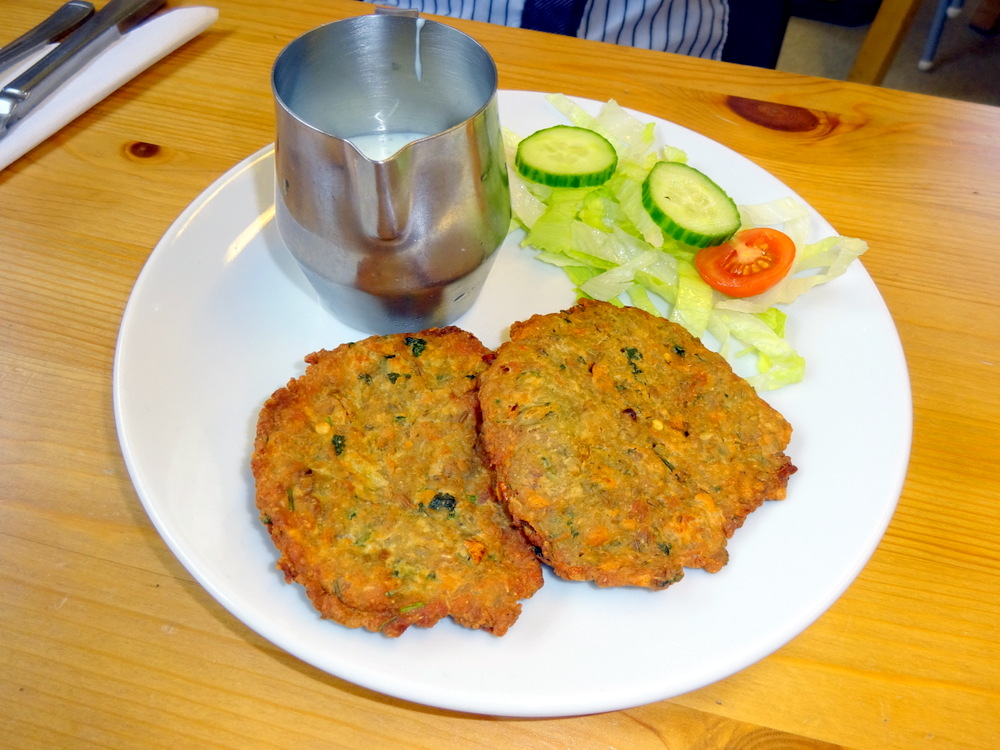 Marg enthused about her Chicken Shami Kebap immediately. She prefers her palate not to be assaulted by Spice when she commences eating food from the Indian Subcontinent. With Raita as her Sauce, a fine cooling sensation was achieved.
A quarter of each Kebap crossed the table. I have eaten Chicken Shami Kebap over the years, always good when you can get them, though Marg later admitted, the Meat had much more Flavour.
Sarina joined us and admitted that her Shami Kebaps come out the way they come out. This led to a discussion about a well known National Chain. How can they maintain consistency across the land unless they have a central kitchen and ship their meals to be reheated in the franchise outlets. Speculation. One day I shall find my proof.
The Lamb Curry served at Bombay Tandoory (Brescia) was mentioned, again. I quickly showed Sarina the Blog entry where her Establishment w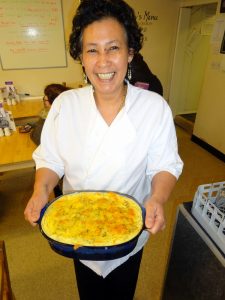 as used as a reference point to the Quality of Curry served.
The Bill
£5.70 Bradford prices, always attractive.
The Aftermath
Before the ritual farewell hugs, Sarina brought a Non-Curry Creation from the kitchen to show us. Shepherd's Pie, but not for the Public. Fancy being able to cook your own dinner whilst at work?