And the rain never stopped…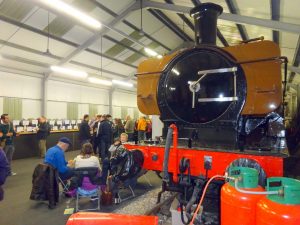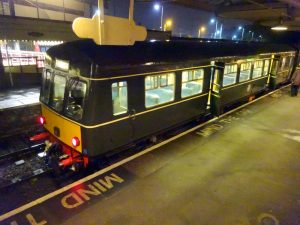 The ritual visit to Haworth was marred by incessant rain, the quietest I have ever seen this Historic Town. The initial disappointment that Diesel Locomotives would transport us was more than made up for by the discovery that this was the start of the KWVR Beer and Music Festival. The £5.00 train fare, as opposed to £20.00 plus, was also welcome. Hector did not miss – Steam.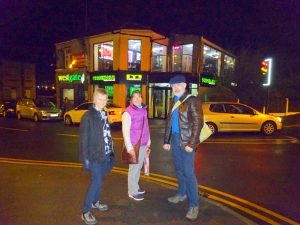 Sheesh Mahal (6 St. Thomas' Rd, Bradford, BD1 2RW) was tonight's venue in the second of four days of Curry. Entering @21.00 things were in full swing but no tables upstairs were occupied. I spotted, so I thought, Omar disappearing into the kitchen as we entered. There was no sign of Taj, Mein Host, or Uncle Sadaqat.
The Menus were brought, for once I can report no price increase at a venue I only get to visit occasionally. I have finally started studying this document, recent visits have led to Curry containing pieces of the Dreaded Green Vegetable, this must be avoided.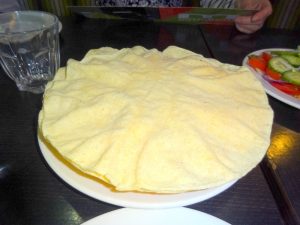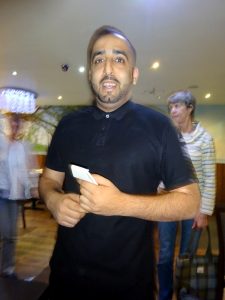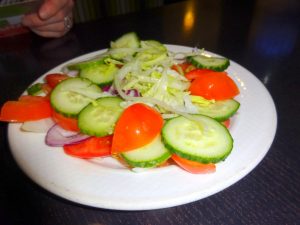 Poppadoms, a more than Modest Salad and Generous Portions of Dips were brought without fuss. If – The Omar Special – has seen Capsicum sneak in then I had to see – The Man – to prevent this. Our Waiter approached to take the Order, I asked for Omar who I was convinced was present. A phone was thrust in my hand, it was Omar, a night off, he is well. So who was the Doppelgänger? Meet Cousin – Amar. Amar would look after us this evening.

For the Chaps it had to be Lamb on-the-bone. The – Handi – section of the the Menu is one I had not previously considered. Lamb On Bone Handi (£24.95) would suit Dr. Alasdair and Hector. At three times the cost of a Standard Lamb Curry, one was hoping for – Something Special – and lots of it.
From the – Flame Grill – section, Marg chose Lamb Chops (£4.90). Margie ordered Chicken Dhansak (£7.95). The inclusive Chapattis would be the Accompaniment. Someone mooted an order of Samosa (£2.30). This never came, which may be just as well as we shall discover.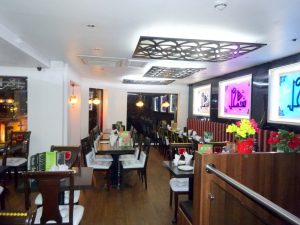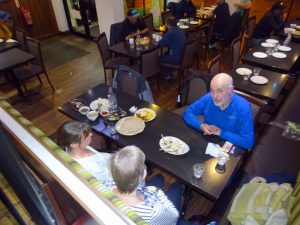 On the same sizzling griddle as one presents Lamb Chops, Amar brought something else – Liver Tikka.
This is from Omar.
Liver Tikka? Omar knows I hate Liver.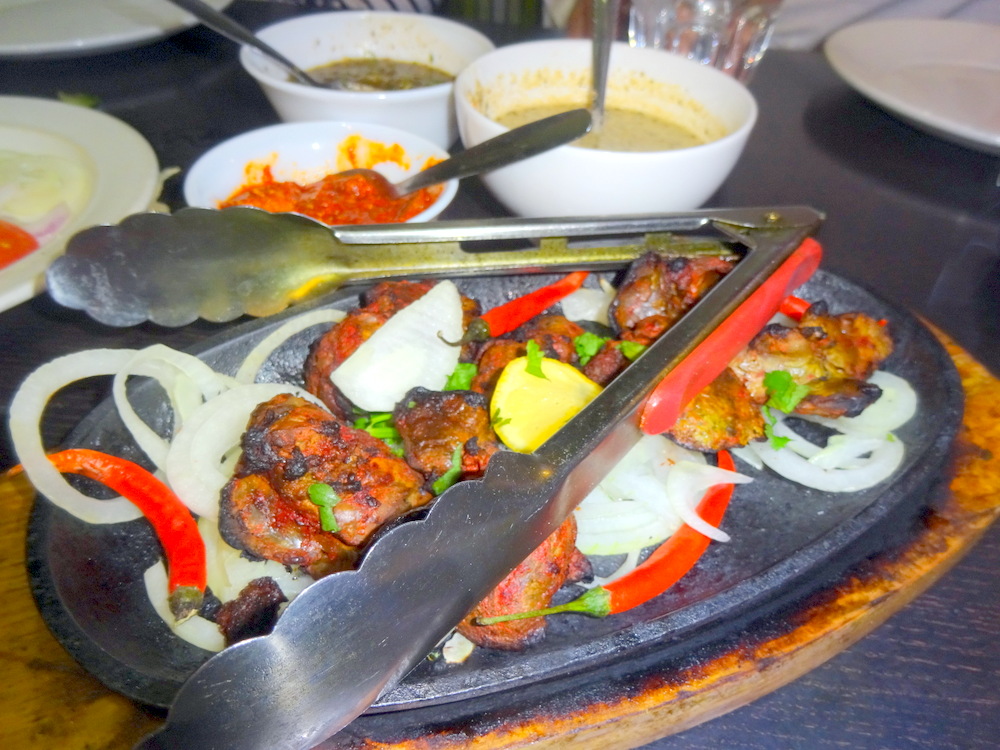 Five years ago, Our Man in Bradford arranged a Lamb and Lamb's Liver Karahi for himself, Hector and Dr. Stan. I endured it before accepting defeat. Liver is one of the few things I cannot eat. This evening, my Fellow Diners were well impressed.
That's fantastic – uttered Dr. Alasdair. He'll never get this again.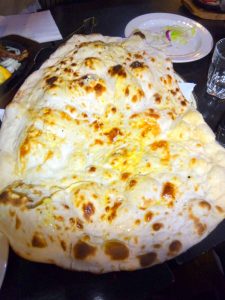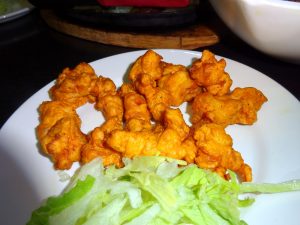 Omar's remote generosity was not over, some pieces of Chicken Pakora was also presented. Small pieces, the leftovers perhaps. It was time for Amar to get in on the act. Once The Mains were set before us, including a huge pile of Chapattis, a very large Garlic Naan was brought to the table – this is from me! – said Amar.  The Naan was Thinner than most, and in no way Doughy.
No fuss was made regarding the missing Samosas.
Lamb On Bone Handi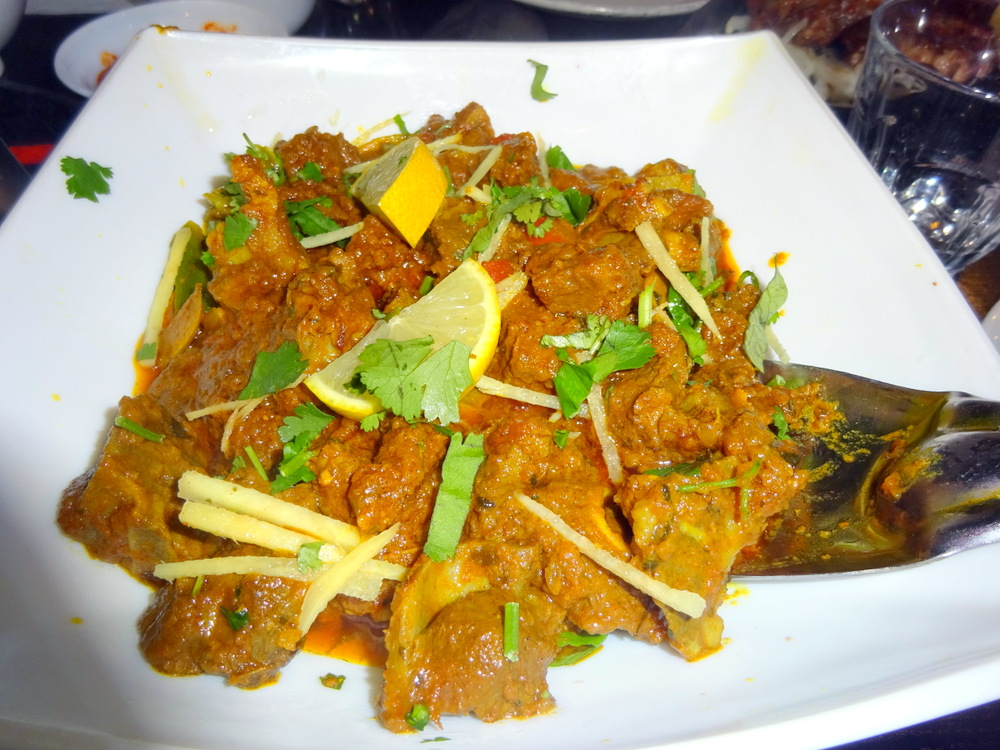 This was to share between two. Two other sets of cutlery from across the table would also pay visits.
Initially this Lamb Handi tasted of nothing special. Under-seasoned and with traces of Capsicum, I was thinking I should have stuck to my normal Methi Overdose. It was only when I abandoned the impressive Garlic Naan that the Bradford Curry Taste emerged. Note to self: stick to Chapattis when in Bradford.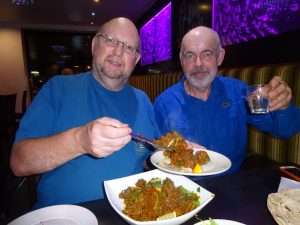 As I ate, so the Curry became more and more impressive. I swallowed a bone, Oops. I trust I shall see it again? – I asked Dr. Alasdair. He answered in the affirmative, I ate on. A – Perfect Portion – for two, the Bones scraped clean. I watched the last pieces of Naan disappear.
Lovely flavour – remarked Dr. Alasdair – a robust Curry, lots of flavour, wasn't so spicy, Lamb was lovely, larger bones (than yesterday at the International).
Why was the price higher for this compared to the standard?
Has Dr. Alasdair already embraced Bradford prices? He was correct of course, however, I think we were getting our money's worth.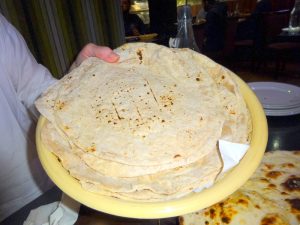 There's more:
We couldn't do the Chapatis justice, there was so many of them. I loved the Chicken (Dhansak) and thought the Liver was excellent; I'm not a great fan of Liver.
Chicken Dhansak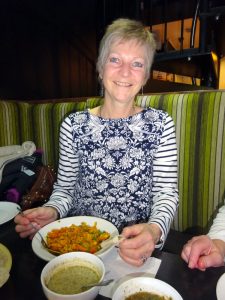 I have seen many a Dhansak in the company of Lord Clive of Crawley.  Chicken is not a Meat I would order in a Curry. This interpretation was unlike anything seen before: this was Dry, Seriously Dry. Chickpeas are visible in the photo, the Masala almost non-existent. The verdict took Hector aback:
This is the best Dhansak I've ever had – said Margie – it was different, there was Pineapple, ideal. I loved the consistency.
This was the second time someone has said these words to Hector at this venue with regards to Dhansak, the first time it was Lamb Dhansak.
Cooked through – said Dr. Alasdair – with reference to the Pineapple I believe.
Lamb Chops
Five Chops is always way better than four. Marg can only eat four, so some of the fifth came Hector's way – Mmmmm.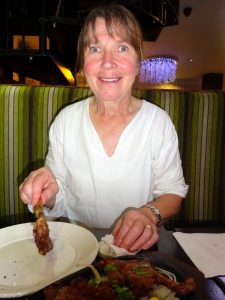 They were succulent, very flavoursome, and I enjoyed the Burnt Onions on the Griddle.
There was no stopping my Fellow Diners this evening:
I also enjoyed the Garlic Naan. I also stole some of your Lamb Handi, to get moisture.
She could have ordered Lamb Chops Karahi which I know Marg loves.
*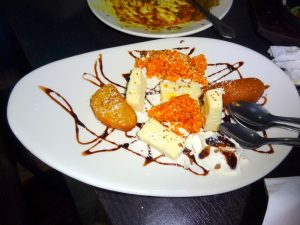 With the table cleared, Marg made a most apposite statement:
If Omar was here, there would be Dessert.
No sooner had these words been uttered when a plate of Sweet things arrived – courtesy of Amar. The Ladies were pleased.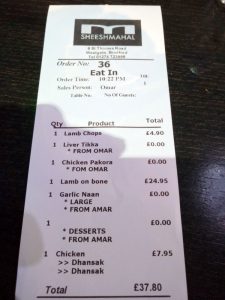 The Bill
£37.80. Curry-Heute does not normally post photos of – The Bill. Tonight there had to be an exception.  Thank you Omar, and Amar!
The Aftermath
Had the rain stopped? Finally!
Sadaqat was outside taking a break, where had he come from?
Hector has visited the Sheesh Mahal five times in 2017. The next visit will be in February 2018.