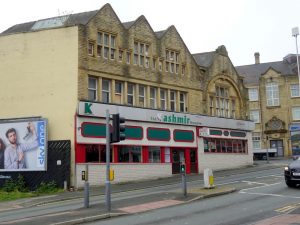 The Kashmir Restaurant (27 Morley St, Bradford BD7 1AG England) is a venue I should visit more often, once upon a time it was my most visited Bradford Curry House. If it returned to the grand old days of being open very early and very late, then more visits would be facilitated.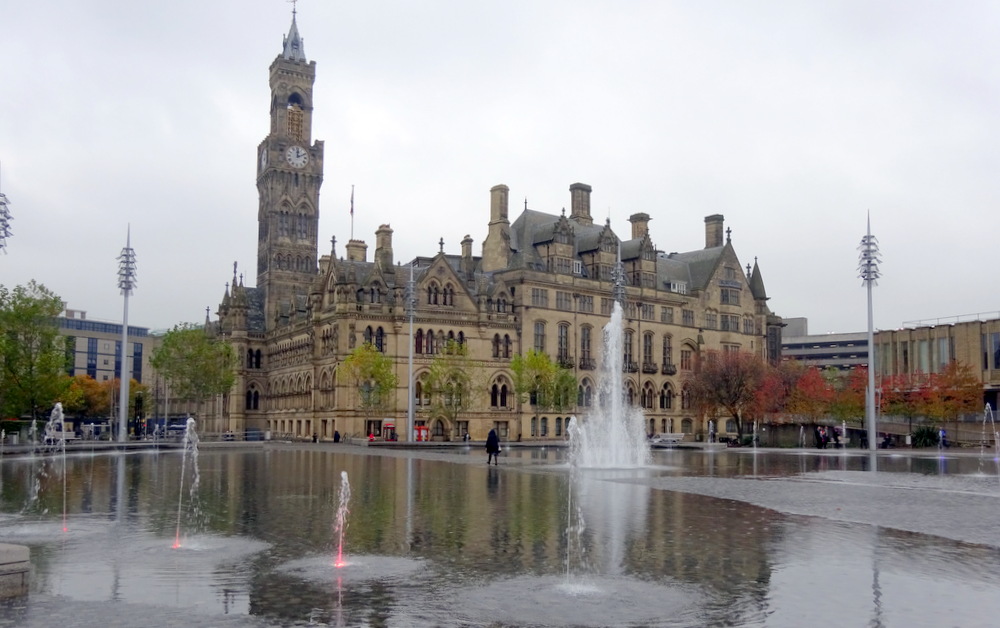 Hector, Marg and The Carnoustie Two departed from t'Travelodge at 11.30, Dr. Alasdair had previously confirmed that on this Bradford Trip he was up for – Curry, Curry, Curry. As we walked past the Millennium Fountain I did offer The Ladies other possible cuisines. Kashmir for all.
Fish Karahi (£7.20) has been my Favoured Dish at Kashmir for some time, though having taken time to update the Kashmir Page on Curry-Heute, I am reminded of the varied Dishes I have experienced here over the years, many of these pre-dating this Blog.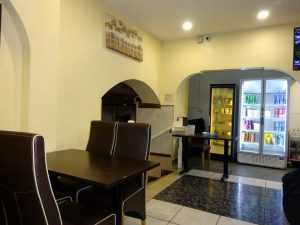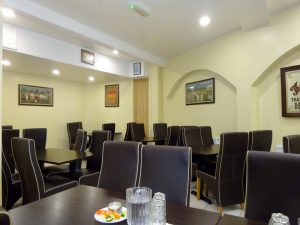 We were the first diners of the day in the Basement Restaurant, a table was already set up for the imminent arrival of a large party, we took the adjacent table mid-room. The place seemed brighter than before, Mein Host was not present today, I knew none of the staff.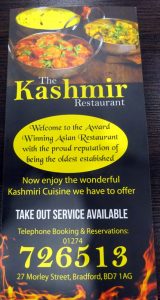 There was a New Menu with New Prices, still, they are Modest in comparison to many venues. Kashmir is a Classic Bradford Curry House, they have their niche.
Dr. Alasdair would follow Hector's lead and have Fish Karahi from the Kashmir-E-Khas section of the New Menu. Marg opted for her Breakfast fallback – Samosas – (£0.90), three of. Margie took the middle ground and ordered Fish Pakora (£3.50). Inclusive Poppadoms would accompany the Main Courses.
Poppadoms, a Modest Salad and Raita were provided, Complimentary, of course. This is the Joy of Bradford. If Glasgow ever wishes to regain the title of Curry Capital of the UK, then this humble Blog has the key. Read this!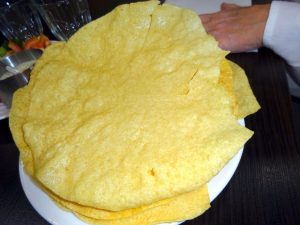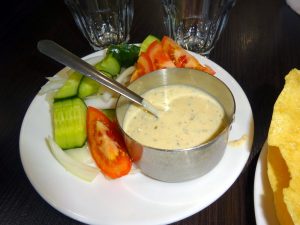 Everything was – Fresh – though we all noticed that the Poppadoms were still a bit – Oily – they had not been sitting all day in a pile as seen in so many venues across the land.
Samosas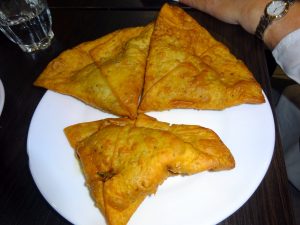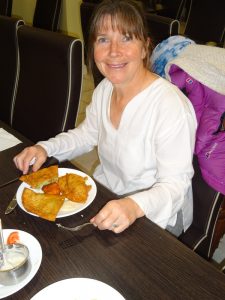 The Samosas were Large and Flat hence the ratio of Pastry to Filling was dominated by the former, not the latter as one would hope. Marg was able to confirm, hopefully correctly, that these were Vegetable Samosas.
To me they were overdone, two would have been enough, by the time I reached the third one the inside was cold – was Marg's verdict.
Who orders three Samosas?
Fish Pakora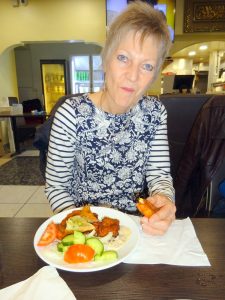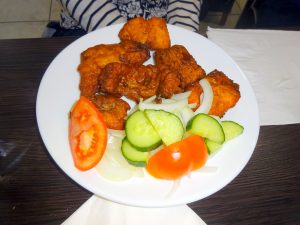 This was an impressive plateful, well presented too. The remaining Raita was put to good use. My fellow Diners all sampled the Fish Pakora, as ever Hector would stick to what he ordered. The joint verdict was favourable, however, here are Margie's words:
Beautifully moist, the batter was light. Light spices, a good sized portion, perfect for me for Breakfast.
If I can ever tear myself away from Fish Karahi on a future visit I will have to try this.
Fish Karahi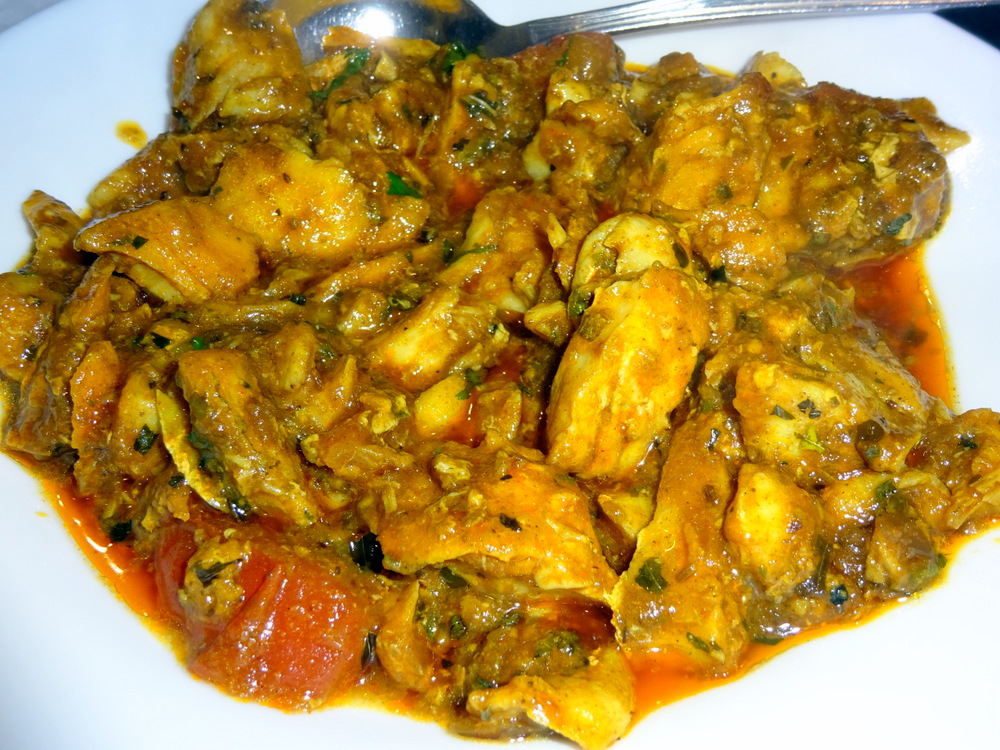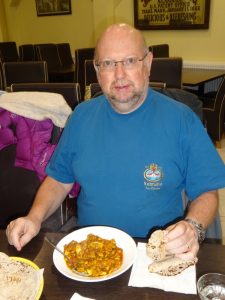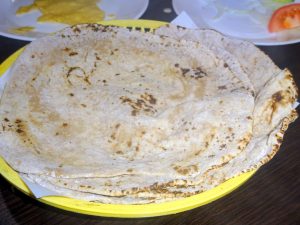 A Perfect-sized Portion, Flaked Fish in a Tomato-rich Oily Masala. One either takes to this or not. With strips of Chapatti in hand, the Quantity seemed to grow as I ate, there was indeed a lot of Fish. Ironically, I found the Seasoning to be below what I look for, the Spice Level was pitched well. I cannot find a Fish Karahi of this Quality in Glasgow.
This was Dr. Alasdair's second Bradford Curry. He was coming to realise that Masala here is Minimal, there is no need to serve Soup. One needs enough Masala, no more.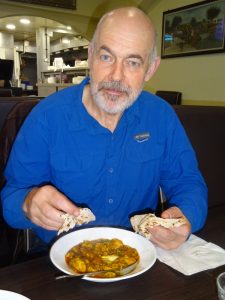 It went together very well. The Fish was not overcooked, not over spicy, a good blend of sauce for the Fish, very tasty. An ideal brunchy type Breakfast.
Four more Bradford Curry Houses to go this week.
The Bill
£20.60. Four Satisfied Diners.
The Aftermath
The downstairs had filled up whilst we ate. Kashmir is – The Place – to have Brunch.
What were the chances of today being the start of the KWVR Beer and Music Festival? And so we went to play on the trains and let the Ladies shop in Haworth.