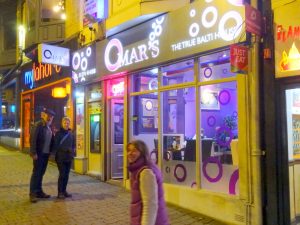 I offered – The Carnoustie Two – a choice of venue this evening – Traditional – or Quirky. They chose the latter and so missed out on Kofta Palak at the Karachi Restaurant, Bradford's Oldest Curry House. The Notorious Naan (£5.50) at Omar's Balti House (46 Great Horton Road, Bradford, BD17 1AL) it would be, though keeping my powder dry, I did not let them know what was – Quirky.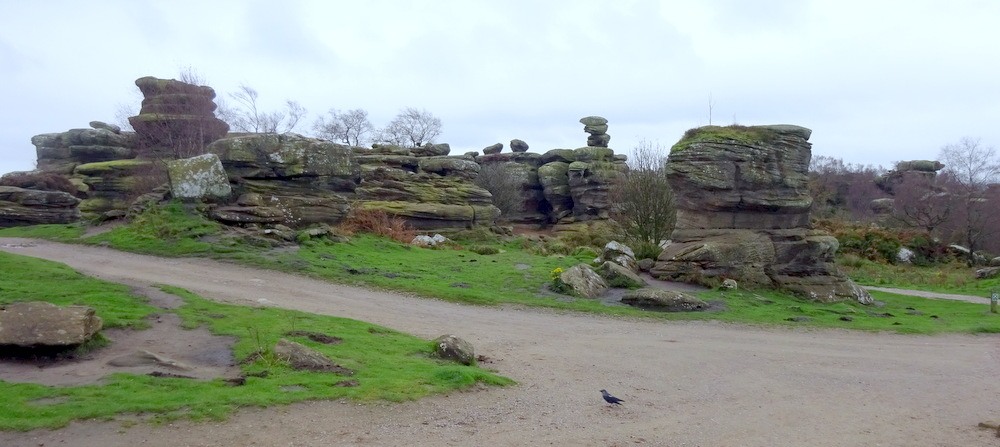 After an afternoon visit to Bradford's #1 Day Trip Destination – Brimham Rocks – we were back in Bradford and ready to eat @19.00, our earliest Evening Curry of this venture. On entering we were given a table three from the door, the door was closed, hopefully there would be no draught.
Menus were brought, Complimentary Poppadoms and Dips/Chutney too. We were set.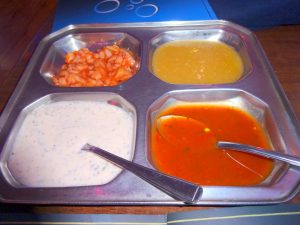 None of the Omar's Specialities appealed to The Hector this evening. I had the Omar's Special (£7.90) on my last visit, Marg had Shahslik Karahi Special (£7.50). Both of these Dishes were supposedly – garnished with cheese – which turned out to be a dollop of – Grated Cheese – on the side, not the Paneer enjoyed in earlier times.

Traditional Lamb Chop Karahi to Share (on the bone, handi) (£7.50) is where Hector is now. This should be a worthy assessment of where Omar's Balti House lies presently. A twenty five minute preparation time made this sound all the more appealing. Marg chose Keema Balti Tandoori Special (£7.50). Tandoori Keema? How?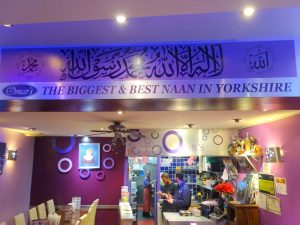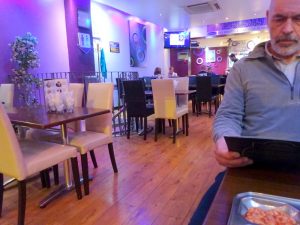 Lamb on-the-bone has been a priority for Dr. Alasdair over the last two nights, he and Margie decided on two Dishes which they would exchange halfway: Fish Masala Balti (£7.50) and Chicken Jaipur Punjabi Special (£7.50). The Fish Karahi at Brunchtime yesterday at Kashmir must have impressed. Fish Curry on consecutive days and we're not at Indian Mango (München).
The Waiter took the order, Marg asked for the Capsicum to be withheld as it was included in the description of her Keema Balti Tandoori Special. The Notorious Naan was ordered with with Garlic.
We were not the only Diners to order the Notorious Naan, perhaps it is the major attraction here? I had to get up and close the door, once, as did other fellow Diners, and a Waiter. People coming in and out were generally not aware, the repeated blasts of cold air were far from pleasant.
Our order arrived well within the twenty five minutes it should have taken to prepare the Traditional Lamb Chop Karahi. With the four Dishes placed on the table placing the Notorious Naan took a bit of working out. Folding it was the easy option, however, the fun was seeing it in all its glory. Once the Ritual Photos were complete it had to be folded.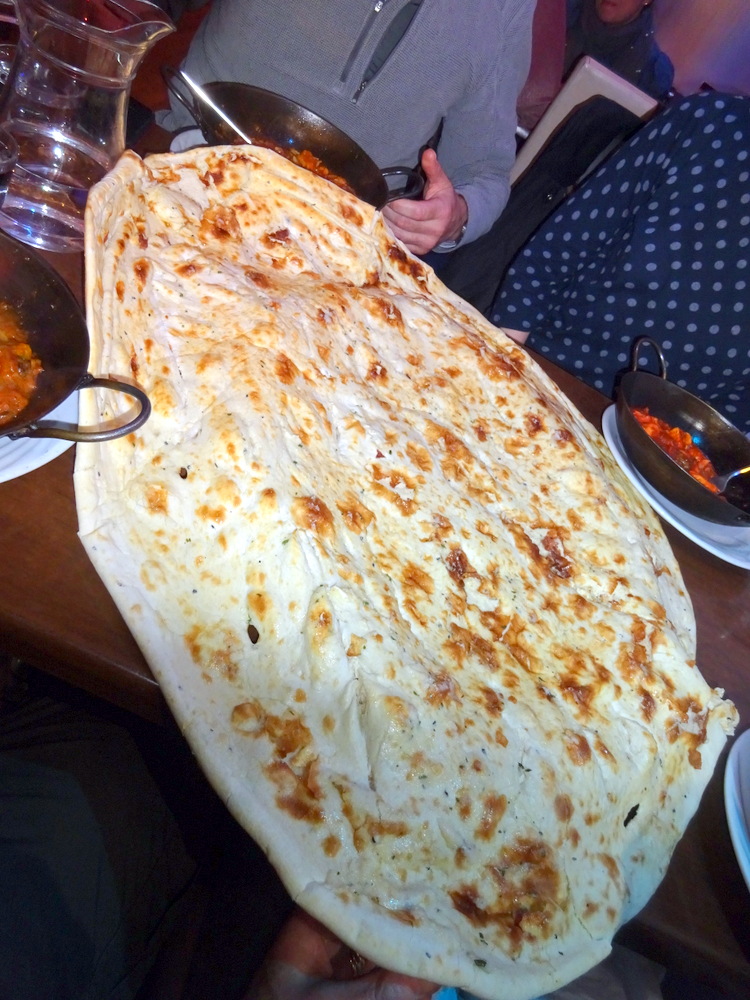 Yes it's ridiculous, and could easily be a mass of inedible cardboard. They couldn't sell so many if it was. The Naan was well cooked, throughout, and was topped with plenty of Garlic to give a moist sheen. No way could four eat a whole one, but it was presented – Whole. If this can be presented – Whole – then why are so many venues spoiling the impact of what they served by cutting up Bread and placing it in Baskets? Are they not proud of what they serve? The Naan was both – Fun – and – Edible. It remained edible for as long as we could face it. QED.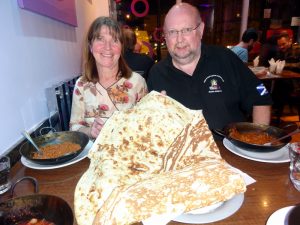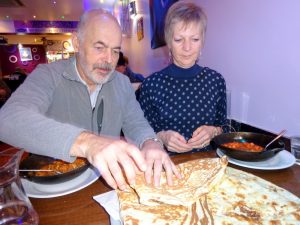 I glanced at my Main Course and then the others. Am I in a Bradford Curry House? – I wondered. What lay before us was far from the Quality of Masala I have come to expect in this City and its Satellites. Red, and more Red. Soupy Masalas. Not one of our selections had the – Earthy – looking – Thick Masala – Dry, rich in Herbs that Hector has experienced in Bradford in over twenty years of dining here. I now observe that the – Red – (food dye?) is best seen in the photos where the Notorious Naan dominates What would – The Man from Bradford – or – The Bradford Curry Blogger – make of what follows?
Traditional Lamb Chop Karahi To Share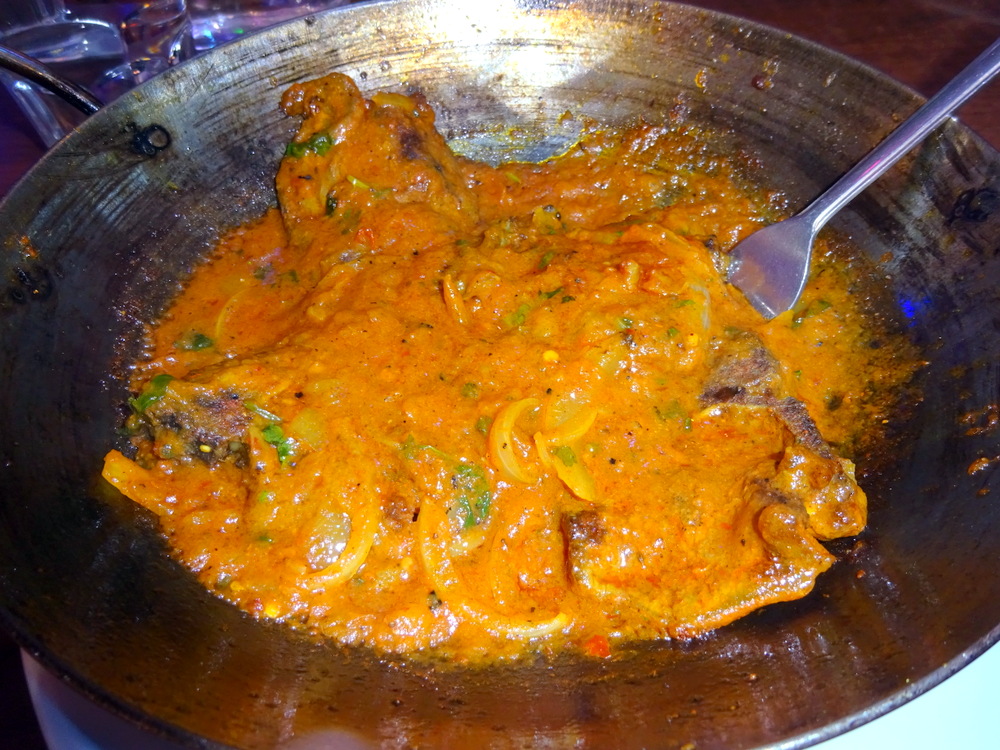 Only Four Chops, Five, nay Seven, makes a meal.  To Share?  Really? At least the Chops were a decent size. The Masala was far too – Mainstream – with pieces of Onion added. Far better if they had been cooked into the Mash. The photo makes the Masala appear to be Orange, at the time I saw – Red. The Masala was Sweet, as far from any Bradford Curry I have ever ordered.
Keema Balti Tandoori Special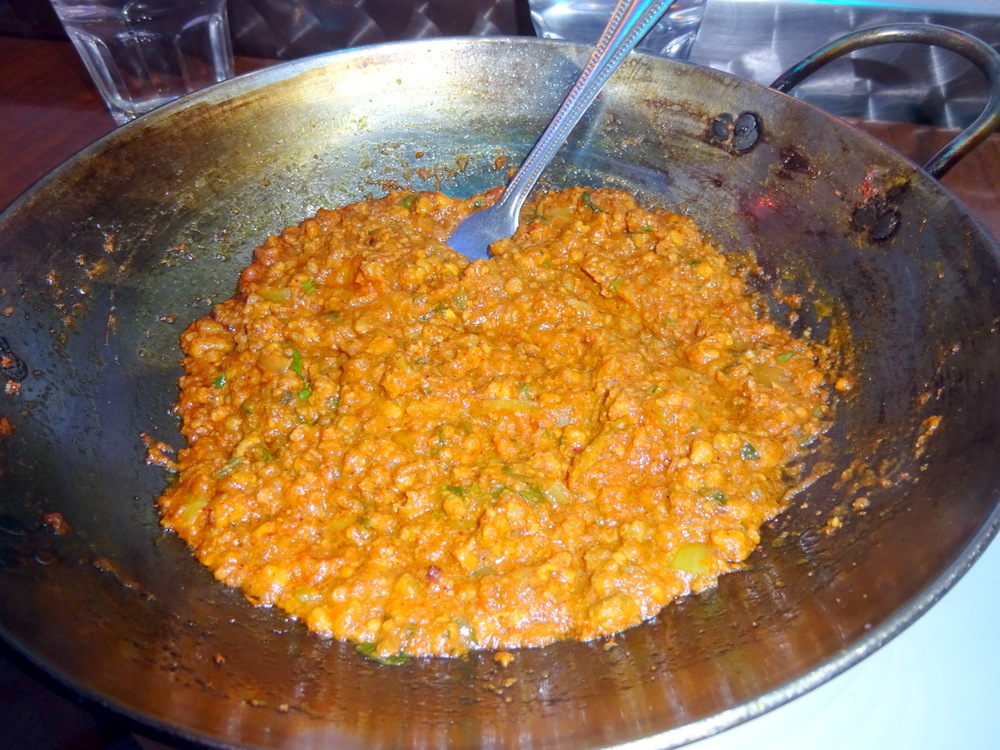 Has Hector ever seen such – Light Coloured Mince? The specks of Fresh Coriander only highlight the lack of Herbs in this presentation. Again pieces of Onion were visible separate from the Masala; one can only imagine how diabolical this could have been with Capsicum present.
This was Marg's verdict:
Good texture, good taste, large pieces of Onion (which she does not like), it worked well with the Big Naan.
Chicken Jaipur Punjabi Special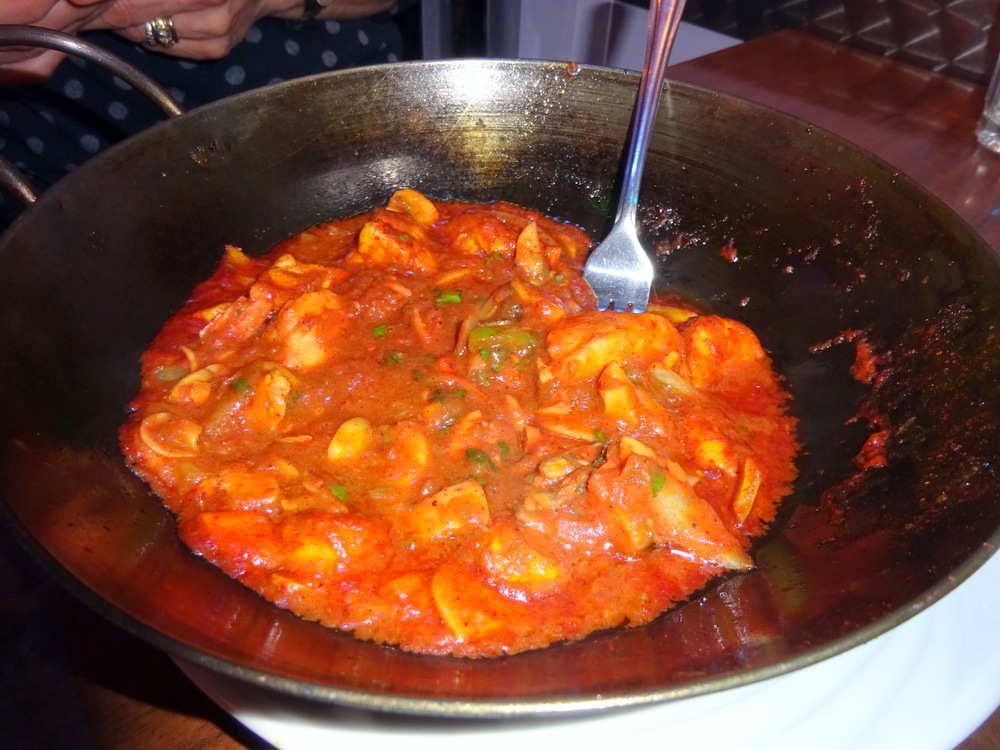 I can see Chicken, I can see – Red – which has to be from – Food Dye – and as far as – Punjabi – or – Special – well, Hector is defeated. This Curry was the epitome of Mainstream, sorry, that insults the other Bradford Curry Houses I have been to, Mainstream Big City Curry Houses. There was absolutely nothing here that a Hector would tolerate. However, Hector was not eating this plate of Bland-looking Disappointment, Margie who had dined at International and Sheesh Mahal on the two previous evenings, was tactful:
It was different to what I expected, tomato sauce. My least favourite, but I still enjoyed it.
Dr. Alasdair finished the Chicken Curry after he had his share of the Fish Karahi.
A sweet tomato sauce, more Spicy, a delicate flavour. I thought it was Turkey, a poultry flavour. There was Capsicum in the sauce, I particularly like those, a strong Capsicum flavour.
Hector thinks he was winding me up….
Fish Masala Balti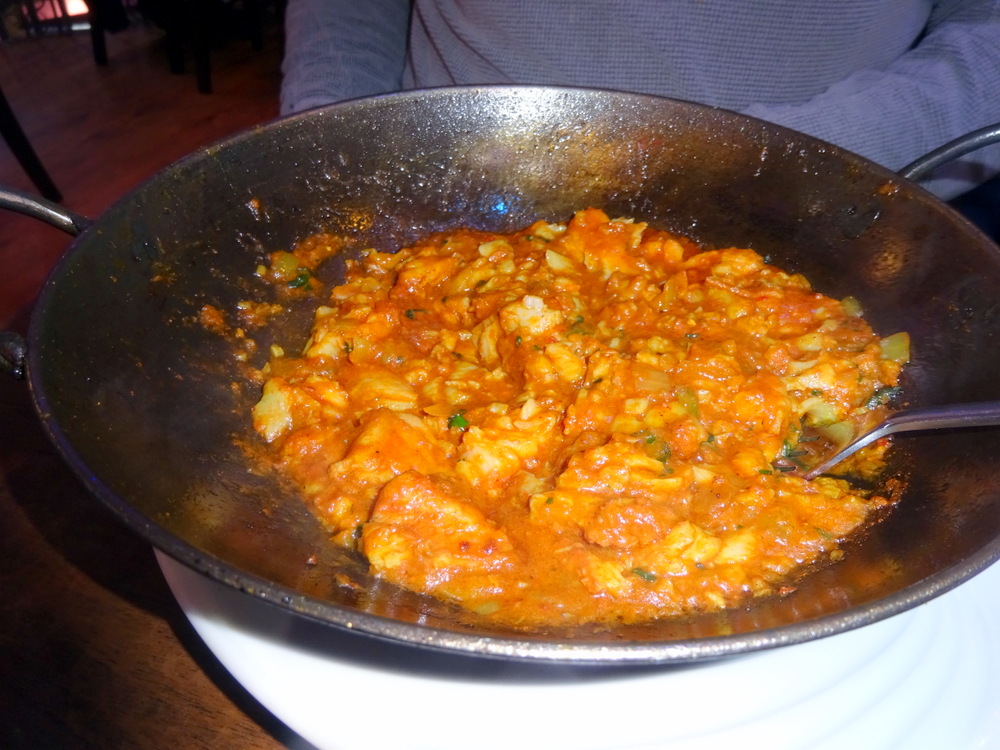 Once again I saw – Red, too much – Red. My conclusion was that three of the four Dishes ordered at least, had the same base Masala which was too Sweet, and had nothing to do with Bradford Curry. This was not in the same league as the Fish Karahi that Dr. Alasdair and Hector enjoyed yesterday across the way at Kashmir.
Margie: I thought the Fish was superb.
Dr. Alasdair: A much more subtle, gentler flavour, not particularly spicy. A mellow flavour, a lovely Fish Flavour. I would have preferred bigger pieces.
Regarding the Naan: Not the best Naan I've had, but good fun, a bit dry.
Note to Hector: never go for Curry with Dr. Alasdair and Howard unless one records the description. Actually, Howard dictates at a better pace.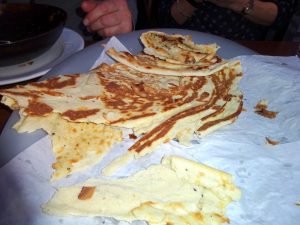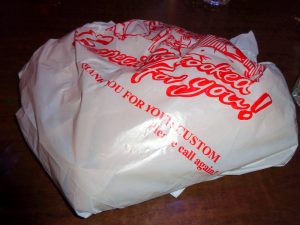 The leftover Naan nearly went back to Scotland. Dr. Alasdair asked for it to be packed but changed his mind at the last minute. No Souvenir.
We're not finished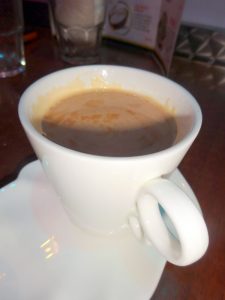 Marg spotted Kashmir Tea (£1.50). Would it compete with Yadgar (Glasgow)? A simple answer, no. It was not pink and did not have crushed Cardamom. There was Dessert too: Funky Pie (£3.50). Hector has no interest in such frivolities.
The Bill
£40.65. The Garlic Notorious Naan was priced at £6.00.
The Aftermath
Once my favourite Bradford Curry venue – wrote Hector of Omar's Balti House some six years ago. On that evening the – Red – in the Curry caused concern, this maintains. On the page dedicated to Omar's Balti House at the inception of Curry-Heute, the – door that wouldn't close – was mentioned. A decade later, the draught at the tables near the door is still ridiculous.
Curry-Heute can no longer recommend Omar's Balti House for either Curry or Ambience.
So where was The Man from Bradford this evening. Three nights and no show.